"You can cage a tiger, but you cannot brush his teeth."
– Alan Jason Parry Alan, November 2012
Imagine, if you will, being a fly on the wall when Mario Puzo and Francis Ford Coppola were sitting in the cafés of New York, formulating how to make The Godfather.
Or imagine being able to see previous drafts of Shakespeare's plays as he wrestled to make them better.
Contemplate for a moment, how crazy the first draft of 'The Hangover" would have been!
People tend to forget that so called 'masterpieces' are the end result of presumably inferior works. The journey to an elegant creation is rarely straightforward; it is absurd, hilarious and sublime in quick succession… and that is THE BEE PROJECT.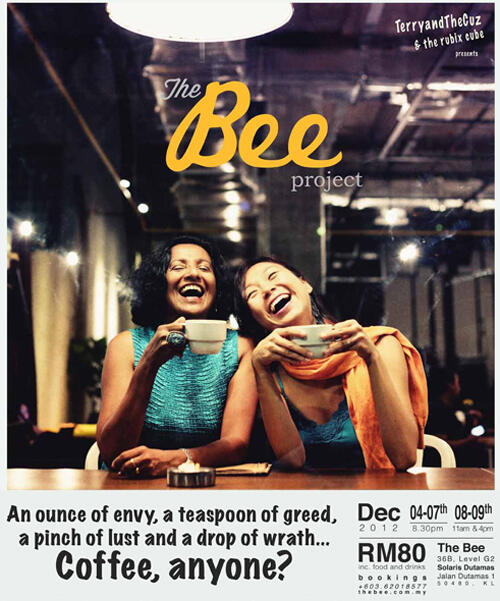 The Bee Project will be staged at The Bee @ Publika from 4-9 December 2012.
Showtimes
8.30pm (4-7 December) with tickets costing:
– RM80.00 (including 2-course dinner)
– RM60.00 (including alcoholic drink)
11.00am and 4.00pm (8-9 December 2012) with tickets costing:
– RM70.00 (including brunch/high tea)
– and RM50.00 (including non-alcoholic drink)
For full menu please visit www.terryandthecuz.com or www.thebee.com.my
Tickets are available at The Bee @ Publika Lot 36B,
Level G2, Solaris Dutamas, Kuala Lumpur
or
The Bee @ Jaya One Lot 2A-G,
Block K Jaya One,
72A Jalan Universiti, Petaling Jaya.
You can also phone +603 6201 8577 to make a reservation and then head in to The Bee @ Publika/Jaya One to pay.
For Online ticketing email info@terryandthecuz.com for their Maybank2U A/C. Please include Full Name, Email, Contact details, Night of show and Number of tickets in your email. You will receive a confirmation email once money is transferred.