Years ago, i remember wanting to order this handmade body chain necklace from Esty store, Norwegian Wood. She was the FIRST person to spark the body chain craze (i swear) that snowballed into thousands of mass-produced pieces sold by boutiques and high streets stores the world over.
Her piece was custom-made to my body measurements.
It was high quality.
It was amazing and i HAD to have it.
It was also only shipped to US and Canada -_-
By pure chance, my friend Lisa was flying back to Canada to visit her family, so i pounced on the opportunity to order the piece, get it mailed to Lisa's family's house in Montreal, then Lisa would bring it back to me in KL.
It sounds easy but it required some tai chi planning moves, and i must have confused the designer too cos we had heaps of emails going back and forth. Havoc.
I finally received my piece with much glee. And despite all the trouble... having this AWESOME fashion piece made JUST for me by HER made it worth it.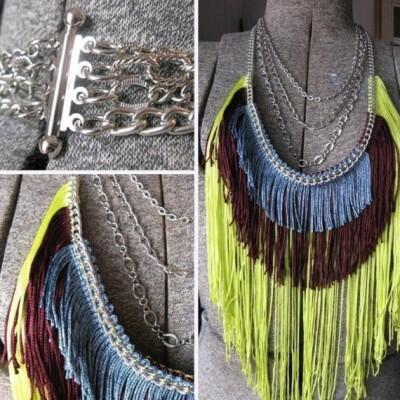 This is a fringe necklace also made by Norwegian Wood. I'm tellin' ya, she made this also before the whole fringe accessories craze started. That's the thing with shopping online! I see so many things i really want but it'd kill me when i find out they don't ship to Malaysia. Like American Apparel. And Topshop.
The latest item i've been thinking about buying are a pair of Saltwater Sandals. I saw them on Yishyene when we were on holiday in Italy, and she swore by how durable, comfortable and waterproof they are for beach trotters like ourselves.
Again, the thing is they only ship to the US  -_-
I've heard of online services that let you ship your shopping to an allocated address before they send it to you, but i never felt i could trust these people... first of all, their websites didn't look professional, and WHAT IF THEY STOLE MY SHOPPING?!
Hence i never tried it.
Now, we've got Borderlinx Maybank. It's professional, detailed, and they don't look like they're gonna hold on to my treasured fashion items.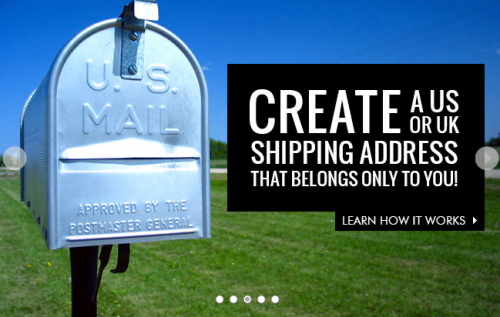 Borderlinx provides international shoppers with a personal local shipping addresses in the US and UK, before shipping to wherever you are (they partner with DHL and ship to more than 60 countries).
Gone are the days the first thing i check is whether they send to Malaysia!
Gone are the days where i'd despondently click the 'x' on the page cos there's no point looking at things i can't have shipped to me!
Now i can have access to brands not available locally (come on, we all like some exclusivity in some of the things we wear/use!), and it's great for those who can't find their sizes easily in Malaysia.
WE CAN EVEN BENEFIT FROM THE ONLINE SALES OFFERED ONLY TO US OR UK RESIDENTS HELLO!!!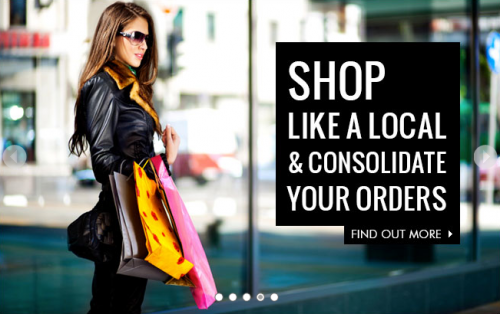 Have you heard of Black Friday? It's traditionally the day following Thanksgiving Day in the US, and signifies the beginning of Christmas shopping season. What makes Black Friday memorable is that most shops offer 80% discounts or more. The Monday after Black Friday is dubbed Cyber Monday, and is also a day for lots of discounts everywhere on sites like Amazon and Walmart.
Even if you find brands that are available in Malaysia/Singapore, the sales and discounts you find online in US/UK make the effort worth it, and you also get more selection than just what is brought here.
I can shop till i puas and done for the month, and THEN ONLY do i get Borderlinx Maybank to mail everything to me at once. They have a service where they hold all your parcels for you for 30 days, free of charge. They even help you repack everything if you allow them to - so the entire package is smaller and shipping fees are cheaper. Seriously. If i got friends overseas to do this, i'd be buying them very expensive meals in return...
All my shipping costs, tax and duty is paid in advance and there are NO surprise/additional costs upon delivery. DHL Express can deliver things in 2-4 days, and of course allow me to track my parcels as they make their way into my delighted arms. 😀
I've already created my account easily by linking it to my Facebook.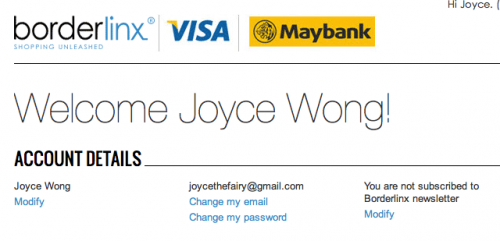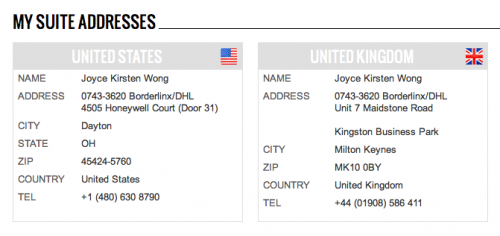 So every time i shop using Borderlinx Maybank, i just enter my personal address that's given to me above. I can also calculate the estimated full cost of shipping that item by using the Total Cost Calculator
.
Besides fashion items, one can also ship books, gadgets, toys, whatever! (as long as it's not illegal haha)
Check out www.borderlinx.com/visa-mymaybank
If you own a Maybankard Visa Credit Card, you get free shipping the first time you register at the website. Of course, your payment for purchases must be made using your Maybankard Visa Credit Card issued by Maybank & Maybank Islamic Malaysia only. The free shipping promo is capped at USD25 per person and ends on 31st Dec 2012.