I think if i make myself blog in sequence about all my trips i may not finish it… so i'm taking a different approach by posting about my favourite places so at least the best ones go up! I changed the header of my blog recently to the one you see now, which was taken at Inle Lake – one of the most beautiful places i've been to in the world. I really can't NOT blog about it cos it's one of Clem's and my favourite places we've been to…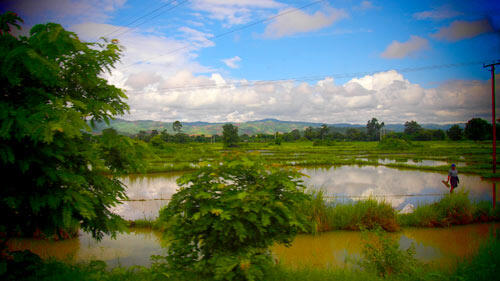 We chose Golden Island Cottages after reading about it in the Lonely Planet, and it sounded a lot nicer than a normal guesthouse. Plus it was USD60/night – not at all expensive! To get there is a really long journey though. Then again, i think getting to a really special place requires more determination… if it were so easy then everyone would be going there!
If you were to get there from KL, you'd have to take a flight from KL-Yangon. Then you have to take a flight from Yangon-Heho. From Heho airport, you need to take an hour plus car ride to reach the side of the lake, then an hour plus boat ride further down the lake. It was all worth it. Completely. The pictures will show you why later!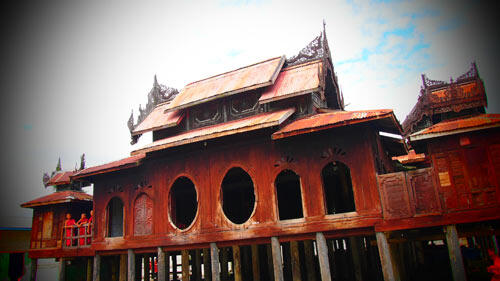 On the way to the lakeside, we stopped at a wooden monastery to have a visit.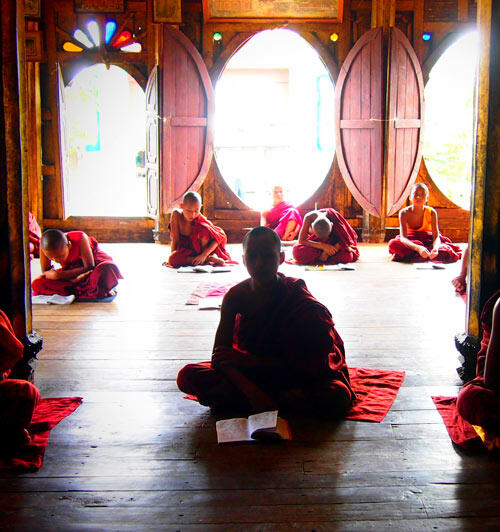 We were allowed to take pictures of the child monks praying as long as we didn't make any noise.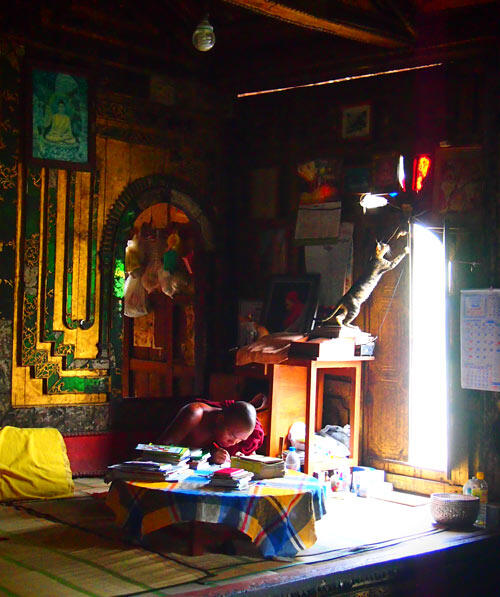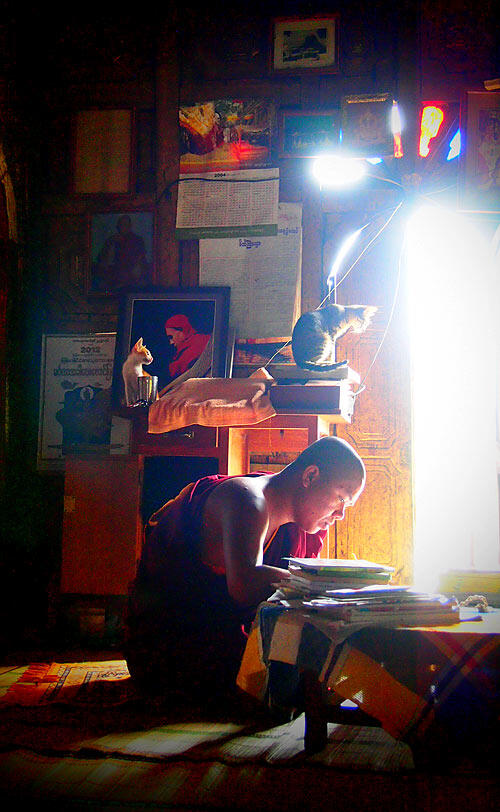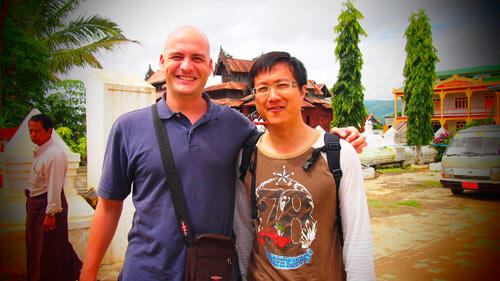 Clem and Benjamin, a HK guy based in London who works with hedge funds. I was like, "Woah, you're the first guy i know who works in that industry…" We shared a taxi with him to Nyaungshwe, the lakeside where most backpackers choose to stay.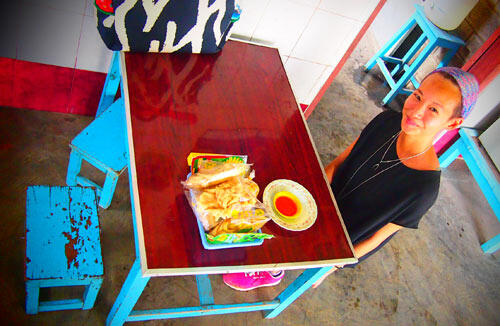 It was Joyce's Feeding Time. After being together for years, Clem finally learns that to have a happy girlfriend, she must not be a hungry girlfriend.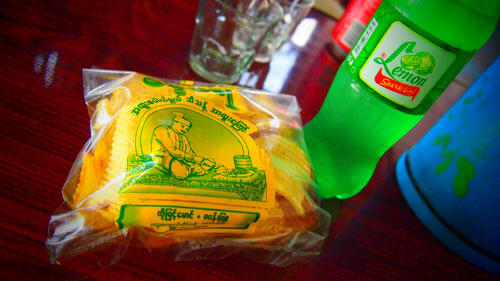 Some local snack (really yummy) and drink.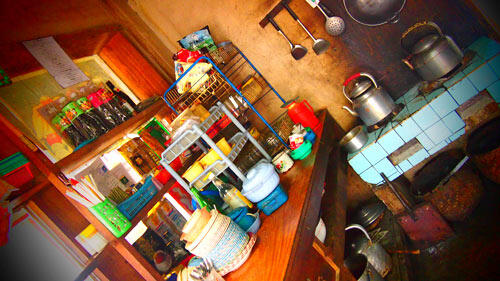 I stepped into their kitchen and took some photos… to the girls' amusement. Probably never see people so fascinated with their kitchen. It's so ori! Keepin it real.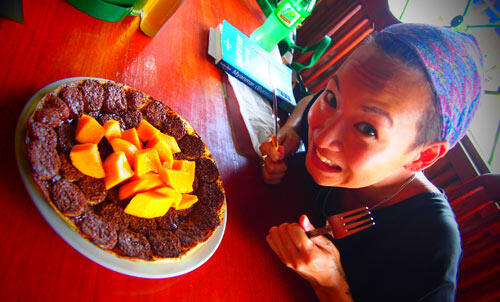 After our noodles, we were a bit greedy and had mango and chocolate pancake…. which tastes BETTER than it looks! And it looks damn good.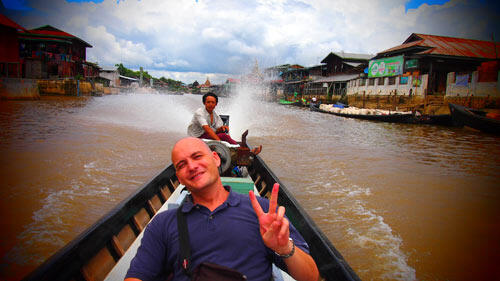 We bargained with the boat man for a package price so he'd fetch us to the hotel, fetch us around to sightsee the whole of the next day, and from the hotel to the lakeside again when we leave. It cost around RM300 for everything, thanks to the sky-high fuel prices in the country.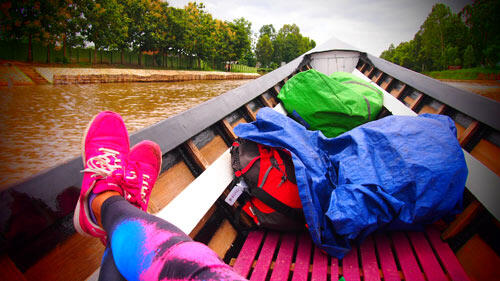 My pink shoes… are still not washed since ever. Hmm. (Can i get the cleaner to wash them for me!?)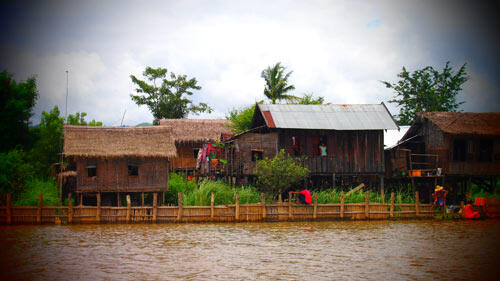 "The people of Inle Lake (called Intha), some 70,000 of them, live in four cities bordering the lake, in numerous small villages along the lake's shores, and on the lake itself. The population consists predominantly of Intha, with a mix of other Shan, Taungyo, Pa-O (Taungthu), Danu, Kayah, Danaw and Bamar ethnicities. Most are devout Buddhists, and live in simple houses of wood and woven bamboo on stilts; they are largely self-sufficient farmers." [source]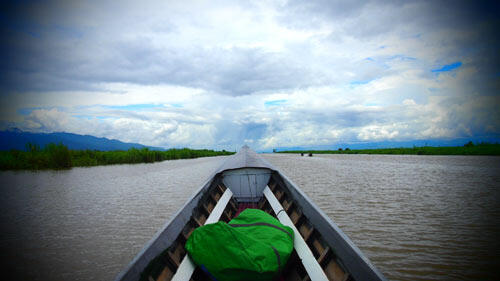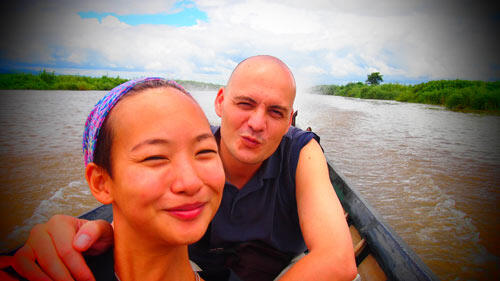 Wherez my eyez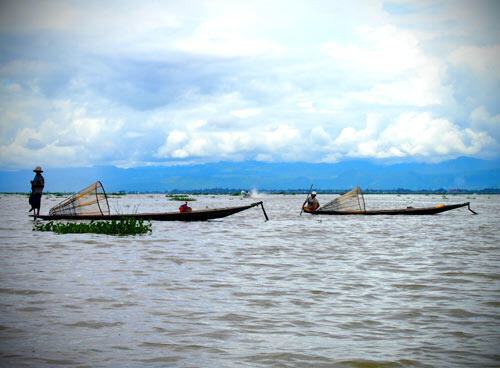 The famous fishermen of Inle Lake who balance on one foot while using the other to paddle themselves along.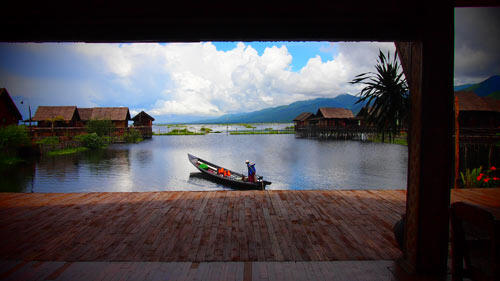 We arrived at our resort and it seemed like paradise. It was quite empty (tho we saw many other French and Italian guests in the restaurant later that night) and everything was still and serene.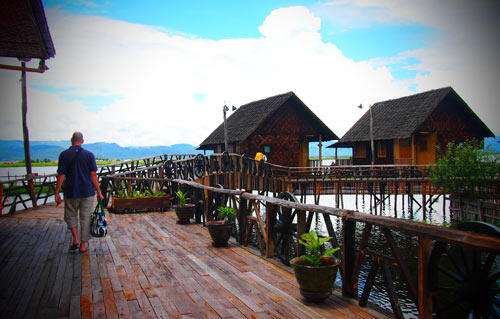 Golden Island Cottages is a non-profit enterprise of the Pa-O people, who have lived in the mountains and shores of the lake for centuries. The cottages was one of the first attempts to provide training and jobs, as well as fund development for businesses, healthcare and education in their communities. This is one of the main reasons we chose to stay here, as the government sadly doesn't supply much support to the various communities in Myanmar.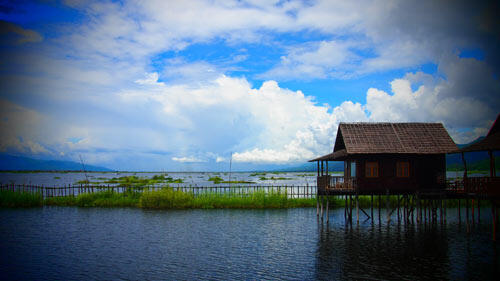 When Clem and i first rode across the lake, we didn't talk for 20 minutes because we were just taking all the beauty in… we even used the same word to describe Inle Lake – breathtaking.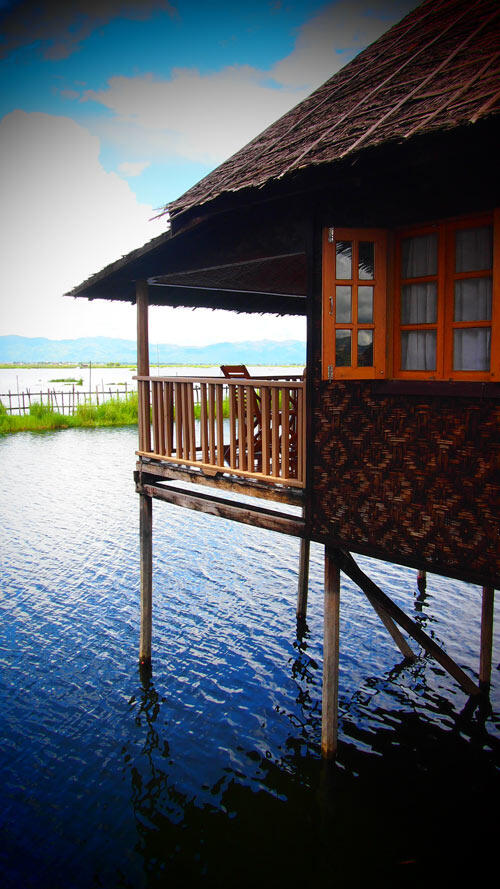 All the cottages are built with bamboo and wood to represent the traditional lifestyle of the people who live in and around the Inle region.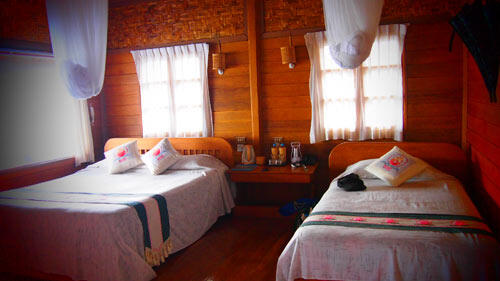 Our room was really spacious and comfortable with a nice big verandah that holds two lounge chairs, and a separate table with two normal chairs where we could play cards.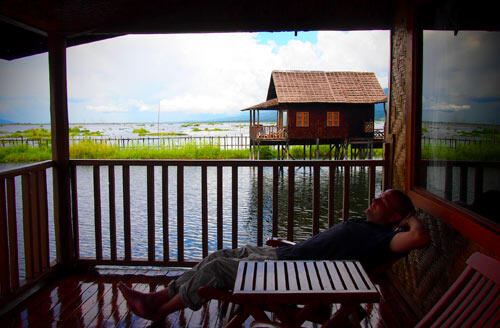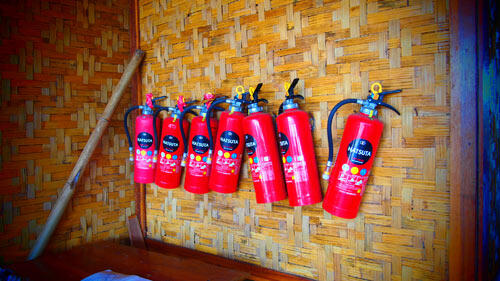 Since everything is made of wood..!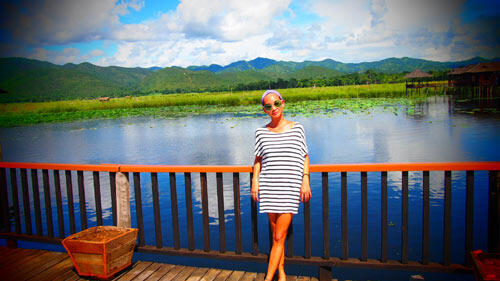 Isn't it GORGEOUS? The lake just reflects all the clouds and the blue sky. 'Twas SO BEAUTIFUL.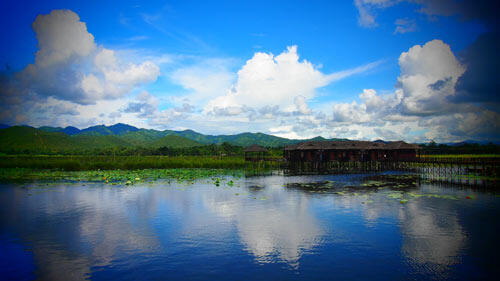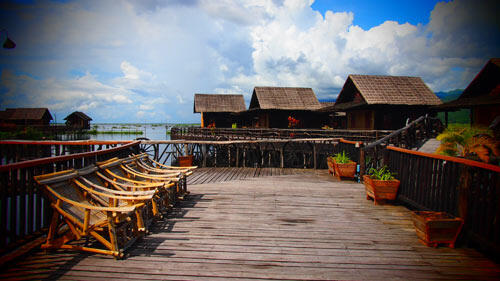 Because we'd spent most of our days in Myanmar doing a lot of walking and sightseeing, we dedicated our first day on Inle to just chill and do nothing.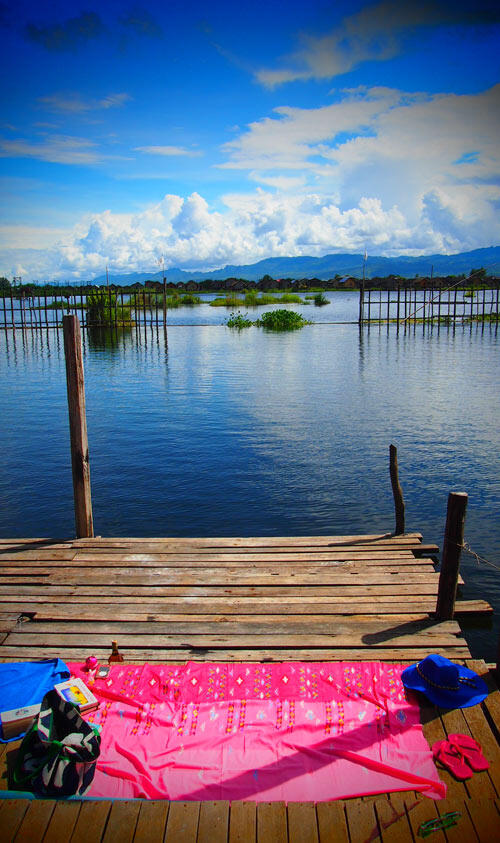 Found a good spot on a platform where we could tan, draw, swim and drink.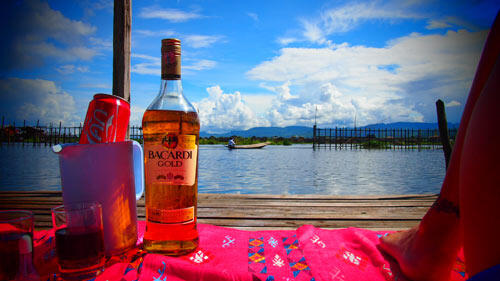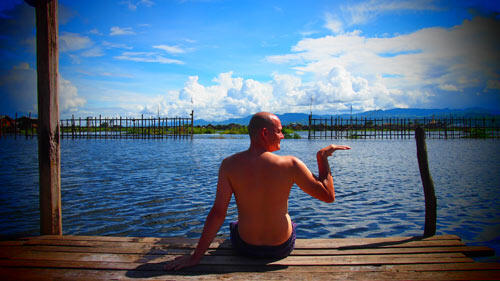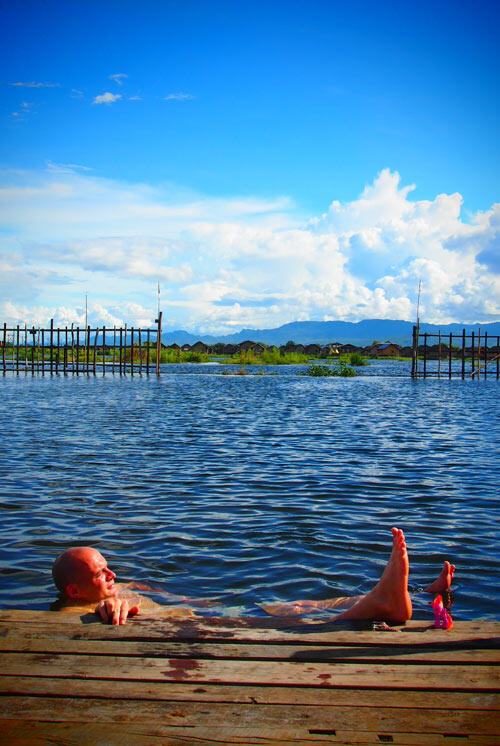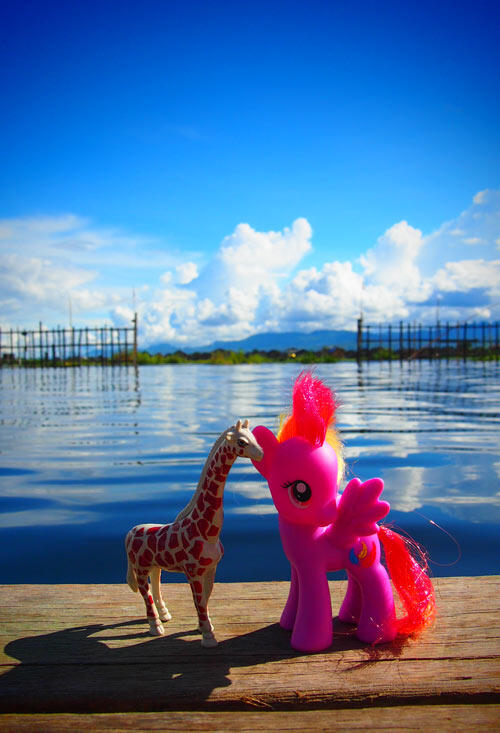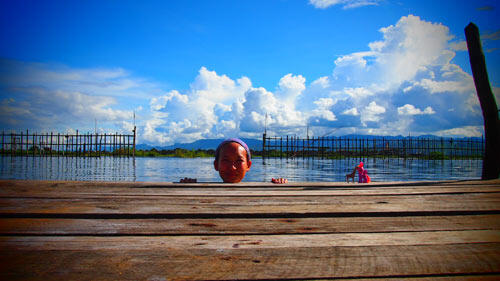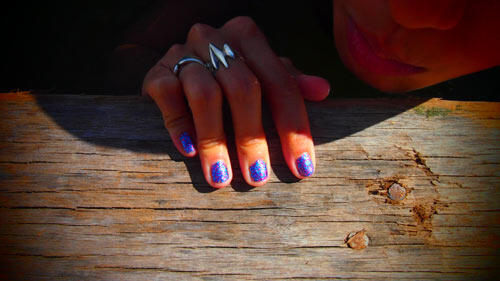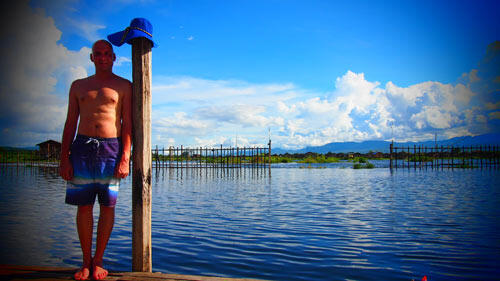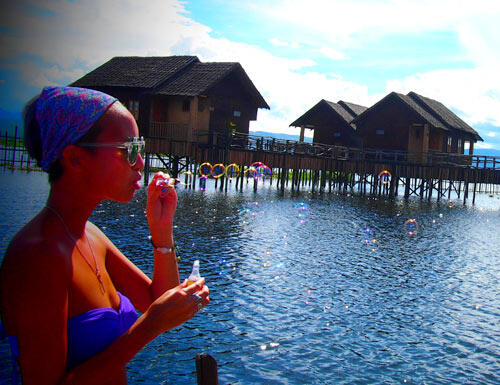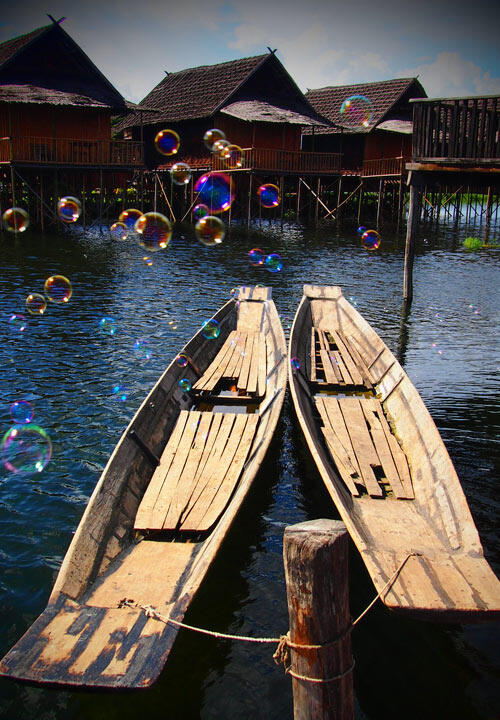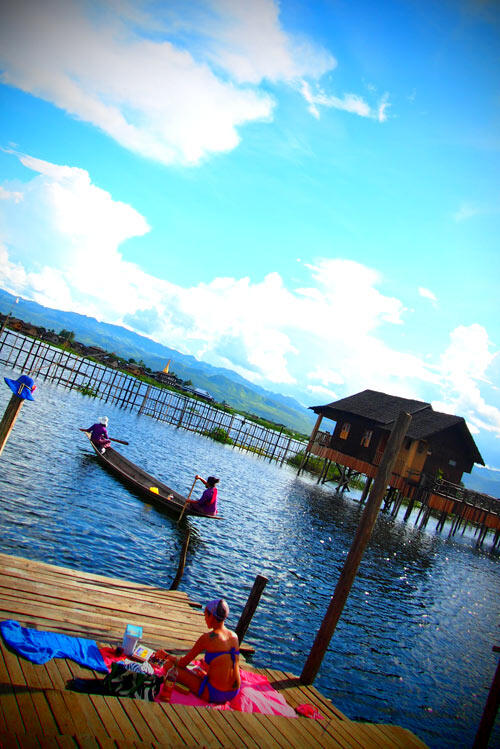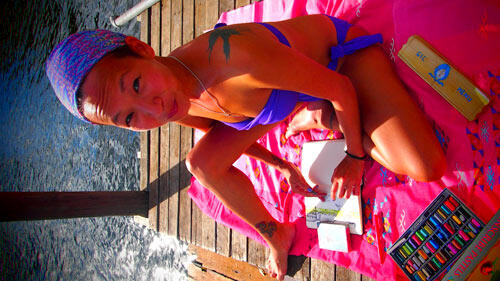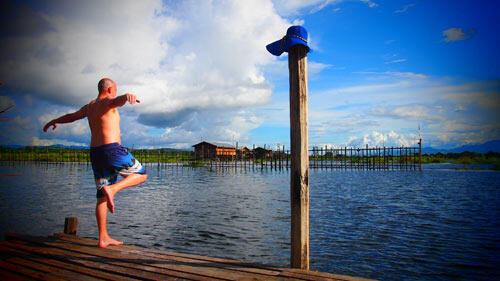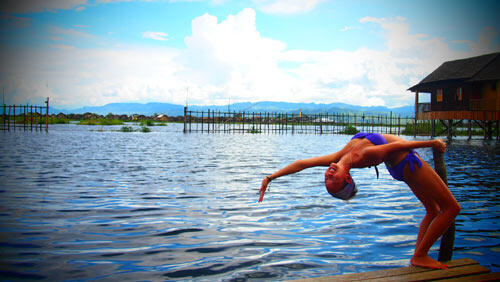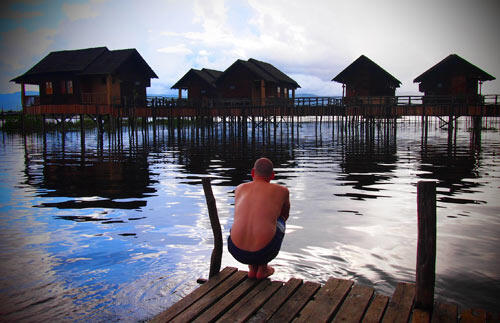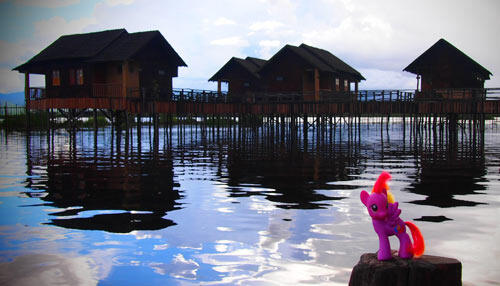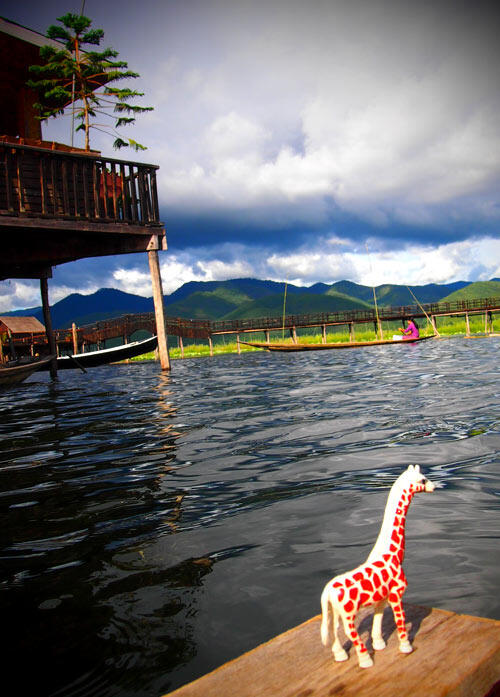 "A storm is coming!" said the giraffe, "I don't like rain… it slides down my long neck and tickles me!" So we packed up all our my toys, pastels and things, and headed home for a shower.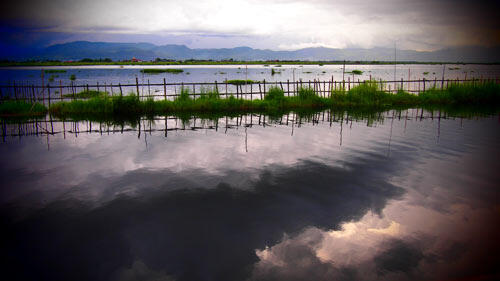 Even with a looming dark sky, the lake is still so beautiful…
For more posts on Myanmar, click *here*