Traveling alone is certainly interesting. First I was kinda depressed and felt slightly homesick. Then after 24 hours I snapped outta it and started basking my solitude. I don't have to talk to anyone or listen to anyone but my own thoughts. I move around and wander at my own ease. I literally stop to smell the flowers (heaps of bright ones everywhere here!) I realise how i'm such a late sleeper and riser. In KL I sleep around midnight and wake up early (cos I keep to Clem's time!) but alone out here, I like mucking around with my photos and writing till really late.
Also, it could be the weird lighting I'm not used to in this part of the world. It's fairly bright at 1:30am and I wish this room had blackout curtains… I went to bed at 1:30am last night, had all sorts of weird dreams, then woke up thinking it must be 8am. Checked my time and… it was 3:30am?! I felt like I'd slept all night already, cos the light was just effing with my head. I wonder how the Swedes do this. If I lived here, I'd be up and awake and partying all summer, and hibernating all winter. Which is probably what they do. I was just thinking how if I traveled further up North, I could have watched the midnight sun. But… the thought of so much cold deterred me.
Back to my adventures here! I'm quite proud of myself for being able to find my way around neighbourhoods and counties whose names are as long as seven syllables at times. Yesterday, the bus I was in drove by a huge warehouse with a gigantic name plastered across it. The name was SO long, I couldn't even finish pronouncing it in my head before we completely passed by -_-
Today, I went to visit the artist Carl Larsson's home. He lived from 1853 to 1919 and led a sad and impoverished life till he met his wife Karin. From there he managed to make a living out of being an artist, and built a beautiful home from a tiny one his father-in-law presented to the couple. Carl and Karin had seven children, and at present day, 240 descendants. It's endearing how his very descendants now preserve his old house (some live in it), manage the store and the tours to educate visitors who visit the home every summer.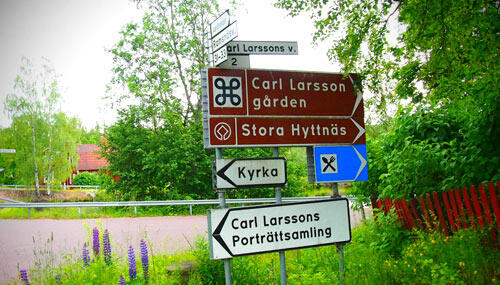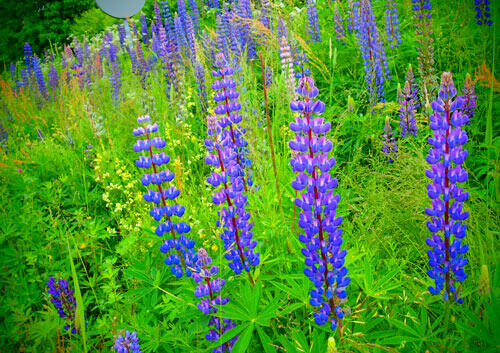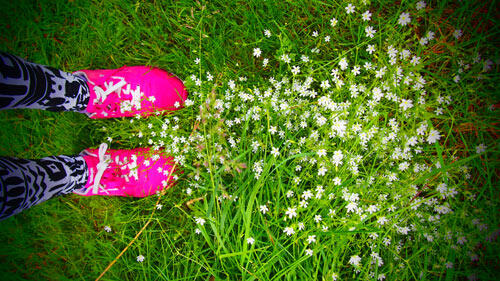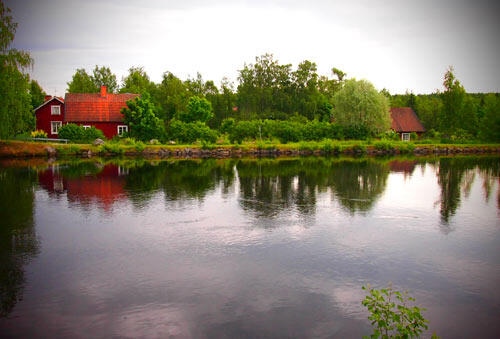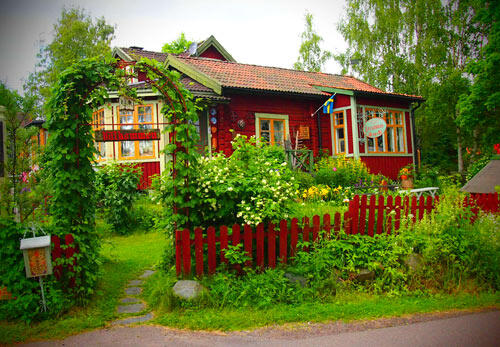 It's ridiculous how PRETTY the houses in the neighborhood are. They look so fake i.e. out of a picture storybook!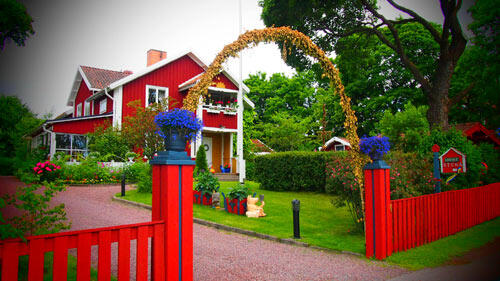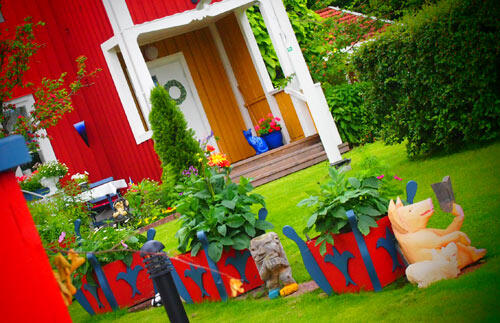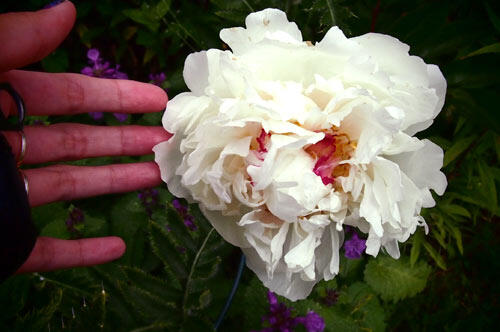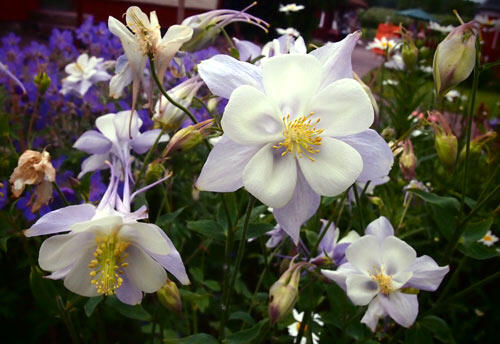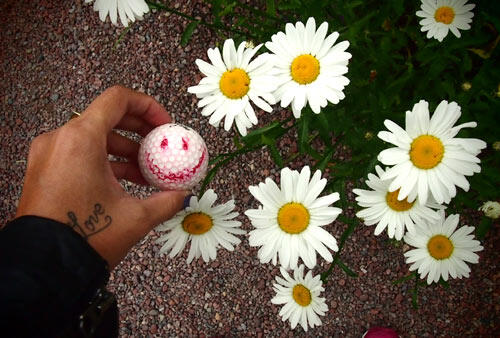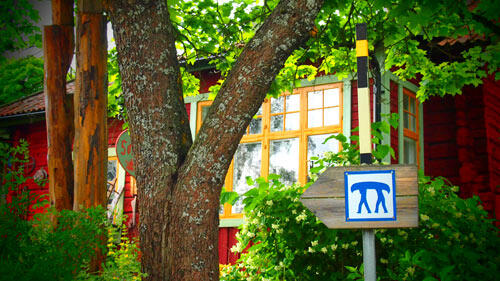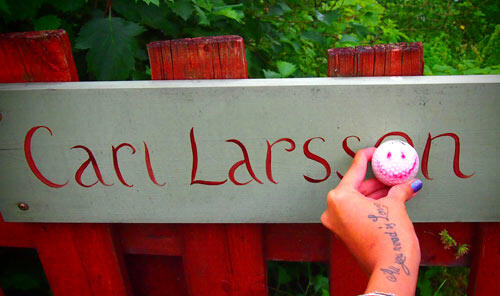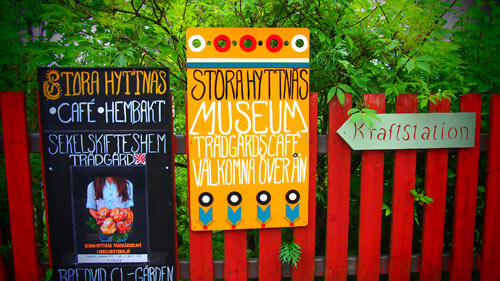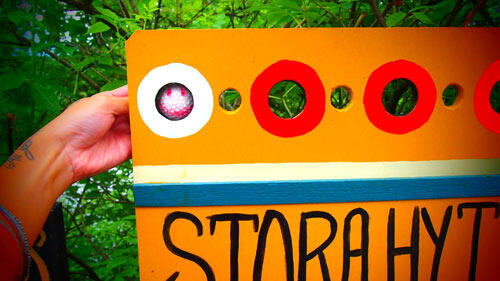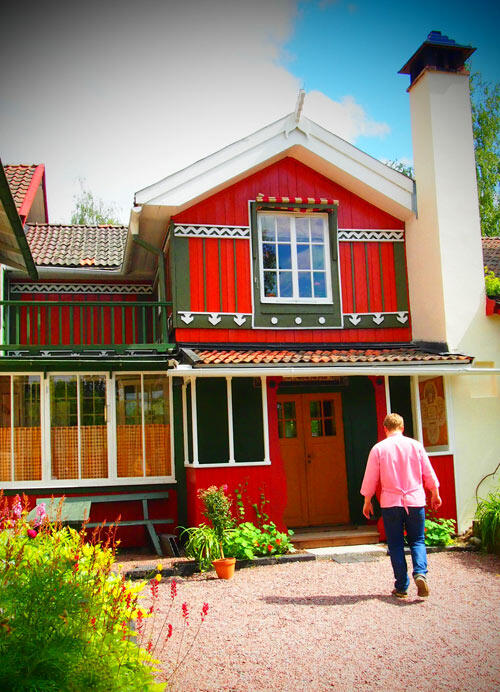 This was Carl Larsson's house, and in the pink shirt is his great-grandson Niklas, who gave us the tour.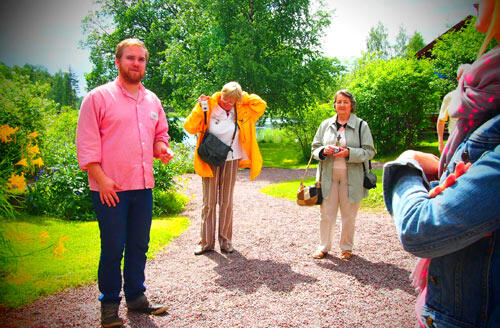 I felt really lucky to have been in that house… it felt really happy and full of love and it was really colourful! Most of Carl's most popular works feature his wife and children in their home, and many paintings still adorn the walls of it. There were no pictures allowed so I'll do my best to describe it here.
We first entered a small studio, which was Carl's first studio before he moved to a bigger one. The small studio was then used by Karin, who was a master at tapestry. Heaps of her tapestry works are present in every room. In the studio was a large pillow that represented WWI. It was a lot darker in colour than the rest of her cheerful designs, and had patterns of bombs, tears and the years. You could just feel it was a sad and serious pillow.
On the corner of the bench the pillow was on, raised a deep orange wooden timber that (perhaps due to my short height) I assumed was a pillar. Niklas showed us that it was a hollow cupboard that Carl used to keep his paintbrushes. When I looked up I saw a funny carving made out of the same wood sitting on top. In the corners were an old tapestry machine, sewing machine and a spinning wheel (if I'm not mistaken!). What I noticed was this TINY gold/copper kettle that I could cup it one hand, it was utterly cute. If I saw it in a shop I would have bought it!
On the door of the studio, Carl had painted Karin's face because even though he would have liked for her to be by his side the whole time he's working, it wouldn't be realistic, so he did the next best thing, and painted her on the back of the door so she'd always be watching him working. So sweet!
In the dining area, there was a sofa bench where Carl would sit on to be at the head of the dining table. He was truly the king of his house! The long yet modestly-sized table had eight chairs, four on either side – to seat the couple's seven children from oldest to youngest, then Karin on Carl's right. Niklas said that back then, it was very modern for the family to eat together as Swedish parents would eat separately from the children. On the bench that Carl sat on, was yet another exquisite tapestery made by Karin. I just thought how amazing it was that the couple pretty much dedicated most of their artistic abilities to making their home a lovely one and how they did the art for themselves. I think that's the beauty of true art, when you do it for yourself or love, and not for money nor fame. I love the colours of the dining area – blue, green, orange and red. All bright and happy! Which is what a dining area should be – for food and joy and chatter.
On the top of one wall, Carl painted a phrase in Swedish which when translated meant, "Children, love each other, cos love is all." (something along those lines, I might have got some words mixed up!)
In a corner was a neat little shelf which stored trays sideways. Another visitor next to me admired it, and our guide agreed about their penchant for compact living. The visitor said, "Like Ikea!" And Niklas went, "Hmm… I think Ikea took some ideas from here!" If you think about it, this house existed way before home stores like Ikea, eh!
Beyond the dining room was the children's playroom, which you can see in Carl's paintings – 'Window With Flowers', 'Cozy Corner' (showing where he'd nap) and 'The Punishment Corner' (where his son had to sit for being naughty). This room was very cheerful with lots of light shining in on the blue and yellow interior.
Up the stairs, we visited the library which stores over 2000 books, all of which Carl has reputedly read. They did look very old and what I liked were the little antiquities lying around. The library leads to the guest bedroom, whose bed is a tiny hole in the wall (compared to the beds these days). In those days, the bed took up very little space whereas the rest of the room were taken up by giant wardrobes, desks and other furniture. There's something like a window that leads into the bed (so you can close it when you sleep) and the Larssons had got their guests to sign the inside of these windows ala their house guestbook. Great idea!
In the family's sleeping quarters, Carl would sleep in a bedroom by himself while Karin and the young children would sleep in the adjoining bedroom. This was common in those days. Carl's bed looked very small, and it was explained that back then, people would sleep while sitting back on a lot of pillows instead of lying flat, hence no need for a long bed. Karin had of course made all the tapestries that hung above his bed, the bed covers, and everything else. In her room, what I remember most was looking in (while noone had gone in yet) and gaping at how magical it looked, like a storybook. A long red and white floor tapestry lead one from the front door all the way to the end of the big room, where a dressing table sat. All the covers on Karin's bed and the cots were in red and white checkers. All around the walls were red ribbons painted by Carl. On the floor next to one of the cots were doll-sized chairs and table.
I had dejavu while in that bedroom. While Niklas was talking, I suddenly remembered that I dreamt about being exactly where I was before – with him talking to me on my right, the green door to the WC that looks like a box in front of me, and the sunlight coming in from my left. I stood there, stunned and happy, cos I haven't had a proper dejavu for awhile.
After that room, the tour was over. We were only allowed to see some parts of the house whereas the others (where family still live in) are shut off. Still, I felt lucky enough to see the house! Was so worth the trip there.
I walked around a bit after that. Took pictures of an art area for children in the garden (how nice right!)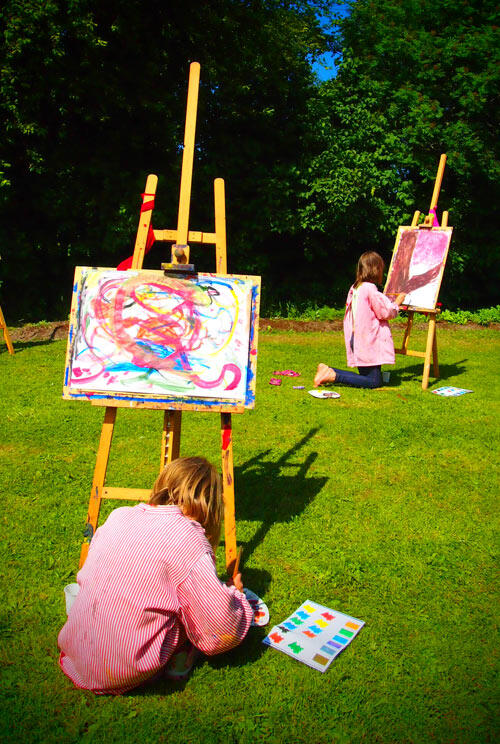 I was placing Wilson next to these plastic animals to take a picture when one of the girls working there came up to me and said, "I know what you're doing! My friend takes this little thing around with him when he travels too, and takes pictures of it." I laughed, slightly embarrassed but more relieved that she understood. Else I'll be that crazy Asian girl playing with a golf ball by herself!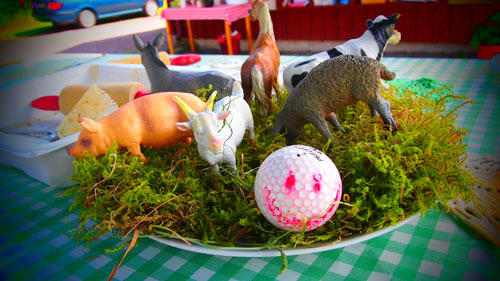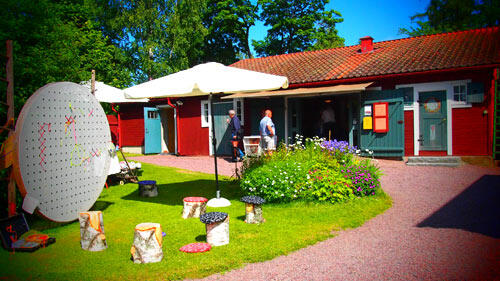 In the store next door, I got a reproduction of a Carl Larsson piece I really liked. Judging from previous experiences where I've liked something while traveling and DIDN'T get it, I knew I should just buy it with no regrets cos I highly doubt I'll be coming all the way back here any time soon! As i was paying for it, i was told the cashier's great-grandmother is the girl in the painting.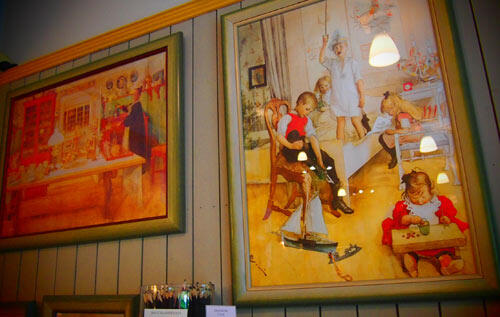 After that I really had to EAT. I was so hungry and felt like I could do with a proper meal and hoped that they served some good Swedish food (cos I hadn't had any yet) and not at an extortionate price. Lucky for me, their garden café called Hyttstugan had a lunch buffet for 125 kronas (RM60) where I had salads, salty ham in baked in cheese, baked white fish, meat, potatoes with mushroom sauce, and a Coke. It. Was. Exactly what I needed. I wiped out the pile on my plate and headed back for a second helping.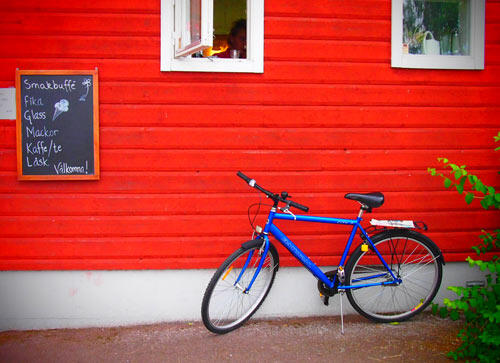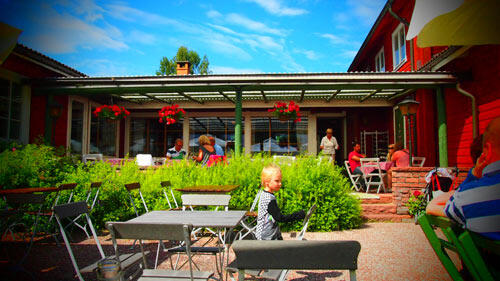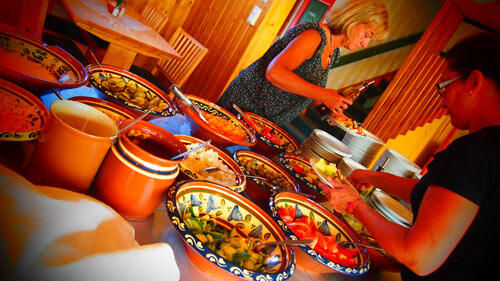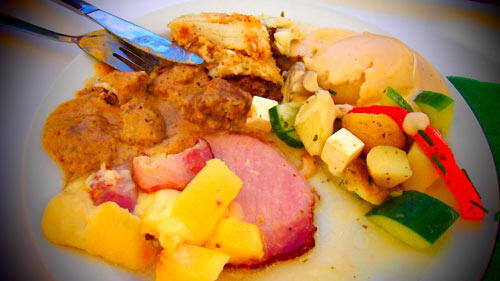 I wandered around the village and gardens by myself. Got a couple of tourists to take pictures of me, so I have at least TWO pictures with me in it! I think there are more pictures of Wilson than me in Sweden -_-
The gardens were so gorgeous to play in! Lush, so much space and fresh grass. I wished Yishyene was with me to roll around on it. I know she would. I couldn't very well roll around by myself… so I rolled Wilson (when noone was around me).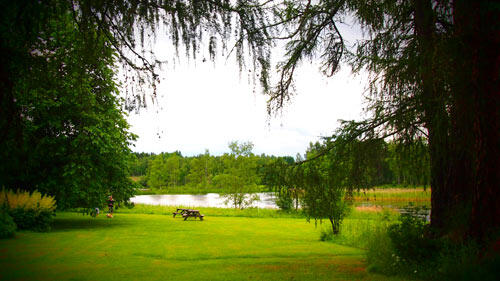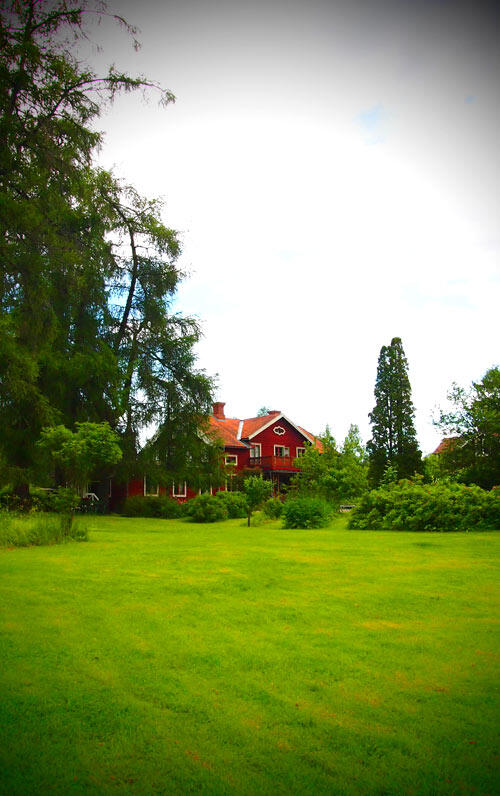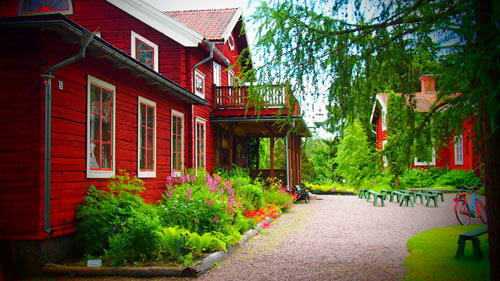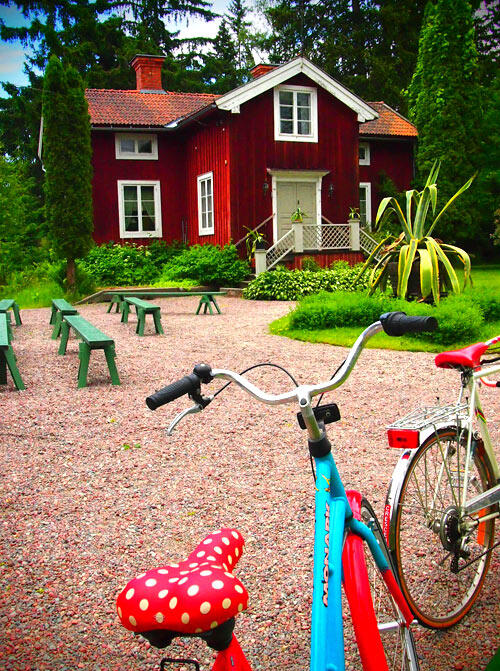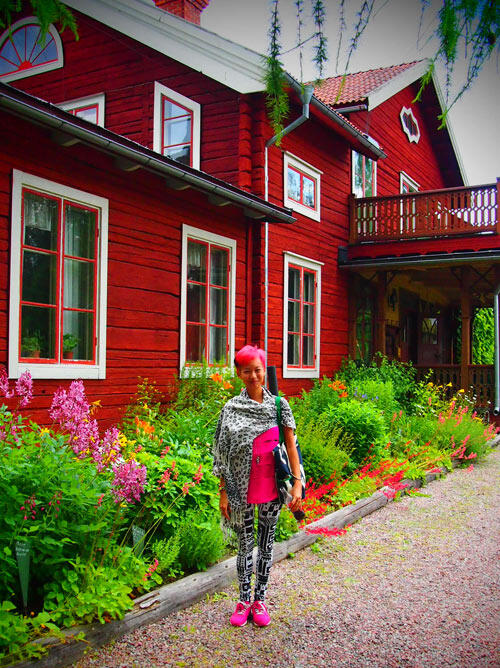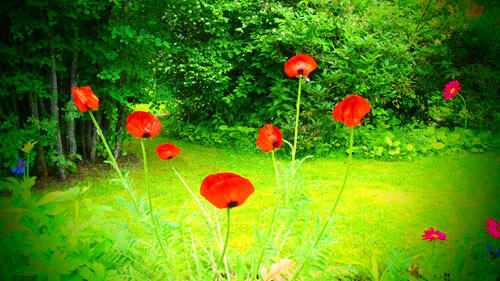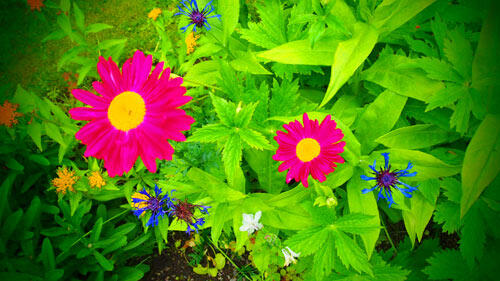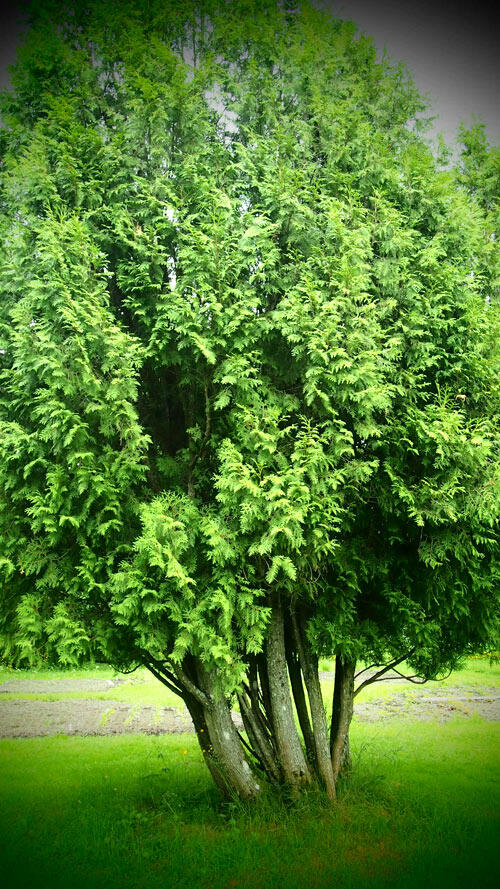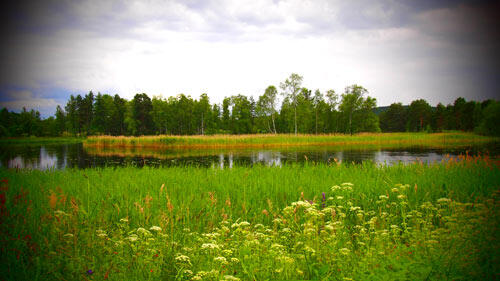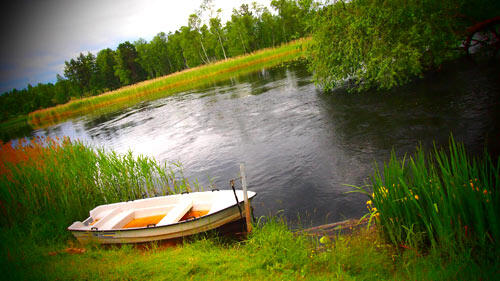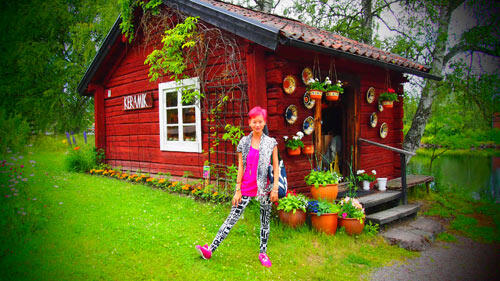 I found the old mill, where an art exhibition was said to be going on and since I went for the guide in the house, I could enter this for free. So many interesting Swedish sculptures were for show and sale! There were prices and their names and item numbers on pieces of paper which I couldn't help looking through.. and ended up falling for this crazy looking dog + thread spool holder by Elenor Bostrom. I bought it for 600 kronas. I don't care. I'm gonna HANDCARRY this all the way through London and Paris and all the way home!