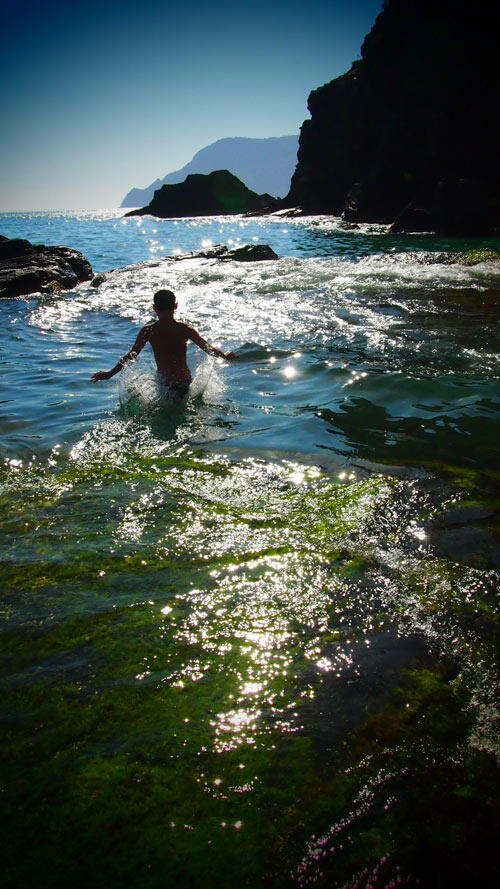 Vernazza, Cinque Terre
This morning I woke up next to a lemon. It's not a secret message or anything, but a proper bright yellow lemon. First I was like, 'what the fu..' then my head started hurting and I collapsed back to bed. We were both so hungover that it took us hours to get to the train station and by the time we did, we'd JUST missed the train and had to wait an hour. I scolded Y for being so impatient like a child, and she retorted, "It's just habit. In London, when you see the Tube's gonna take 3 minutes, you're like oh my god, so long!"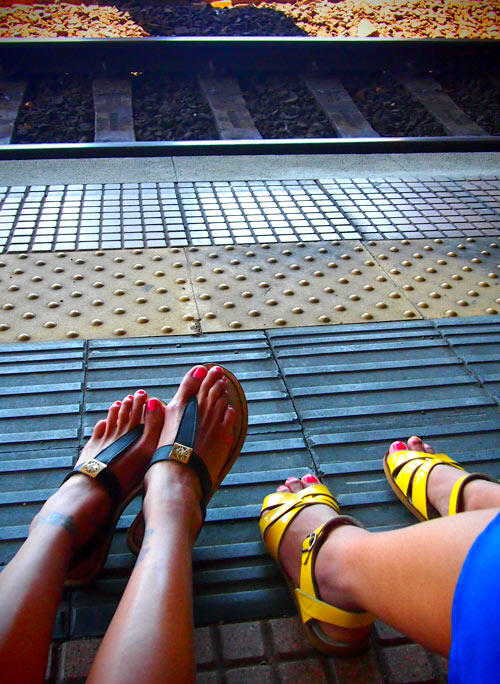 When we reached Vernazza, we went by Sandro's to look for Edoardo cos we said we'd go to the beach with him one afternoon, but it was shut and the staff at the bar across said he went to visit his grandparents (awwh!). So we looked for elsewhere to eat, which was kinda hard cos it was already 3:30pm and most kitchens were closed for the afternoon. Finally found one on a corner where I had an uneventful bolognese.
After lunch, I debated whether to buy this really cool metal & wood cheese grater I've been admiring for 3 days. Just that… it's kinda big to bring home and I've already bought so many souvenirs for the house that I don't know how I'm going to lug everything home to KL. I'm definitely getting a cheap cabin bag to stuff more things in when I leave Paris-KL.
Y: If you keep on thinking about it you better just get it. Thought I don't think it's a great idea.
Me: Hmm… I don't even grate my own cheese at home, I just buy ready-grated cheese in packets.
Y: What! That's even worse!
So I didn't get it. Instead I got a couple of cool prints and artwork by local artists, and some Cinque Terre pasta herbs with intructions that made me laugh out loud in the shop. The package looks all serious and classy, then suddenly the first two lines of the directions in English are: "Are you ready for a mouth-watering pasta that will knock your socks off. Alright then, trust me and follow my advice carefully."
After saying bye to our money, we went to Vernazza beach which consists more of rocks next to water, than a sand. All the rocks were filled with people and we were SO lucky that a couple left the NICEST biggest flattest rock of all, just after we sat down on a tiny sad rock that hurt our bums. We spread out all our things, and I slapped tanning oil on all over myself cos I don't foresee any more beach episodes this trip and don't want to carry the bottle around. I've never been so oily in my life.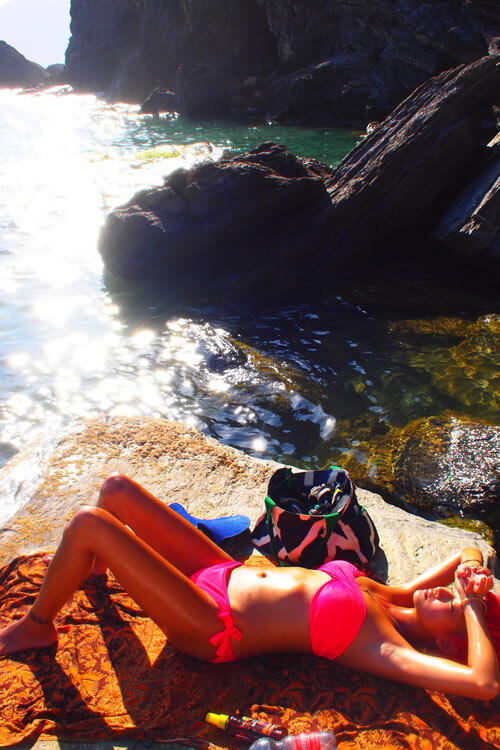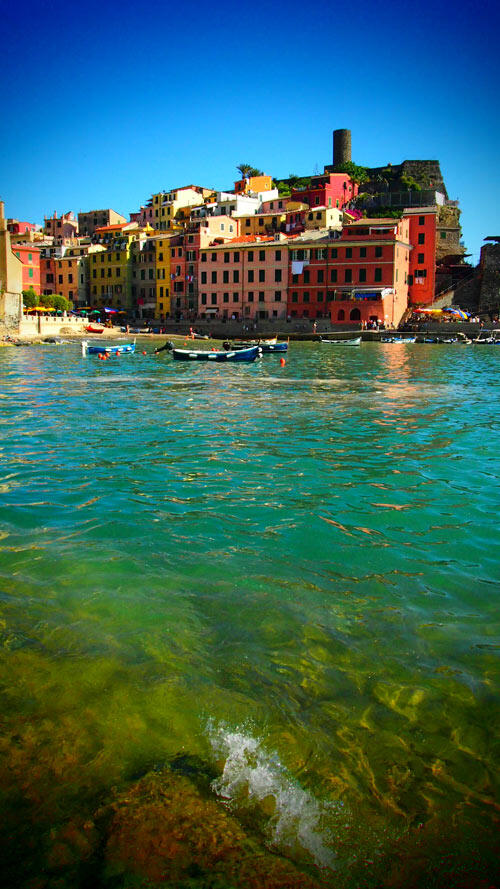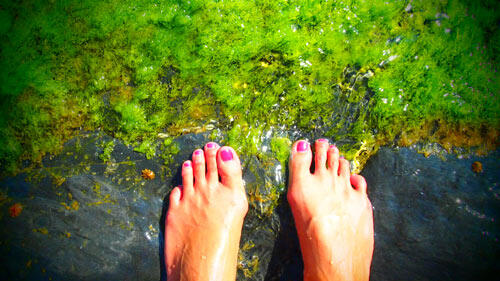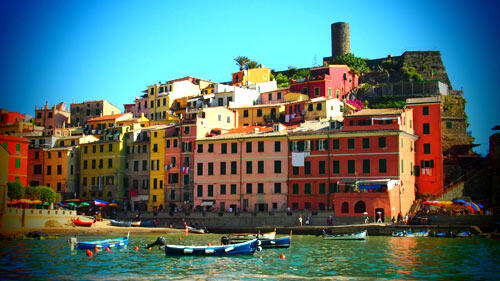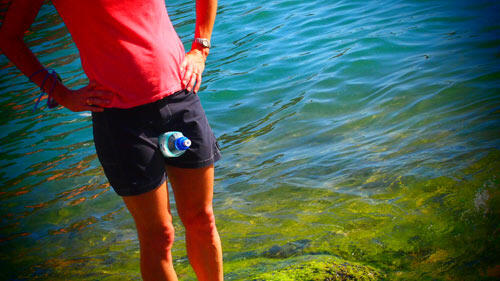 As always, Y wanted to take silly pictures like how this man was carrying his water bottle while his enthusiastic wife made him come onto the wet rock to watch their children jump into the sea.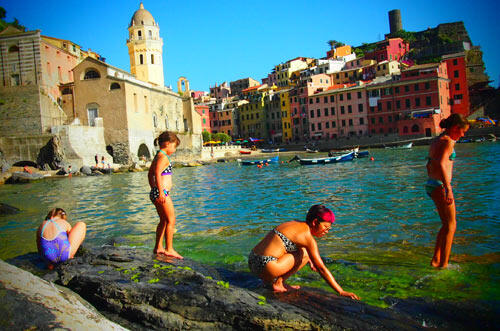 All the children at play. Y diligently collected bits of seaweed to fling on to a rock and proudly pronounced it her artwork.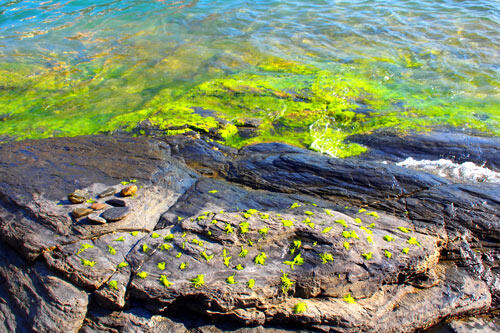 After she got bored with that she started putting seaweed on HERSELF and in her belly button.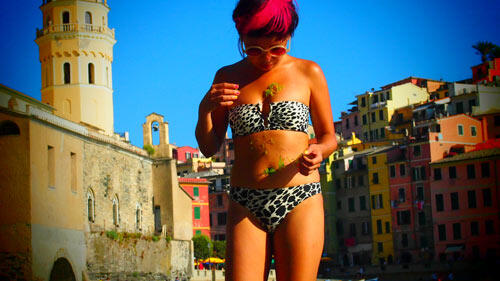 Hi. This is my friend who does things like this to herself. In public.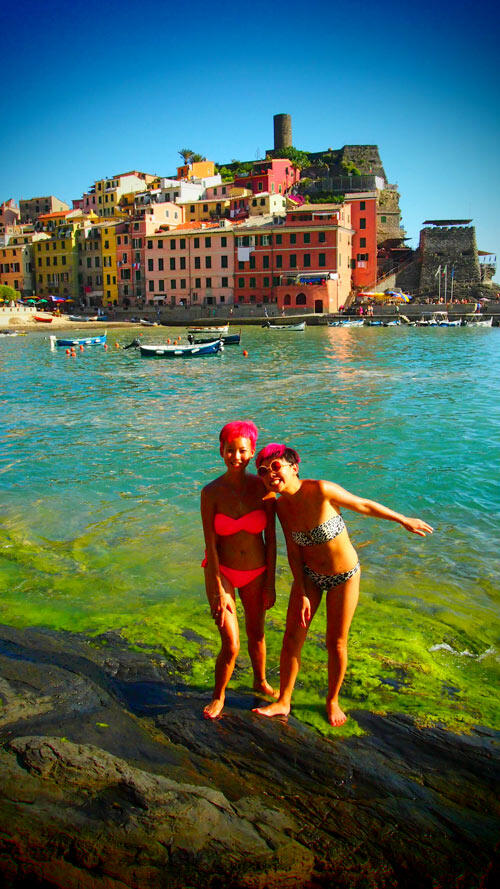 We spent quite a while tanning and took our bikini tops off when people left. Think we want to be as naked as we can WHILE we can. We leave for Belgium tomorrow and the weather won't be as hot and sunny as this.
When the sun set, we checked the train times to find out… we'd just missed a train AGAIN by a few minutes, and had an hour till the next one. So we went to get some gelati seeing it's our last day in Italy.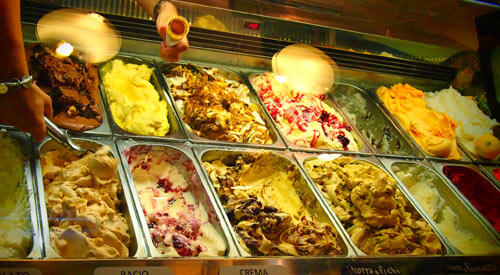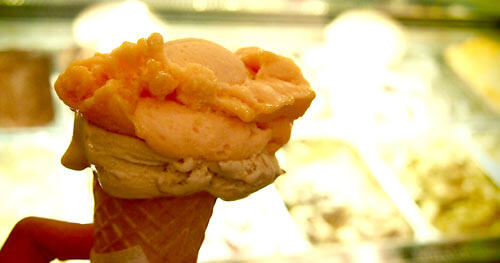 I chose papaya and pistachio and it was amazing. The papaya was really something. We sat on a bench, happily eating our gelato and watching people and the place around us when I thought: Damn. This gelato is so damn good. People are missing out in life by not having gelato!
When we finally got our train back to Manarola, we went to Il Porticcolo for dinner.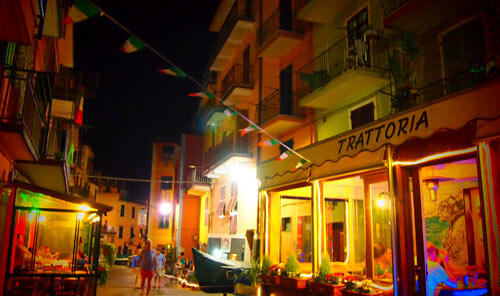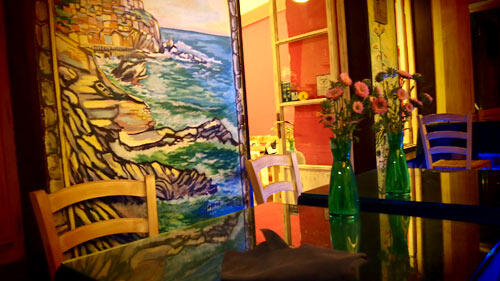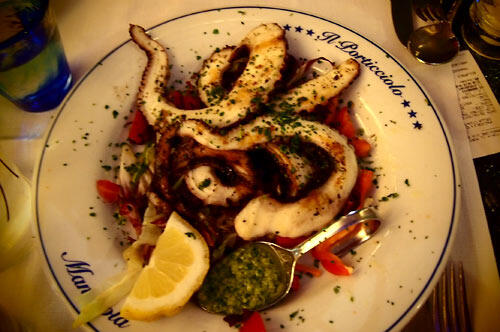 The grilled octopus was DIVINE. Alas, the seafood soup i was looking forward to was too salty.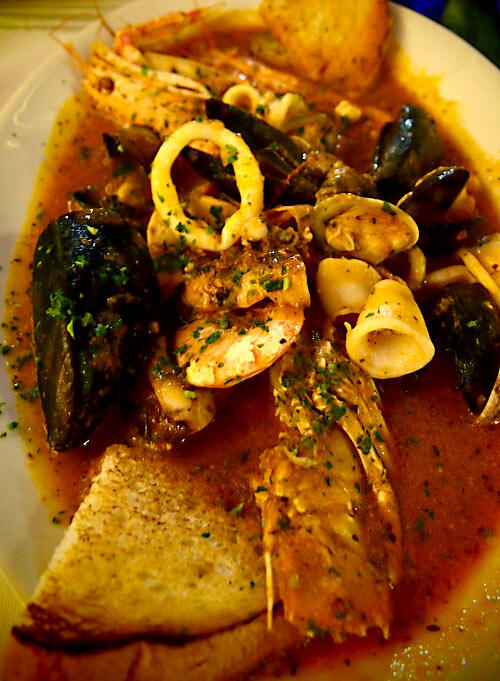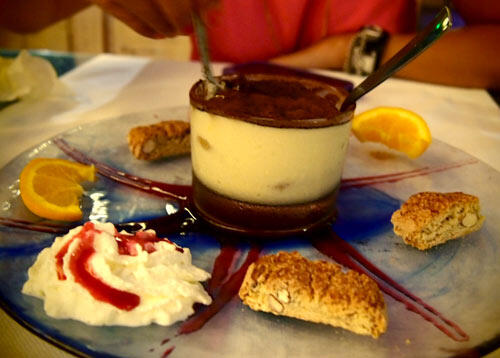 When i was eating my gelato earlier, I thought of all the other things in Italy that I love: amazing seafood and pasta, cheap beer, cheap and awesome wine, nude beaches, volcanoes, crazy stars, fun & generous new friends, incomparable sunsets, colourful buildings, massive bright flowers… And my ending thought: People are missing out in LIFE by not coming to Italy! 
Gosh. I would love to return to Cinque Terre in the future, and explore a lot of other places in Italy now. In fact… I wouldn't even mind living in Italy one day. It's such a HAPPY PLACE.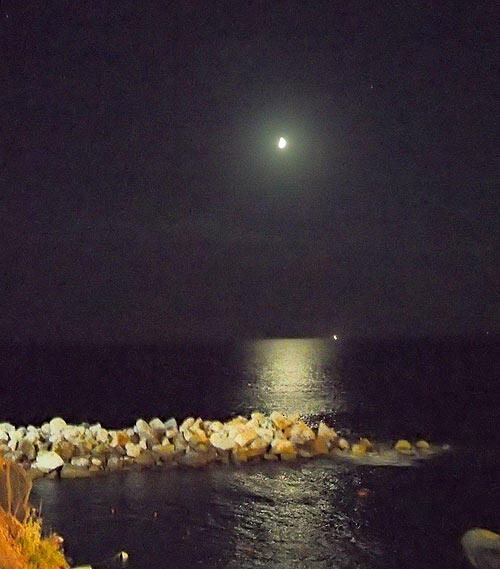 Bye bye for now Italy. I love you so!