There are just so many pictures that you have to click the post title to read the whole thing okay.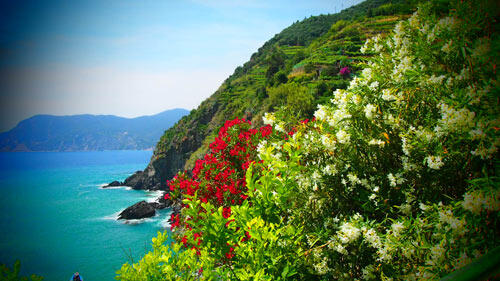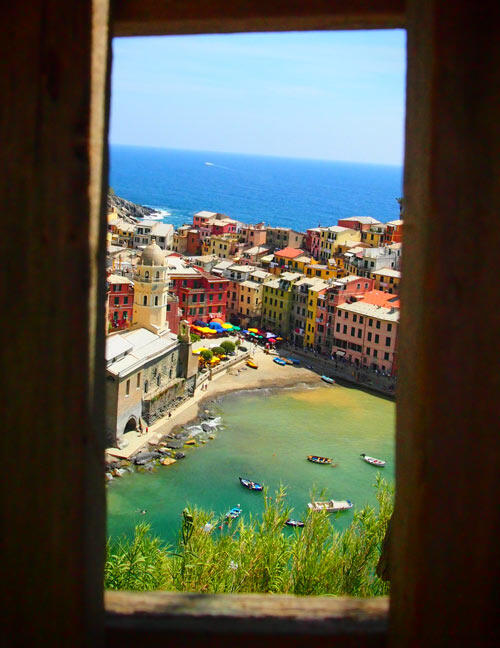 View of Vernazza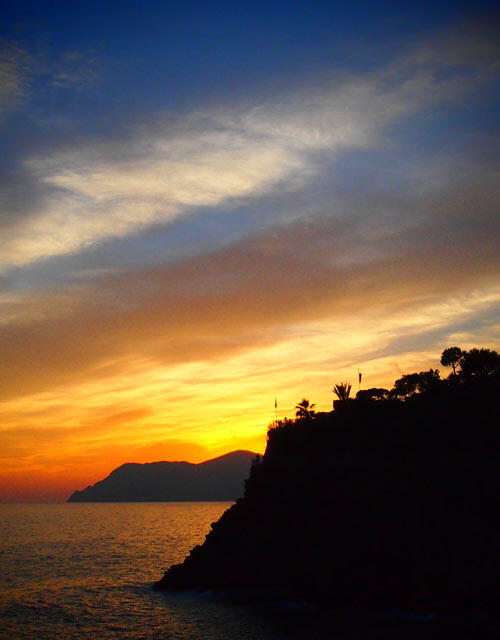 Manarola sunsets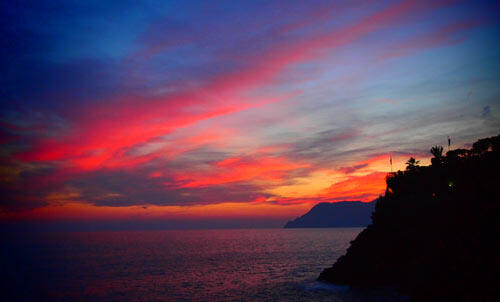 We began our day by having vongole, one of my favourite pastas in the world since i was a teen.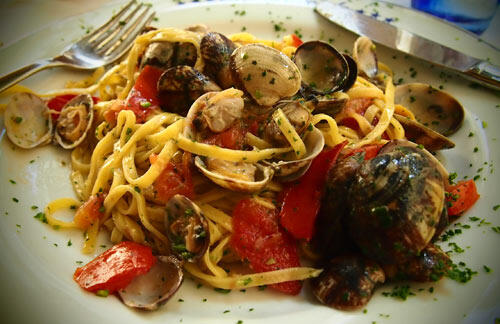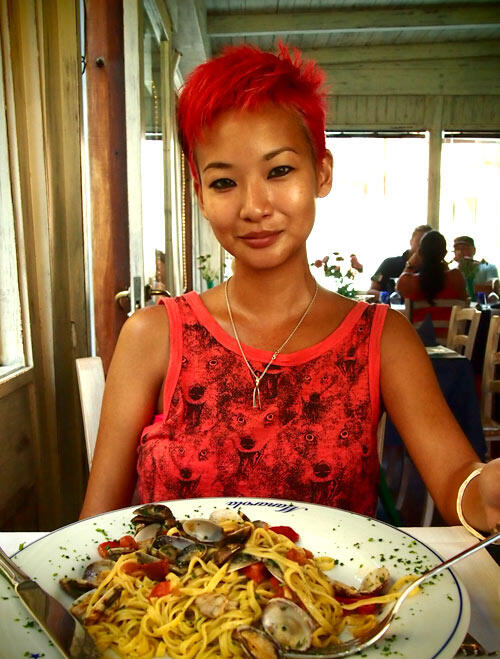 Remember how i mentioned in the post before this that Vernazza recently went thru a horrific flood? Here are some photographs of the ordeal that the townspeople posted up on their walls: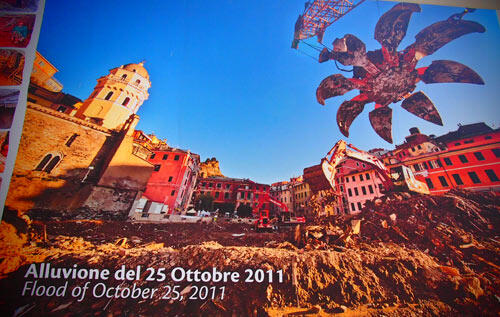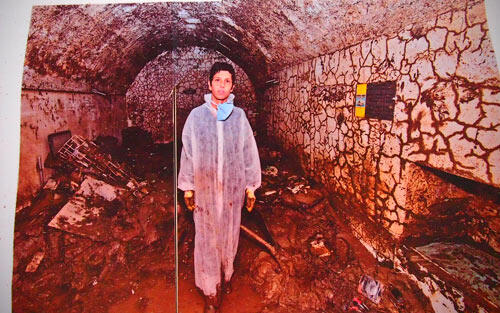 So sad to think that everything got destroyed like cotton candy being flicked by a child's tongue. When we were eating at Da Sandro, we asked for chili oil and Eduardo told us that it got washed away by the flood and is probably at the bottom of the sea, so we quickly said it's alright, we can make do without!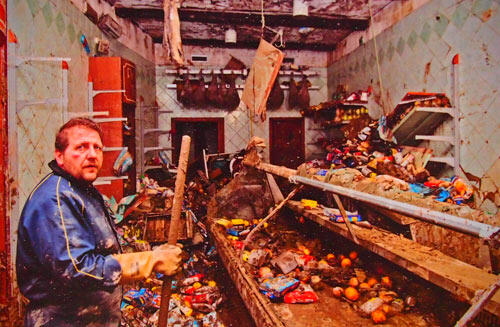 There's a lovely art shop in Vernazza with an equally lovely girl with a hairstyle i envy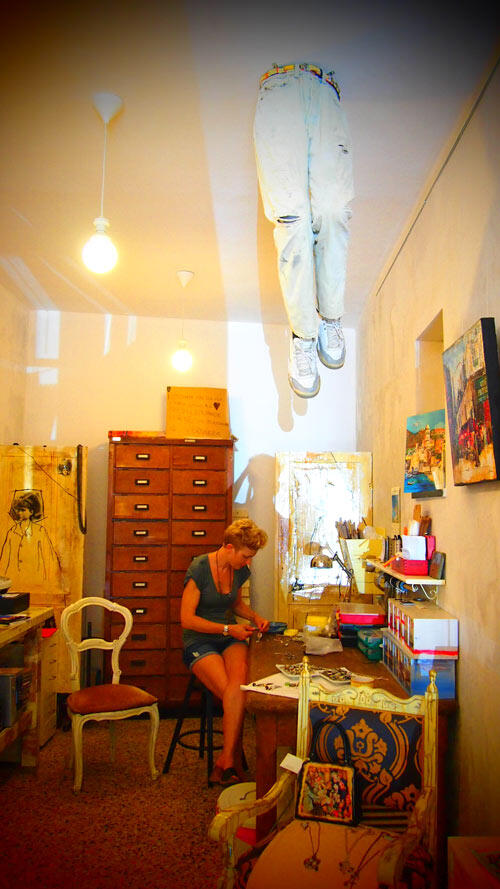 Y and i bought some prints to frame up at home… to remember Cinque Terre cos we love it so much…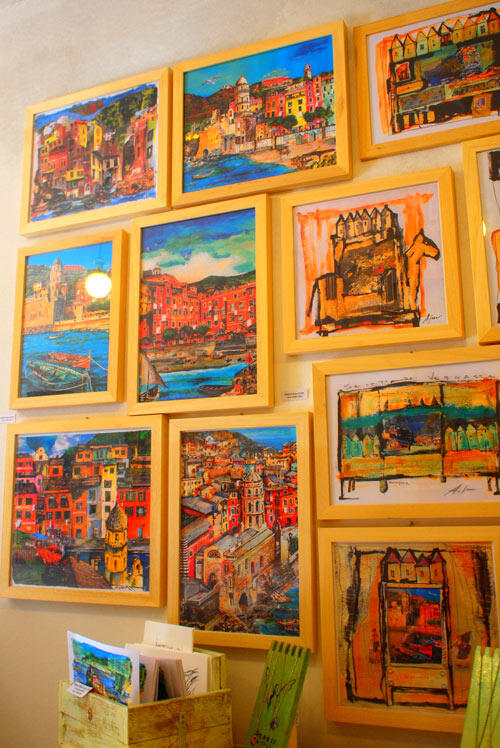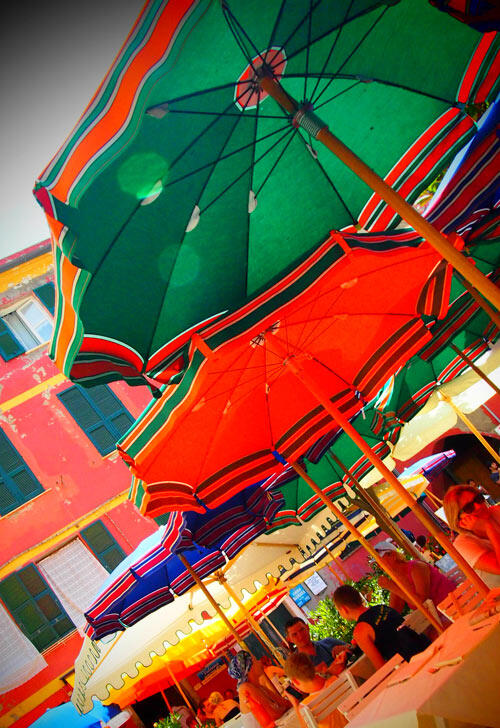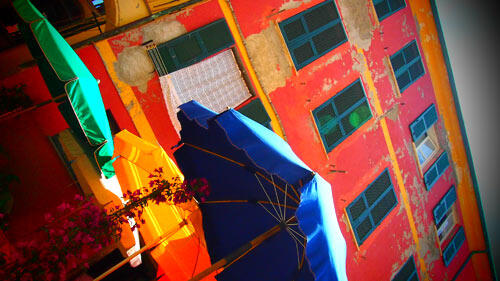 To get to the hiking trail to Monterosso, we had to walk up a narrow lane that's on the side of Vernazza town. I can't say that we were really looking forward to this hike. We were feeling quite lazy and just MADE ourselves do it because we were there, and some people even do a complete hike from one end of the five towns right to the other. Some say the hike from Vernazza-Monterosso is the nicest and hardest, with great views to make it worth it, so we figured we shouldn't be such bums and just DO it so we can relax on our last day there.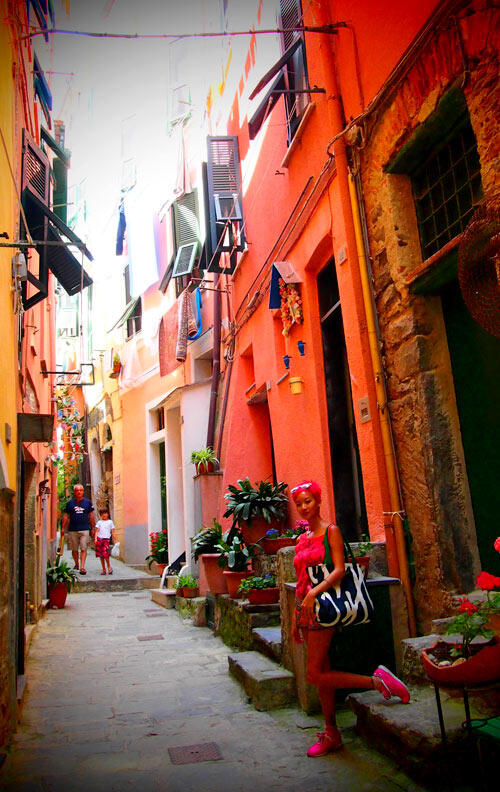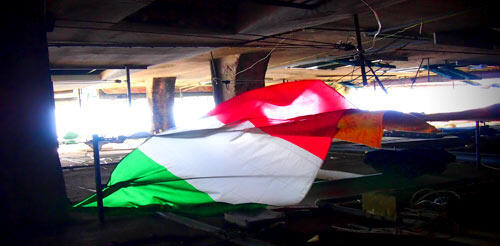 I LOVE Italy! I never felt so much love for the country when i did a tour years ago with my family. Then again, i absolutely abhor tours… you don't get to do things at your own pace and really EXPERIENCE the places. After this long trip in Italy with Y, i've come to ADORE the country and all the places i've been… think about all the less known places in Italy i HAVEN'T been to yet!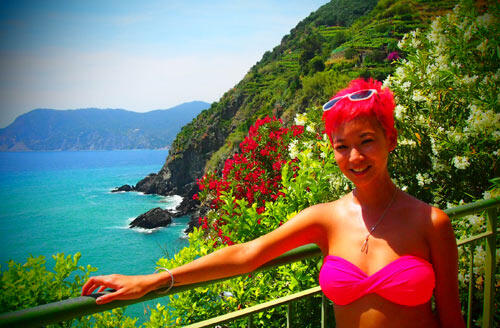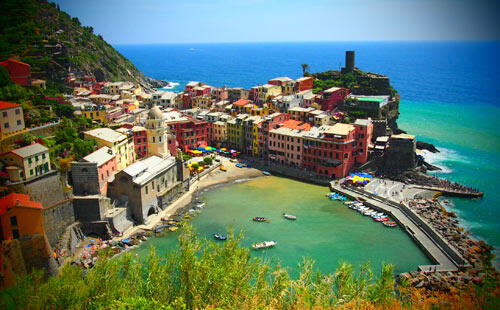 This is an amazing view of Vernazza. Isn't it picture perfect? Reminds me of a similar picture i took in Monaco. But i love Cinque Terre more heh.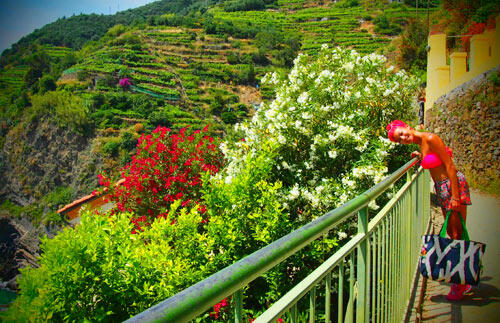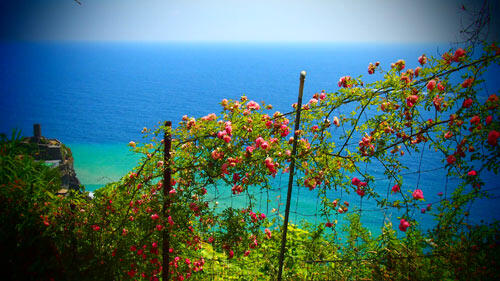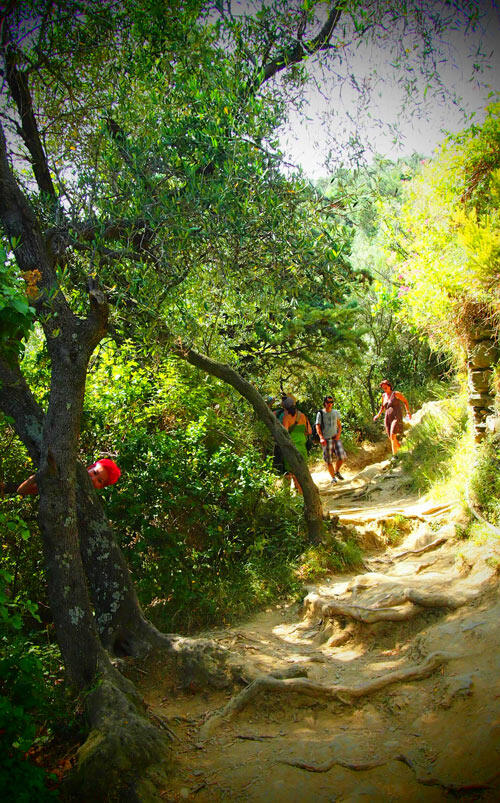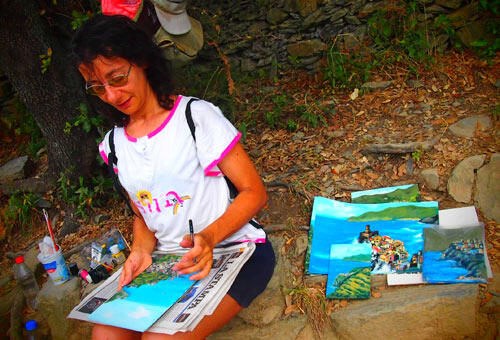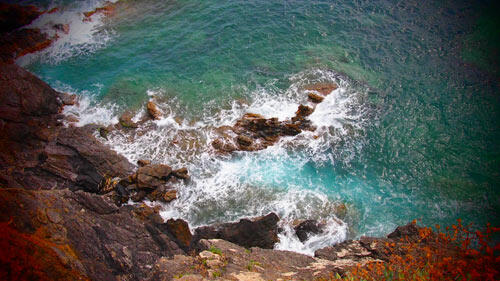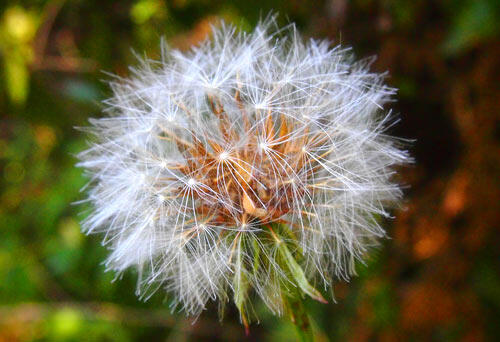 I kicked and blew every dandelion i could.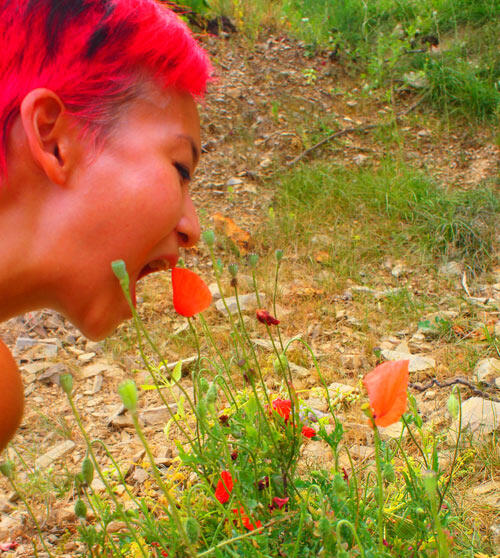 After an hour and a half (or was it two? i forget) we reached Monterosso. Hmm i think after climbing a volcano, it's unfair to judge what a great view is and what's substandard… but at least i got some pretty decent pictures along the trail…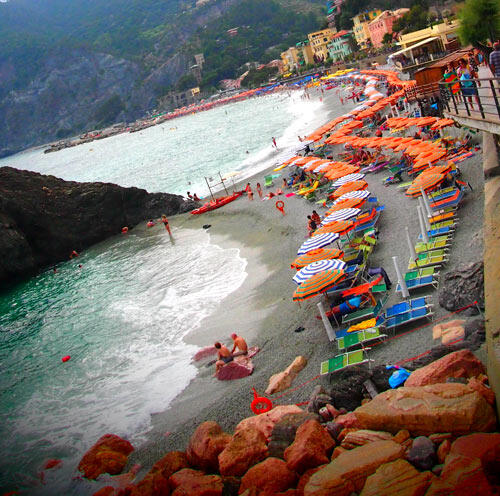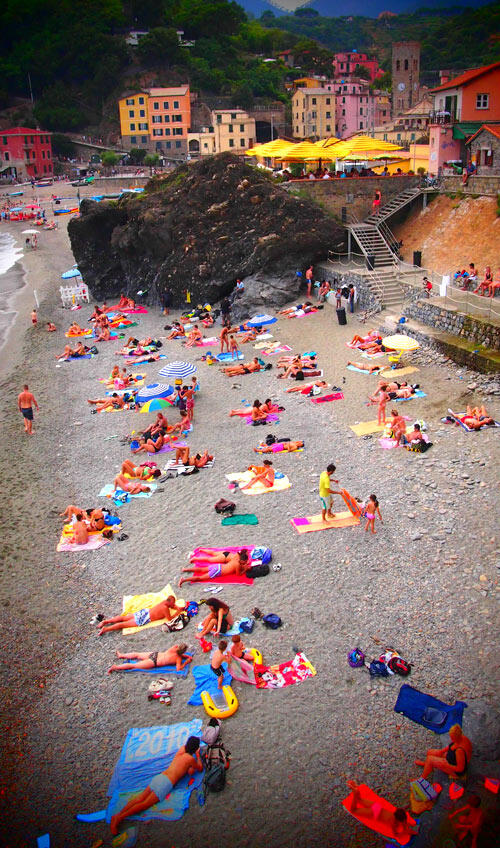 Monterosso is a lot bigger (and commercialized) than the other towns like Vernazza and Manarola, hence it loses the charm of its smaller sisters. Since we took such an effort to get there, we walked into shops, sat and rested in random places, and i rewarded myself with a beer while Y picked at the olives and nuts.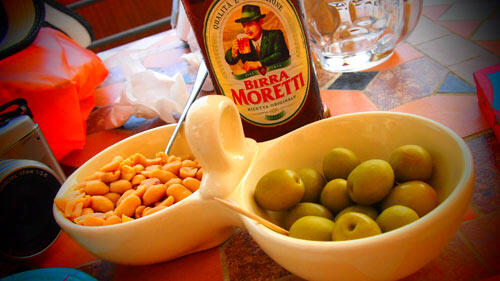 We went to Monterosso beach to hang out in the sun, but couldn't find a place to park ourselves without people extorting money from us cos it's 'their private stretch of beach'. We refused to pay money when we didn't want nor need a deck chair, so we walked further till we found the 'free stretch of beach'. As expected, it was quite crowded but we found a good empty spot and lay there for hours.
Since my camera has a great zoom lens, i took pictures like this >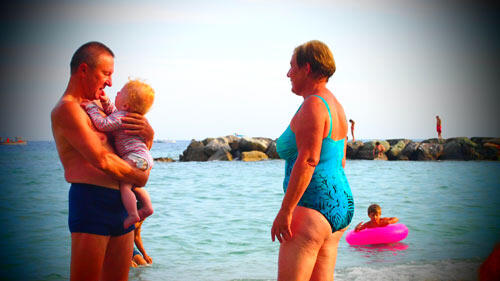 Whereas Yishyene took pictures like these: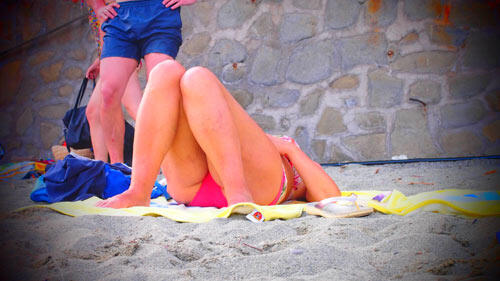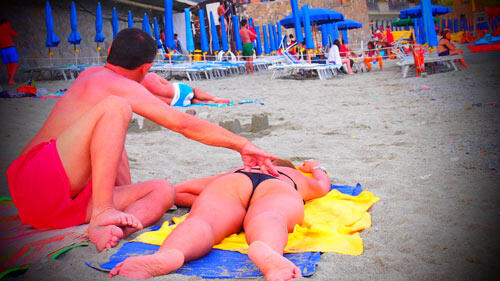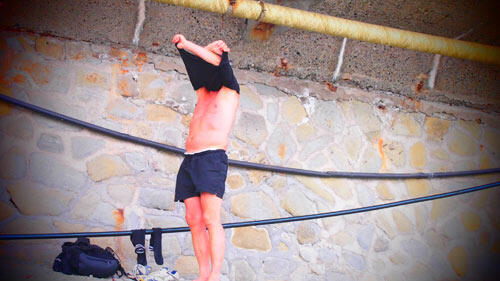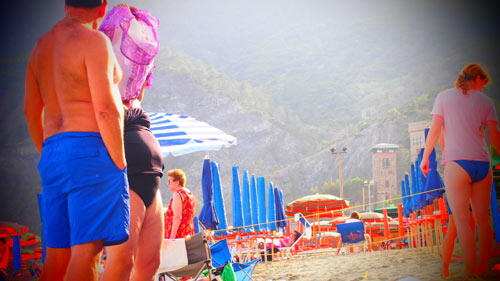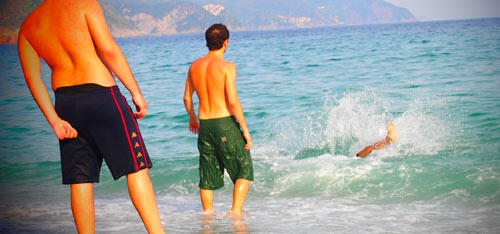 I have to admit we had some erba and laughed a lot at all her silly pictures. When it got dark we took a train back to Manarola where we witnessed the most brilliant sunsets…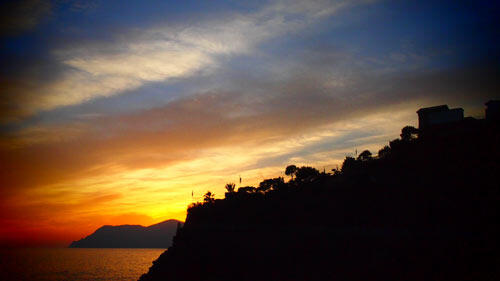 We stopped to have wine at a nearby bar and when we went out to look again, it changed to pink! We practically RAN there with our cameras, and we saw other people RUNNING to get pictures of the gorgeous sunset too.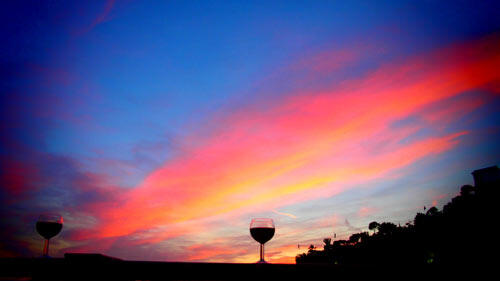 I just stood there with my glass of wine, mouth agape, staring in the sky going, sooooo prettttyyyyyyyyyyy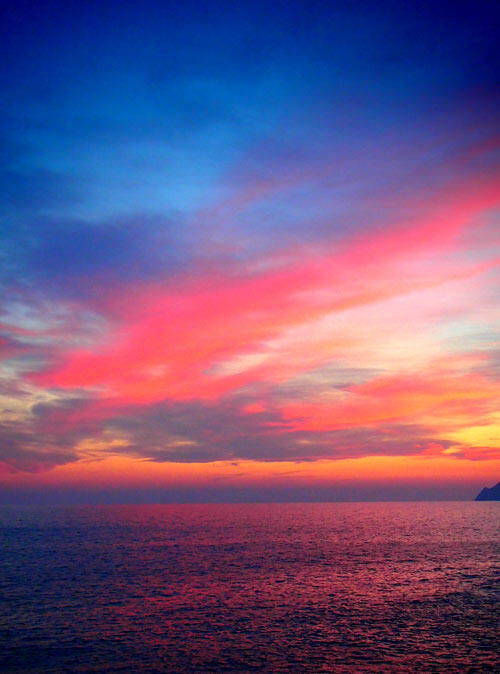 I was also very pleased there was a bright crescent moon to stare at that night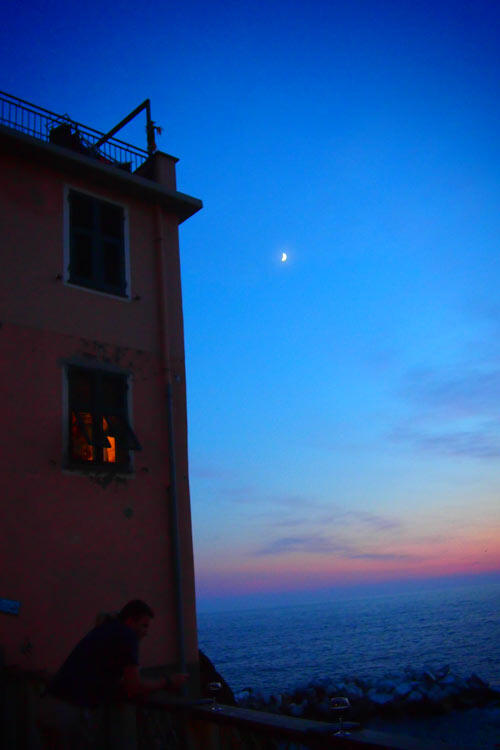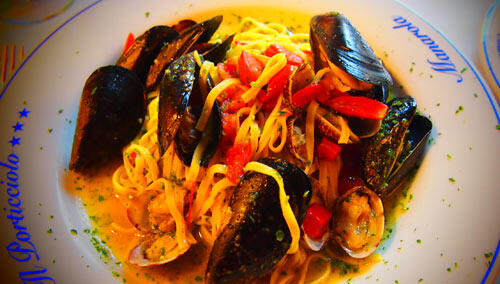 After my dinner of mussels and clams, we went to the bar across us that plays live music.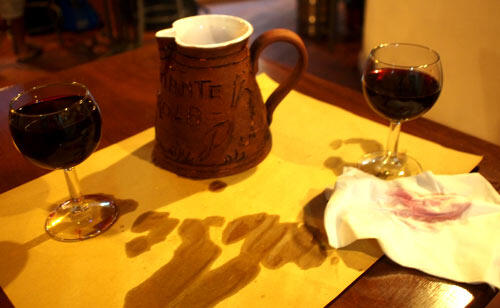 I thought the jug was quaint but it's rather dysfunctional! I spilled wine all over the table mat and Y said i'm just really clumsy. Then she tried and it spilled too. So it's not ME okay. The waitress changed the table mat after that…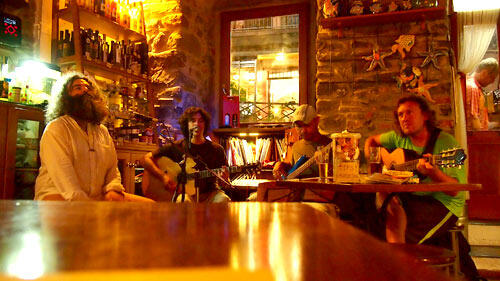 Band was really good. Y said the guy with the beard looks like Hagrid.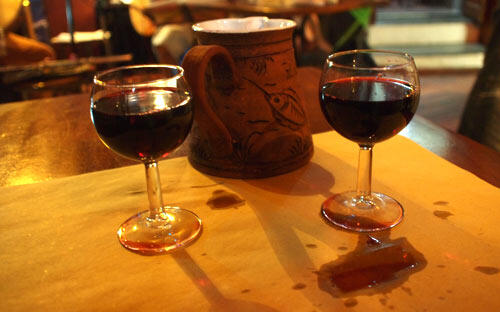 Even after we got a clean mat, i managed to dirty it again. I was more concerned about the wine i was wasting and even thought maybe we should just drink straight out of the jug. It was a rather huge jug of wine and we probably had 4 glasses each? I lost count after awhile. After the band finished, we made friends with one of the guitarists, Azrael, and he got us all Ron Pampero rum and said he'll teach us to drink it the Italian way.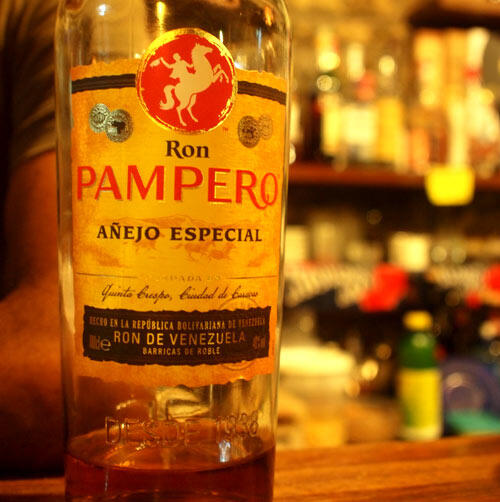 We dipped lemon slices in coffee and sugar and downed shots of rum with it. I taught him how to 'yam seng' so we were shouting 'yammmmm SENG!' a few times. Was so funny to see how they got so excited about it.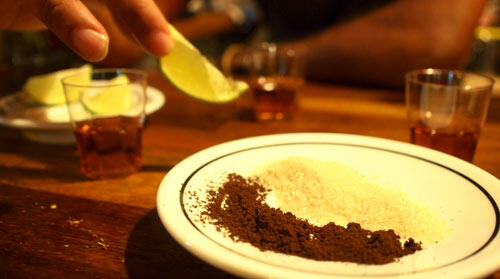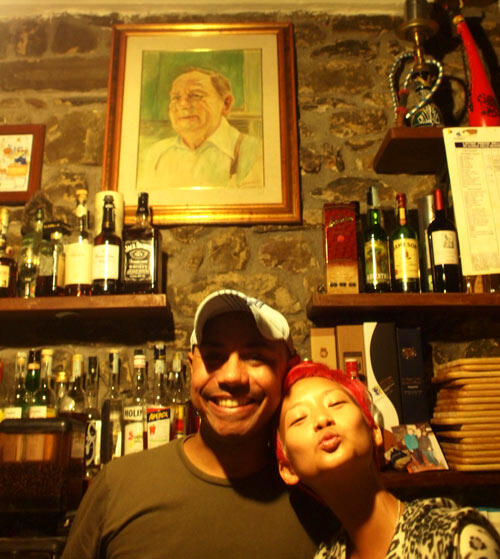 This is Azrael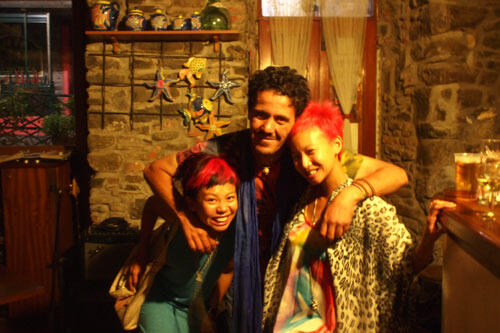 With Abdil, who visits Cinque Terre every summer for a few weeks. I wish i could too!
After lots of drinks, we packed more beer and Azrael, Yishyene and i went to the beachside where he played his guitar and i danced on the steps. According to Y, i look like i was a mentally challenged person swaying. Idiot. I was… trying to do my hippie drunk dance okay. At some point, the stone step looked REALLY comfortable to me and i curled up on it like a cat. I didn't want to make Y leave cos she looked like she was still having fun, so i took a little nap…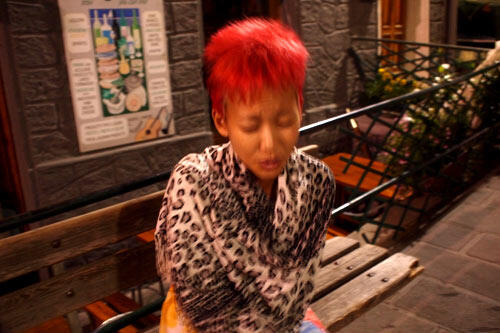 This is me after my nap, after leaving the beach, before i had to make my way up 50 steps to our guesthouse! I had some helping arms.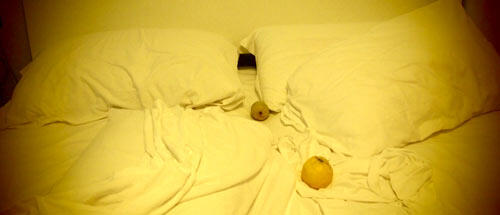 The next morning, i woke up next to a lemon. I was like… what… why is this even here?!