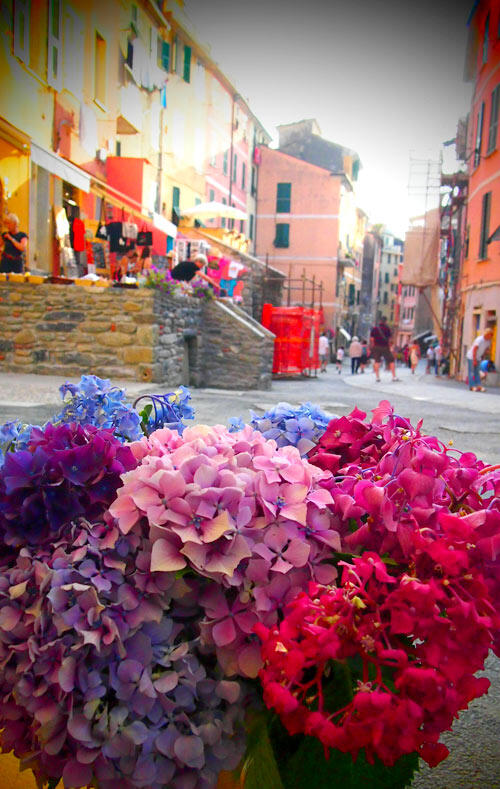 Vernazza, Cinque Terre
It seems like my holiday with Y has been weeks long even tho it's been only a week… because we've done SO many new and awesome things! Today I finally fullfilled my lifelong dream of swimming in the sea in the nude. I've been wanting to do that for ages! First of all, I love swimming in the sea, and second, I love being naked. I mean, it's so liberating to run around outside in the sun naked! Other places I've done that were in Tioman and Bali, but I never got to swim properly in deep sea and sunshine completely nude. Felt so freaking great!
I woke up early to use the internet cos I was deprived of it for a week. Then we packed our beach bags with everything we'd need for the whole day and I wore my sneakers for a comfortable trek.
Cinque Terre consists of five colourful seaside towns that sit in a row on steep cliffs right next to the sea and you can get between them via hiking or train. In order of West to East, they are – Monterosso, Vernazza, Corniglia, Manarola, and Riomaggiore. (I never thought I'd memorize all their names but I have!) Most recommend hiking so you can take in the different angles of the towns and gorgeous scenery, and explore all its nooks and crannies.
Copied from one of their tourist boards: "Cinque Terre was built over a thousand years by peasant farmers who transformed the steep cliffs into fertile terraces to grow agricultural produce. The delicate balance between natural elements and the human tail generated a unique landscape, and is now a UNESCO World Heritage site."
Oh by the way, it's pronounced 'cheen-qoo tehr-reh', the Italian way. We initially pronounced it the French way (duh us) till someone corrected us.
In the morning, we shared a freshly-made farinata pesto (farinata = chickpeas) at Il Discovolo, a bakery just down the lane from our guesthouse.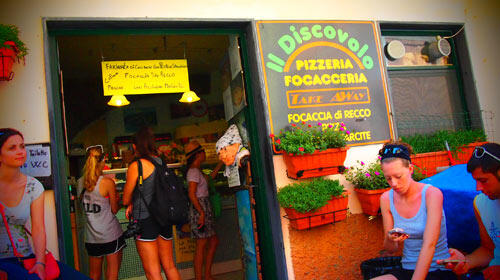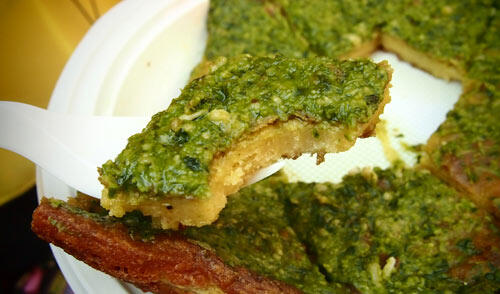 After eating it on a bench, we went to buy a 2-day hiking & train pass (18 euros) for each of us at the train station. What we've discovered… is that we could have saved money by NOT buying the train tickets here. Noone has checked our tickets. Ever. And we never saw any of the Italians buy tickets too. (Cue phrase: "It's okay, it's Italy.")
We walked from Manarola to the town closest to La Spezia, which is Riomaggiore. The easy walk is said to take 20 minutes on the map but we took an hour cos we're so busy taking silly pictures on the way. Also… it could be that it's considered Italian time i.e. whatever time they give you, you multiply it by 3 or 4. Along Lover's Lane are many locks dangling with couples' names on it, and some written on rocks and the walls, and even carved on aloe vera leaves. I had my crayons so I wrote 'Cloyce'.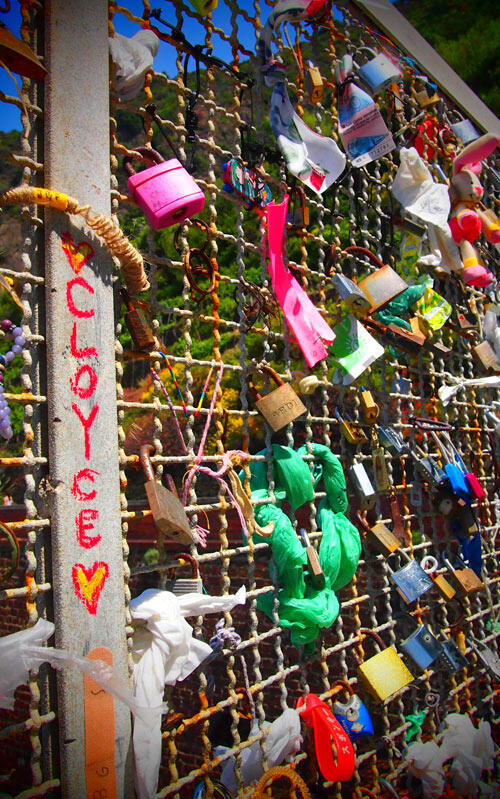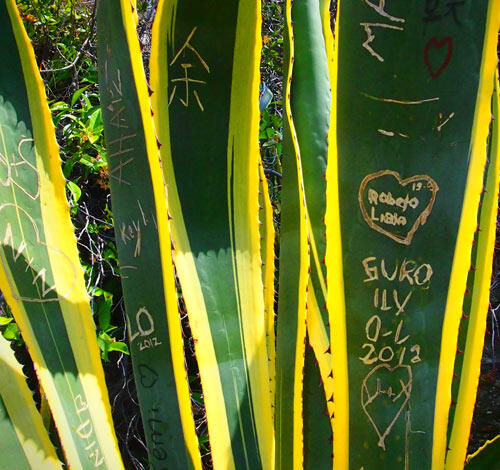 Some people even tied tissue paper (?!) on the railings but no pictures cos they're so ugly and look like trash.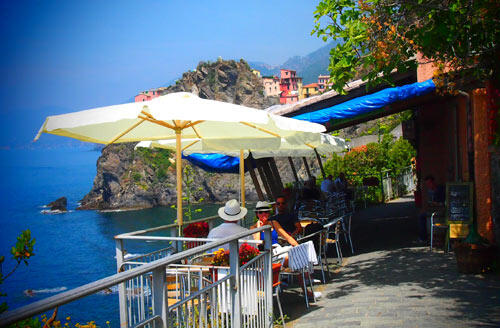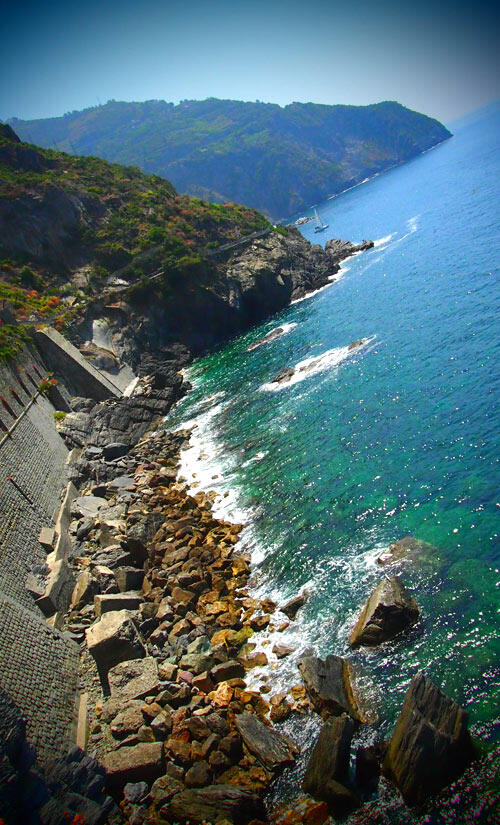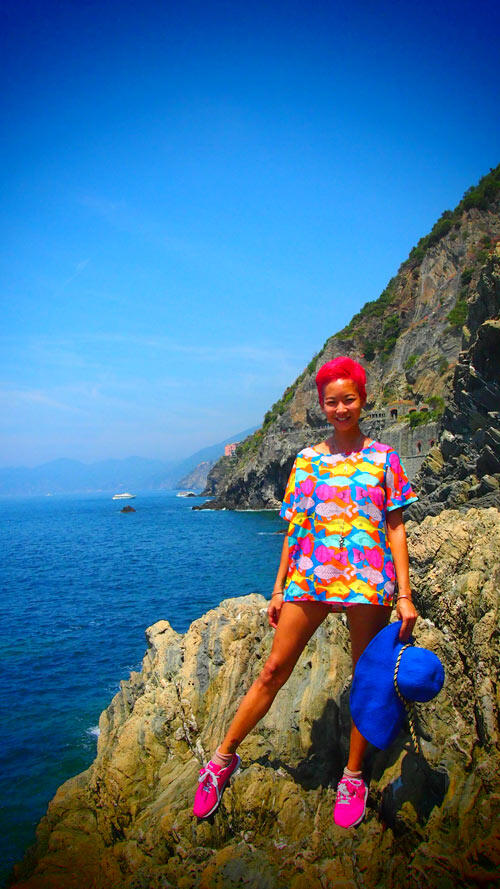 Top from Beautiful Disaster, shoes courtesy of Reebok, fluoro pink shorts courtesy of Topshop. Wow, er, i did buy my bikini underneath and my hat… >.< Oh and my socks!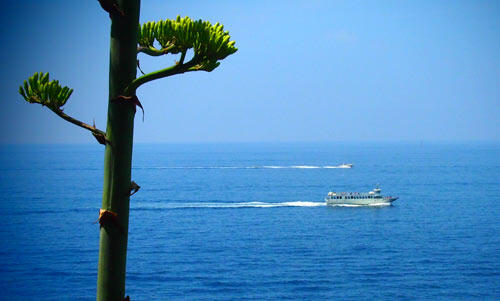 There were these funny trees i've never seen before that made me think of Dr. Seuss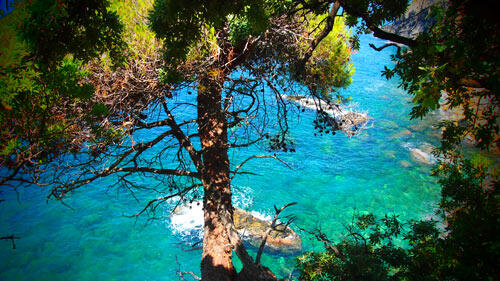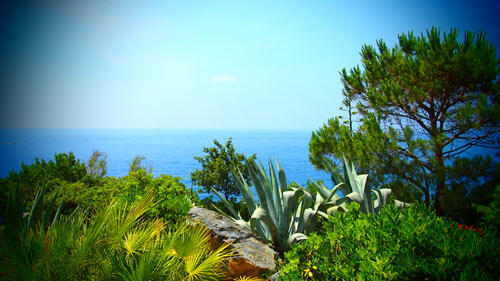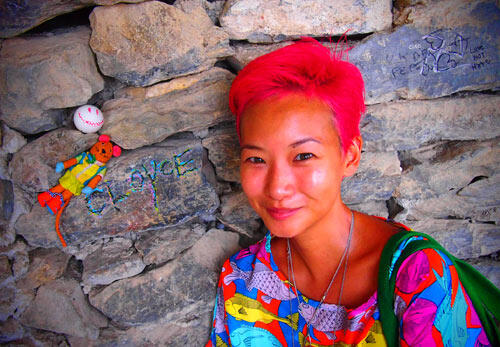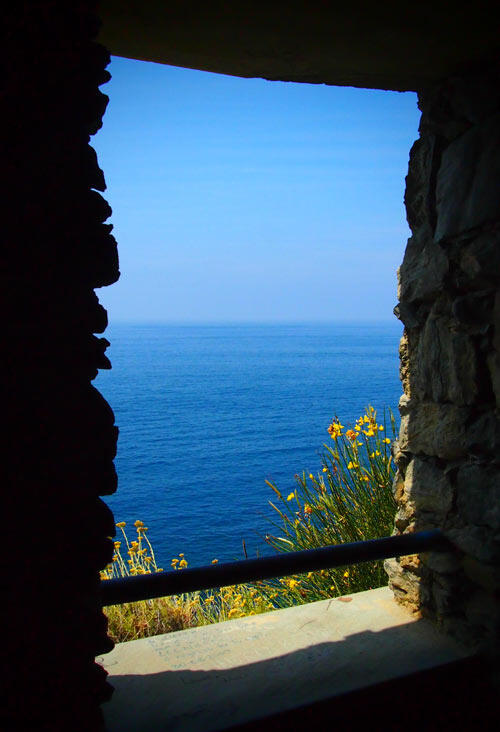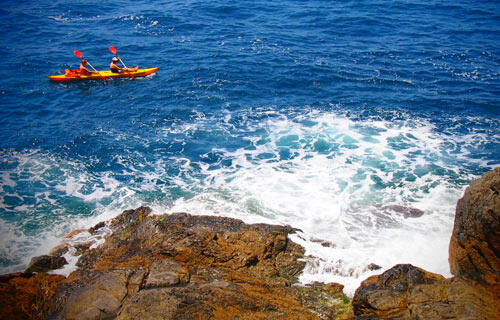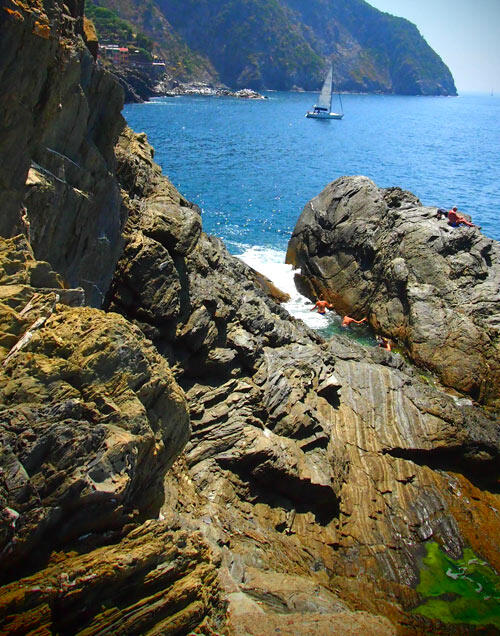 Can you count how many people there are?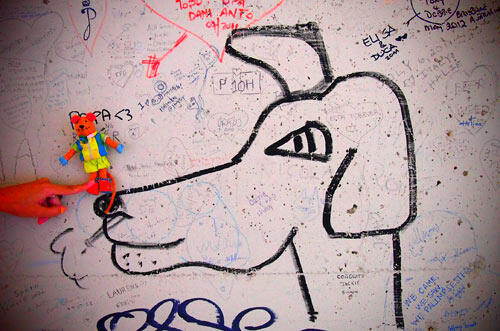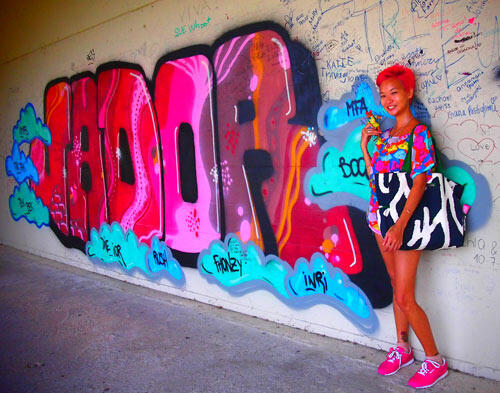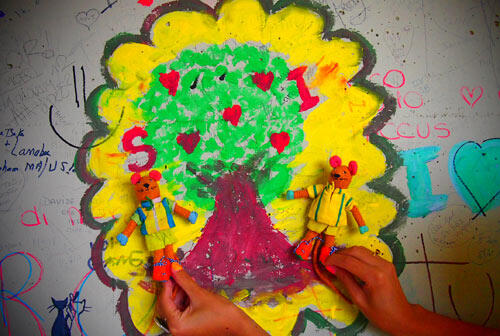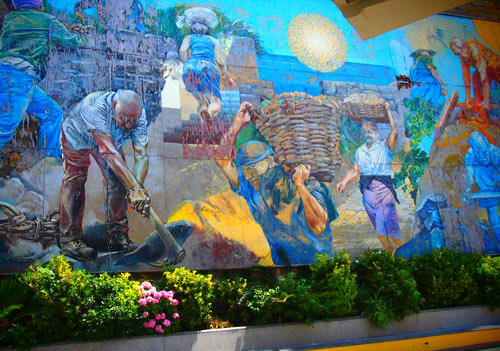 When we reached Riomaggiore, we took a train two stops towards the West to Corniglia, where we read online there's a SECRET beach. The word SECRET just sold it to us and we were determined to find it. The blogger's directions said to buy food at the train station as there are no vendors whatsoever at this secret beach; so I stocked up on water, a packet of rice with olives and bacon, a piece of fig & walnut cake, a peach biscuit and a pear. It's better to be safe than hungry…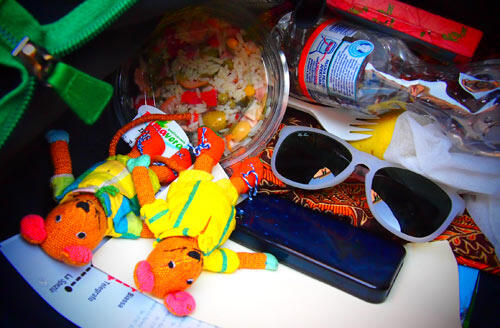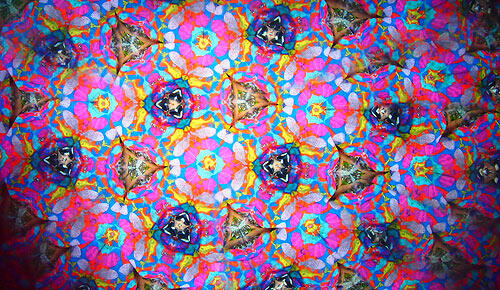 My top thru my kaleidoscope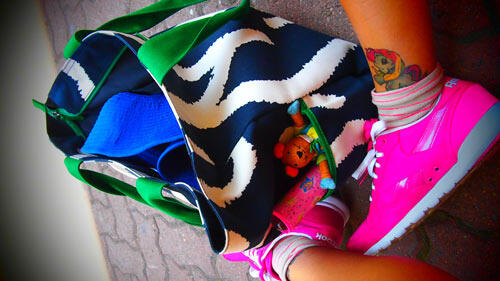 While looking for a particular path outside the train station, we stopped to take pictures of flowers that were bigger than my head and this man appeared outside the house and joked that we had to pay money. Instead, he invited us in for some beer (so nice!) where we met his niece who told us he's the stationmaster. The house we were in belonged to the station and was for him to chill out in but people could stay too. We told the niece and her friend Rapheala that we were looking for this small beach, but they look confused and said they didn't know of it but could direct us to the big one. We listened politely, but I could tell Y and I were gonna try finding this SECRET beach anyway.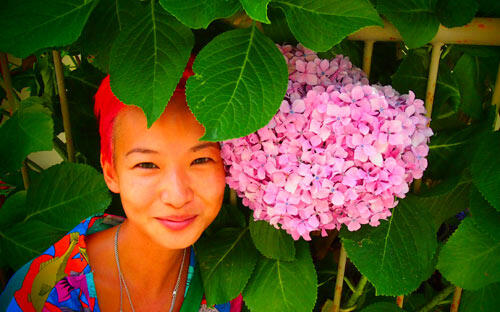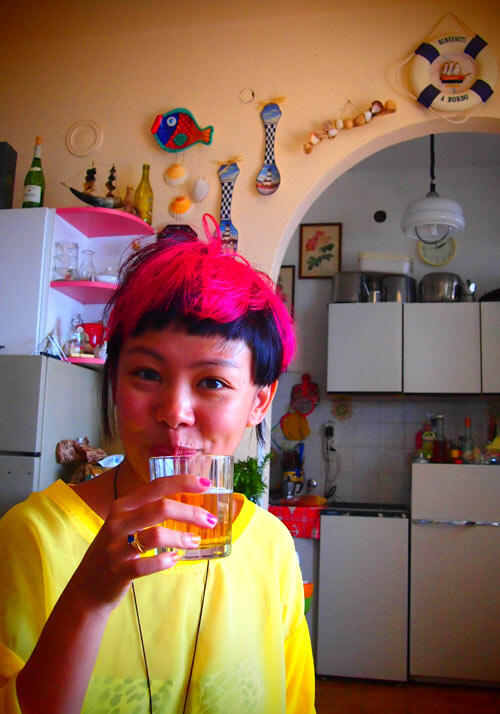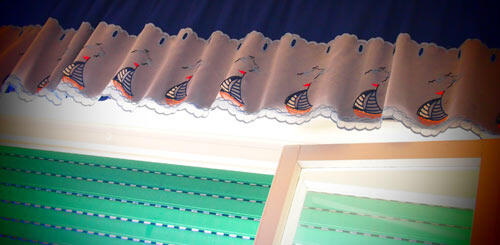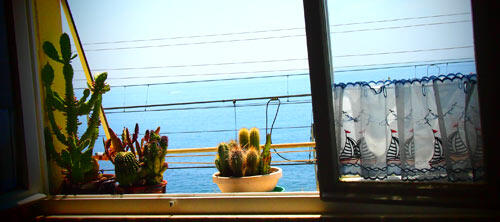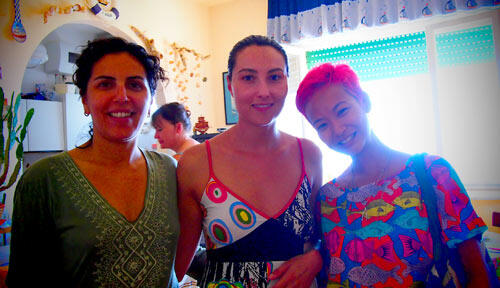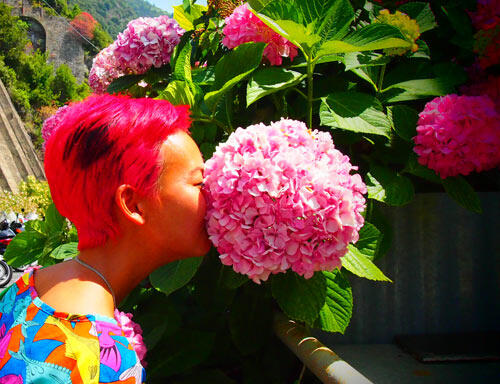 We left the railway house, walked down some steep paths and stairs, and basically got lost when we came to the sea with just rocks in front of us. But no secret beach! Then we thought ok, let's just try walking towards the big beach and look if it looks secret enough, maybe the secret beach just got more popular as time passed or something.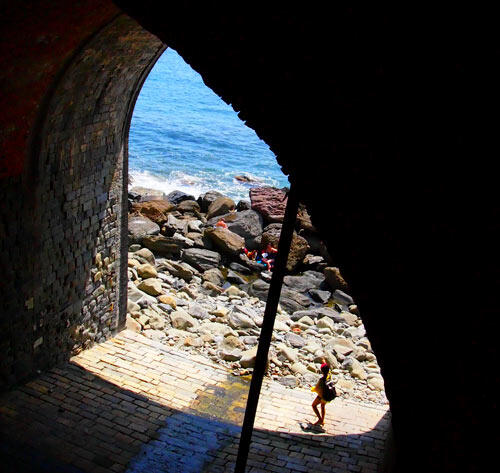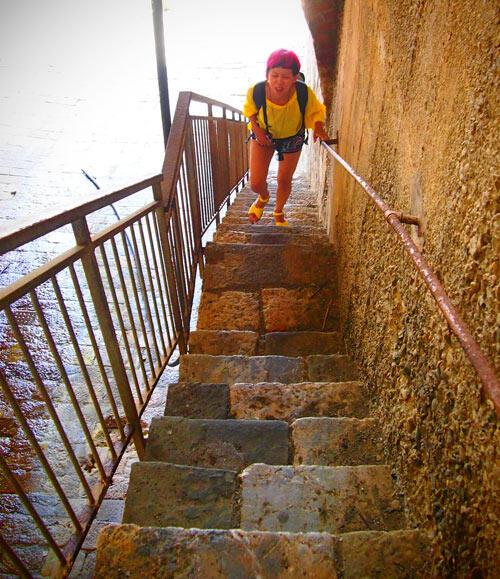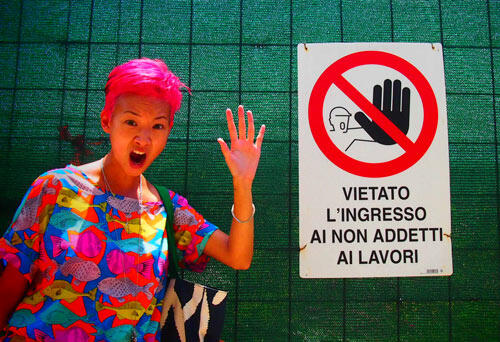 An Italian guy coming up the path from the big beach told us we were going the opposite direction, so we we backtracked till we came to the same crossroad we were before, and noticed some faint spraypaint on a rock that said 'Guvano' with an arrow pointing straight. Luckily we saw it! So we followed that path – which was really wide, rocky, and long.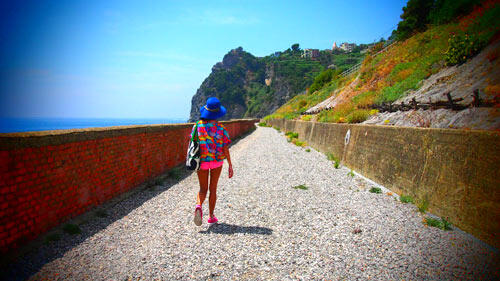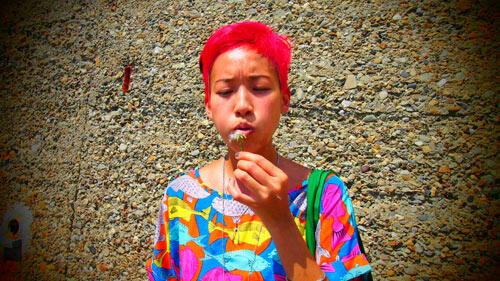 I blew as many dandelions as i could the whole time i'm here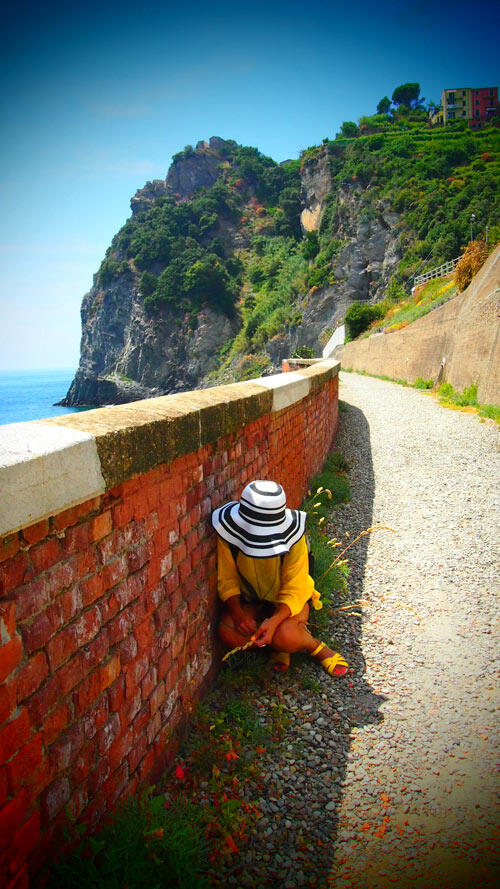 Y hiding in the shade cos it was that hot
When we reached the end of the road, a gate leading down to the beach was locked. There were also a few houses and we walked around the small area, just trying to find a WAY or some sign that would lead us elsewhere.. we had come all this way and didn't want to give up! Behind the houses was a pitch black tunnel with danger signs on both sides AND scrawling on the wall near it reading 'naturalist beach'. I was excited that we FOUND IT, but yet, er are we really going to GO into this dark tunnel not knowing what's inside…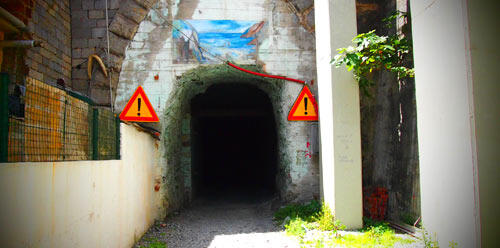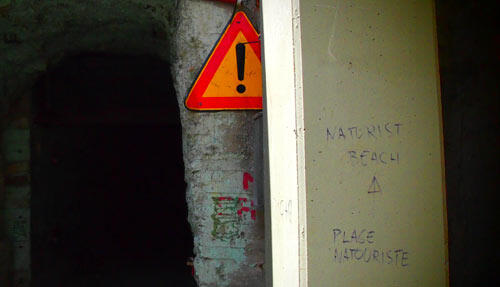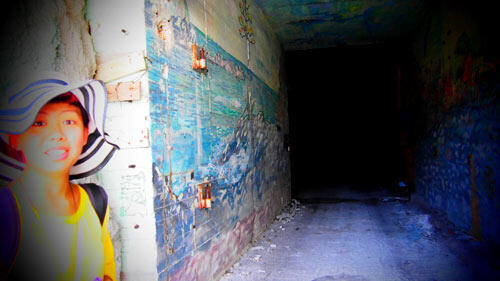 It was like one of those stories I read in Enid Blyton adventure books – the children find a dark tunnel or cave, then they go explore it cos they're just so BRAVE. Well we decided to be brave too, and it's easier when we have each other. I don't know if I would have tried walking into that pitch black tunnel by myself. Probably not! It looked like man-eating zombies lived in there.
We used our phones to light our feet cos it was so bloody dark… and we walked for ages and ages without seeing ANY light. Thank goodness our phones had high battery. There was water dripping in certain places, it was cold and we had to avoid tripping on the rubbly ground. Suddenly we heard voices and noticed a couple of people who looked packed for the beach walking way behind us into the tunnel too. So we felt better knowing we weren't the only people going into this thing. We walked briskly for 15 minutes, and later found out that this pitch black tunnel… is exactly 1km long! Are we brave or what! I feel like I deserve a medal for being adventurous! On the way in the tunnel I was telling Y, "I never knew we had to take this much effort to get naked!"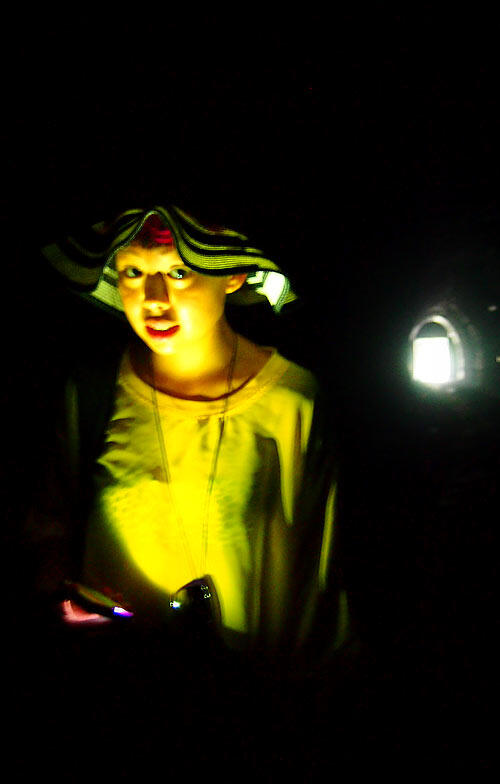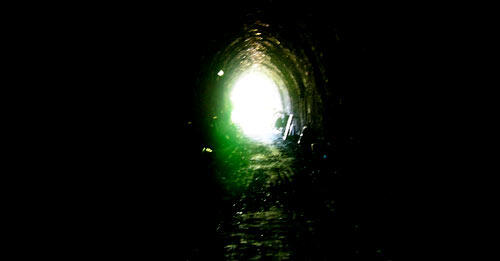 It was such a relief to see sunlight at the end of the tunnel… and we found a small stretch of beach with a natural flat surface that goes out to sea, filled with naked people, woohoo! We found the SECRET beach!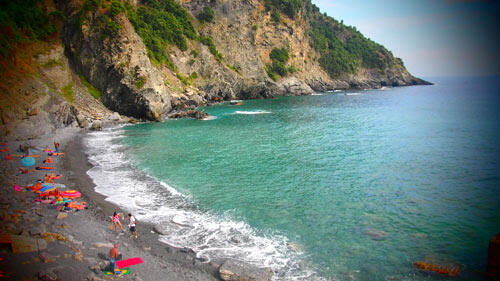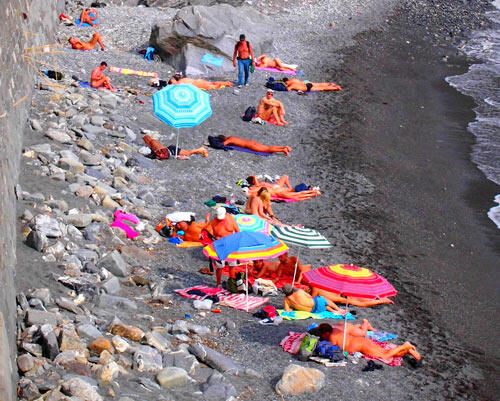 Everyone was staring at us as we climbed down the stairs and ladder to get there… I think they rarely see Asians there, if ever. We made friends with a few people but one we really liked was Paolo (the third Paolo we've met this week), whose English wasn't great, but he tried real hard in explaining the history of the beach to us. We found out that he works as a children's animator, and freelances as a clown on the side. I just realised that sounds really dodgy coming we met him on a nudist beach -_- but we swear he was the sweetest thing and didn't do or say anything dodgy!
Paolo told us that previously there were more paths going to the beach till landslides made them dangerous, and that the tunnel used to be lit too with a charge of 5 euros for people who wanted to go to Guvano. There would be music and parties till late at night, and it was generally a hippie area when the beach was bigger in the past. Thanks to global warming, the sea level has risen and the beach is much smaller now, so it's just remained as a naturalist beach but no big parties and commercialism anymore.
We had so much fun on Guvano – I blew bubbles, some other people asked to look through my kaleidoscope, and Y and I took pictures of my nipple thru it so there are like, a thousand nipples. There are obviously also heaps of pictures of bums and boobs.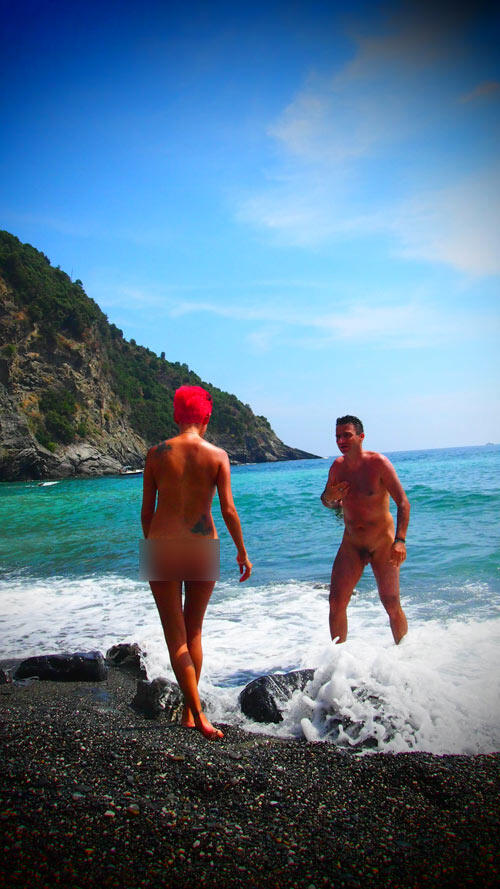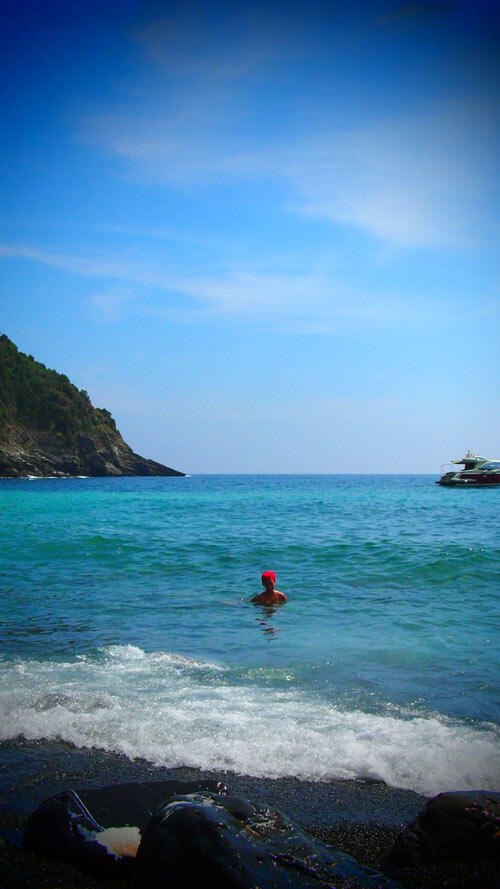 It's so amazing to swim naked in the sea! Everyone should try it at least once in their life!!!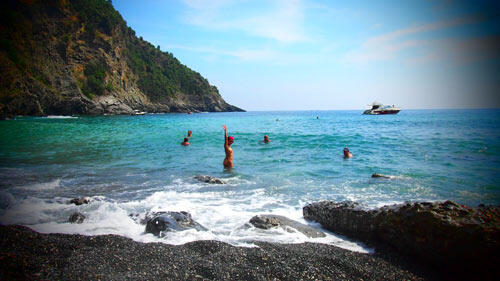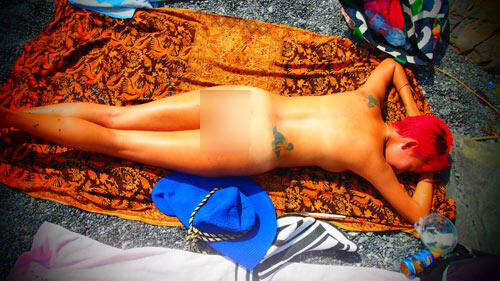 My butt was so excited to get tanned for the first time that… i overdid it and got a bum heat rash the next day -_-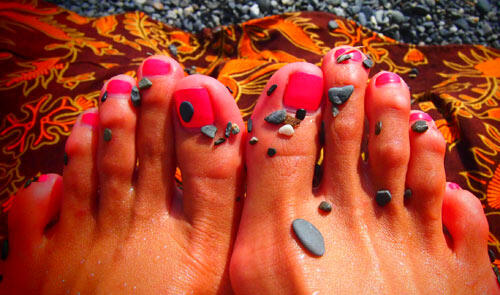 There's no sand on the beach, only small pebbles which makes it a lot less messy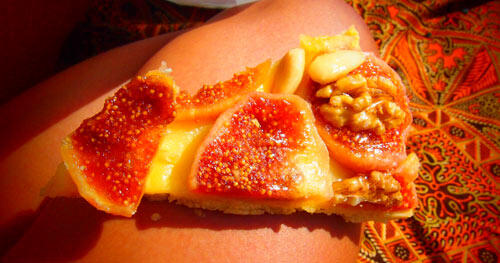 My fit and walnut pie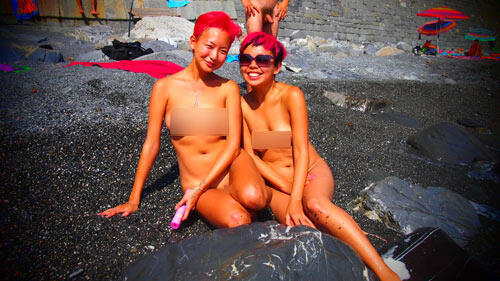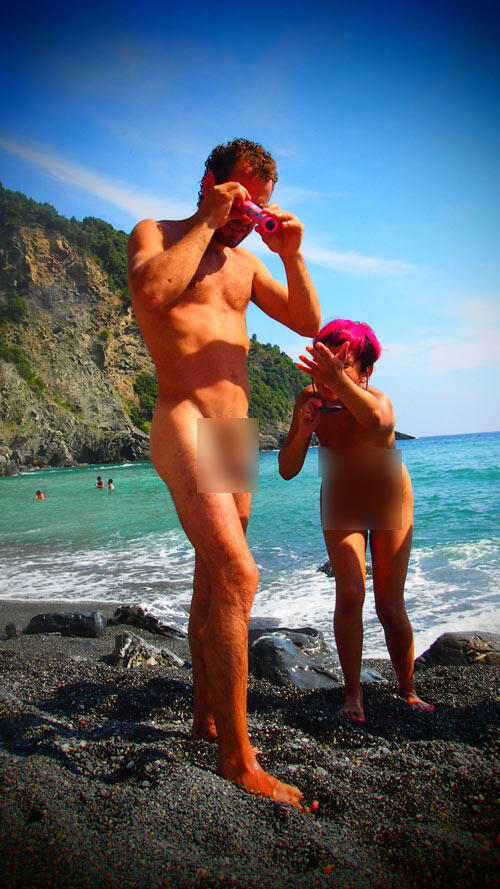 There are lots of pictures of Wilson too, and when Paolo saw him, he excitedly said, "Castaway!" And I was like, "Yeah!! His name is Wilson!!!" I was so GLAD someone on this trip guessed Wilson straight away 😀 Right after that, Paolo took a stone out of his bag to show me and said he takes his stone traveling everywhere too i.e. Brazil and India. So you see… there are others like me out there… 😀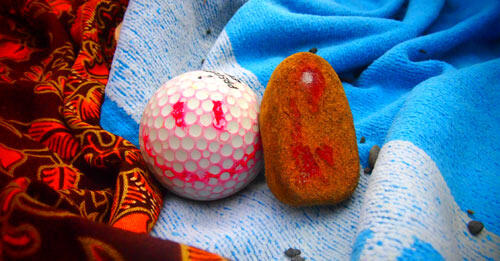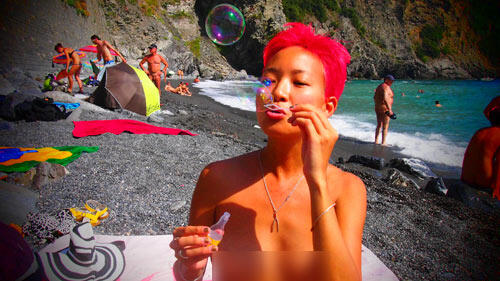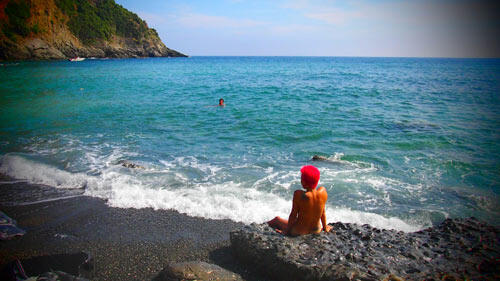 Some thing clouds made the sky overcast and we decided to leave. At the train station, we recognised some other people who were on the nude beach too, and we all smiled and waved at each other. It was like a secret club we suddenly belonged to. A secret naked club. While waiting for the train Y blew bubbles and made me try to hail a train. I cannot emphasize enough how stupid i looked doing it.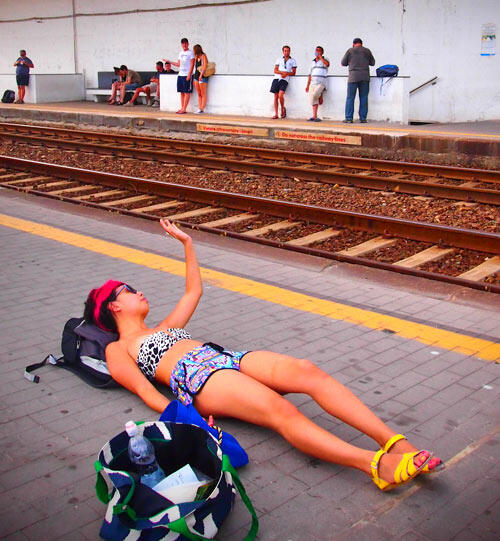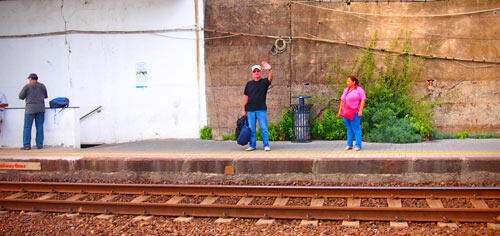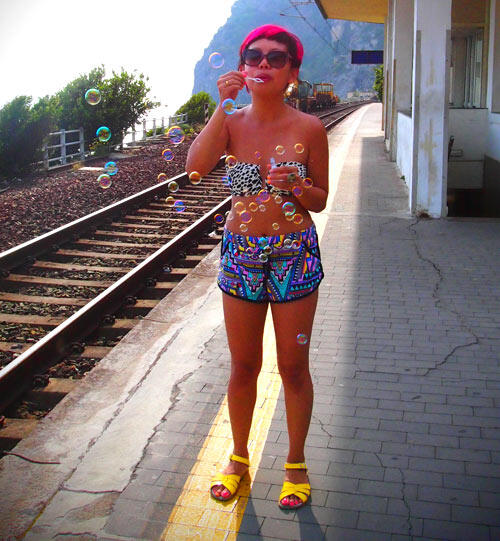 We got off at Vernazza, said to be one of the prettiest towns in Cinque Terre before a terrible flood destroyed most of it just in October last year. There are some pictures of the empty muddy shells of shoplots that were left after the flood receded, and they were quite sad to see. Since then, the town has been rebuilding itself and you can see construction going on. The locals urge visitors to continue visiting it, so that they can earn money to clean everything up again. I can see why so many state Vernazza as their favourite… I think it's my favourite too after spending so much time there!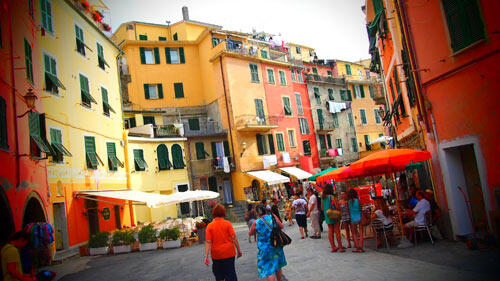 Vernazza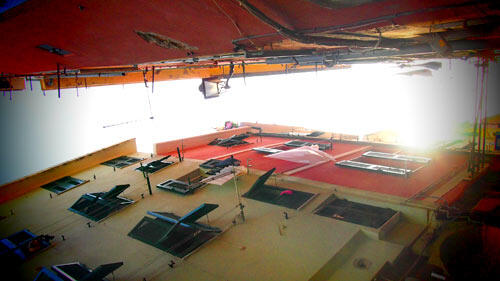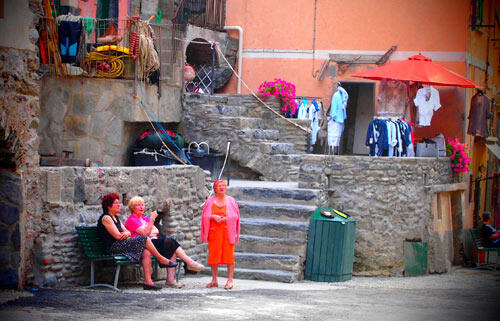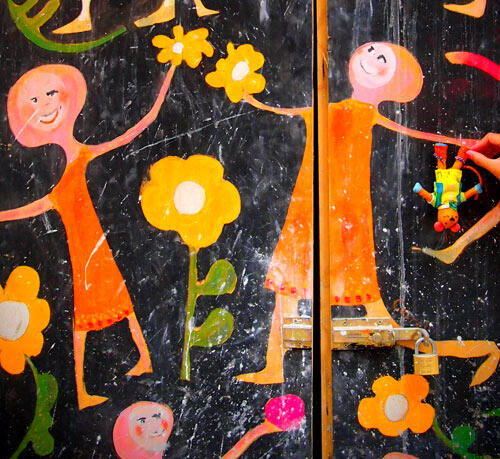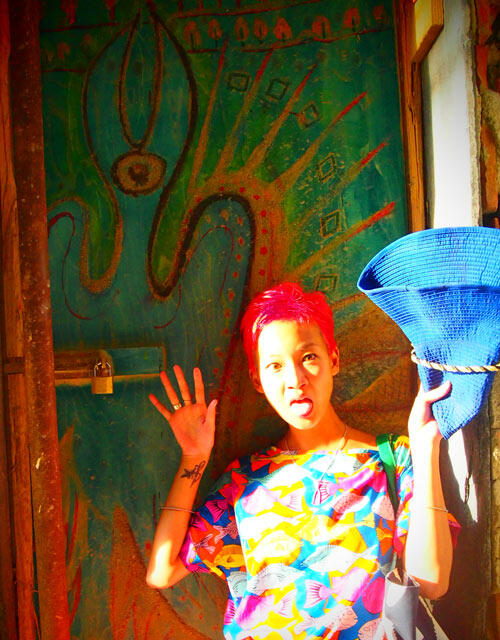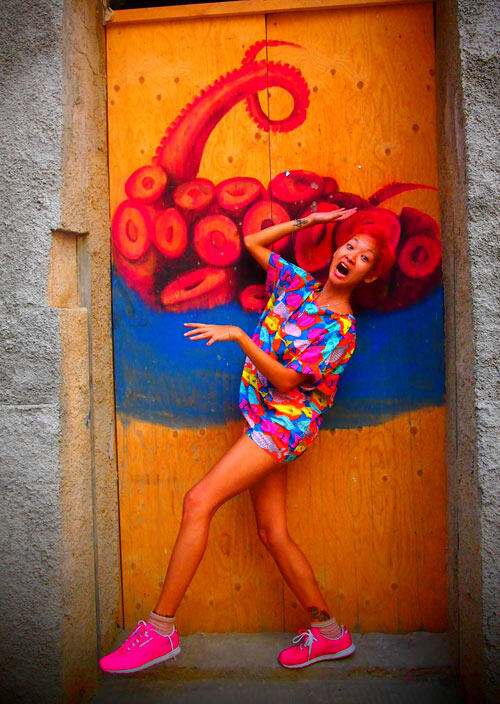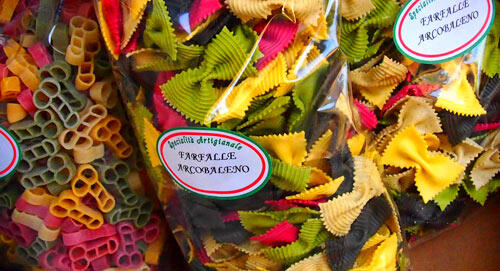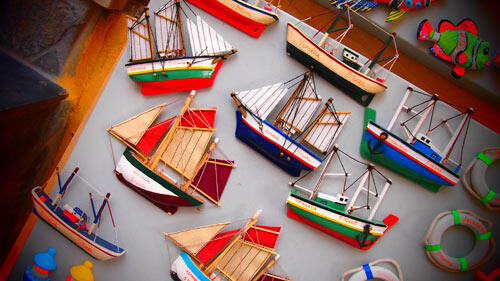 There's a great souvenir shop with so many cool things I wanted to buy, like these unique copper bangles made by a local artist. They didn't fit my skinny wrists well so I didn't get them.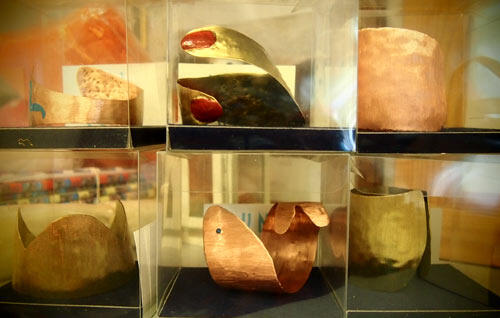 We walked down to the beachside and took lots of pictures.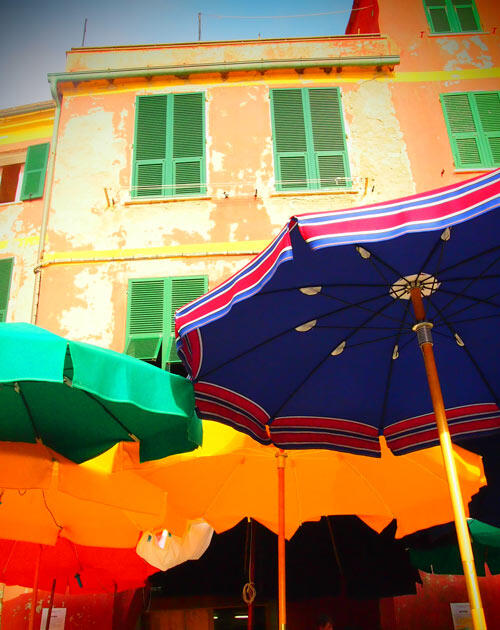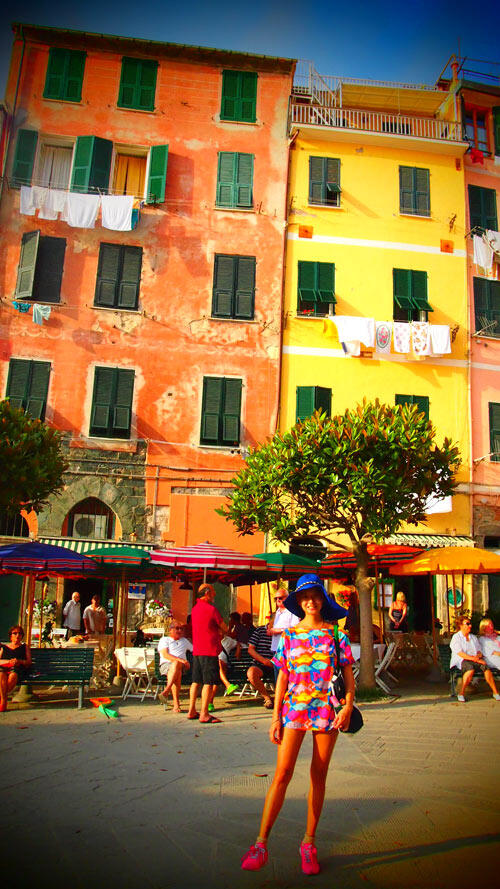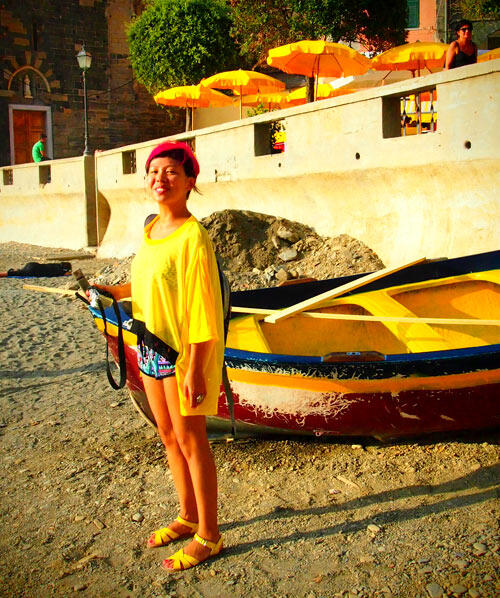 My yellow fellow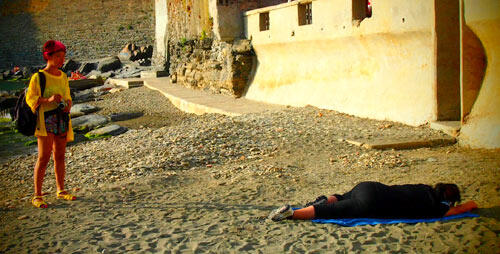 Yishyene is fascinated by people lying down in the most unattractive ways.
For dinner, we went to a restaurant recommended by the souvenir shop lady, who told us they have good food. It's called Da Sandro and we had a huge seafood pasta, chocolate souffle, and white wine.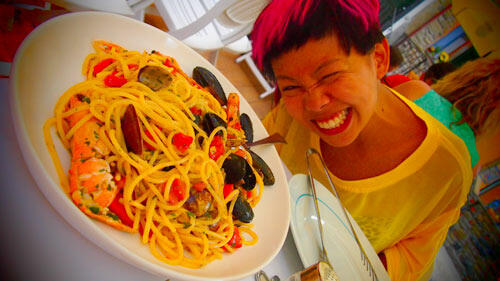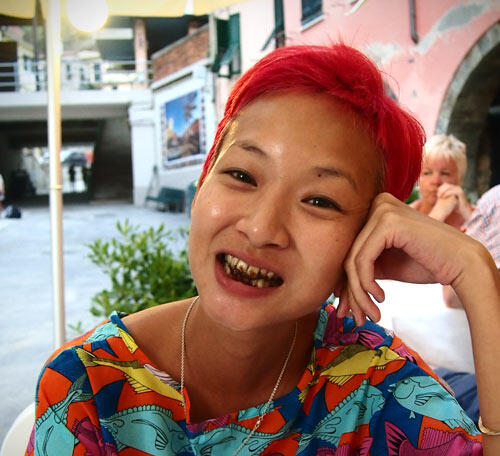 You have no idea how sexy we can be.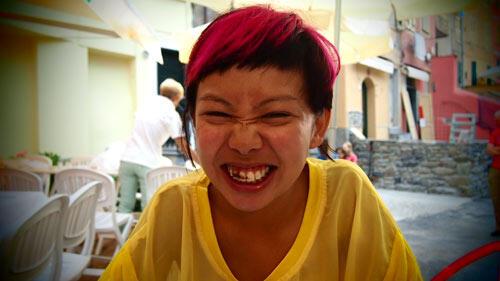 When we were at Guvano earlier, Paolo kept on reminding us to have shakatra – a local sweet dessert wine that he described as 'a bit of heaven'. So we ordered that too. Though… upon reflection, we were already quite drunk, and just got.. drunkER.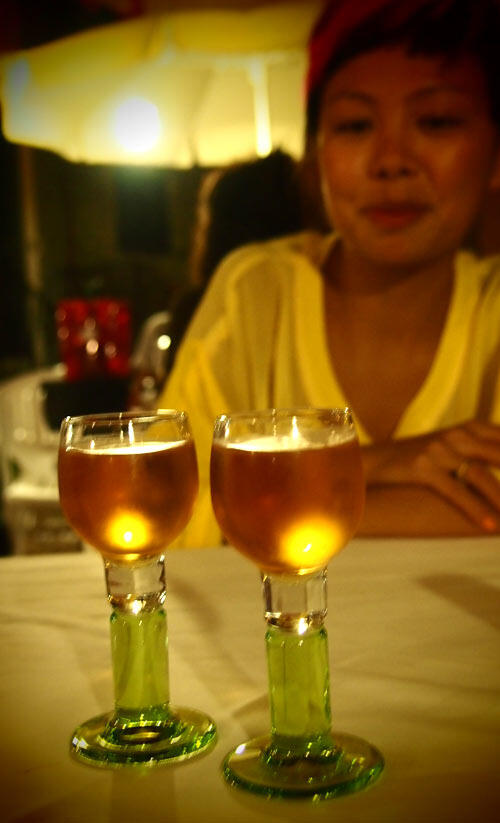 Y thought she'd practice her Italian on the waiter who was serving us, and we ended up being Facebook friends.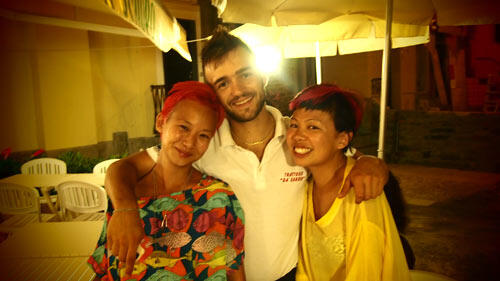 me, Eduardo, Yishyinininini
We went to the bar across to have a beer and see how the football game was going on between Italy and England, and were hoping Italy would win, of course! By that time, we were like, okay, we'd better not get too drunk and miss the last train else we'll be sleeping on the streets or something. So we ran to the station and caught the last one back to Manarola, where we skipped, kicked a football around and laughed all the way home.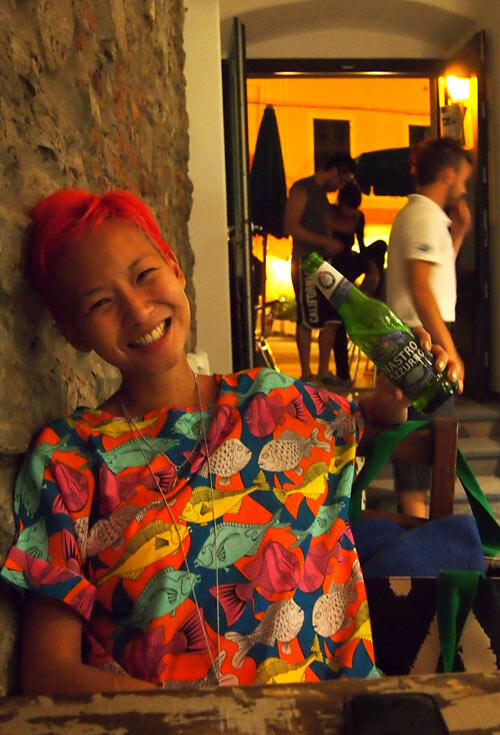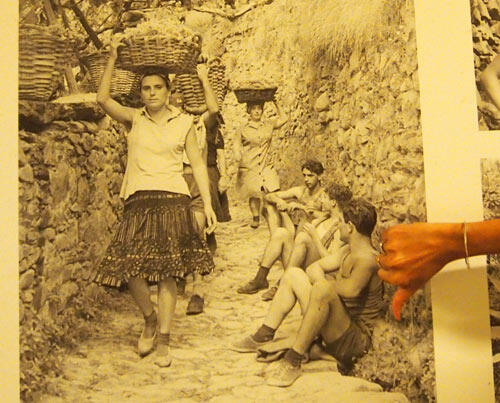 Talk about not lifting a finger…