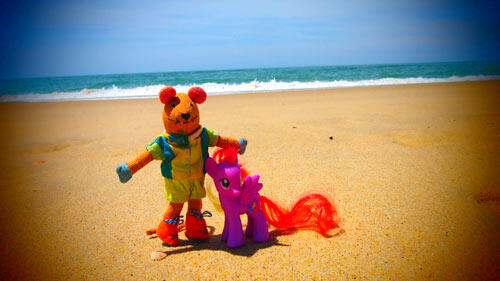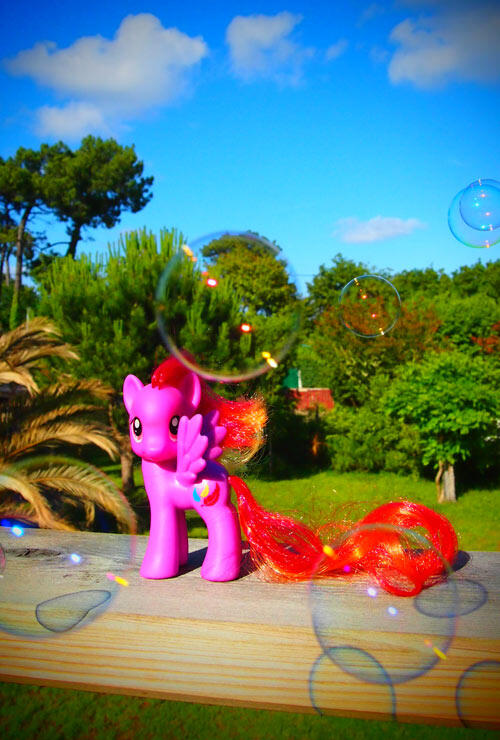 Clem and I took an hour's drive from Bordeaux to Cap Ferret yesterday, to stay in his family's beach house for three nights.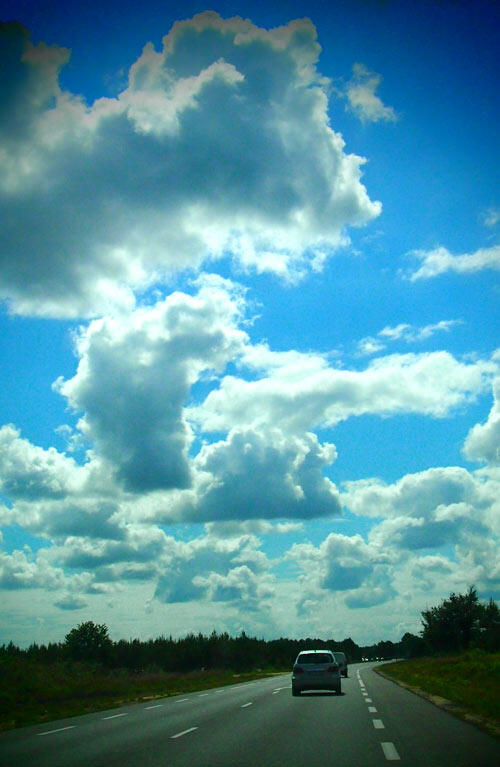 We got to be alone for the first night, his parents and Nico joined us today, and Clem's friends will join us tomorrow. It's a lot bigger than I imagined – with seven bedrooms and bathrooms, including one big bedroom with five beds for children. There's a French pool table downstairs, inflatable boats hanging from a wall to take to the beach, and lots of games to play. Such a cool family house! Clem said he used to come here when he was a kid, where all his cousins and their parents would stay to go to the beach, cook dinners and the kids would give performances on the wide lawn (which he said the adults didn't watch cos they were too busy drinking).
The interior is contemporary yet typical of a French beach house you'd see in pictures. White wood, cream sofas, large lounge pillows, cute painted wooden seagulls, and other sea-themed deco. The kitchen is the MOST well-equipped kitchen I've seen in my life! Pots and pans of EVERY size (I think there are seven different sized pots alone), countless dishes and utensils, some of which I don't even know the use of.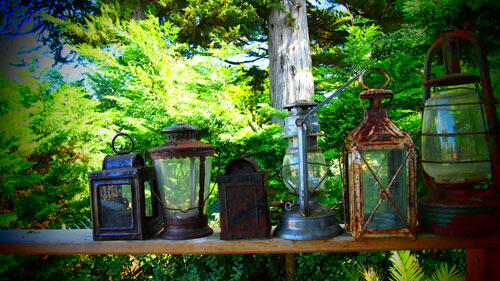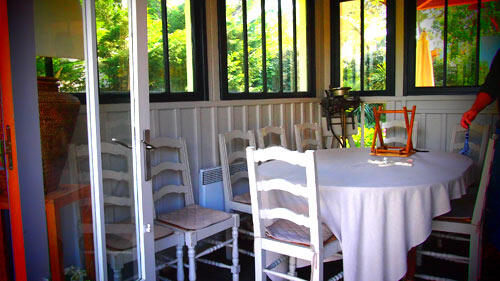 The dining room we didn't even use, cos it's so much nicer to eat on the terrace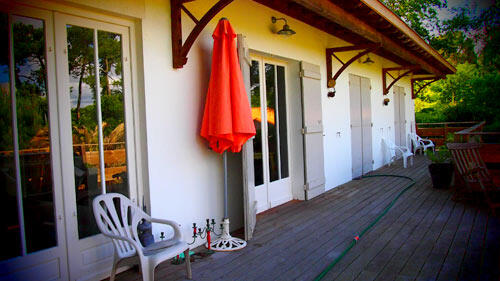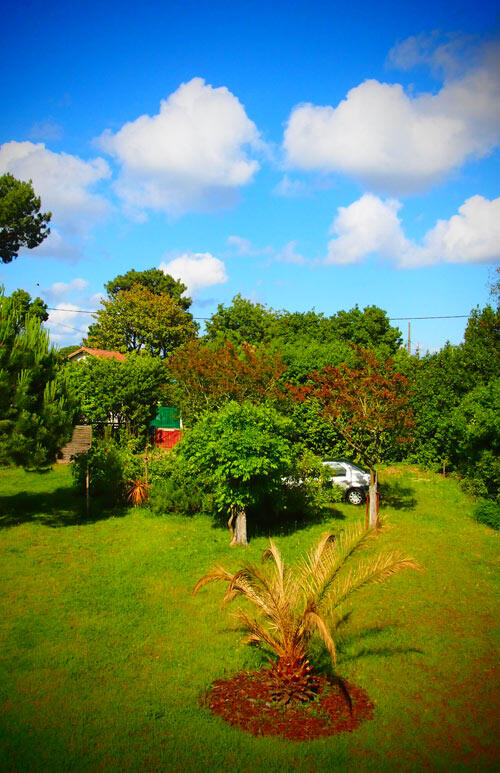 View of the garden from the upstairs terrace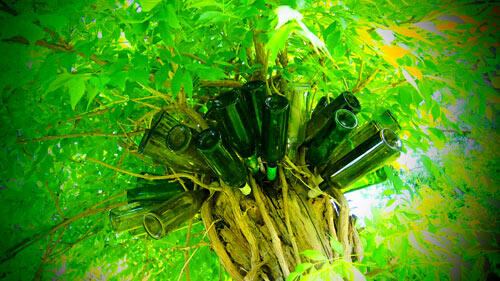 Clem's relatives made some sort of wine bottle tree… haha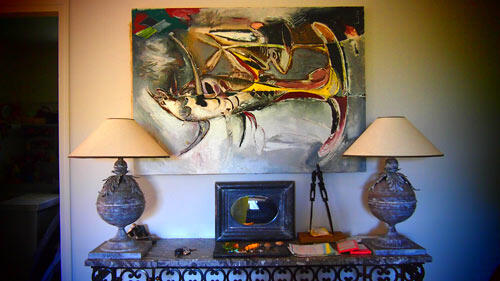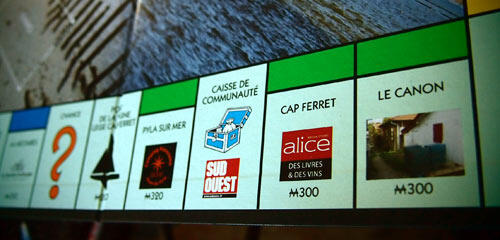 I was kicking myself for forgetting my crayons in Bordeaux, but we managed to find the children's art box…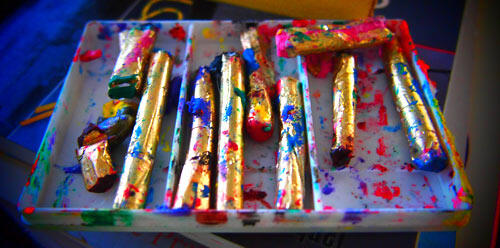 Which had the grossest box of crayons i've ever used!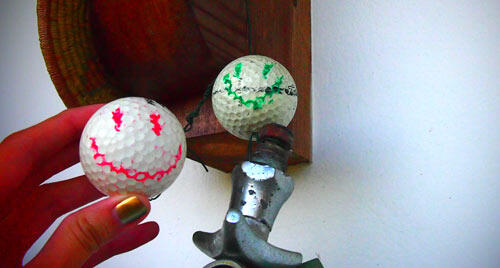 Wilson met his French cousin who hangs from the wall there 😀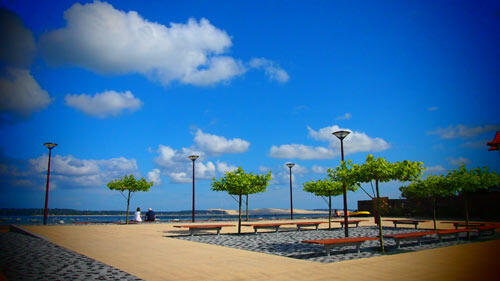 Cap Ferret is a really small beach village, which Clem says has risen in popularity over the past decade and got pretty fancy.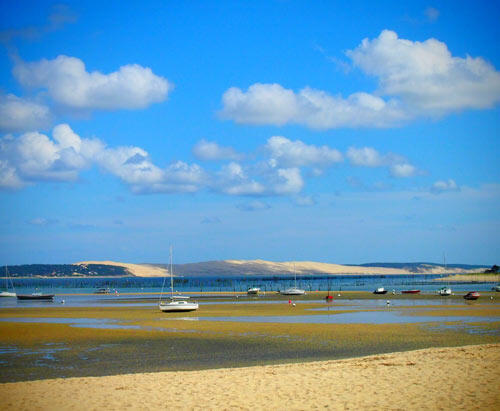 In the distance you can easily see the Great Dune of Pyla, the tallest sand dune in Europe! After our walk we went back to the house to chill.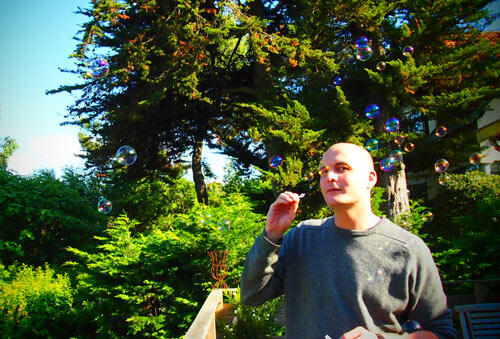 My personal bubble blower. I made him blow SO many bubbles so i could get the best picture without the wind blowing it all the wrong way.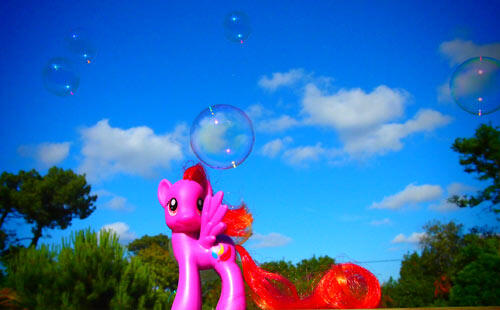 As it approached dinner time, Clem lit the fireplace (minimalist wood exterior and steel chimney) and I reheated the veal and butter spinach his mum had so nicely packed for us.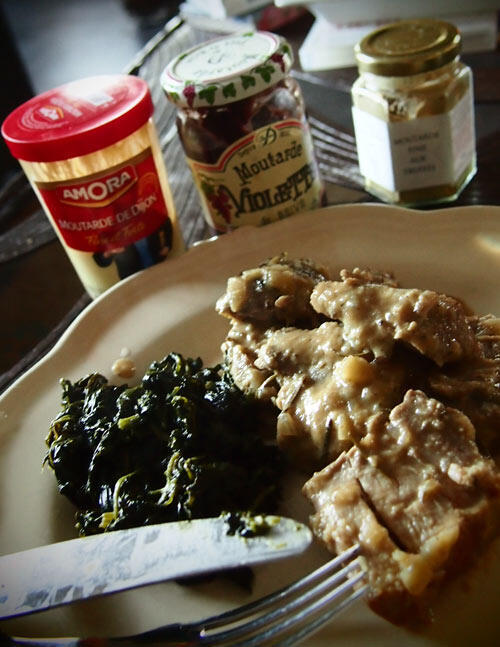 Three types of mustard – proper hot french dijon, berry mustard, and truffle mustard.
It was really nice, like date night, just in a different place and indoors by ourselves. Dinner was delicious too… and I got caught in a thought: Why did I start my holiday in France… now all the food I eat during the rest of my holiday will pale in comparison… I should have… oh WAIT. I AM ending my holiday in France!
I got so happy realising something I forgot and giggled to myself. I told Clem that I've never loved France before this trip, probably because I was here during winter. But seeing it in summer has opened my heart to the awesome blue skies, the plentitude of lush greenery, everyone is relaxed and happy it's summer, and the food of course… has just SOLD me. I've never been keen on the thought of living in France before (something we'd have to decide later) but I wouldn't mind being here just because summer is so fantastic.
This morning, we walked to the supermarket which is just 20 metres from our gate to get some breakfast. There's soup de poisson here! I got so excited and couldn't choose which to have that I bought two types – langoustines, and spices. I had the langoustine soup in the end, and it reminds me so much of Penang's prawn mee soup, but this is better cos it's thicker and a lot more flavourful. I bet everyone who loves prawn mee would LOVE this. Clem thinks it's weird I eat it for breakfast but he's getting used to my penchant for savoury food in the morning now. I also had a croissant with ham and cheese, and orange juice. We stocked up on food to cook for a couple of meals, wine, beer, and some really interesting desserts I couldn't resist trying. Our supermarket bill was 80 euros.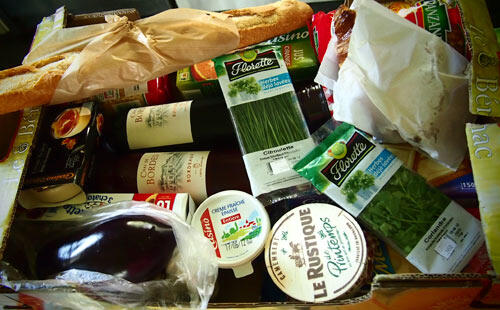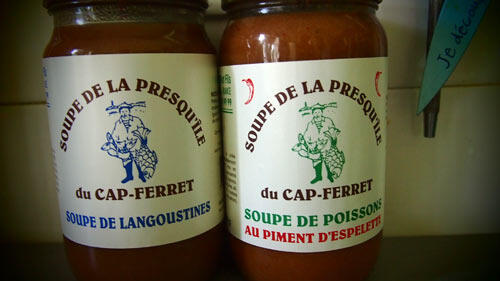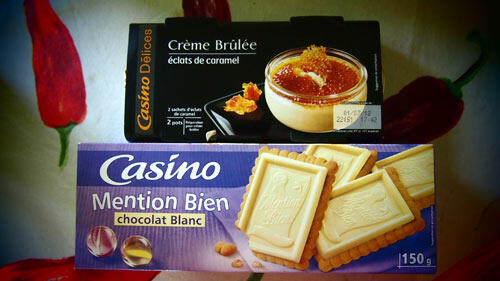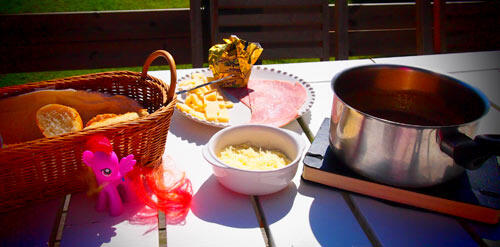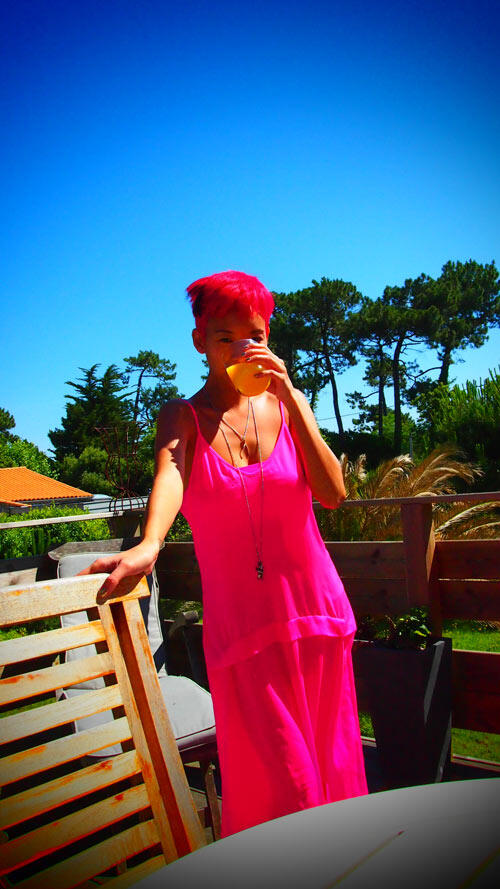 After breakfast; Didier, Dom and Nico arrived from Bordeaux and because they hadn't eaten, we all went to a terrace by the beach to have oysters. I've been hearing about having oysters in Cap Ferret for months… and despite having just eaten a heavy breakfast less than an hour before, I couldn't say NO to oysters! I had half a dozen with some white wine and it was soooooo good. Oh my god, I've been craving oysters for months and it's like eating freshly-shucked oysters by the beach gave me some oyster orgasm. I'm SO glad we're here for a couple more days… I'm going to be eating as many oysters and as much soup de poisson as I can! Forget Maggi mee! Even my (insanely thick) France Lonely Planet book mentioned the different types of oysters one has to have in this area.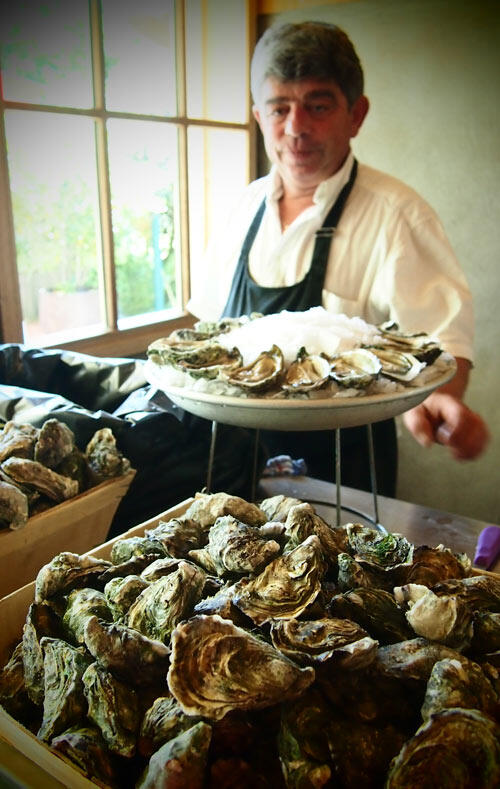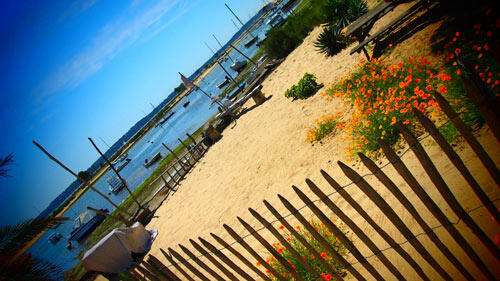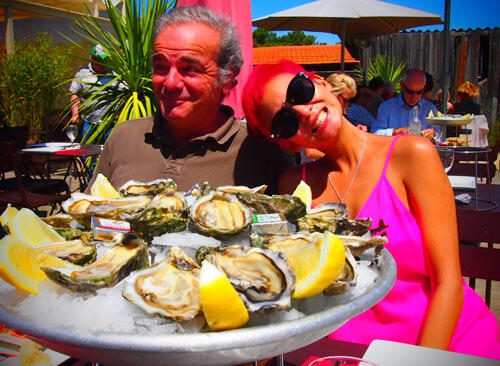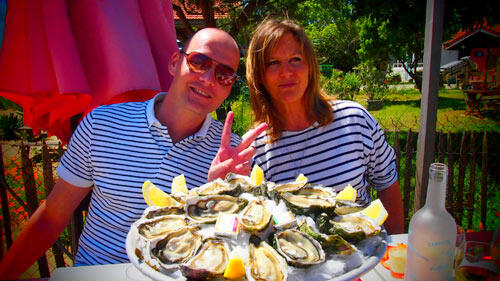 After our oyster lunch (well, the others had terrine and fresh shrimp too), we packed our beach stuff and drove to a beach nearby. There's another beach that's walking distance from the house, but it's quite small and crowded with kids. This big beach we went to spread far and wide. Clem said, "This is the kind of beaches I'm used to, this is why I thought beaches in Asia are small!" Even the sand is different… it's very soft and deep. My feet sink in a fair bit just by walking and I must have looked like a surprised dog seeing snow for the first time. It's also really difficult to walk in and i got really tired -_- The sea is also a different story. The last time I was on a European beach during summer was in Portugal. And the water was freezing. Nothing has changed. The water at the beach is ICY COLD. I could just about stand to have my feet in it, and refused to go in. Crazy or what! It's like torturing yourself..! Just being in the hot sun with cool wind blowing while I lie here is fine thank you. Clem told me I could go topless but I felt kinda weird with his parents and their friend there. Clem: "It's okay, if it's not okay I wouldn't tell you so! Just don't burn your skin." True. So I happily took off my bikini top, eager to tan my tits. I was just about to put tanning lotion on my chest when Clem went, "Don't!" And I slapped the stuff on anyway.
Clem: "You're gonna burn yourself! Do it in stages! Slowly!"
Me: "Ahhh I'm Asian. I don't burn like you!"
True enough, after today's tanning session, my tits looks very happy and brown, and not burnt one bit.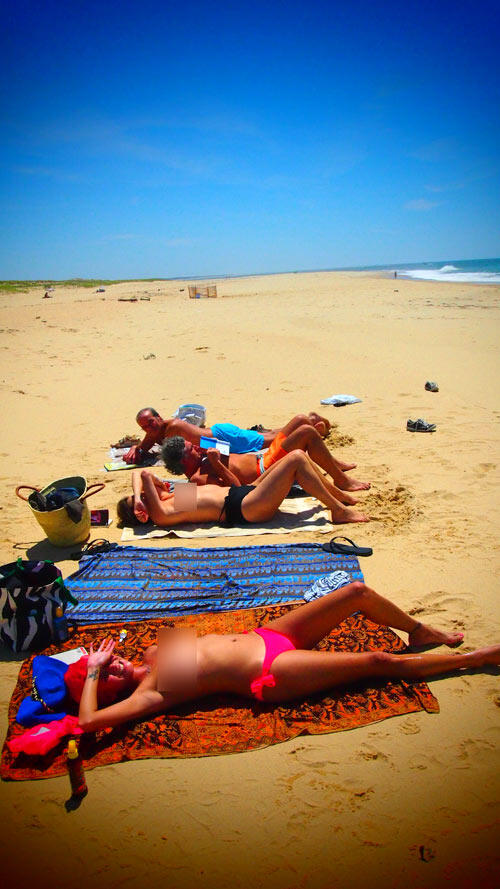 A few pictures of tits and bums but I shan't put them up here I guess. Bum belongs to Didier who changed on the beach cos there's no changing room there. I haven't really written what it's like being around them… Even though I don't understand a lot of what they talk about, being around them is a real pleasure. They're constantly joking and being silly, making funny faces, doing stupid things, acting like a psycho. It makes ME feel normal! I kinda know why Clem is with me now. Nico, their friend is a very charming and handsome man whom Clem says hits on every woman. When we were talking for a few seconds, Clem said to him, "You have to stay ten metres away from her!" Later that same day when we were all drinking, Clem said, "Nico said you have nice… er…"
Me: Eyes?
Clem: Yes. Eyes. Nico said you have nice eyes.
Then it was my turn to go 'er…'
Clem and his dad went to play in the waves and I took heaps of pictures of them. I drew a big cock on the sand which I was quite proud of but a big wave washed it away. I shot some videos of the beach and sand through my kaleidoscope (I'm making a series of different places I go to via my kaleidoscope!) and it's so so pretty. I also got Clem to take a picture of my boobs through it, so I've a picture with hundreds of boobs in it haha. I took a picture of my new little pony and Maurice my mouse and a wave wet poor Maurice. Erm, at least I didn't wet my camera cos it was practically on the ground. I blew bubbles and watched them swirl crazily across the bright cloudless sky. I ate white chocolate cookies I bought earlier. Oh, and I tried drinking as LITTLE water as possible just so i wouldn't have to face the problem of having to go into the bloody ice cold water to pee.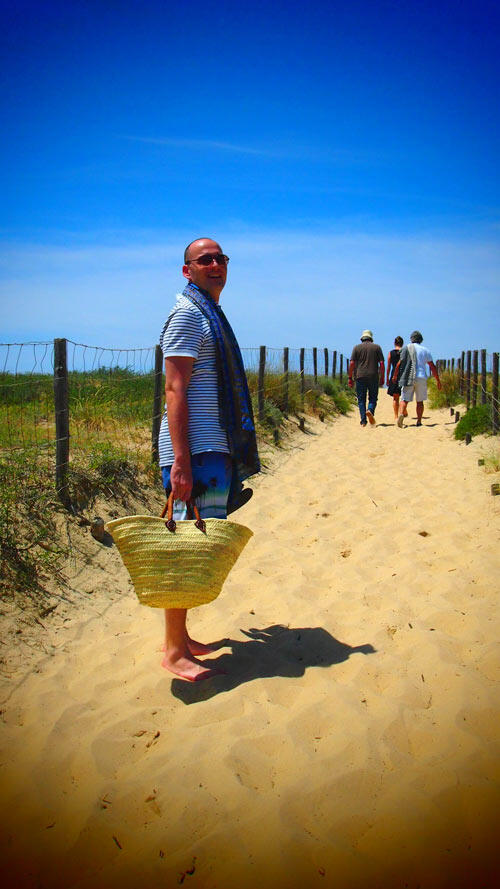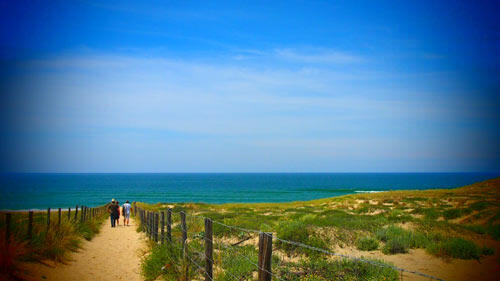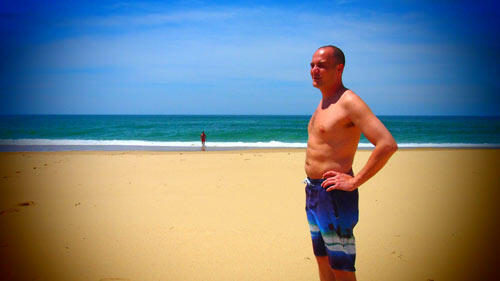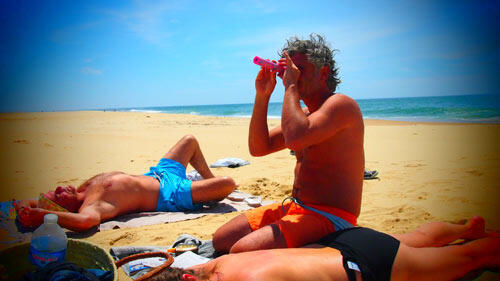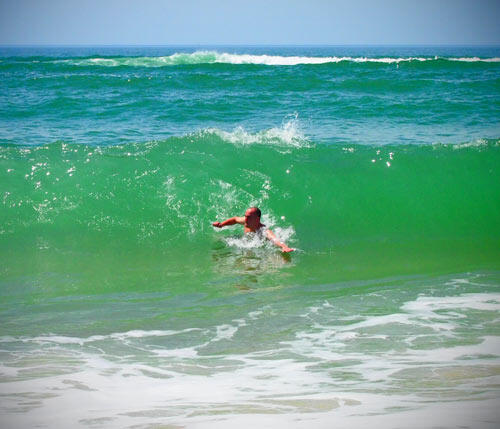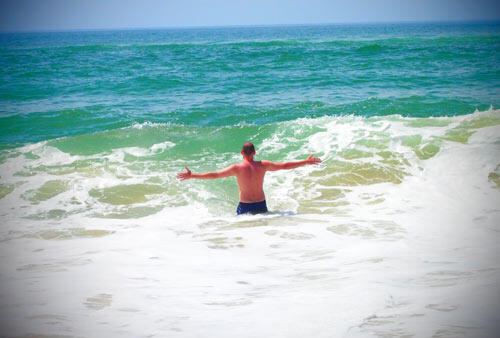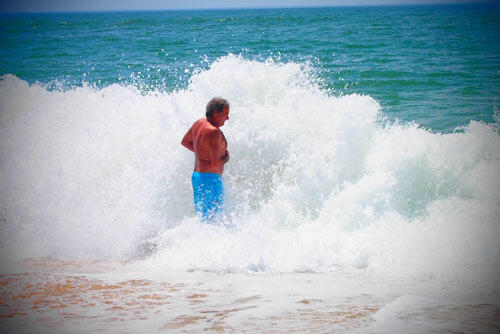 Look how big the waves are! Even Clem got knocked haywire and scraped his limbs on the rocks.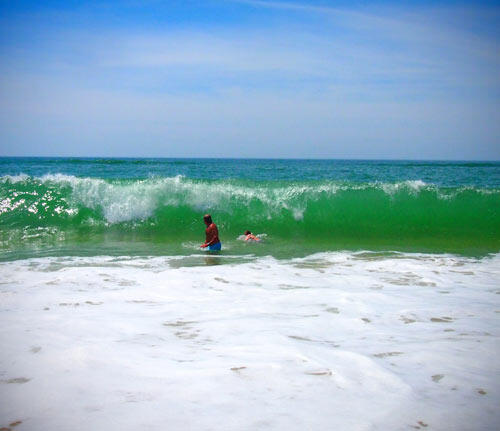 After sizzling on the sun for hours, we went to another beach for a few minutes. It's got this crazy carousel that looks like all the characters took some LSD.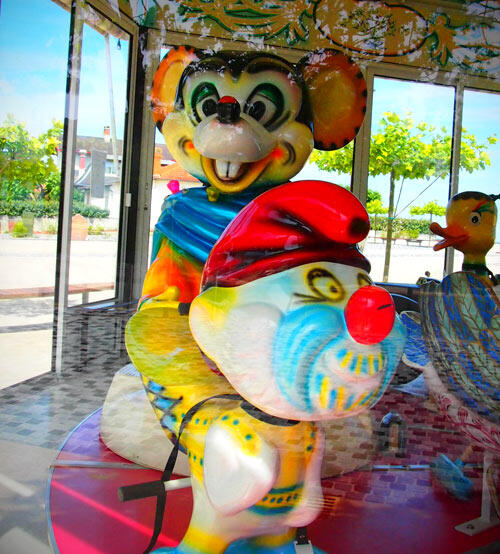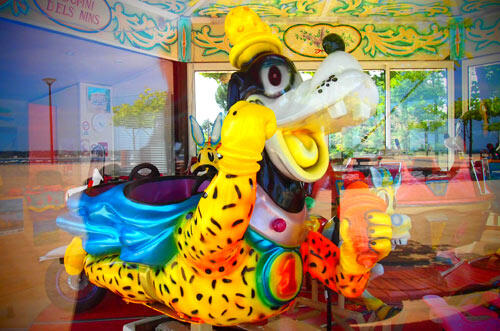 Tried to take a picture of Clem and his parents…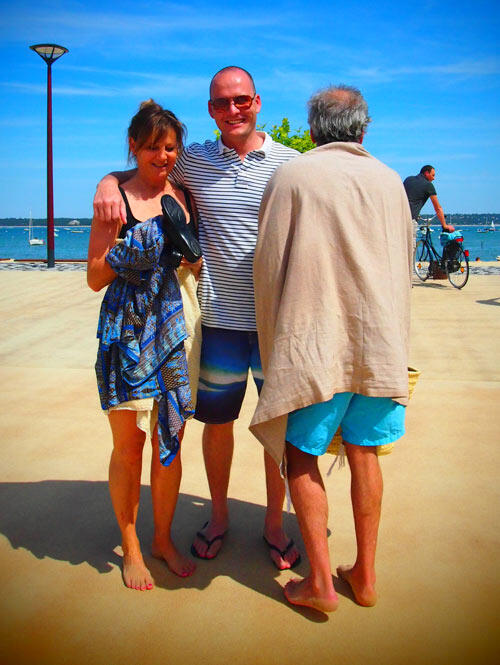 Flore saw these and said in French: This is so representative of our family -_-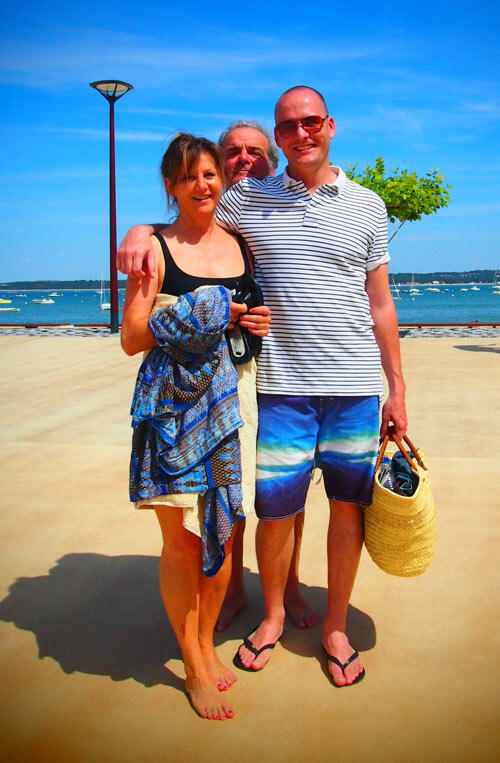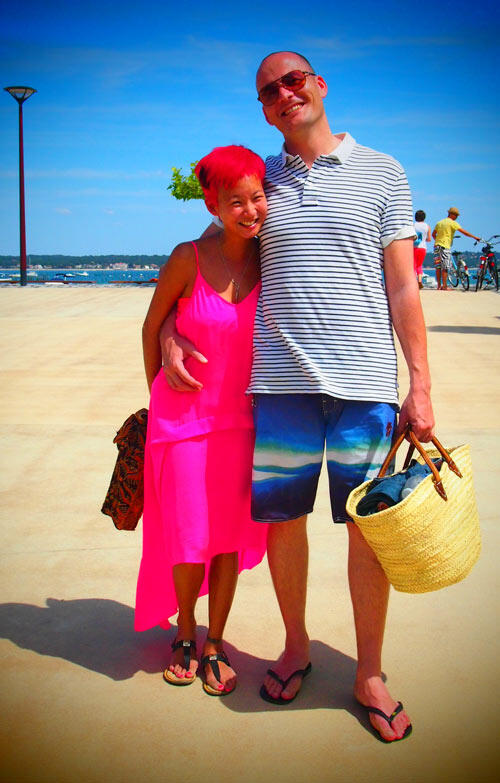 We went home to shower. Didier and Nico went to the supermarket to buy things to cook for dinner, while Clem, Dom and I walked around the village. It's got very attractive-looking shops with equally 'attractive ' pricetags. I think I'll allow myself to buy things when on the last month of my trip else god knows how I'm going to carry my bag everywhere.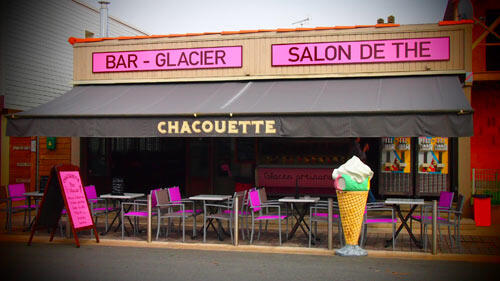 I love how all the men here are in charge of food most of the time 😀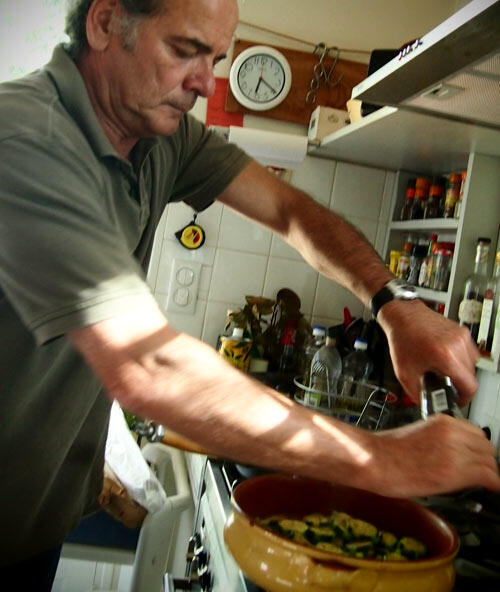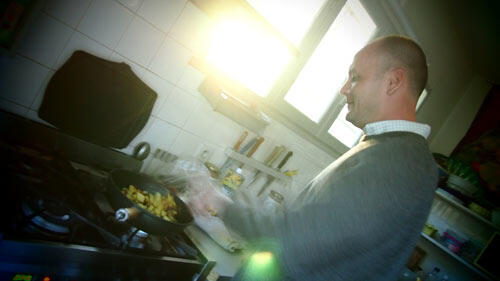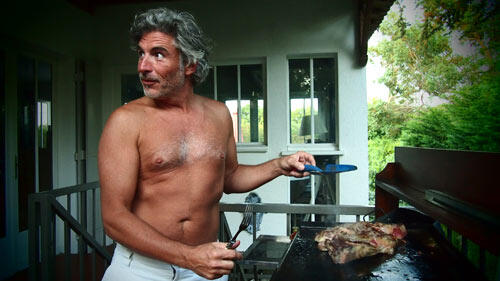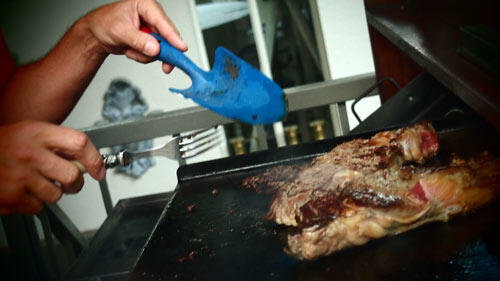 Sometimes it's better not to notice what they're cooking with…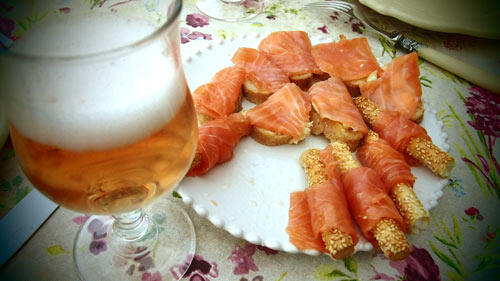 Champagne and salmon to start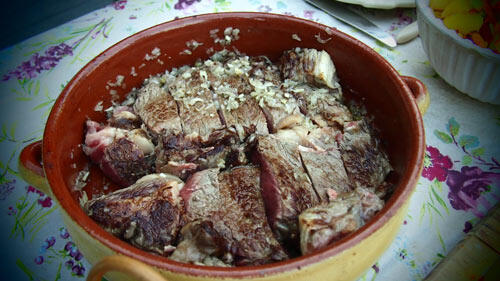 Entrecôte, and courgettes roasted with cheese and egg. Beef in France is cut an entirely different way from everywhere else, so they don't even have translation for words like sirloin cos the cut just doesn't exist here.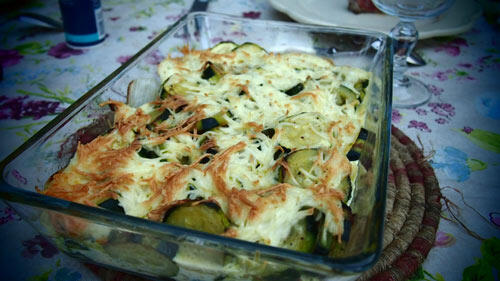 We ate and drank and danced and laughed sooooo much…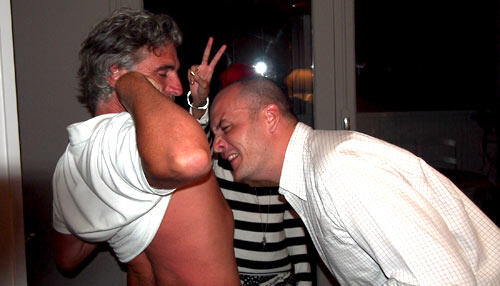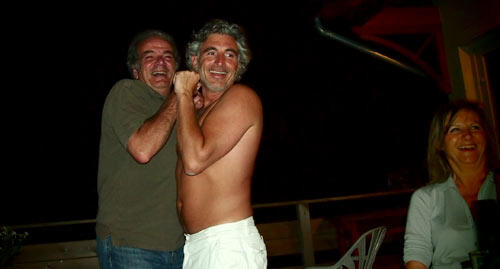 Nico threw his shirt into the garden while pretending to give Didier a lap dance, and promptly put on my scarf and hat and said he's me.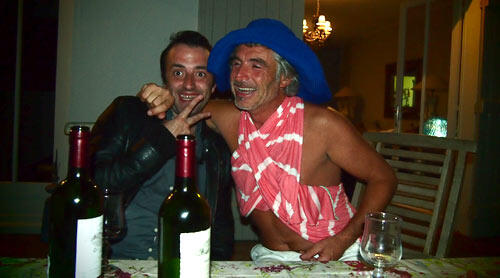 Vince, Clem's best friend, and Nico with my favourite scarf on sob. He wore it till the next day -_-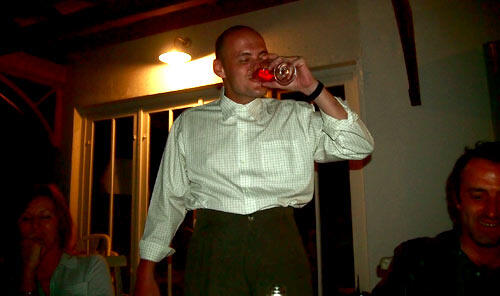 My loverly boyfriend 😀