After leaving the farmhouse for our first night in France; Didier, Clem, Flore and i went back to his grandparents' for lunch. It was a Sunday (tho i wasn't keeping track of days anymore and had to think a tad). We sat around chilling out till Didier suddenly jumped up remembering he had to do the beans for lunch.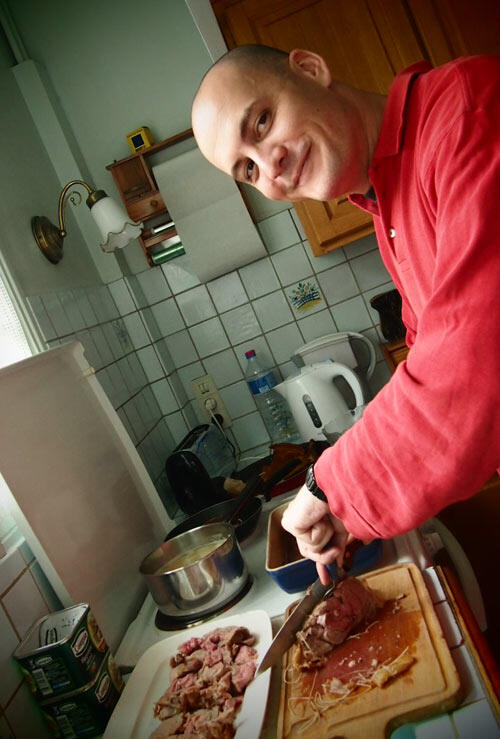 Clem helped to carve the lamb we were going to have with the beans. Yeah. Do some work, boy.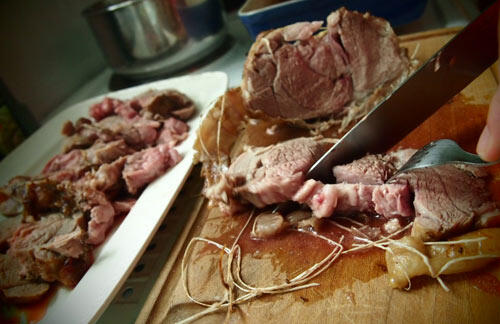 I can't even decide whether i prefer Saturday's lunch or Sunday's… It was sublime. They were all sublime.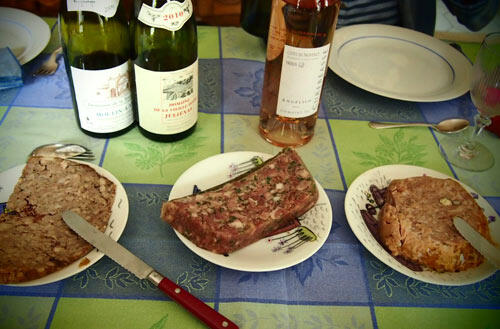 This time, we started with three types of pate. From left to right – pork liver pate, pig head pate, and rabbit pate. Clem looked at me with big eyes, "Ohhhh there's RABBIT pate..! Are you going to eat it?!" He knows i avoid eating rabbit cos i just can't stand the thought of eating Thumper. But… it would have been rude to turn it down, no? So i tried it.
Thankfully i much prefer the other two. I have discovered new French food i ADORE, just when i thought i'd tried most of them! I was nodding my head to myself while munching it slowly, plotting how i could tapau/bungkus/transport some back to Malaysia for friends to try. This was TOO good. It HAD to be shared! I asked the family aloud whether it was possible to bring to KL. And they all said no… it's fresh pate, it wouldn't keep, etc. SAD!!!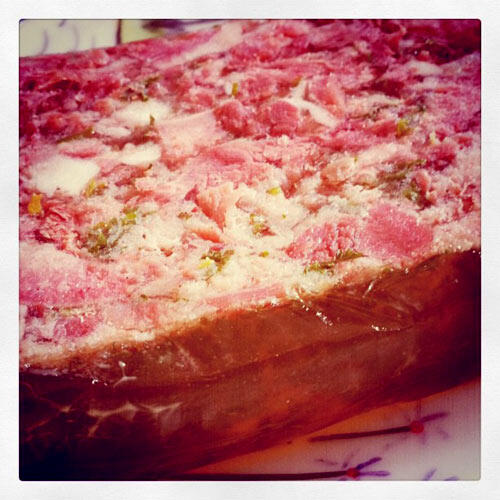 The pig's head pate is my FAVOURITE PATE IN THE WORLD NOW. It's got soft rubbery bits of flesh mixed with wobbly yet firm fat… oh lordy lord… I was even thinking that i wouldn't mind moving here with Clem if i got to eat this every week!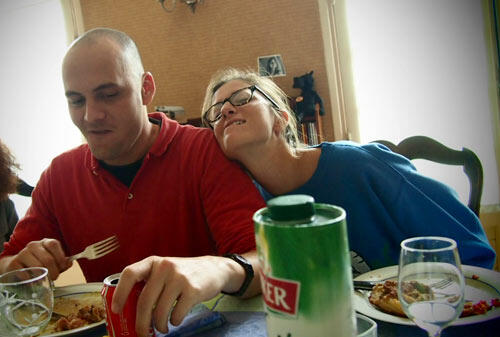 It's really cute to watch Clem and Flore act like kitten and puppy.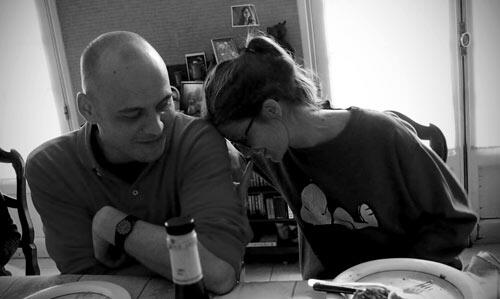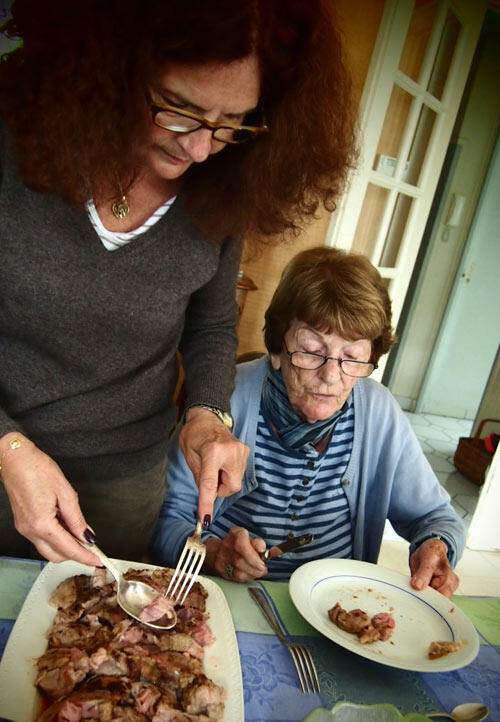 France (Clem's aunt/Didier's sister) serving grand-mère.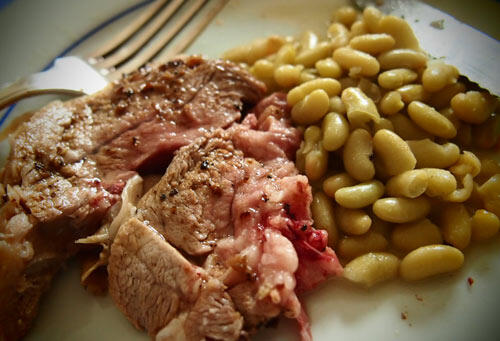 Our mains of lamb and beans. I'd never tried these beans before – they seem to be the same type as the English baked beans, but tastes a lot better. Sorry England. France beats you at the beans.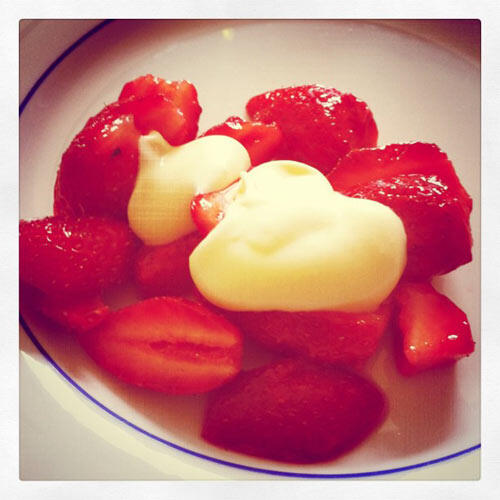 Incredibly sweet strawberries and creme fraiche for dessert.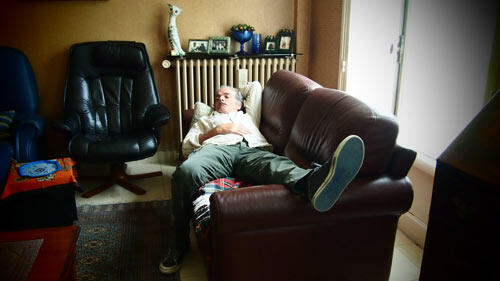 After a huge meal like that, it's snooze time again…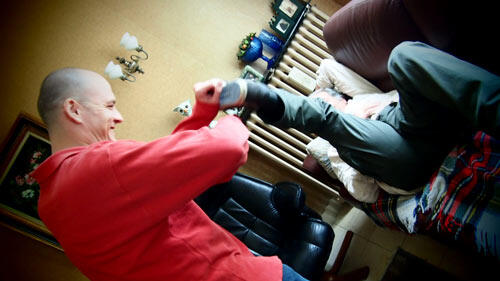 Unless you get disturbed by your pesky son.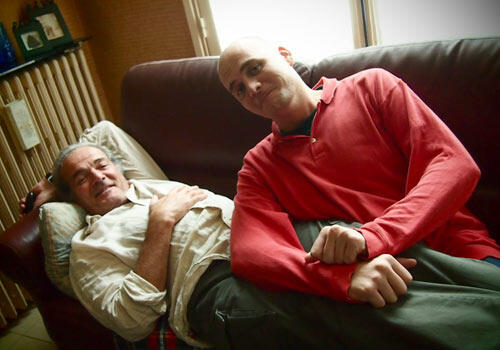 Didier & Clem
After lunch, i digested my food on the sofa while reading Bernice Chauly's Growing Up With Ghosts. I finished it in two and a half days. I daresay it's my favourite Malaysian book thus far, and such an inspiration to find out more about our own ancestry and family history.
An hour into reading, i wondered where Clem was and decided to just let it be. A little bit later, Didier gestured that Clem was upstairs so i went to look for him and found him napping so comfortably in a small bed… that i decided to cuddle up next to him and nap too. -_- So it turns out that our first two days was spent doing a lot of eating and sleeping!
When i woke up, the other ladies were playing tri ominoes (three-sided dominoes) so i joined in the next game.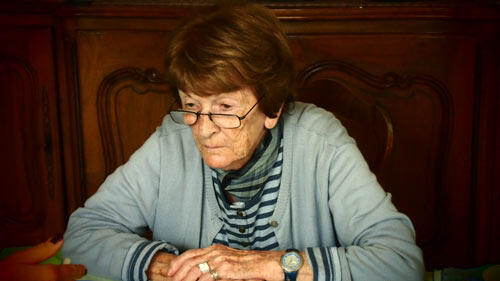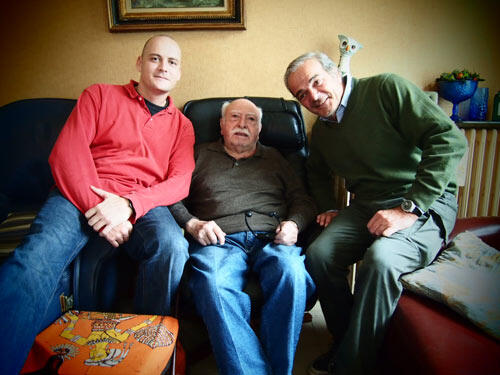 Three generations of men – Clem, grand-père and Didier
That evening, we took all our luggage and went to stay in Jean Paul and Mimi's house that is about 20 minutes away. I've met the couple over Christmas when i was last here, though not in their house. It's such a wonderful house (more like mansion) that it deserves another post on its own thanks to the heaps of pictures i took!
We had an array of seafood, quiche, breads and spreads for dinner along with more wine.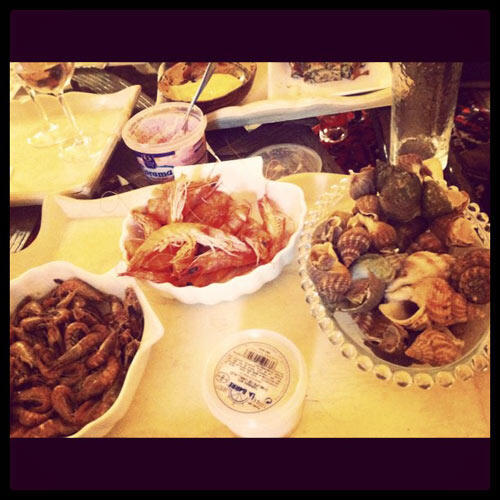 I was quite relieved that dinner wasn't a 4-course sit down affair as my tummy really needed a break from eating so much. Mimi wondered aloud whether i was okay and said to Clem, "But i heard that she eats a lot!" Thanks, Didier. It looks like my eating reputation is spreading in the family… Oh man.