I dreamt about Claudia last night! And Cynthia Nixon… weirdly enough. I think it's all the prawns I must have eaten for dinner. I had a shrimp linguine for 13 euros which had DOZENS of tiny shrimp that are to be eaten with their shells on. Yishyene had a calamari pasta. Both dishes were huge, which I adore cos that means we eat to our heart's content till we're full and takeaway the rest for a snack.
Oh… I just remembered another part of my dream: So Claudia was working in a shop like Marc Jacobs and looked super cute all dressed up MJ-style, and I was picking out things to try in the shop when I thought of measuring my waist and hips to see how FAT I've got since I came to Europe… and… the measuring tape didn't even reach around my midsection! Bawl! So I thought, oh well, at least I know roughly how many inches I measure, sort of. And like I would do in real life – I left it at that and prepared myself to eat more.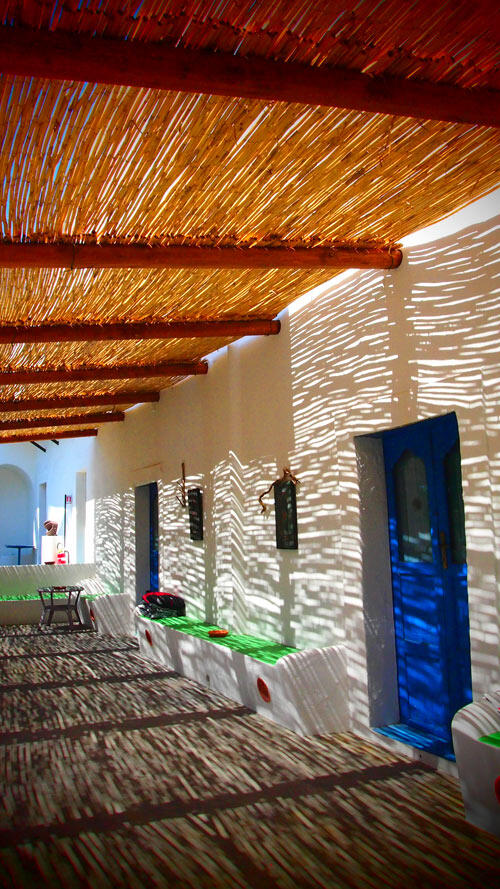 Casa Del Sole – the guesthouse we stayed in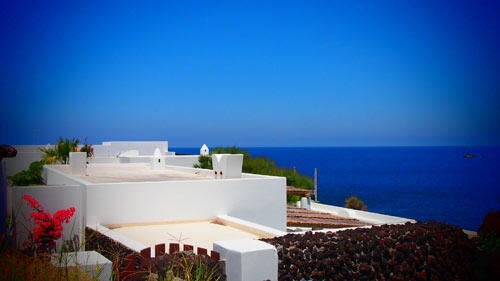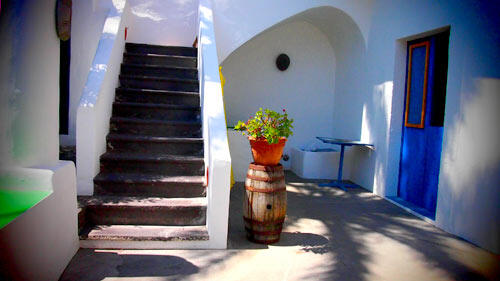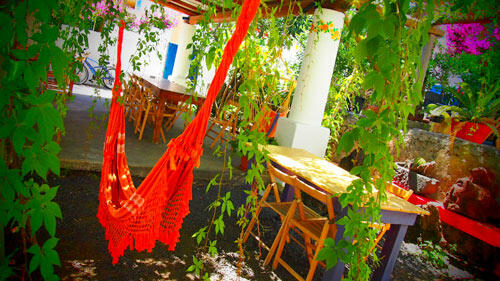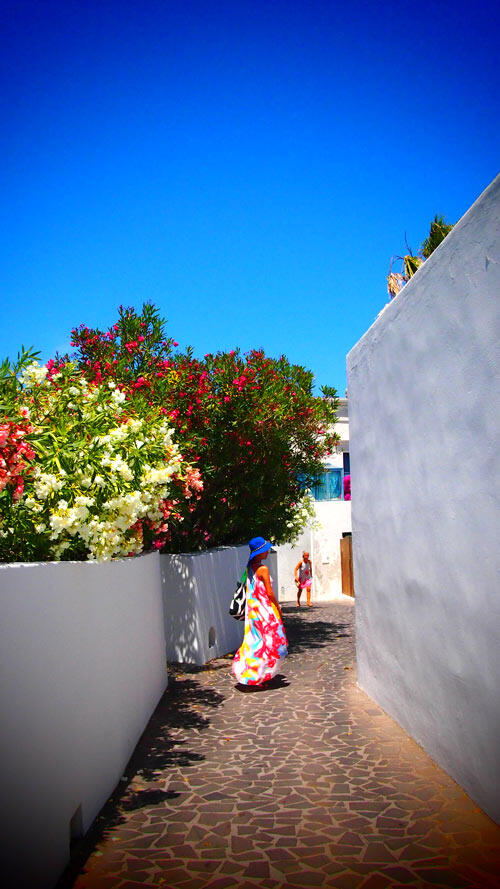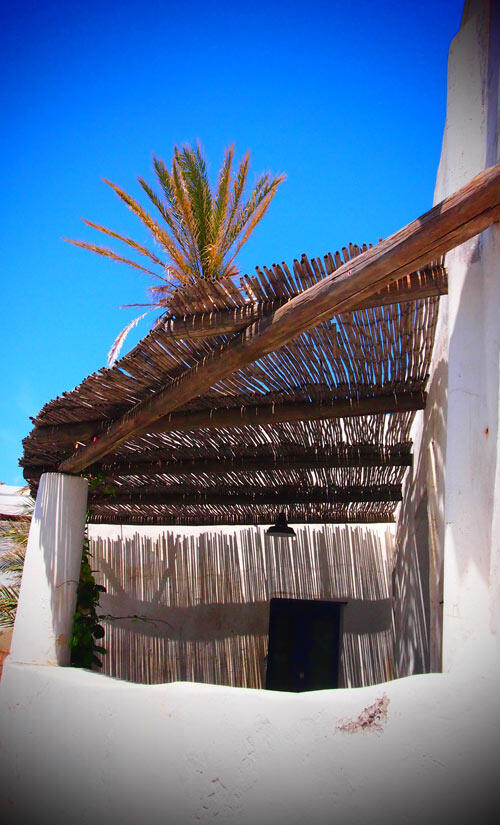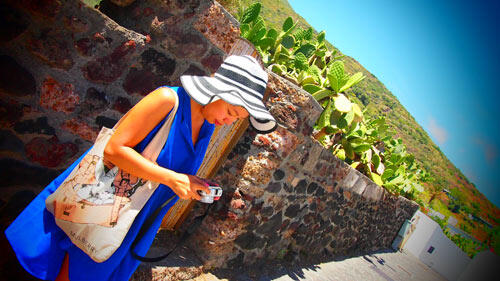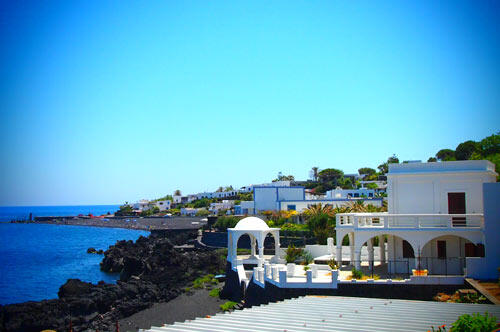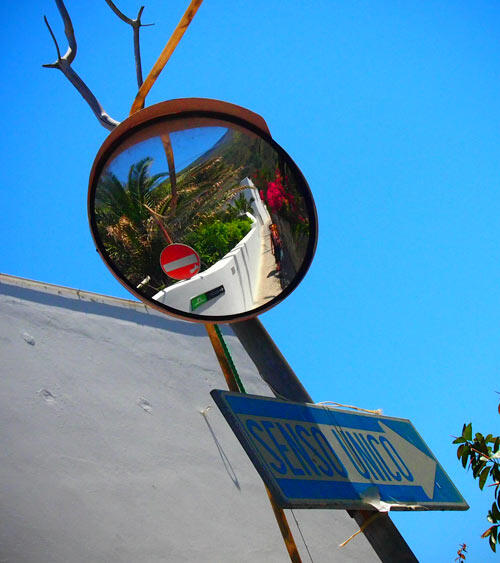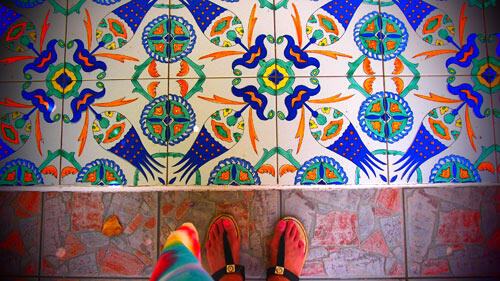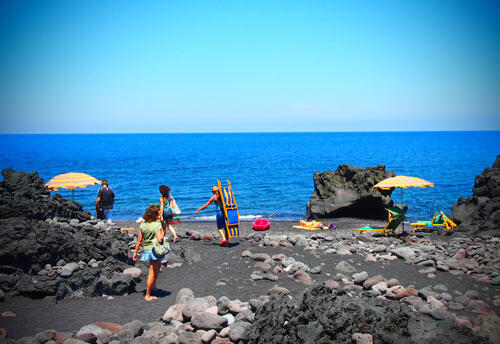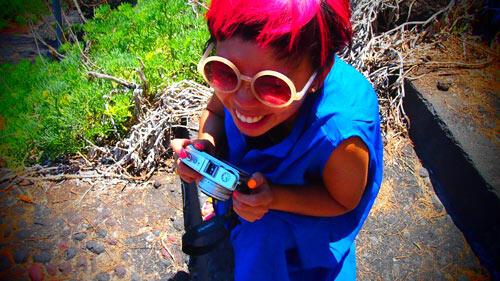 Today we went to a Villagio Stromboli where I had a beer, before we went to one of the many black beaches in Stromboli. Because of the volcano on the island, the sand is a light shade of black with many glittering particles in it. Yishyene spread the Bali sarong I stole from Clem (which I currently call my beach towel) on the ground while I went to get a big Italian beer for 5 euros. I'm so relieved beer isn't expensive here. Of course, I can't compare it to Laos :p
A seagull landed very close to us and I quickly took a picture whereas Yishyene started crawling towards it saying, "Don't worry, I'm a seagull whisperer…" I have a picture of the seagull flying away and Yishyene's butt, while she tries to creep towards it with her camera.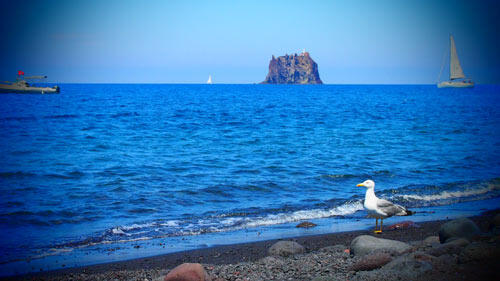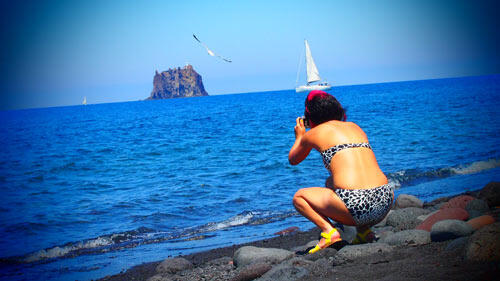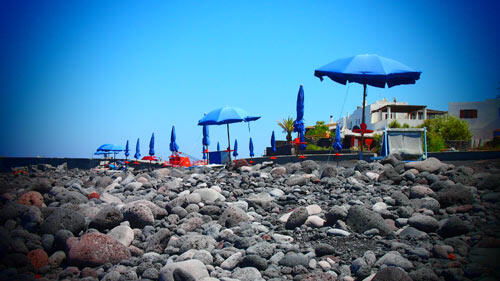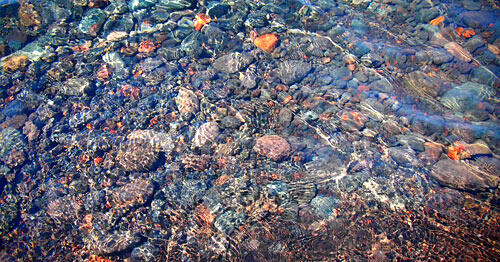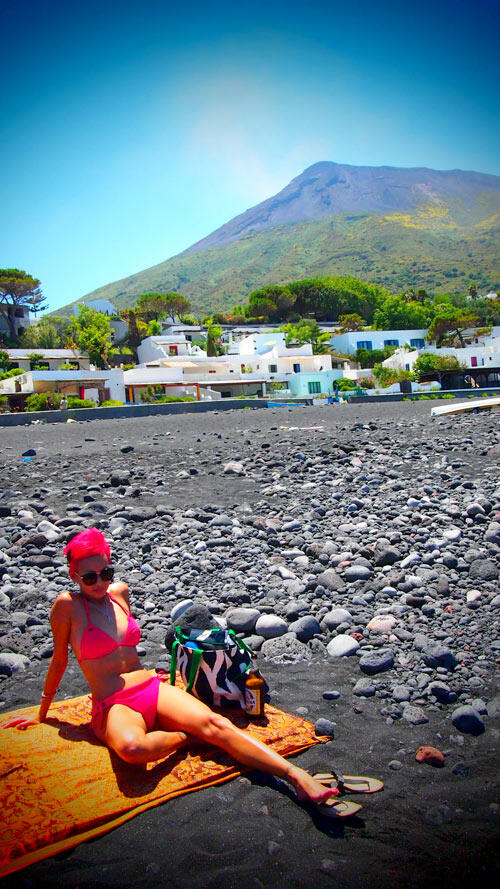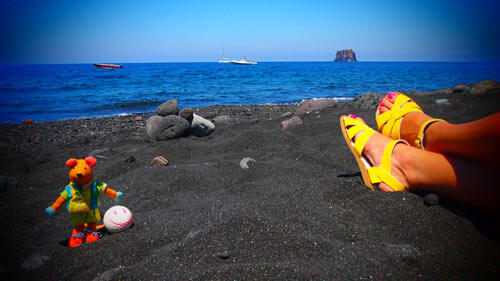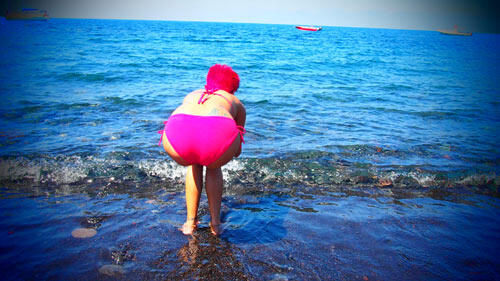 Yishyene just HAD to take like 10 pictures of my bum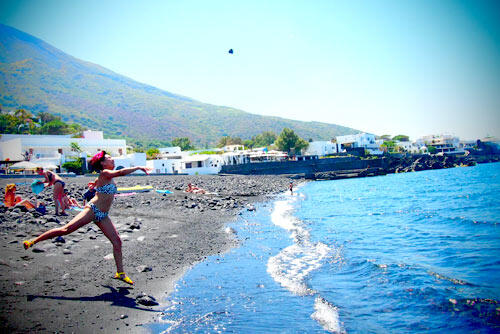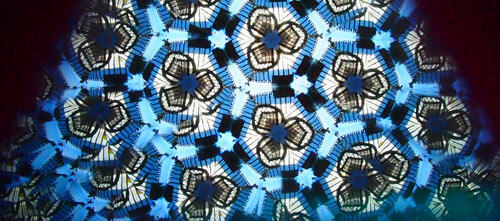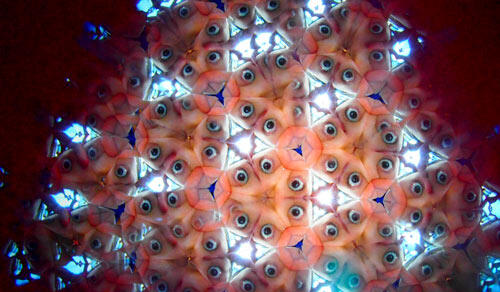 Y's eye thru my kaleidoscope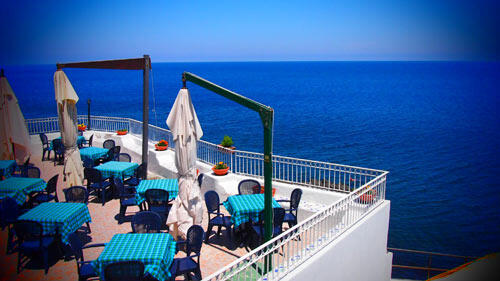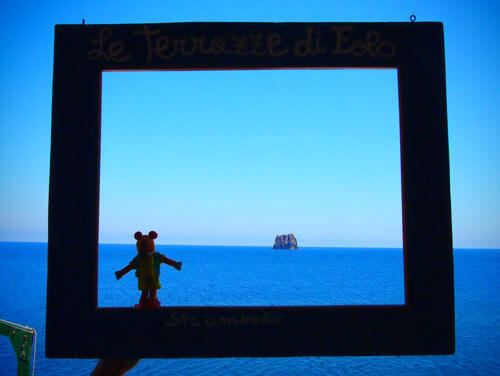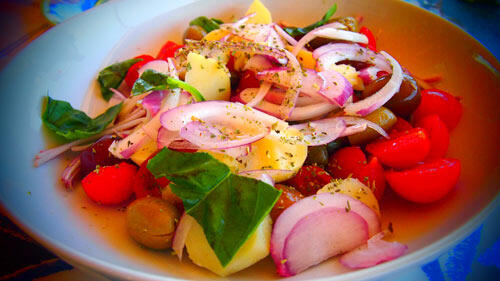 After roasting on the beach, I had a salad (potatoes, tomatoes, olives and basil) for lunch before we started getting ready for our volcano climb. I didn't really know much about the climb before this, just that it was imperative for us to rent hiking shoes and a flashlight. Turns out this volcano is the main reason most tourists come to Stromboli (duh me) and some even come for a day trip just to see the volcano and leave. The entire hike up and down was to take five hours – two hours to go up (it's more like three), one hour to watch the volcano (more like little less than an hour), and two hours to descend (actually just over an hour).
I was kinda dreading this 5-hour hike. The last few times I hiked in Sri Lanka and Bali were all at most 3-hour efforts. The last time I climbed a mountain was five years ago, which was Mount Batur (a dead volcano mountain) in Bali… and even then I was thinking,  "WHY am I climbing a mountain again when I already did Kinabalu…" So I was not the most excited person to climb this volcano until I was a quarter way up and started thinking about what I was going to see at the top.
Anyway, I was definitely just being a lazy ass, cos I know I can hike for hours, but just thinking about doing it before… just makes me want to go to sleep. So we walked to Magma Trek (that itself was a hike okay!) that's on the hill next to a church. As we approached the office, we noticed all these SERIOUS-looking hikers – wearing trek pants, t-shirts, big boots, water bottles, backpacks… We looked at ourselves and started feeling shy about how UNhiker-like we were – aztec print/neon shorts, bright tops which were either transparent or had holes in them, and red hair. We looked like we were going for a party rather than a hike! Plus we're so small-sized… and everyone else was so big and looked ready to RUN up the mountain. I was ready to show them that we could hike too!
In Magma Trek we paid for our booked trek spots (28 euros per person), received instructions on what else to rent, and got our helmets which were red (we belonged to the red trekking group that day). The lady stared at my Topshop sling bag and said, "No, you must carry a backpack, no bag like that *stares at my little colourful bag* " Shy.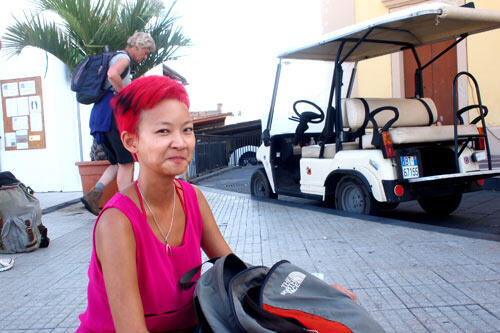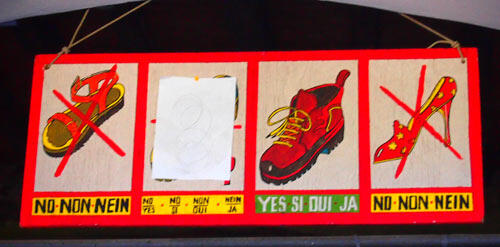 So we went to the shop next to theirs where everyone rents what they need. We got 2x hiking boots, 2x flashlights, and a backpack for me for 20 euros. It was well worth it cos I wouldn't have been able to go through the whole ordeal without all that! Bought some snacks and water. They said each person should carry 1.5 litres of water, but now I know that seeing I'm a LITTLE person, I need less water and needn't have carried so much -_- Everyone waited outside the church for their guides to arrive, and there must have been at least 80 people. Just our group alone had about 20 people. I fell asleep on the ground while waiting. They asked us to meet at 5pm but we really only LEAVE at 6pm.
We sat off at 6 sharp and the sun was still high, it being summer. The first hour of our trek was on a steep path through foliage and trees. It was freaking hot. I sweated so much that the sweat that dripped off the tips of my red-dyed hair was red too. Gross. It was a steady hike in single file, and we only stopped twice to drink water for 2 minutes before setting off again. At one point we didn't rest for so long (but I couldn't stop else I'd be left behind!) that I was thinking, "What?! Noone needs to drink water? Don't their legs feel tired?!" My thighs felt like they were going to break off. After the first hour or so we reached the 350m mark and Y and I were like, "Oh my god. We're not even HALFWAY yet." I did manage to take some quick pictures of the magnificent view, which was QUITE an effort – taking the camera out of the backpack WHILE trekking and panting.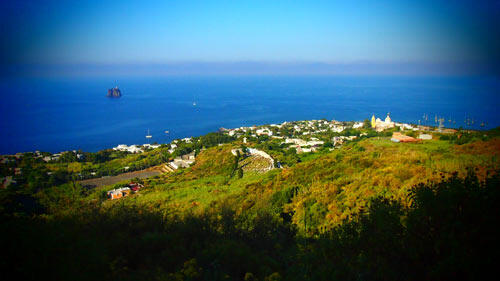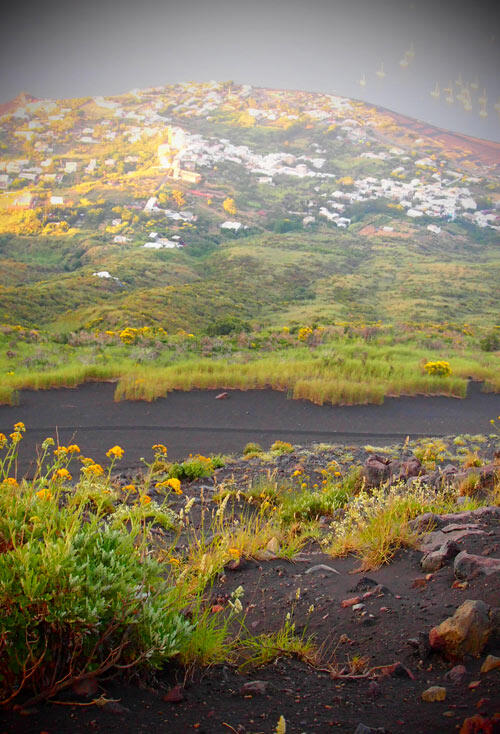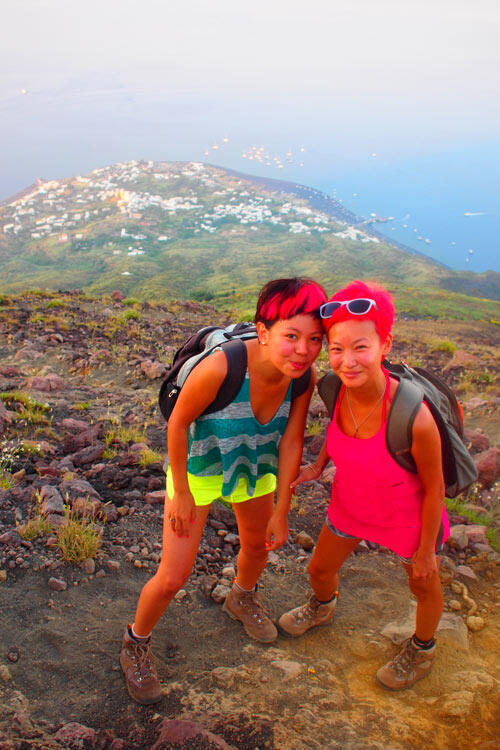 It's funny how your mind thinks as you push yourself to climb and keep pace. I was thinking of things like:
–        "Climbing a mountain is like life. There is no turning back and you have to just keep going else you're a FAILURE" I was thinking what kind of person does it make me if I quit halfway going up? The only thing to do is to keep on going and believe you're going to reach there even if it looks like never
–        Hype myself up about what I'd see at the top
–        Reverse psyche myself about how much I love hiking and what a joyous thing it is to do
–        I had songs in my head and thought a lot about Clem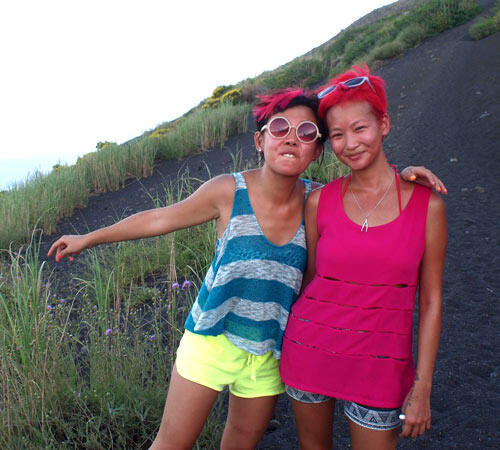 Somewhere halfway up, the foliage disappeared and we were trekking on black sand and loose bits of black volcanic rock. It's more difficult than regular hiking cos your feet sink in and you have to PUSH hard to get your weight up. I was trying not to think about how after all this, I was just halfway up and concentrated on getting over each step in front of me. Looking up the volcano top got us thinking, "Oh man. It'll take us FOREVER to get there." Looking down on my side gave me vertigo cos if I did slip… there'd be noone else to blame but ME cos I signed an indemnity form at the office earlier. "Signing away my LIFE," I'd said to Y. So I was being really careful… I didn't want to lose a limb or injure myself and RUIN the rest of my euro trip!!! "Plus I still want to see Clem," I told Y, "So I'd better not die now."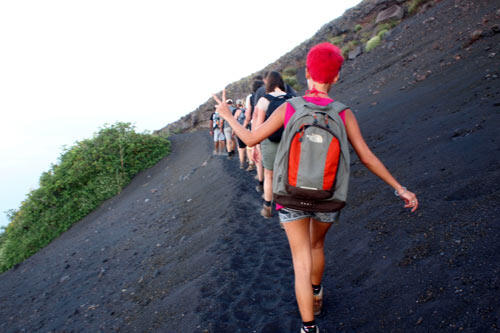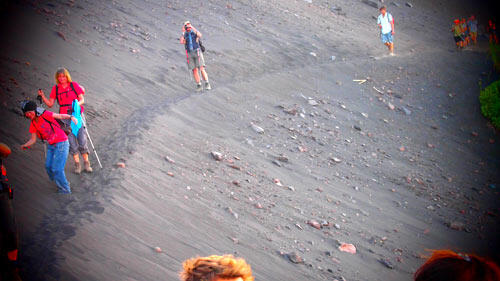 The only sign of life I saw were some black beetles scuttling in the sand, bits of grass and lots of yellow flowers. We stopped for 10 minutes (our longest break on the way up) to eat something. I had my mini choc croissants and thought how I'd never blown bubbles off the side of a mountain before, so I did (it was so fun!) and some of the other hikers were grinning at me. I also brought Maurice and Wilson with me so I took pictures of them with the town looking absolutely tiny down below. I stared at the town, not believing we had come all the way from THERE by foot. Our break was over too soon and the torture started again.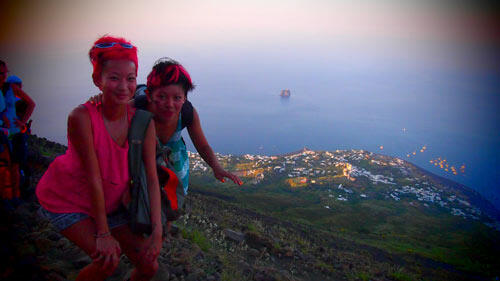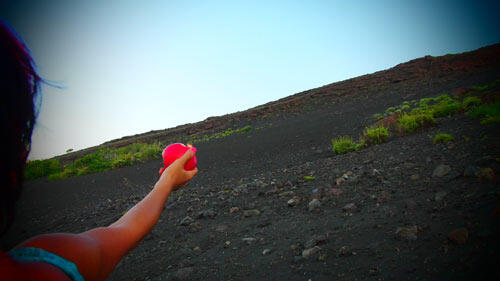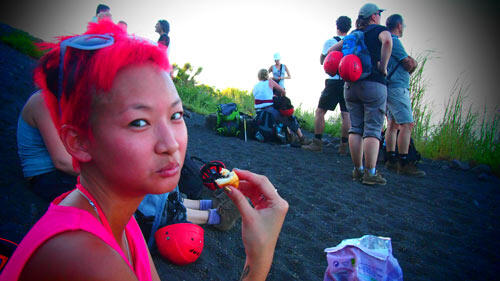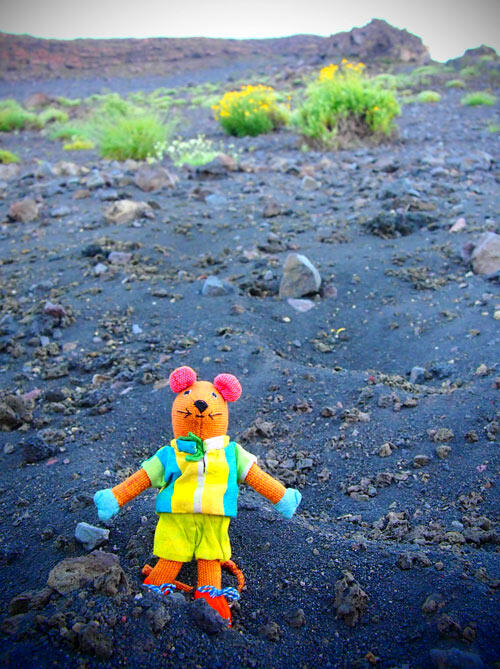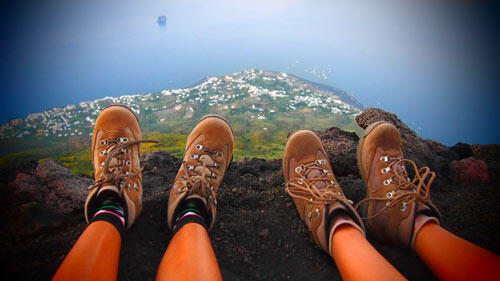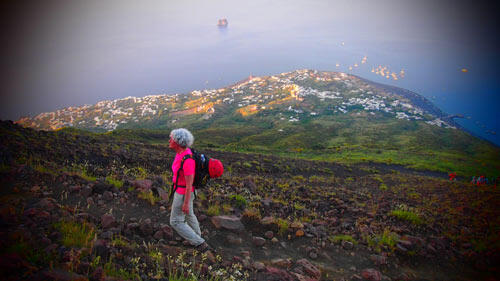 It was just continuous climbing up steep slopes in single file as usual. I tried to avoid looking down anymore cos by doing so, I'd try to balance myself to ensure I wouldn't fall towards that side, and weirdly end up losing my balance a bit TOWARDS that side! So the best thing is to NOT LOOK DOWN. We still kept up with everyone's pace and couldn't stop cos we'd be blocking people if we did, so we just pushed on and on and on. At one point I was thinking, "I'm a MOUNTAIN FAIRY" and I had a sudden burst of energy which Y noticed cos I darted forward a few steps before my legs felt like dying again.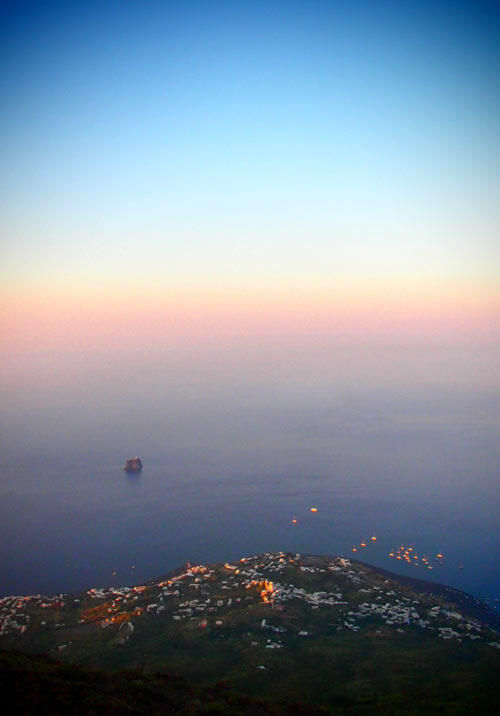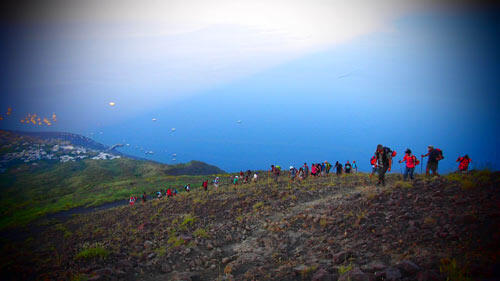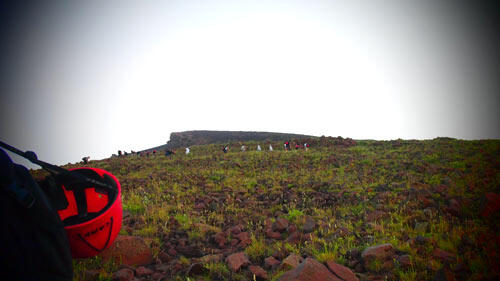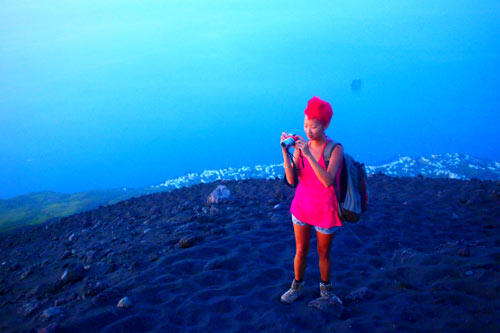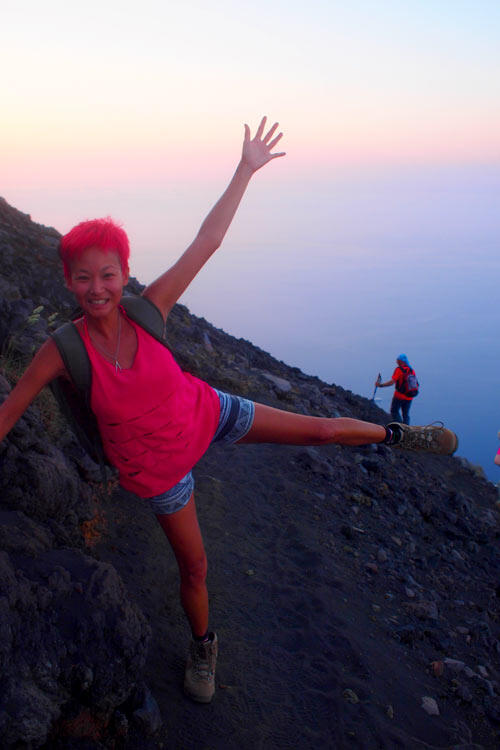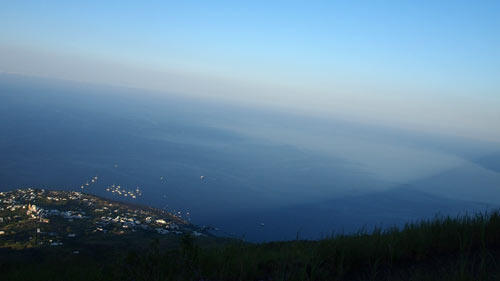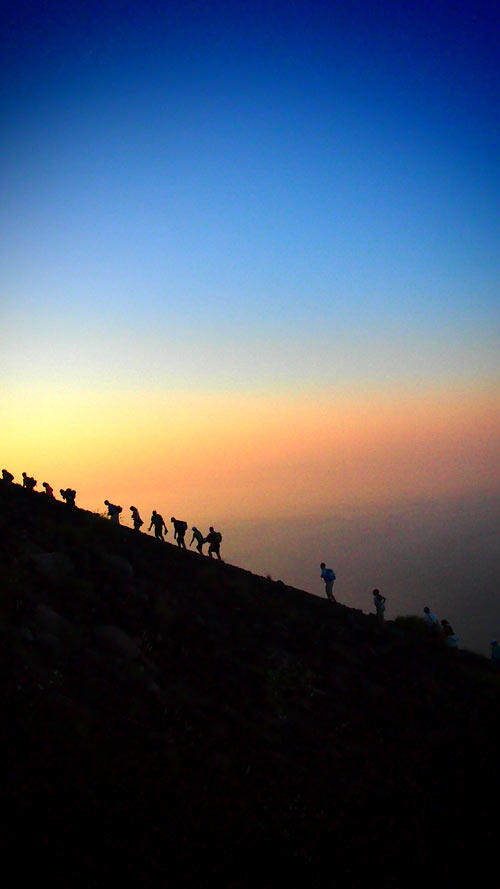 As we approached the top (or what I THOUGHT we were doing, actually we were still so far!) the view got even better and I couldn't see where the sea ended and the sky started cos the clouds swirled its edges together in light rainbow colours. We could even see the shadow of the huge volcano on the sea. Really really beautiful.
The last 200 metres up was quite difficult cos I was so tired already and kept on thinking we were going to reach soon. We FINALLY DID and… the climb really was worth it. I had felt like dying earlier but knowing I climbed to the top of one of the world's rare active volcanoes made me feel so… ACHIEVED.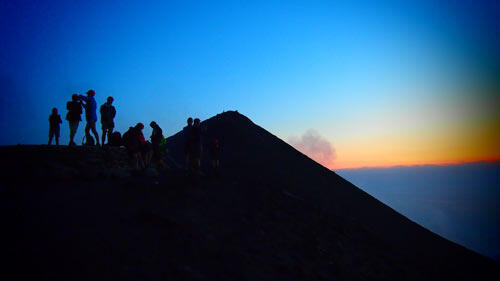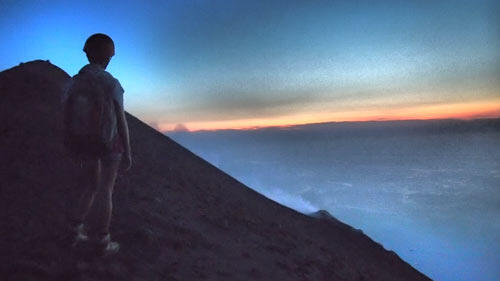 It was getting dark when we reached the top, and we chilled out to watch the volcano spurt a bit. Earlier on I was joking to Y that it'd be SO unlucky if a flaming boulder happened to hit us on our way up. It's not impossible… the guide told us that a little while back, he was leading a group up when some flaming boulders landed just on the left of them. Jeez right?! So suay to die on your holiday.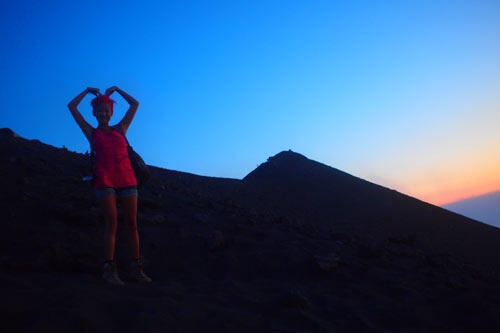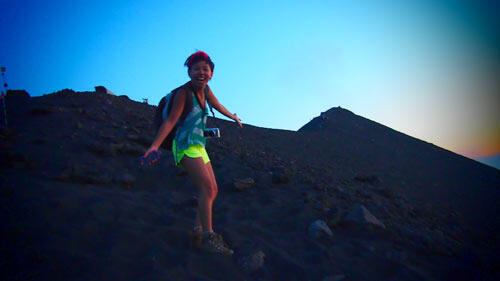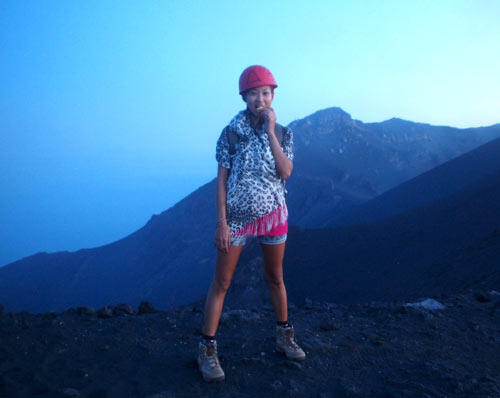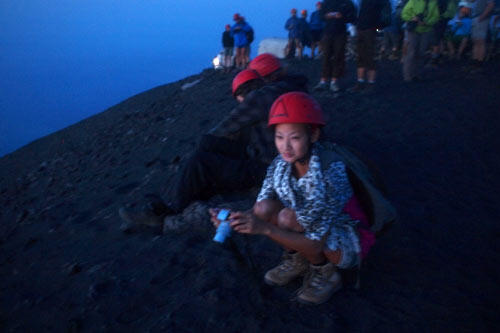 We were really lucky that evening we went up the volcano cos it was quite active (but not too active!) and blew lava out at least five times in front of us.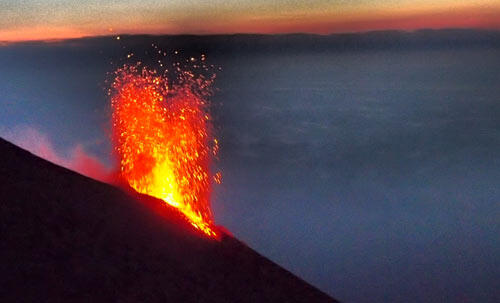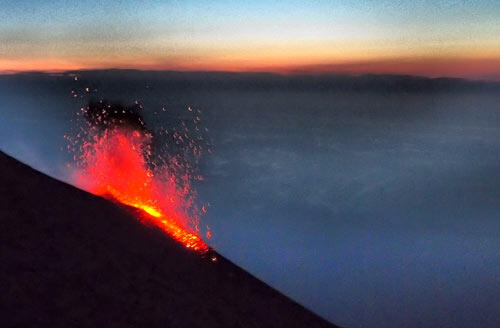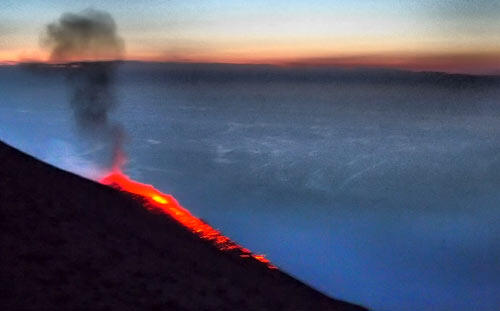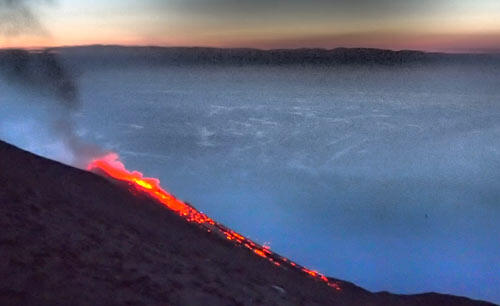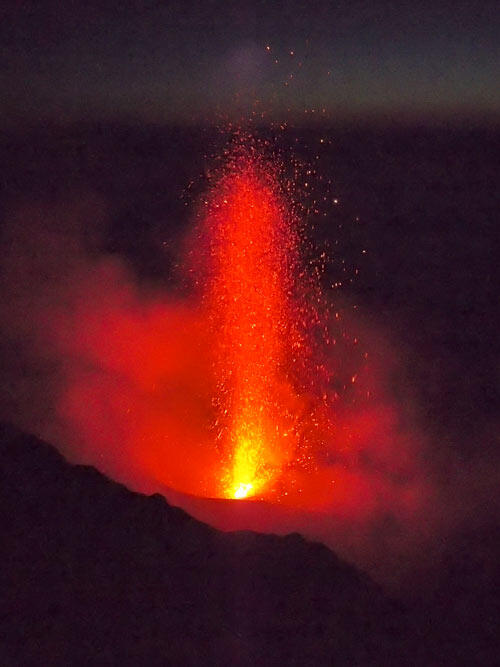 After getting my money shot, I kept my camera in my backpack and focused on just admiring it with my eyes. I couldn't believe it… I was standing right here, on top of a live volcano and it was SPURTING lava in front of my very eyes! It's only stuff one usually sees on Nat Geo!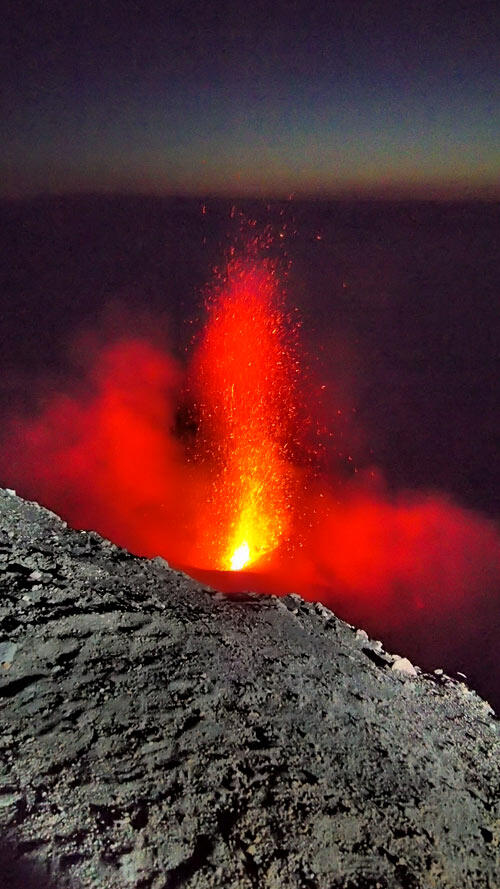 I felt the power and magnificence of the volcano as it shot fire and lava out high above it, before falling and sliding down the sides of its mouth. It was SO PRETTY. The lava looked like mini fire hotcakes, tho I wouldn't want one near my foot.
When it was time to make our way down, I was like OH NO. THIS IS NOT OVER YET. I had forgotten my pain of getting up there and now… we had to go all the way down! The twinkling lights in town seemed so far away… and it's not like I want to stay on the mountain all night so I just had to force myself to slip and slide down. It's a lot easier (obviously) going down than up, but required a lot of concentration cos it was pitch black (this was where our strong headlamps came in) and a lot of volcanic ash flew up as all of us slid down. We were given face masks because it was said to be very dusty, but I didn't think it was going to be THAT dusty! At some points I couldn't even see one step in front of me because of all the flying dust!
The most painful part about going down were the tiny stones that constantly got into my hiking boots. We only stopped once on our way down and everyone was quickly emtying their shoes. You just can't stop them from getting in and I've never had so many stones and sand in my shoes IN MY LIFE. It just POURED out from my boots! The sand I don't mind, but the stones cut into my ankles and toes. It's like, just when I thought I couldn't get more stones in my shoes, MORE went in till my feet and stones were ONE. I just ignored the pain (everyone must have been doing the same) after our only break to take out stones and all of us just went on and on, down and down. When the guide said, "Ten minutes more," Y and I were so relieved to hear we were near town but somehow… it still seemed so far away… Ten minutes later, the guide simply turned around and said, "Ten minutes more." And we were like,  "What!? This is Italian measuring…" If they say you take two hours to go up, they really mean three. And the down time is so much less but noone mentioned the painful stones.
When we were (truly) ten minutes from town, I begged Y to let me stop cos I just couldn't walk anymore. I just had to take out the stones that were cutting into my feet and after pouring them all out, everyone was… gone. They'd continued without us, as we figured anyway, this is why we didn't dare to stop at any point of the hike before this! We got ourselves back to town safely after taking a wrong path (duh) and hobbled to the closest café where I peed so much more than I ever thought I could hold (because I was holding pee for so long, I didn't even FEEL like peeing when I went, I just went cos I thought I shoulD), drank a huge beer (heaven!) and took those dreaded shoes off our feet. I discovered a huge cut, or more like, missing piece of flesh on my toe which I didn't even notice earlier. Must have been thanks to a nasty stone trying to marry it. I couldn't have noticed the pain from the cut because my WHOLE foot was in pain, it didn't make a difference.
After some pizza, we slowlyyyyyy walked all the way back to our guesthouse where we took a much-desired shower and collapsed into bed.
And that. Sums up my very eventful first day in Stromboli.