I've always noticed Benefit cosmetics for its' quirky packaging, but admittedly have only bought one product from them before. I got the privilege to visit their store in Shanghai recently when they invited me for an event to the city last week. I must say… i'm so so happy to have had this experience! I'm utterly in love with the brand, all the people behind and in it, and what Benefit stands for. I am SOLD.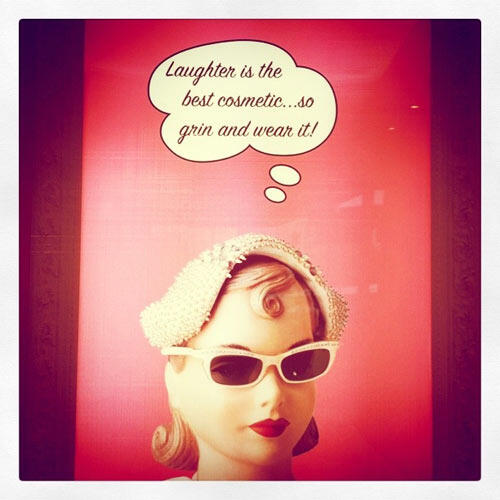 Benefit was founded by twin sisters Jean & Jane Ford in 1976. After growing up on a farm in Indiana, the twins were successful models and make up artists before moving to San Francisco to venture into either casseroles or cosmetics. To choose their fateful path, they flipped a coin – and cosmetics it was! Within a month they opened a makeup boutique called The Face Place – introducing the first 'fake its', products that solved beauty dilemmas in an instant.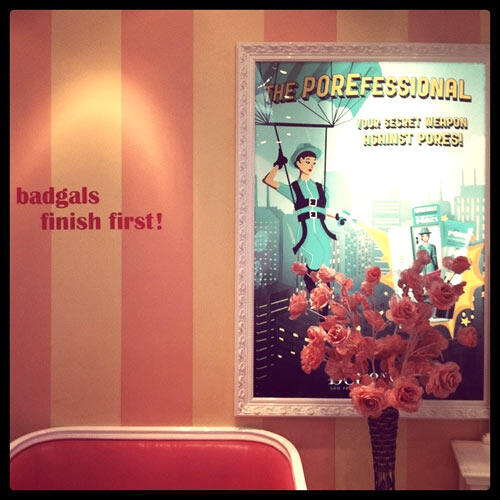 As the years went by, The Face Place became Benefit, and the brand built a cult following amongst make up artists, models, drag queens, celebrities and rock stars. Somewhere in the middle, LVMH got involved which led to the worldwide expansion of Benefit. The whole journey of Jean & Jane Ford is absolutely incredible… imagine starting your own makeup line which turns out to open in 38 stores across the globe! And not only that, but have a movie documentary made about your story, launched in 4 cities around the world (which is why i was in Shanghai) and submitted for the Cannes. Inspirational! I'll be telling you all more about the movie launch in my next post. For now, i'm going to shove all these pretty pictures of products in your face.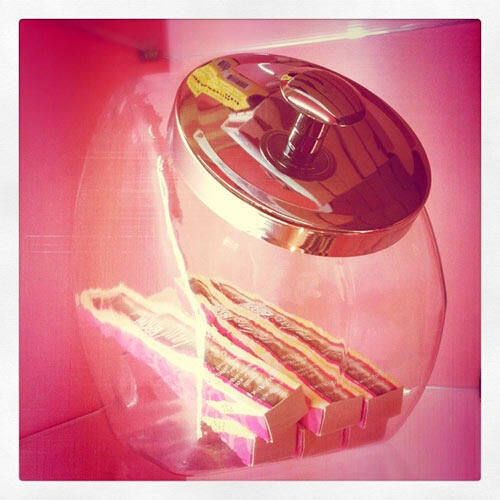 When Jean and Jane had their shop in the 70s, they would sell make up in candy jars!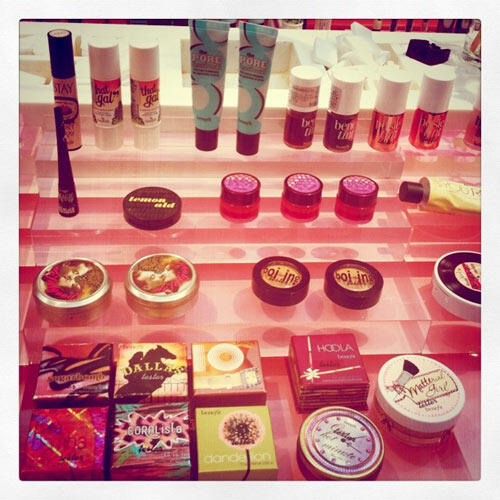 The counters inside Benefit stores are like a colourful playground! The whole point of it is so that consumers like you and i feel comfortable trying out the products instead of backing off! Two of my favourite products that i don't have close up pix of are That Gal Brightening Face Primer and Watt's Up! Highlighter for Face. You can see a complete difference when you apply That Gal face primer, and Watt's Up! is a great sheen to highlight your nose and brow bones. I don't know how else to say it except to go to the counter yourself and TRY it to see.
If you look at the lower left corner of the picture, you can see the square boxes of blusher and face highlighters. I'm currently using Sugarbomb and CORALista which is perfect for my skin tone. It makes me look like i just came out of the sun with a slight glint. Totally loves it! I'm gonna be using this for a lonnnnngggggg timeeeeee.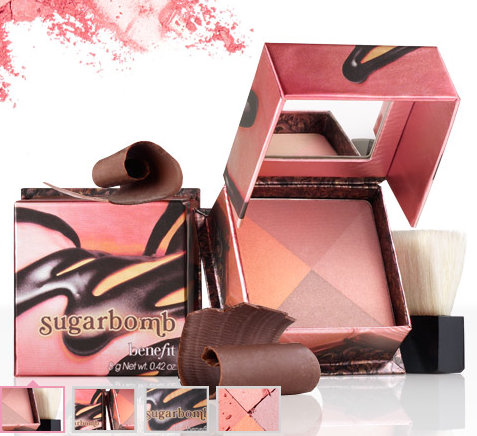 I heart this.
One of Benefit's most famous products is Benetint, a transparent lip and cheek stain that lasts for hours. The interesting bit of history behind Benetint is how Jean & Jane were approached by an exotic dancer claiming her nipples weren't obvious/pink enough during her performances. The twins got down to concocting a tint made out of rose petals and Benetint was born! (I admit i tried putting it on my nipples last weekend, just to see… haha.)
They've also got additional shades like chachatint (mango) and posietint (poppy pink).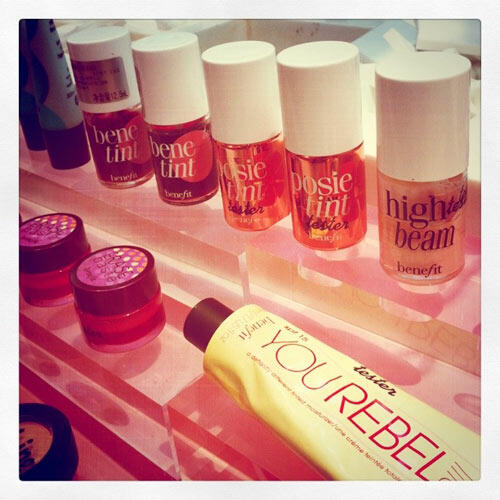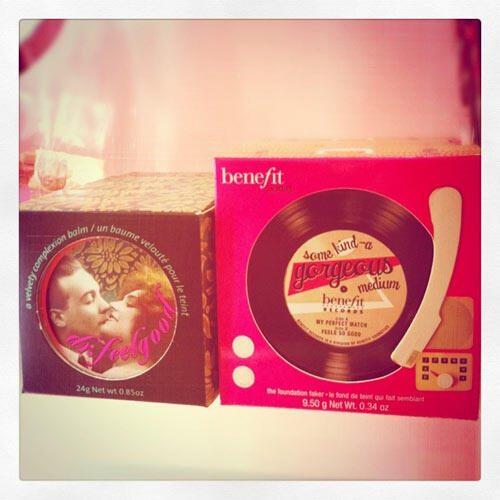 Dr. Feelgood is one of Benefit's star products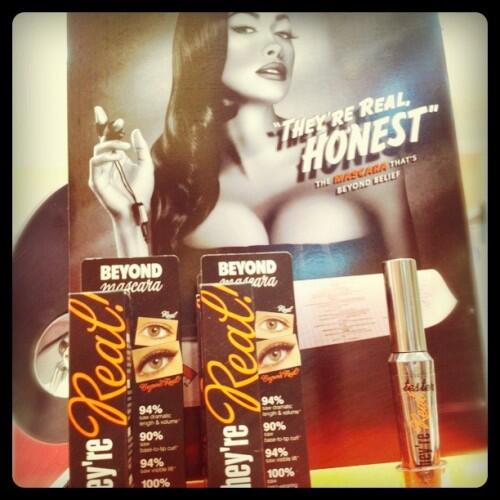 I have They're Real mascara too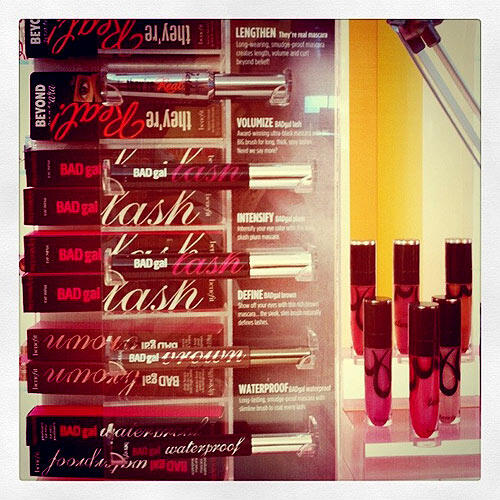 To know more about the different types of mascaras Benefit has, you can read *here*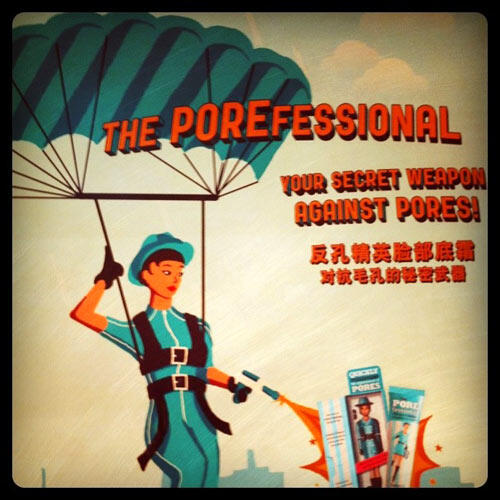 The POREfessional is a new silky balm (someone mentioned like a new version of Dr. Feelgood) that minimizes the appearance of pores and fine lines, and can be applied alone, under or over make up. What surprised me was when i instagramed the picture below… close friends of mine like Yishyene and Aps were saying how they love it so much! But never mentioned it to me before -_- I guess we're just not the kind of girls that talk make up..!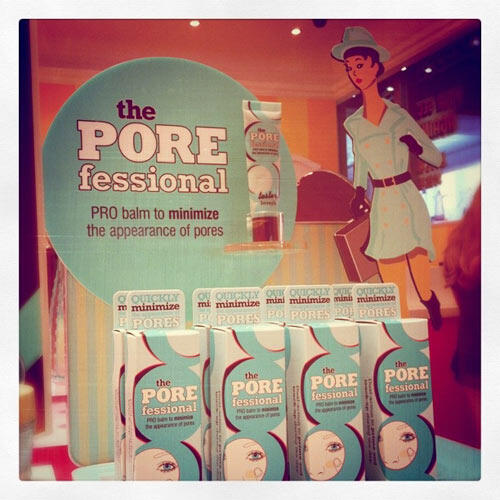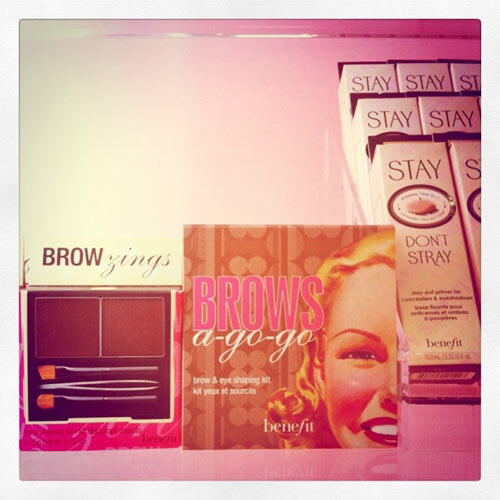 Stay Don't Stray (right) is also one of their top sellers – it's a nude primer that ensures your concealer doesn't crease and eyeshadow colours pop the way they're supposed to.
Benefit takes eyebrows very seriously, and have a satisfying array of brow products in store.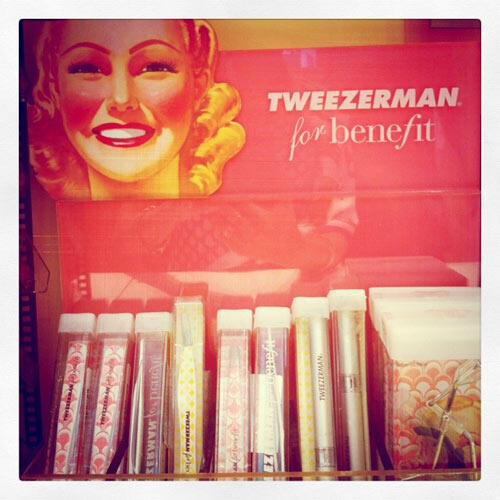 These tweezers are said to be legendary! Unfortunately we don't have them in Malaysia. But what we DO have, thankfully, are the Brow Bars. After hearing so much about their dedication to shaping and waxing brows, i'm definitely gonna try it in couple of months' time.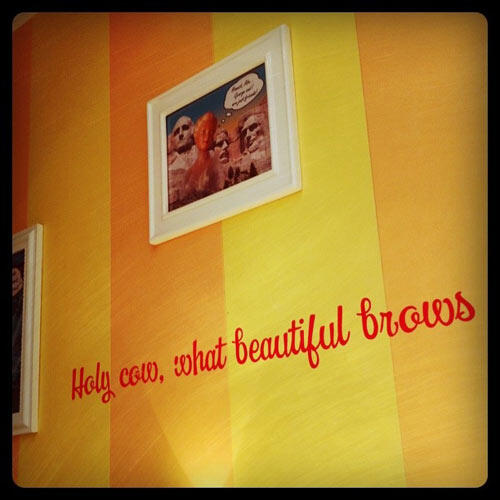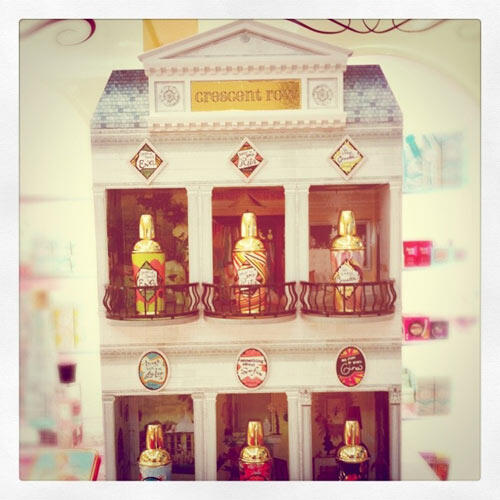 Crescent Row is a make believe apartment with characters the Benefit girls came up with – each character with their own style and fragrance. Clem and i like Laugh With Me Lee Lee, and there are other super cute names like Lookin' To Rock Rita and Ring My Bella. More about the fragrances *here*.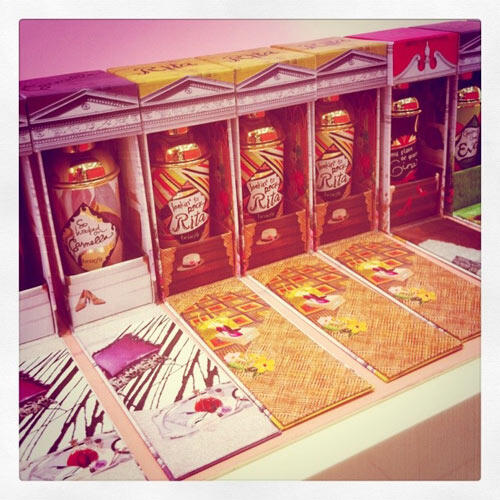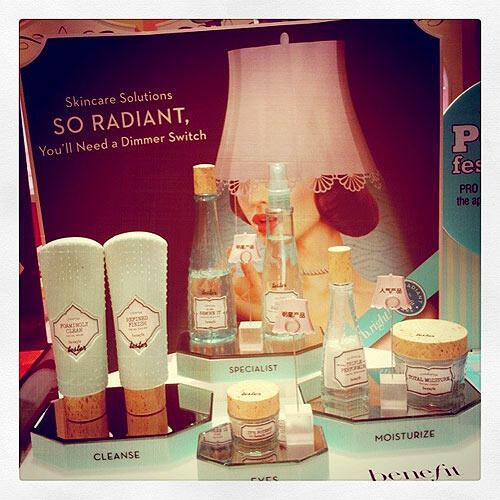 There's even a Benefit skincare range, with their Triple Performing Facial Emulsion and It's Potent! Eye Cream calling my name.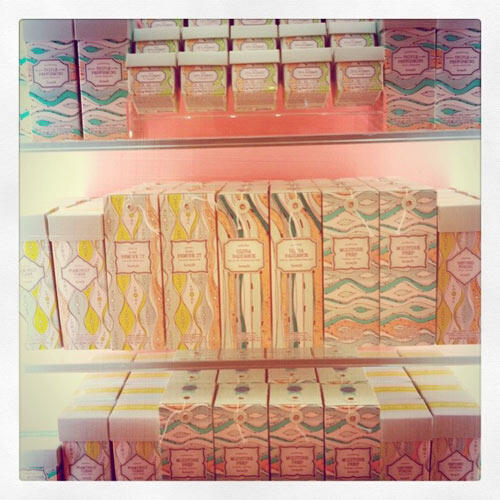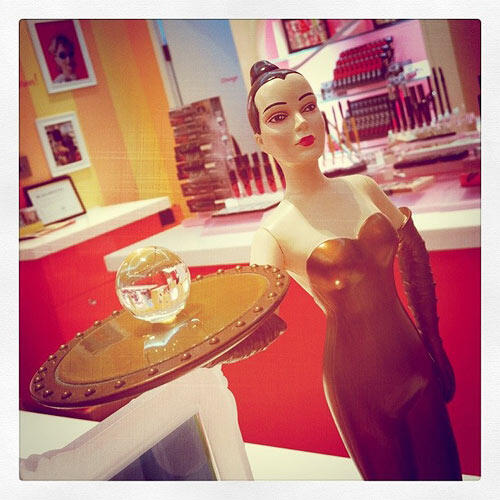 Instead of getting real life models to be the on and off faces of the brand, Benefit conjured up different characters to be their spokespersons.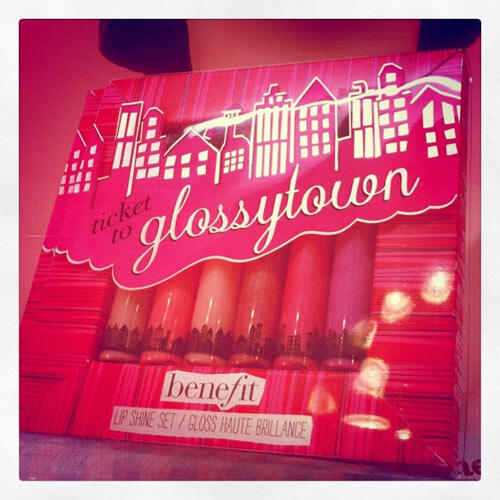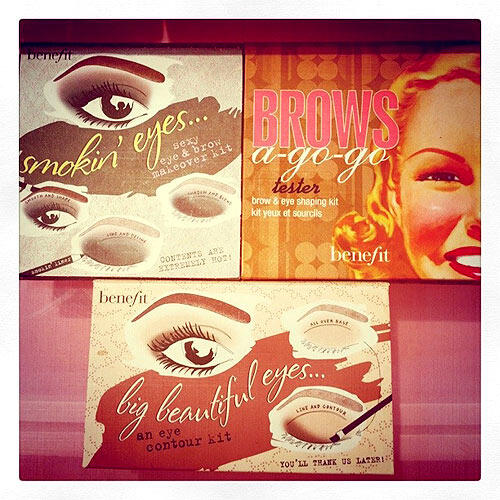 The best way to try everything is to just go to the counters and play with all the products yourself, then you can see in person what they're like and whether you like it! You never see any Benefit advertisements as they have a global regulation that they don't advertise. The twins are adamant that the love for their brand spreads via other forms of media or word of mouth  <3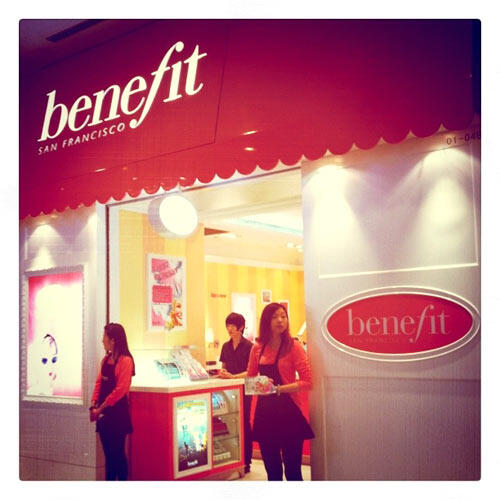 LIKE Benefit Malaysia's Facebook page – facebook.com/BenefitCosmeticsMalaysia
Benefit is available in Malaysia at:
Parkson, KLCC: 03- 21642187
Parkson, Pavilion: 03-21414601
Parkson, 1Utama: 03-77253566
Parkson, Gurney: 04-2293702
Parkson Sunway: 03-5631 6300
Metrojaya, Mid Valley: 03-22829266
Robinsons, The Gardens: 03-22846266
Dimensi, KLIA: 03-87873393
C&F, KLIA: 03-87873785
Sephora Starhill
Sephora KLCC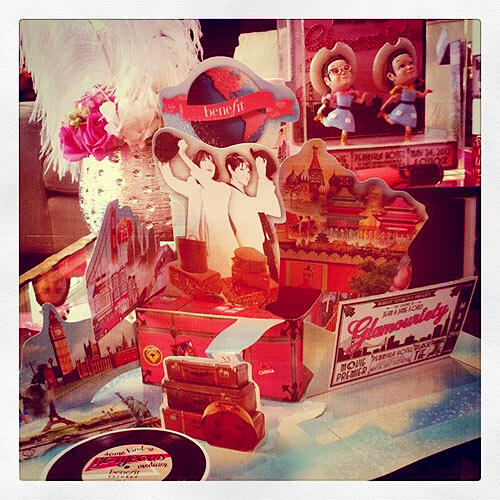 If you'd like to see how Jean and Jane are IRL – click to *watch them here*