Ohemgee i think i took 6 hours to edit and upload all these pix... you gotta click further down to continue reading this post cos there are JUST TOO MANY pictures i HAD to post up! A BIG thank you to Topshop and DNP for making me a part of this and giving me a pile of invites to give away to readers. We felt the love!
I invited Chelle, Clem and Rahul to come along with me, and us four decided to carpool to Zebra Square since we're all from around the same area. 2 people with a vague idea how to get there, and 2 with no idea, made it quite an adventure in the traffic. We all decided that whichever route we took, we'd be caught in the jam anyway. Rahul and i were using Google maps on our phones, and even then we were debating which was the right way! (i have to add that he didn't believe his map and was navigating Clem to the building which he could SEE and thought was right. "Men and maps," Chelle said.) Finally got there at 8:15... before the show started PHEW!!!
Because it was so packed already, the boys went to drink outside while Chelle and i got ushered to some seats inside. That was the whole plan anyway... i bring Rahul so that Clem won't get too bored while Chelle and i talk and ogle over fashion.
The warehouse was PACKED. And i MUST SAY that the crowd was the most stylish compared to any other fashion show in KL. Hands down. Since ever. Or maybe i'm just being bias cos it's 'my' kinda fashion.
Whichevs. Here here here we go! A few pictures from the Topman show: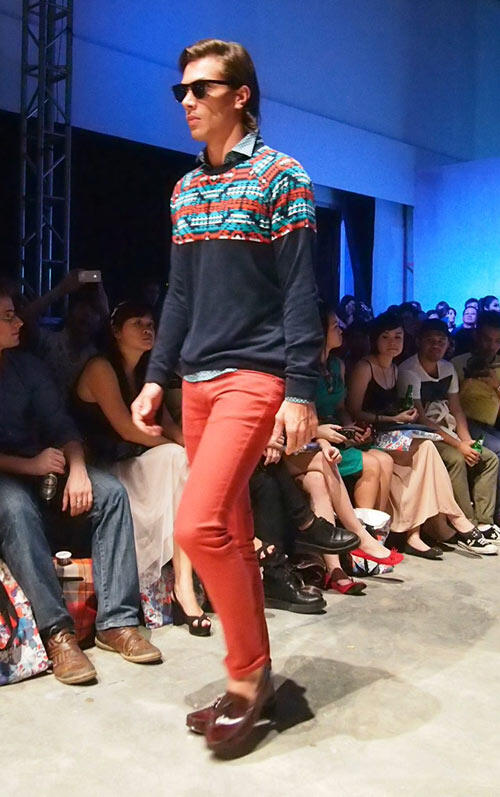 If i were a man i'd so dress like this. Clem would rather die than allow me to put him in a sweater like this. I've (almost) accepted that we're completely different fashion personas and have stopped trying to make him wear clothes i like on a manly me. I say 'almost' cos i bought him an aztec print shirt from Bangkok last weekend and i think he hates it.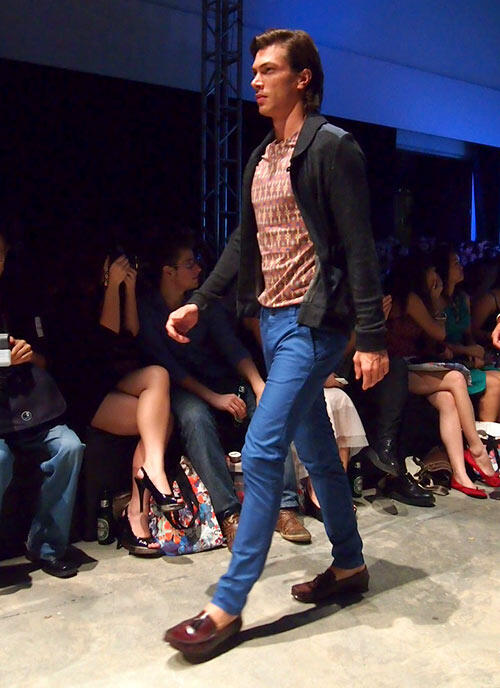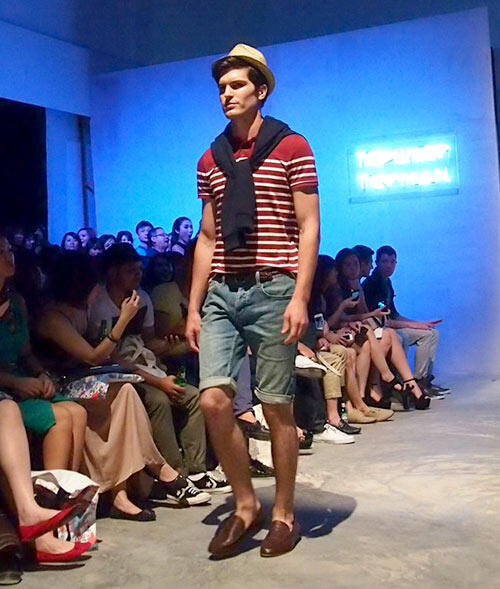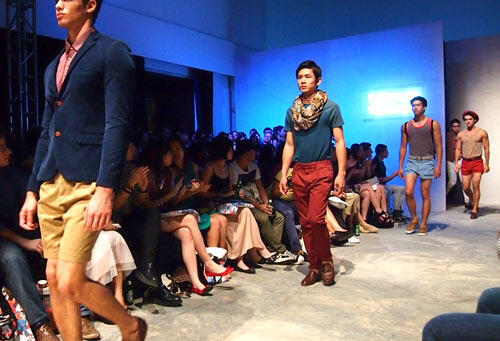 Topshop SS12! >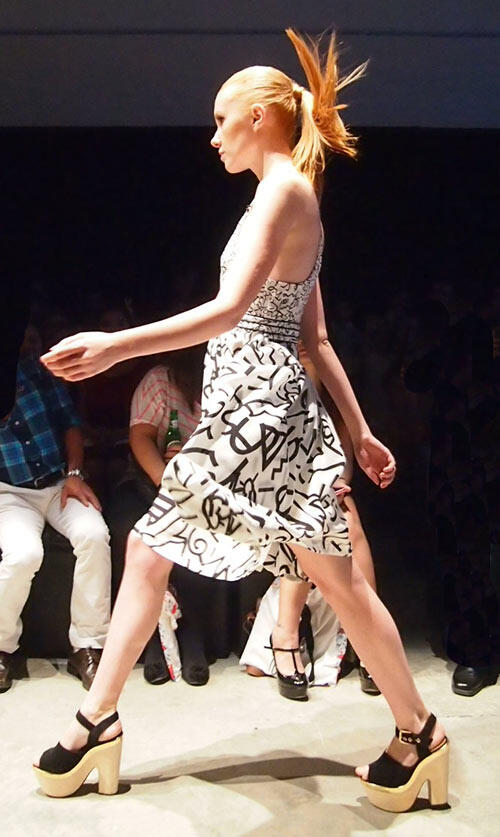 You can easily recognize Topshop Unique SS12 with all the Egytian-inspired prints and graphics they have this season.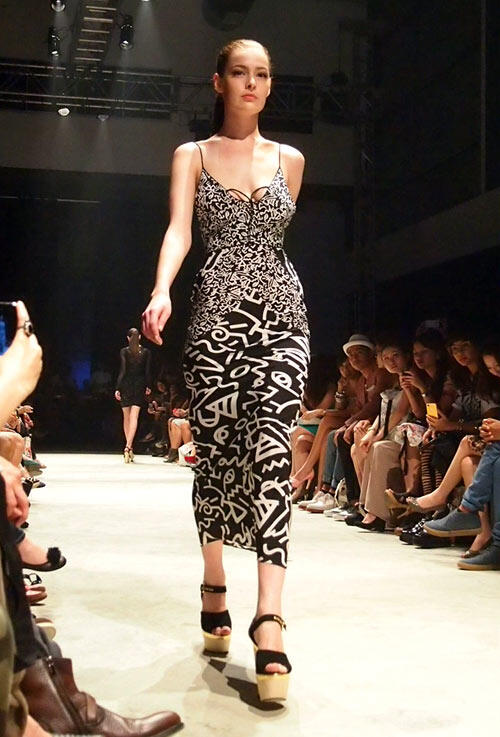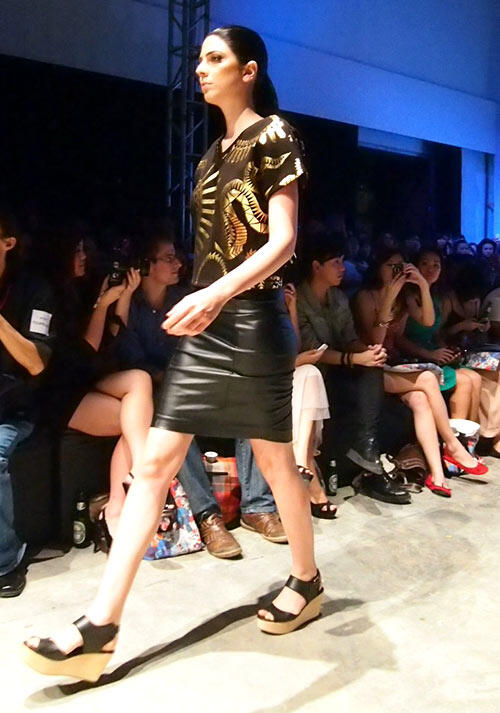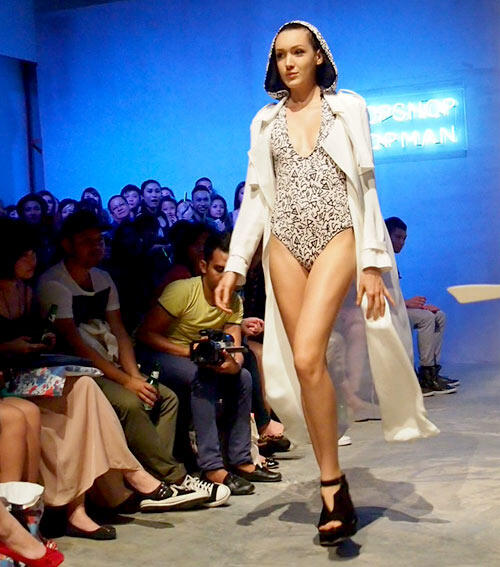 This sheer trench jacket slash slip is definitely one of my favourite pieces from the Topshop Unique collection. I'd say the hooded swimsuit too but i already have it so... heehee *EYES FOR MORE*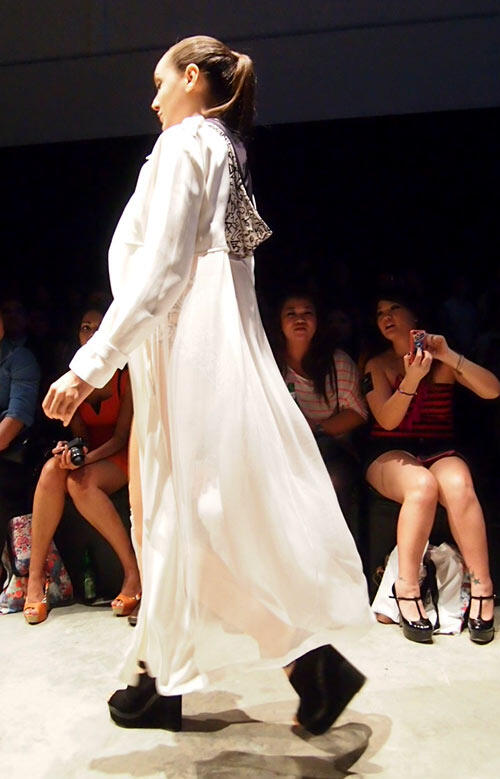 OK yes i love it so much i posted three pictures of it from every angle :p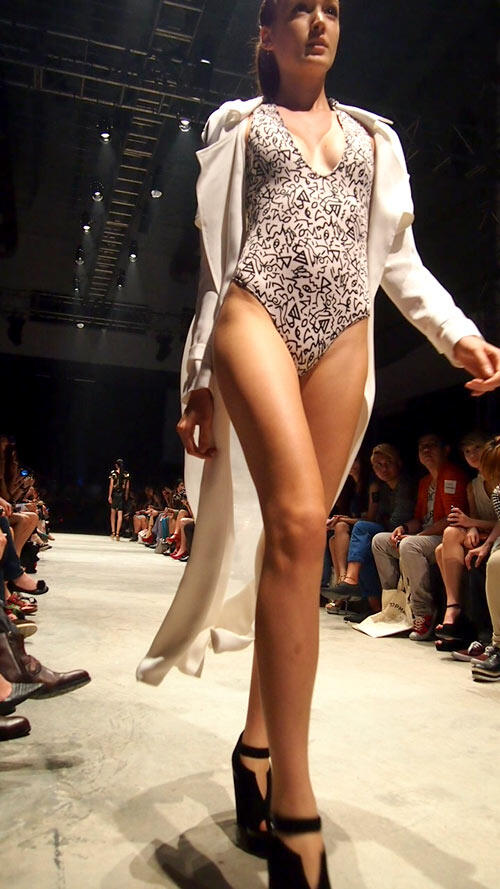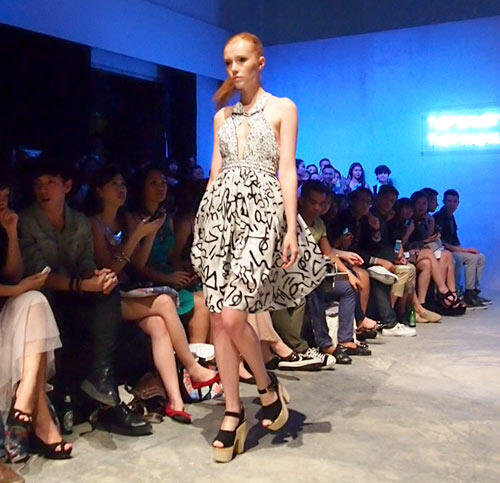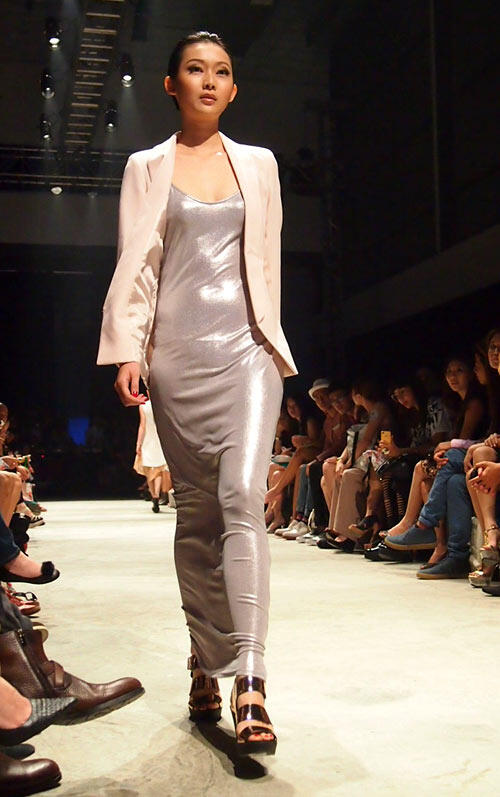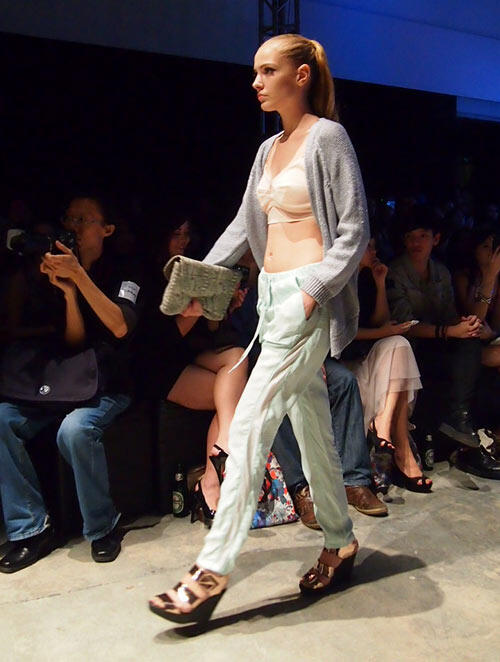 I saw these silk mint pants and thought very hard on whether to get them. The nude brassieres are already in stores too, i saw.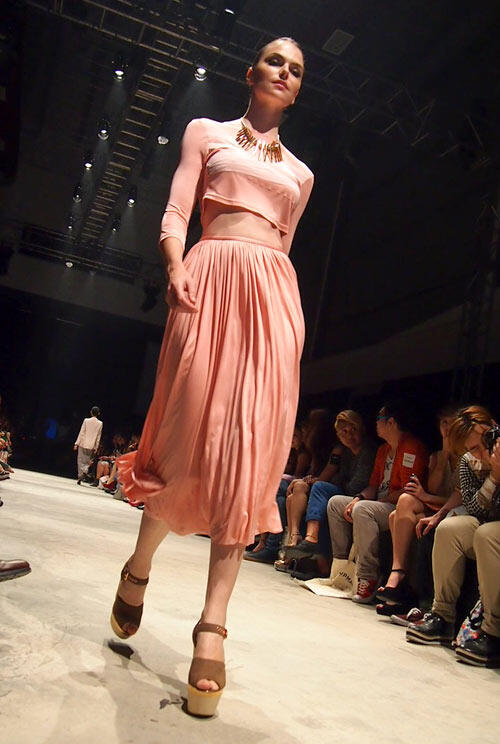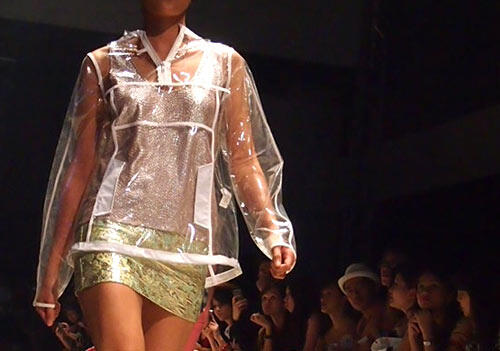 I like the idea of a transparent raincoat so people can still see the wonderful clothes i'm wearing underneath!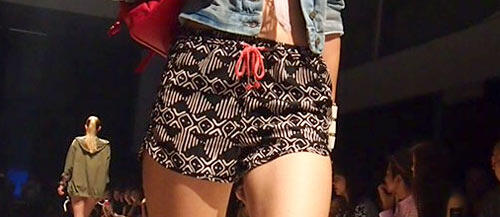 I just got a pair of Topshop shorts similar to these above. They even got recognized by a Taiwanese girl when i wore them to Chatuchak last weekend!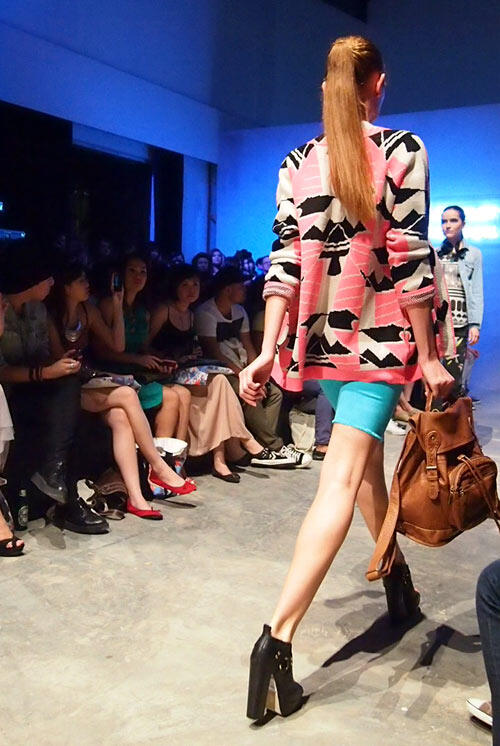 I am pretty lusting after this sweater just cos i feel these prints BELONG in my closet with the other happy prints i've collected.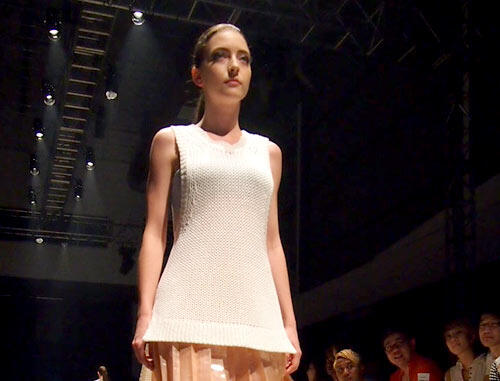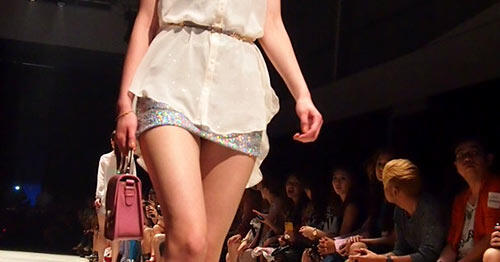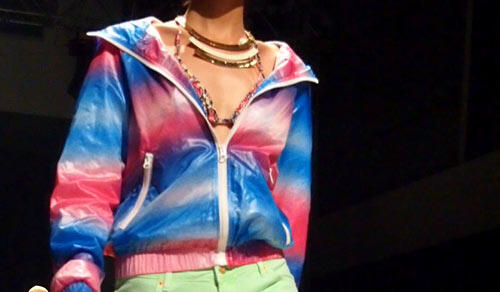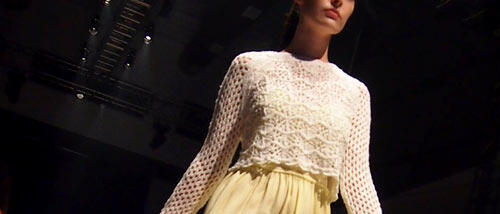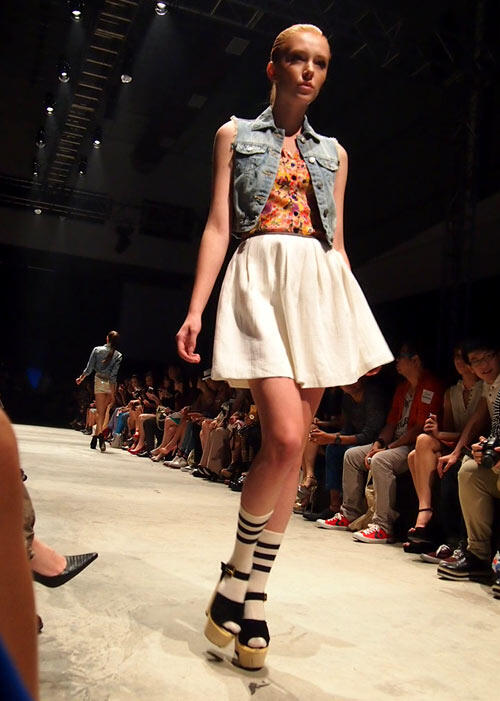 Chelle and i loved this particular socks & heel pairing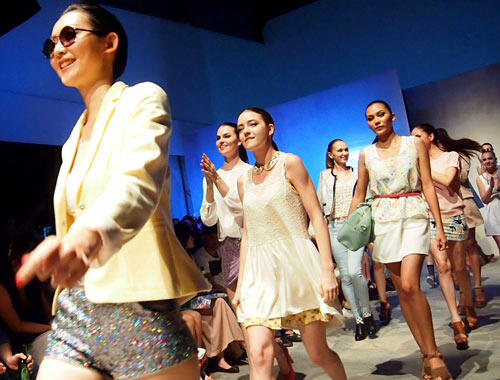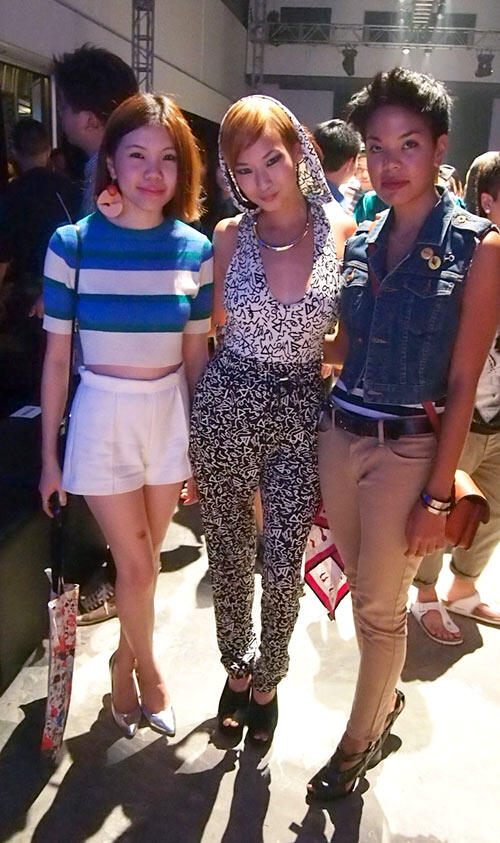 Chelle, me and Deeds
I'm wearing platform heels from Topshop, necklace from Freedom at Topshop, and hooded swimsuit and silk drawstring pants from Topshop Unique SS12.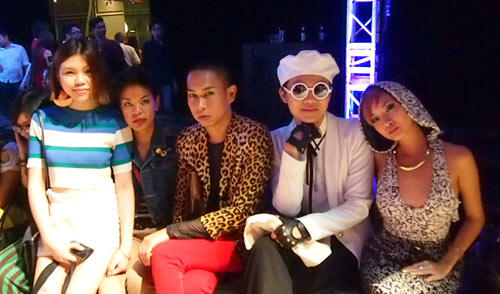 Chelle, Deeds, Ming, Cris and i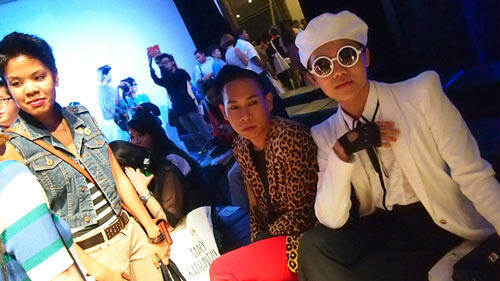 Then Kevin kidnapped my camera and started taking pix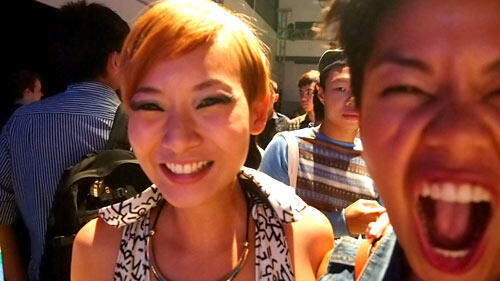 I'm quite sure i could fit Wilson into Didi's mouth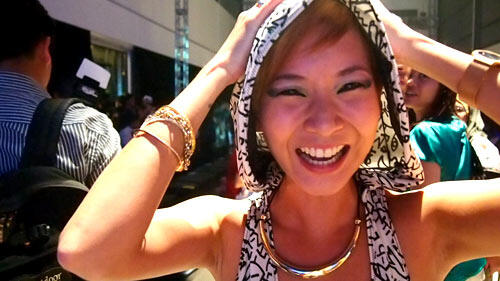 Can you please admire my arms and tell me they're a little bit toned at least cos i HAVE BEEN WORKING THEM OUT and it's TOUGH SHIT OK
Click to view the rest of the pix, HEAPS!!!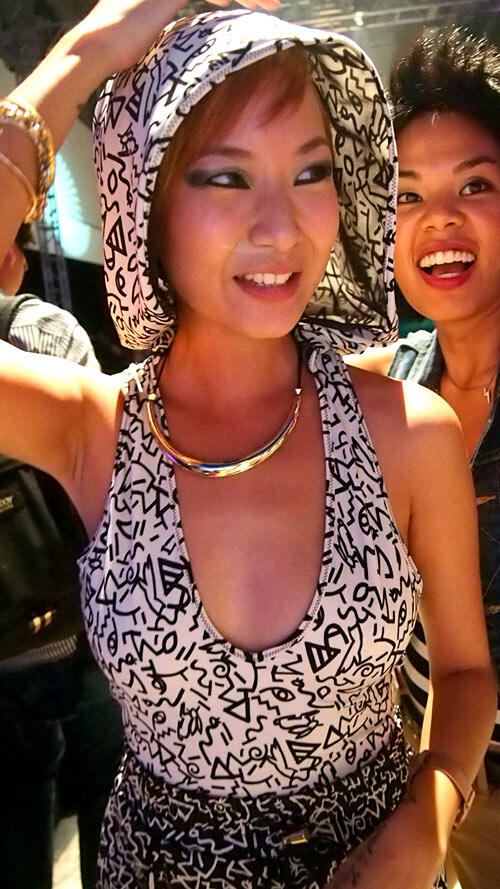 Kevin kept on snapping... and Didi wouldn't close her mouth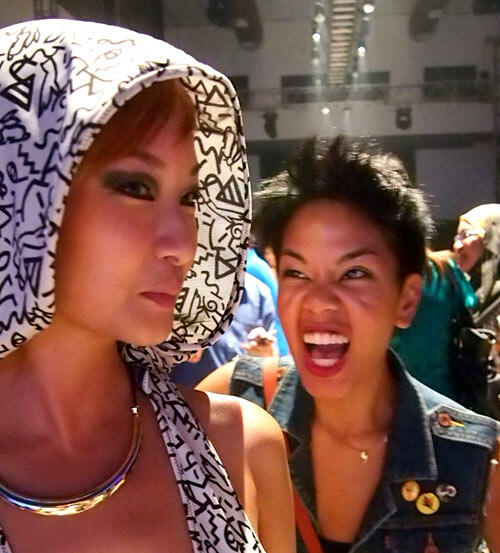 So i started doing stupid things too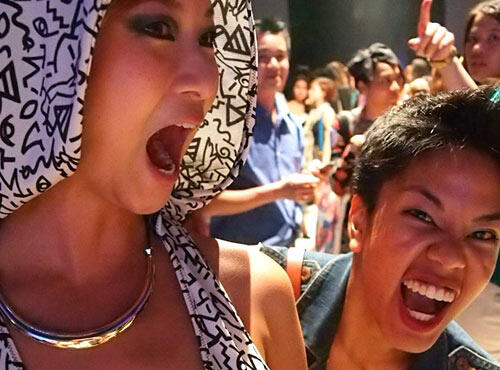 Then i was like, okayyyy enoughhhh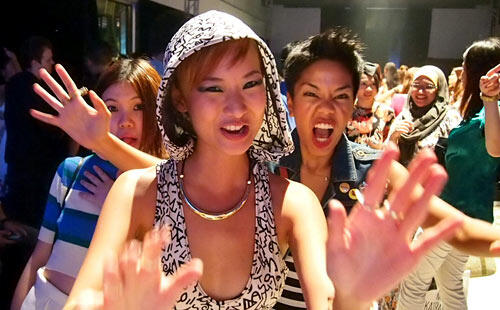 Chelle - posing.
Didi - RAWRRRRR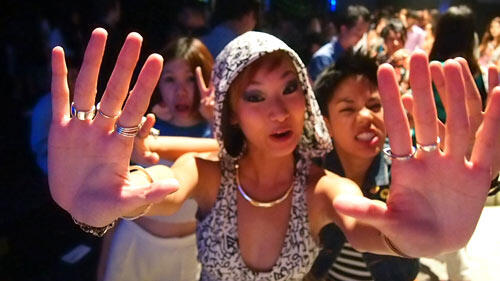 Me - OKAY ENOUGH!!!
Chelle - still posing.
Didi - erm...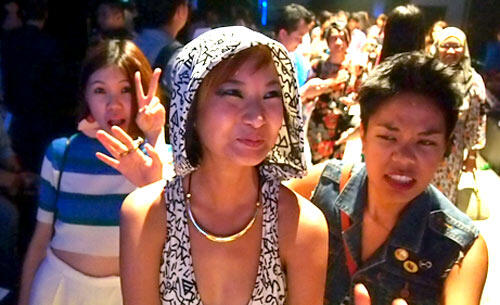 Me - I give up.
Chelle - STILL posing x3
Didi - Woahhh what pose am i gonna do nowww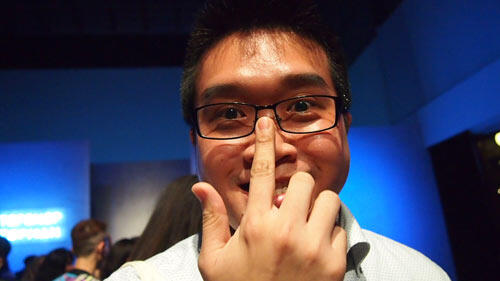 Kevin. Rather proud of yourself i see.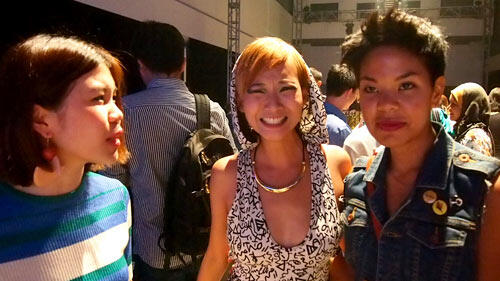 I can't remember who said what but this is Didi's classic "i'm not gonna say anything" face. Doesn't she look a bit like Daisy Duck? I'm so glad i'm not gonna see her for awhile after saying this. Kena punch wei.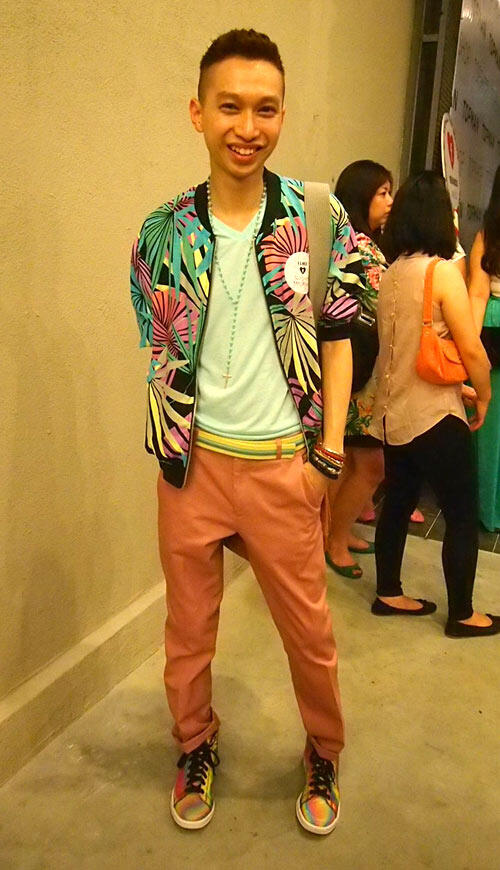 This is Denver! Topshop Malaysia's lead stylist who's helped me pick out my fab outfit for the night! Thanks Denver!!!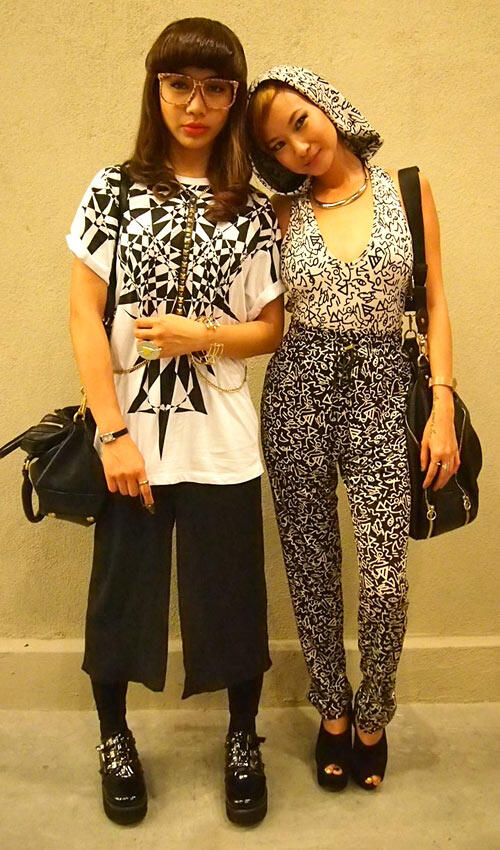 Hunny and i. Love your combo!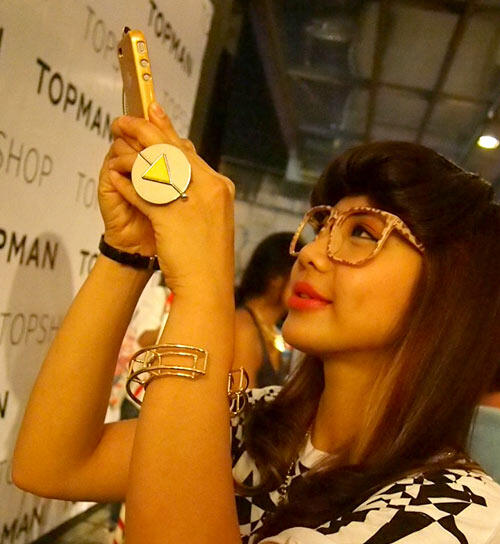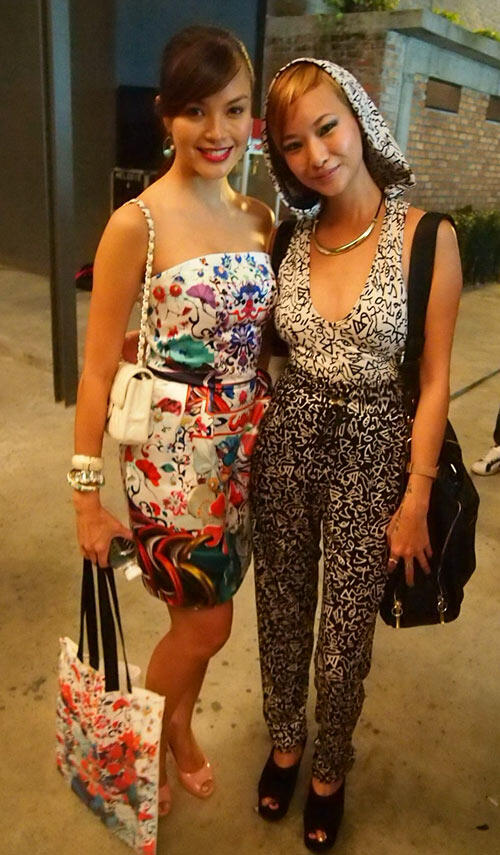 Carmen in a Mary Katrantzou for Topshop dress. I think Carmen is the person i know with the highest number of twitter followers... 220K!
I also met a number of blog readers who tweeted pix which I'm posting here 🙂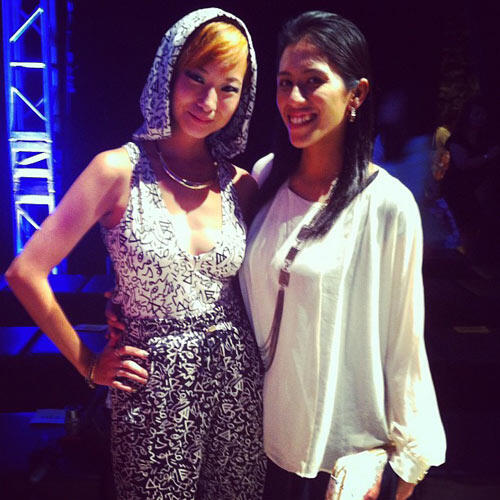 me with Nurul Husna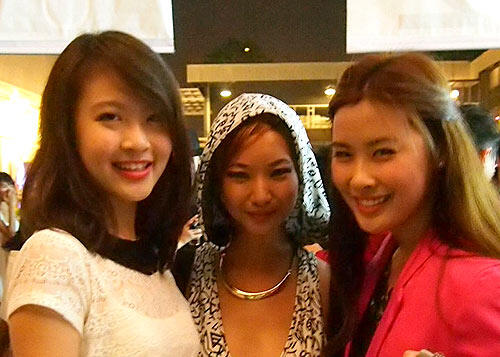 With Felicia in the pink jacket and her friend... whose name i forgot cos i'm terrible.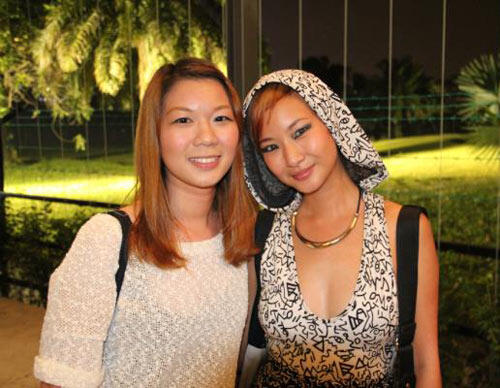 With one of my winners Michelle, who wrote a really long post on the event too.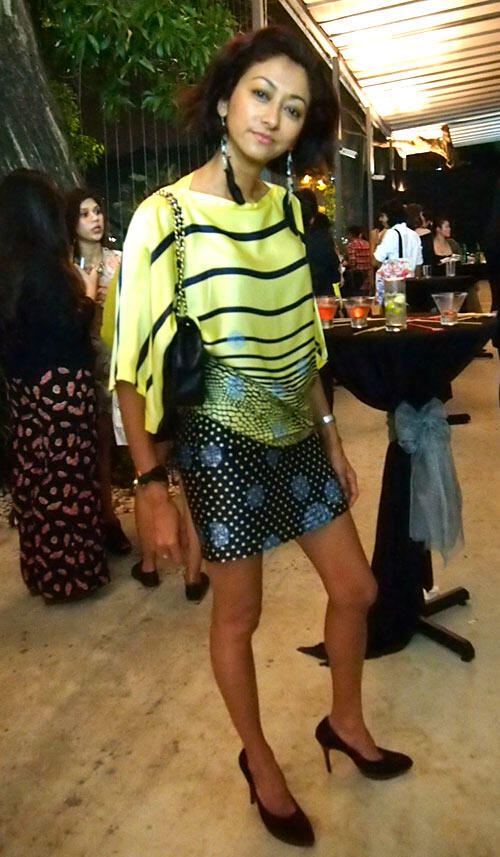 Monica - one of the first people i shot portraits of when i first started working in publication... years ago.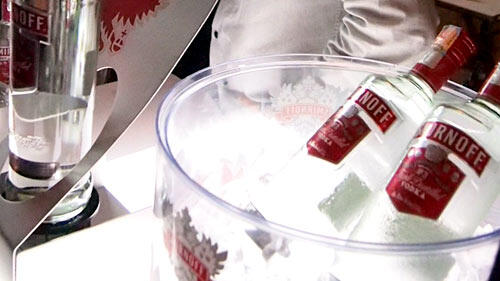 After a reallyyyyy long time i FINALLY MANAGED TO MAKE IT TO THE BAR. Hey... i was at the event for almost 2 hours and didn't even get a single drink yet cos was so busy taking pictures!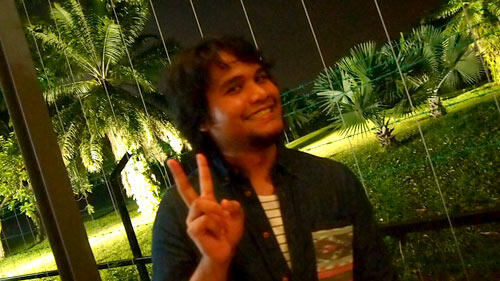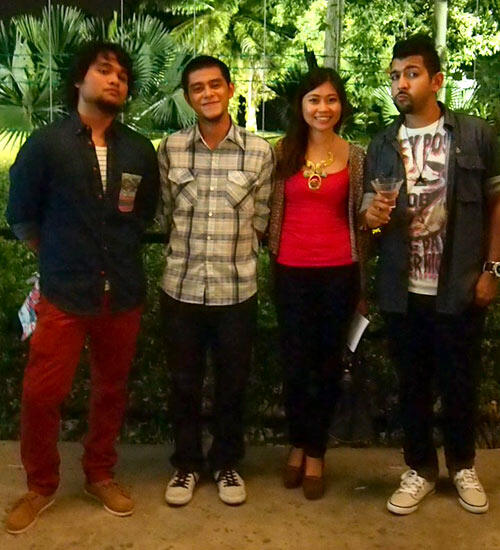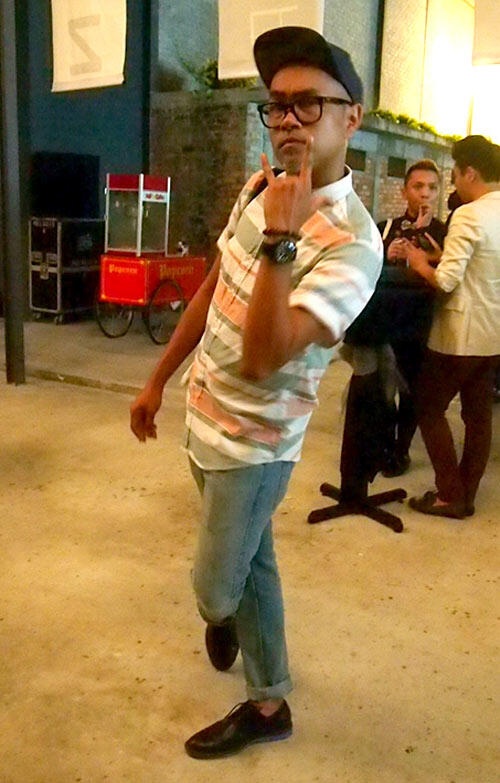 I have to add that i was slyly snapping a picture of Irman from a few metres away and before the shutter clicked, he turned and posed in a millisecond. Can challenge Ming sial.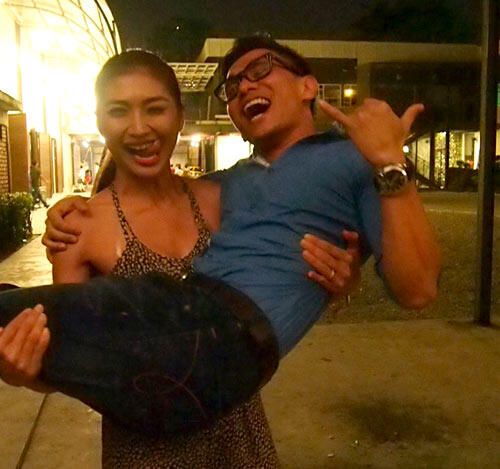 Wawa and Alek just got engaged, supercute couple!
I think people started leaving at one point... and we just stayed and talked and drank and didn't want to GO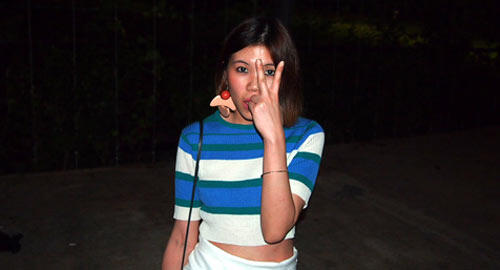 Chelle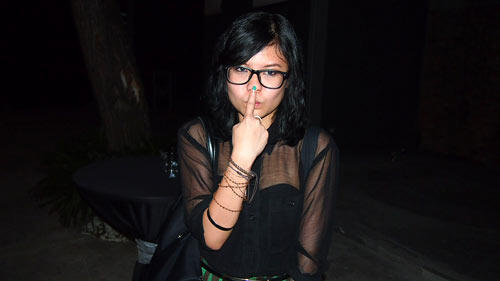 Mira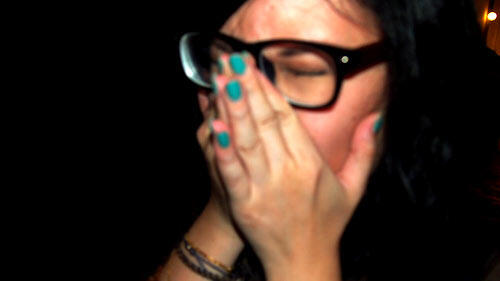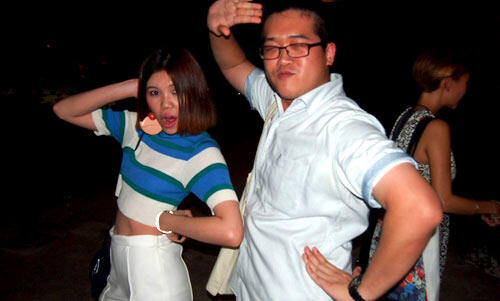 I totally burst out laughing when this pic popped up on my laptop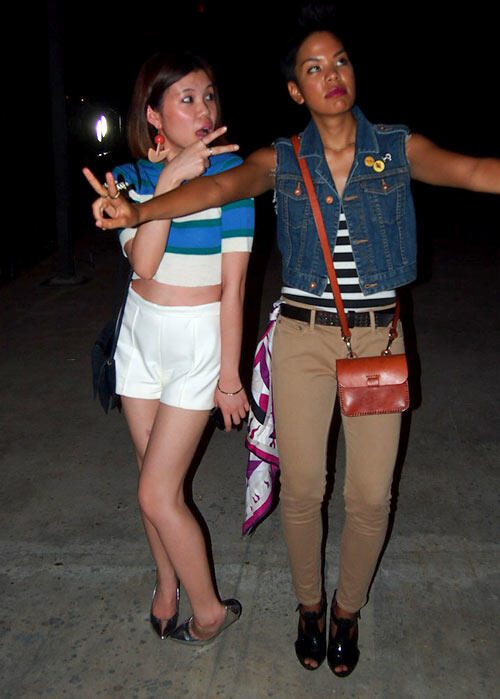 Like Didi would say: Just. Look. At. These. Haiwans.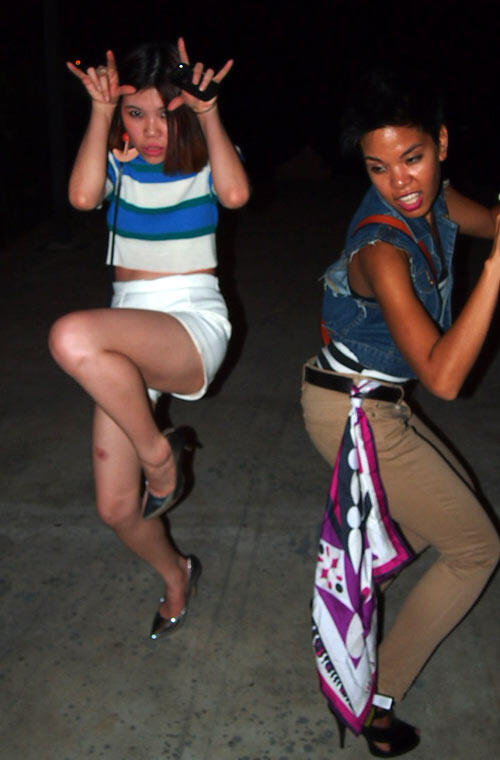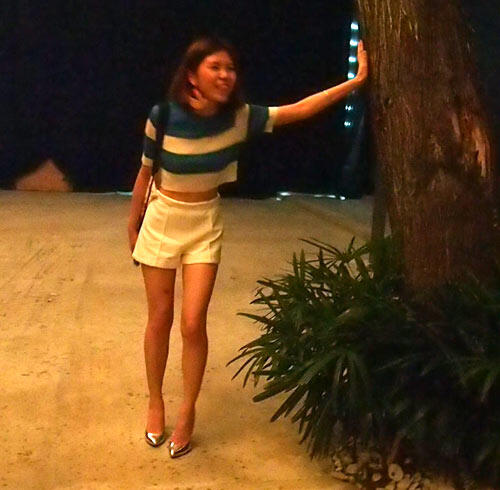 Chelle, i have like FIVE pictures of you next to a tree. I'm not sure why but i'm just posting one up for memory's sake.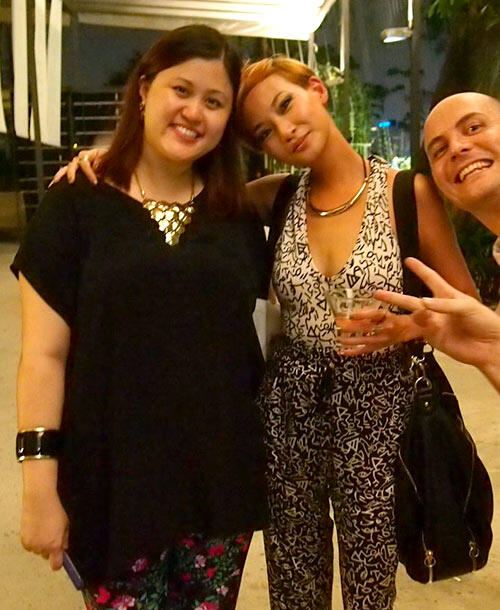 Thanks to Jessica from the Topshop/DNP team for a great night! Clem... ugh -_-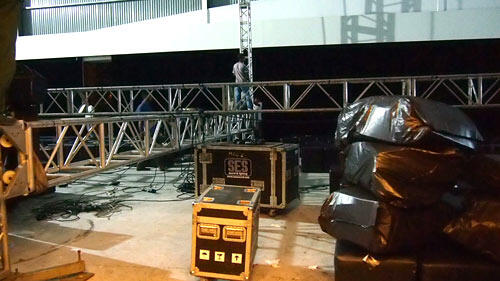 We left so late the events people were taking down the stage. I took a picture. I'm not sure why.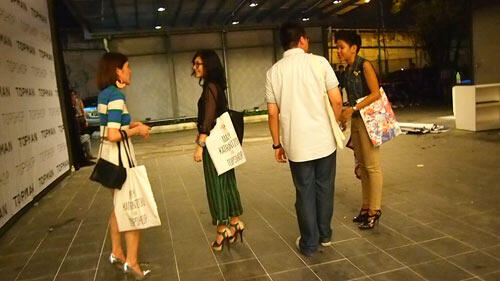 Tak mau balik kaaaaa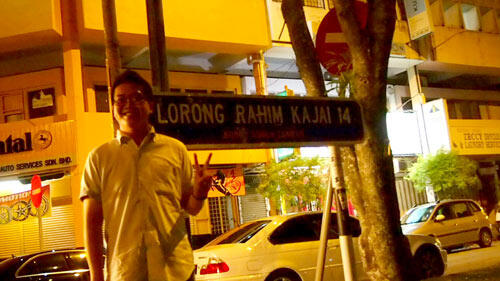 We were all STARVING cos noone had any time to have dinner before rushing to event. So we had lok lok in TTDI. Took a picture of Kevin cos I've never seen him there in my life of knowing him. He insisted it's his third time there.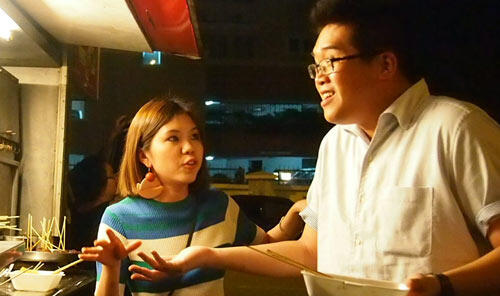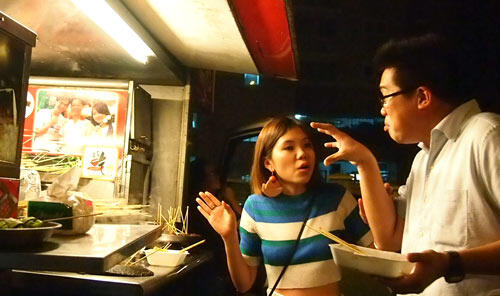 LOL OH KEVIN your angles are way skilled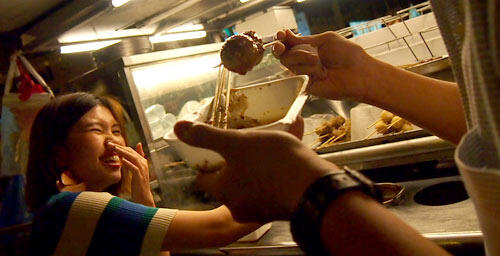 They taught me how to order fried lok lok (i never knew you could do that!) and Chelle couldn't stop laughing when she heard me say, "Urm, chow?"
At least i'm trying ok! It was an awesome night!!! See, from Topshop ended up to lok lok pula.
For some Topshop love, LIKE www.facebook.com/topshopmalaysia