/// Final Line Up list after jump ///
AHHHHHH everyone knows how much i LOVE music festivals! I even plan my overseas trips in a certain way so i manage to catch at least ONE festival while i'm there! At long last… there will be a massive outdoor music festival happening in Malaysia this year – and possibly, the BIGGEST one South East Asia has even seen!
Future Music Festival first started in Sydney in 2006, and has since morphed into a massive traveling music show that tours across Australia, making stops in Melbourne, Brisbane, Sydney, Adelaide and Perth.
For the first time ever, they're going out of Australia and making a stop in KL! The first edition of Future Music Festival Asia will be the official opening event for F1 Grand Prix week. To replicate the same atmosphere as in Oz, there will be four stages and lots of other sides ones to keep us running around like wild kids all day long!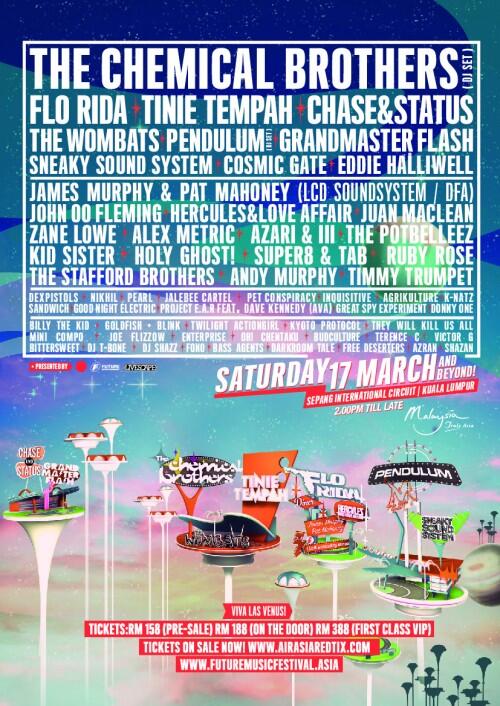 Where: Sepang International Circuit
When: 17 March 2012
Time: 2pm till late
Admission: Early bird RM138, Pre-sale RM158
Pre-Sale (RM158) tickets are available through Air Asia Red Tix at www.airasiaredtix.com/Events/FutureMusicFestivalAsia
The pre-sale ticket price of RM158 will commence on 1 March. First Class tickets will be available for purchase on 20 February.
Log on to www.futuremusicfestival.asia or www.facebook.com/futuremusicasia for more information.
Click to read the rest of press release
After a month of playing guessing games on social networking sites, the extensive line-up featuring international, regional and local acts can finally be revealed. FMF Asia's debut will see The Chemical Brothers (DJ set) headlining the monster event. Other international acts performing include Tinie Tempah, Chase & Status, The Wombats, Pendulum (DJ Set), Grandmaster Flash, Sneaky Sound System, Cosmic Gate, Eddie Halliwell and many more.
The list of regional acts features some of the best in Asia and it includes, Shinichi Osawa (Japan), Jalebee Cartel (India), Nikhil+Pearl (India), Pet Conspiracy (China), Electrico (Singapore), Inquisitive (Singapore, Agrikulture (Indonesia), Sandwich (Philippines), Good Night Electric (Indonesia), Project E.A.R (SEA) and The Great Spy Experiment (Singapore).
On the local Malaysian front, we have Kyoto Protocol, Goldfish + Blink, Twilight Actiongirl, They Will Kill Us All, Mini Compo, Enterprise, Oh! Chentaku, Bud Culture, Terence C, Victor G, Fono, Bass Agents and Phil K Lee + Ian Ross.
International
Chemical Brothers (DJ set)
Flo Rida
Tinie Tempah
Chase & Status LIVE
The Wombats
Pendulum (DJ set)
Grandmaster Flash
Sneaky Sound System
Cosmic Gate
Eddie Halliwell
James Murphy & Pat Mahoney (LCD Soundsystem / DFA)
John 00 Fleming
Hercules & Love Affair
The Juan Maclean
Zane Lowe
Alex Metric
Azari & III
The Potbelleez
Kid Sister
Holy Ghost!
Super 8 & Tab
Ruby Rose
The Stafford Brothers
Andy Murphy
Timmy Trumpet
Regional
Dexpistols
Jalebee Cartel
Nikhil
Pearl
Pet Conspiracy
Inquisitive
Agrikulture
K-Natz
Sandwich
Good Night Electric
Project E.A.R & Dave Kennedy
Great Spy Experiment
Billy The Kid
Donny One
Local
Kyoto Protocol
Goldfish + Blink
Twilight Actiongirl
They Will Kill Us All
Mini Compo
Azran
Shazan Z
Joe Flizzow
Twinkies
Nabila & Kamil
Yansi
Enterprise
Oh! Chentaku
Bud Culture
Terence C
Victor G
Bittersweet
DJ T-Bone
Fono
Bass Agents
Phil K Lee + Ian Ross
Free Deserters
DJ Shazz