My company had everyone in the office take part in a team-building session last Friday. It was hinted to be in the form of Amazing Race and we were all delegated to 10 teams. I was in Team 8 and we were supposed to name ourselves. We were a bit slow in that... by the time we decided on the name (Thursday?), two other teams had already designed a team logo (?!) and stuck flyers around the office. The flyers had 'we are sparta' images on it. Fierce and y'know, scary, manly, etc. I was so very tempted to print out My Little Pony pictures to stick all over their flyers but didn't get to cos was busy with work.
In the end, my team was called yUM seng  😀 Guess who thought of that? Heh.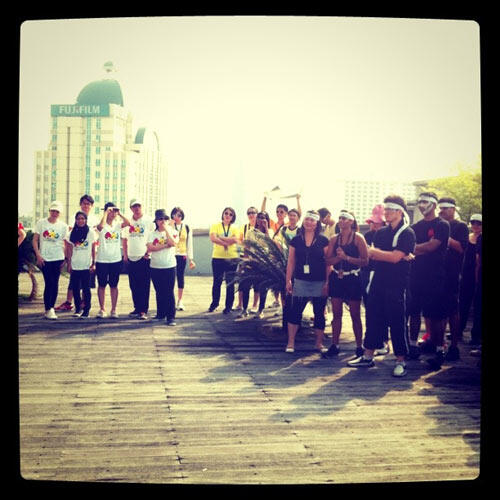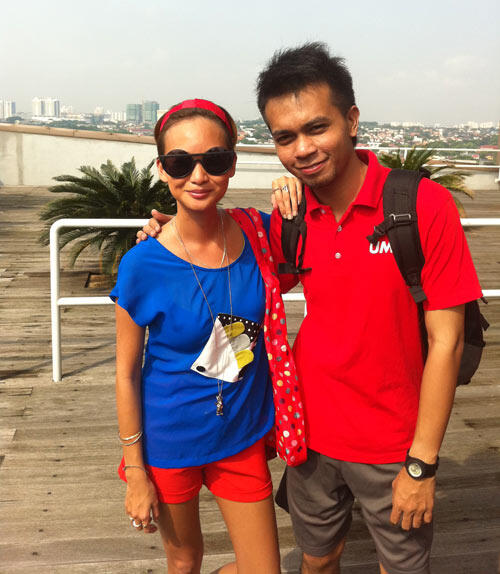 Fihzul was on my team yay! I'm wearing top from The Kiss Principle (Bangkok), shorts from Azorias, headband from Sereni & Shentel, accs from thirtyfour and Thomas Sabo.
We all got instructions at 10am, including a Sudoku puzzle to complete as our key to out the door. Our team was first in that! Yay! The whole race had to be completed on foot and LRT, with receipts required to prove that we did travel how we're supposed to.
I thought the race was really well-planned. Mmm, considering my company hired an events company to organize the whole thing, it had better be! Everything was based on a point system: who finished first, bonus points for spotting things that were on route, getting a printed lunch receipt as close to RM63 as possible, and getting all the LRT receipts the entire day.
We were so semangat when we started the race that we RAN to the LRT station near our office. You should have seen us return 5 hours later... we were limping and walking real slow. I didn't take many pictures while we were at all the pit stops - was just too tiring running around, looking for clues, and doing crazy things!
Our first pit stop was Taman Jaya. We walked around the park in the hot morning sun looking for some event person possibly hiding in a bush. Found them and got our first task where all my team members held up a rope tightly in a circle and i had to walk on the rope with one person holding my hand. Wow. My left shoulder ached for a day after that!
Second pit stop was in KL Sentral so we walked back to the Taman Jaya LRT station.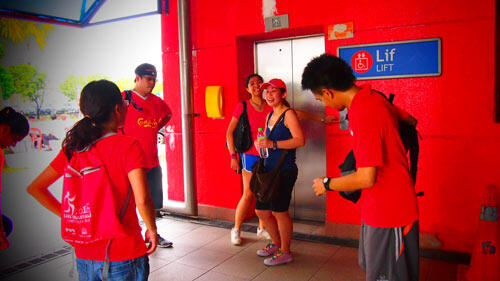 I quickly snapped a picture of our fail moment as a race team - taking the lift for ONE floor cos we were already too exhausted to climb stairs, hahaha!!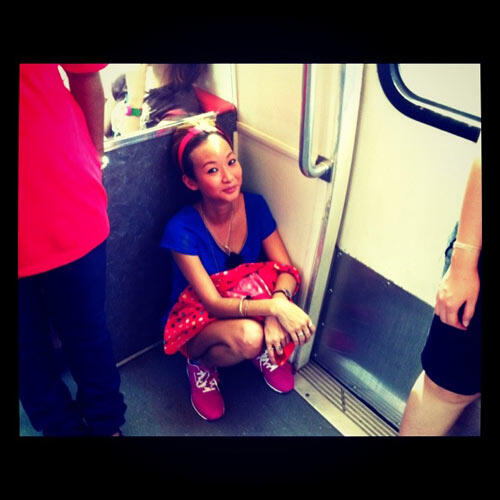 I didn't care if people judged me for squatting in the LRT. Was too tired to care! Can you imagine... we just STARTED the race and were already feeling like this. I was thinking 'MAN. It's gonna be a LONG DAYYYYY' It was really fun tho (as i'll explain what else we did later) and if not for a reason like this, i wouldn't see myself running around PJ and KL for 5 hours!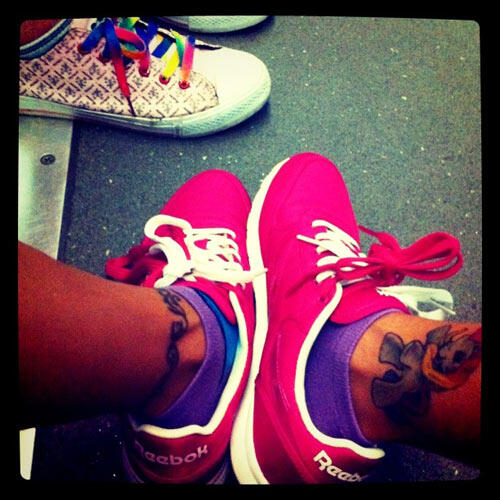 Thanks to Reebok who recently sponsored me these cool kicks. They didn't even ask me to blog about it. Just threw it at me. Okay they didn't throw it... passed it in a nice big box. These shoes are the LIGHTEST sneakers i own. And i own many-a pair.
When we reached KL Sentral we walked around the whole place looking for the 2nd pit stop. Dahlah we're in the right place but still have to walk around looking for the event people... When we found them, they handed us lyrics, instruments and a clipboard. We had to busk in the middle of KL Sentral (within a particular area that was marked with masking tape on the floor) and get 30 signatures from strangers who liked our performance.
Oh. My. God.
I think we sang the Bruno Mars' Marry Me song about 50 times. Seriously. At first it was easy enough getting signatures from people waiting around the area, but when we finished asking them (about 10) we had to wave and beckon at people passing by without us stepping out of the masked area. Some were really nice to come up, smile at our antics and sign. Others ran the other direction the moment they saw the clipboard, thinking we were going to sell them something.
After finishing the busking task, we got directions to find some temple in Brickfields. We walked from KL Sentral and luckily for us, Pushpa (in our team) knew where the temples were. Phew!!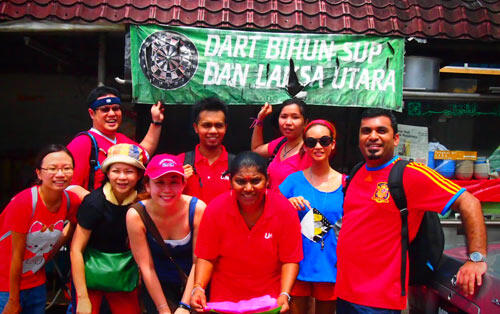 On the way, Joyce Lee's sharp eyes spotted a random bonus point sign we had to take pictures with.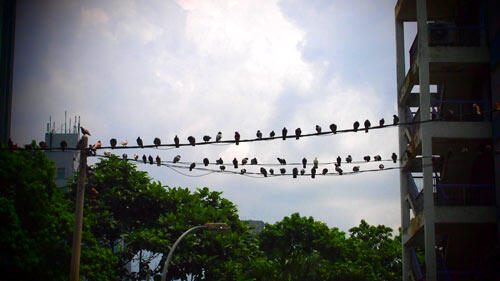 As for me, i was like a tourist in Brickfields, taking pictures of birds and coconuts while catching up with the others.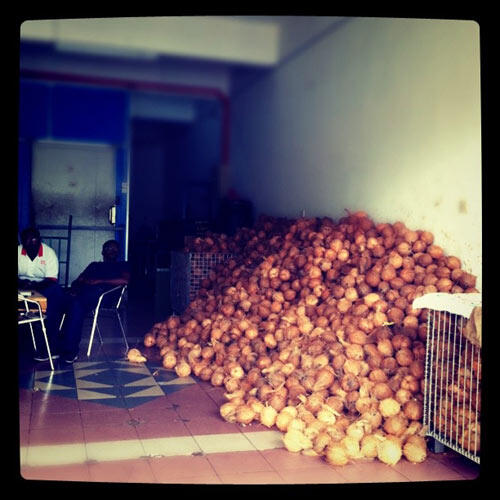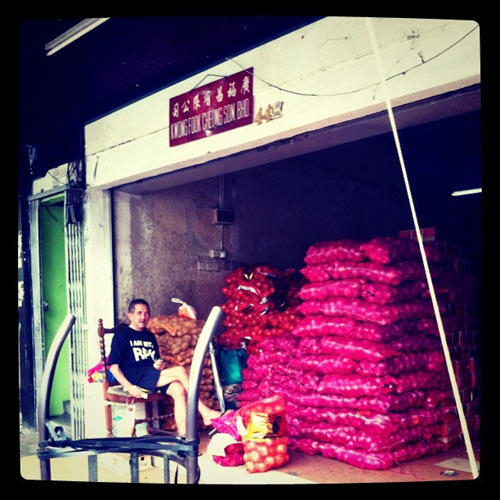 I even took pictures of laundry hanging...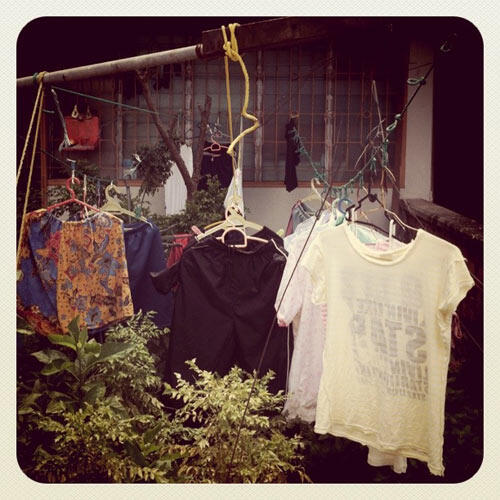 We found a booth set up outside the Hindu temple in Brickfields, which was laden with jasmine and string. An Indian lady sat there waiting to teach us all how to tie the delicate jasmine unto the string. When we arrived, there were three other teams painstakingly tying jasmine in the hot sun. There were only three tables so we had to wait... and decided to look for lunch to avoid wasting time.
Thanks to Pushpa's expertise again, we found a banana leaf rice place nearby which provided printed receipts!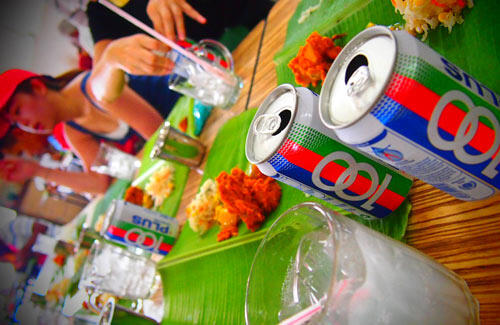 Every single person had 100 plus with our lunch. We just felt like we NEEDED it after drinking water and not even needing to pee cos we were sweating it all out! Eww.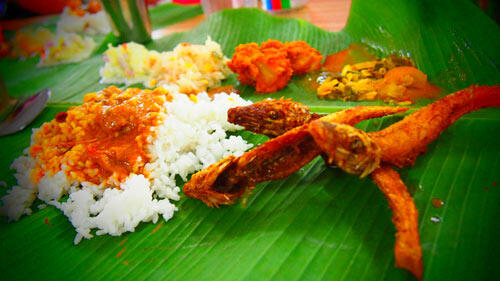 Lunch really pumped me up... we went back to the jasmine booth in front of the temple and got down to tying the flowers. At first we were quite apprehensive cos a team that we saw before we had lunch WAS STILL THERE tying the flowers on! Mannnn.... I think we fared alright tho! Half the team had nimble fingers and got the hang of it fast, and taught the rest how to do the right way. Team effort yo! I'm glad to say that at least i know how to make this lest i become jobless in the future or something.
The second we got the green light for finishing the jasmine task, it started to storm... We had no choice but to run in the rain. WE RAN IN THE STORM ALL THE WAY FROM BRICKFIELDS TO KL SENTRAL.
I must say: it was super fun! I can't remember the last time i ran i the rain! First of all, i used to love running. I don't know what happened in my life because i stopped. Secondly, i love playing in the rain. So running in the rain was great! After a while, we got so soaked i just hoped we wouldn't catch a cold.
Took the LRT from KL Sentral to Central Market (dude. I don't think i've ever taken the LRT 4 times a day in my life!) where we had to draw a patriotic poster and sing our national anthem in public. It's been a looooong time since i sang Negaraku. It's still not an easy song to sing!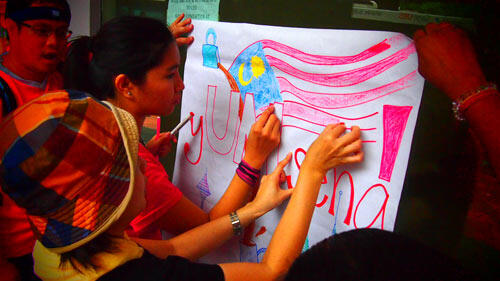 After that we were DONE. We just had to make our way back to the office asap! Like i said earlier... by the time we were on the last leg of our race, we could barely walk properly let alone run. We left the office at 10:30(?) am and got back at 3:33pm. We were the 2nd team to arrive, which was pretty damn good!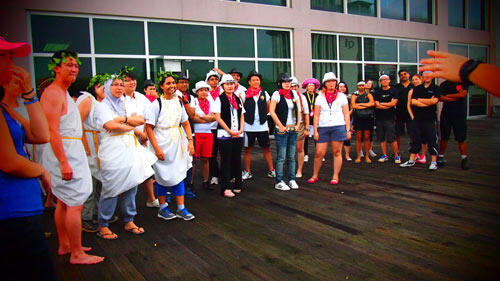 There was a prize for Best Dressed team and our team had no chance of winning that... all we did was wear a combination of blue and red whereas some crazyass teams came dressed in togas, cowboys, or ala NZ Blacks. I have to admit i was laughing in the rain when i imagined what the toga team looked like running in the rain dressed like that... They won the Best Dressed category in the end, giving a reason that they had embarrassed themselves enough all over KL and deserved the prize. I personally like the cowboys one best.
A colleague Jacinth said i didn't look like i even did anything, cos my clothes and make up all looked intact. I was aghast, "What!? I ran in the storm okay! Tell them! *i turned to my team members* Tell them how we ran in the rain!" My gracious team leader JT replied for me, "Ran in the rain? She ran faster than the rain." 
I think i have to note down that my make up was awesome that day. I didn't bother looking in the mirror when i got back and none of it was waterproof too! I used a bunch of brands - Chanel, Laura Mercier, Shu Uemura.
I digressed. Talking about race then went to make up, such a girl.
In the end we got 1st runner up! I thought we had a good chance of winning cos the team that arrived first didn't get any bonus points and they didn't sit down for lunch. But another team (the NZ Blacks one) got 1st place. It's cool, i'm really proud that my team really worked with every person's strength to get to 1st runner up! And we had a cool team cheer - yUMMMMM seng!