My dad texted me a few days ago asking whether everything was okay cos he hadn't heard from me for a week. I called back to say everything was fine and that the office held me captive for a bit. He told me that my Mama (grannie) wanted to meet all the grandchildren for lunch today to pass on some inheritance gifts. I said i think she's getting old and sentimental about passing her things on…
After a huge dim sum lunch at Grand Imperial, we headed back to her house where she laid out red velvet boxes of jewelry on the dining table. All female grandchildren were like "OOH… " My brother, the only male grandchild, was watching TV, completely disinterested in jewelry.
In my younger years, i'd be elbowing with my cousins for the best present. But today… i was really nonchalant about it. No matter what i got, i would still love it cos it's coming from her, and that was the main point of it. In the end there was no elbowing or 'chupping' occurring today. Mama had already carefully written our names in Chinese and English on little tags attached to the pieces for whom they were to go to.
I got this beautiful set of jade and gold necklace and earrings.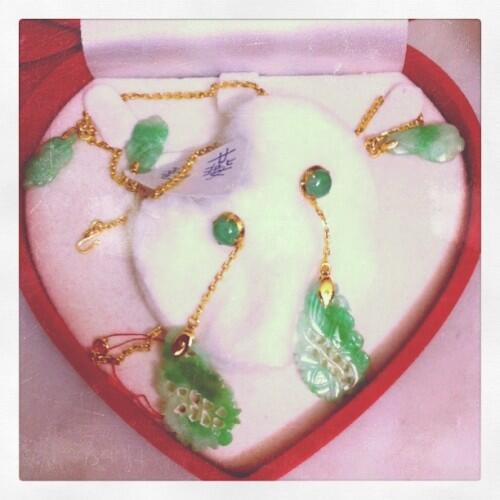 So gorgeous… i feel honored to own family jewelry like this!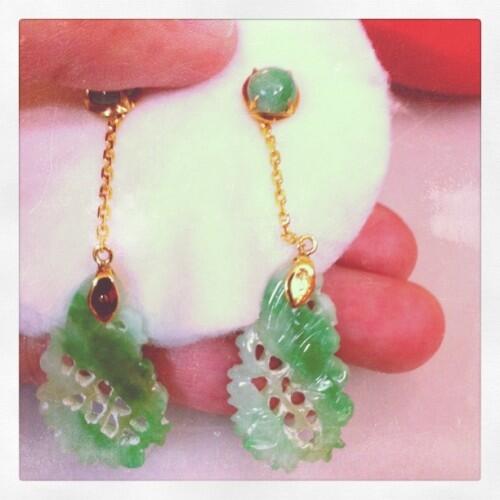 My mum looked over my shoulder saying, "Things like this, money cannot buy one you know." I nodded.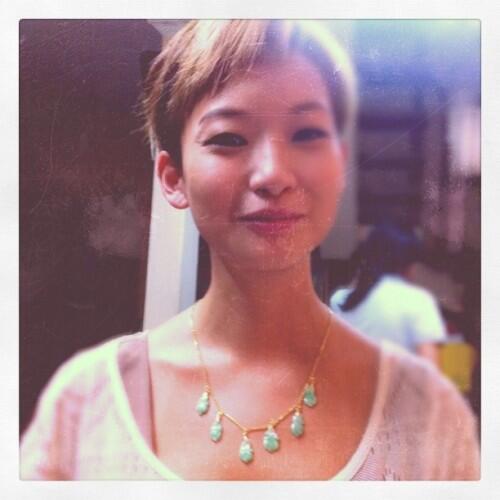 Smalls called me frog face when she took this pic of me wearing the necklace. I know i look slightly worse for wear. Went all out partying last night and came home at 5:30am. Girl can still party yo.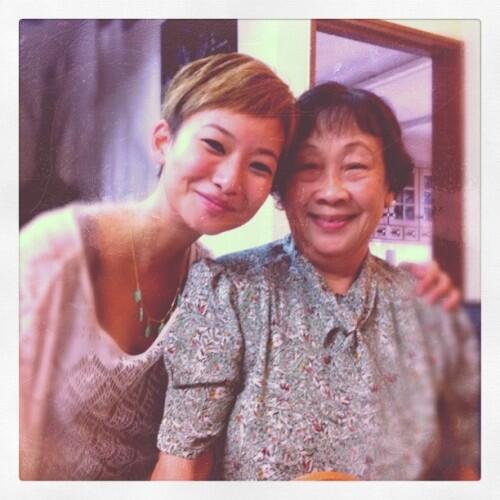 Mama & i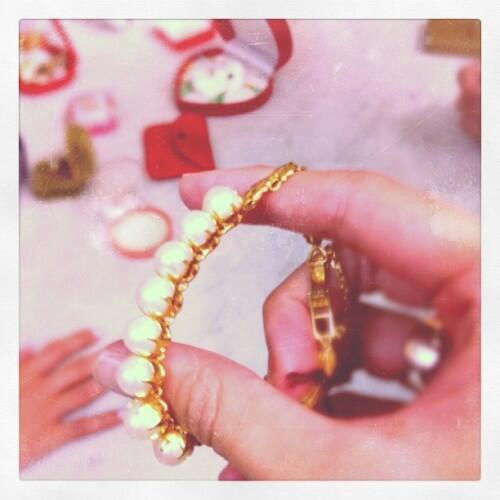 My mum got a pearl set with this crazy awesome bracelet that caught my attention the moment i laid eyes on it. Its design and simplicity are fantastic. I tried it on and fit me perfectly! Mama's wrists are really tiny! Now i know where i got my supertiny wrists from. My mum said it's too small for her even… so i guess it goes to me HEEEEEEE.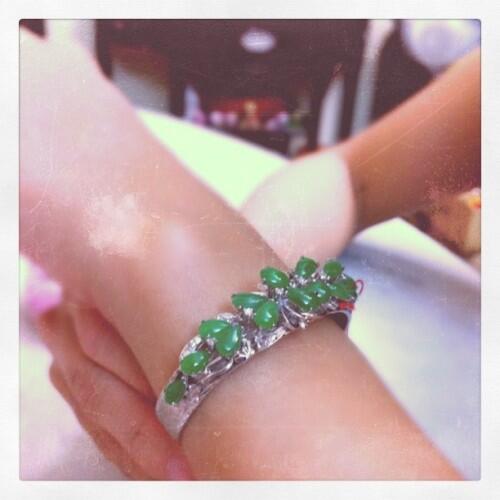 One of Smalls' pieces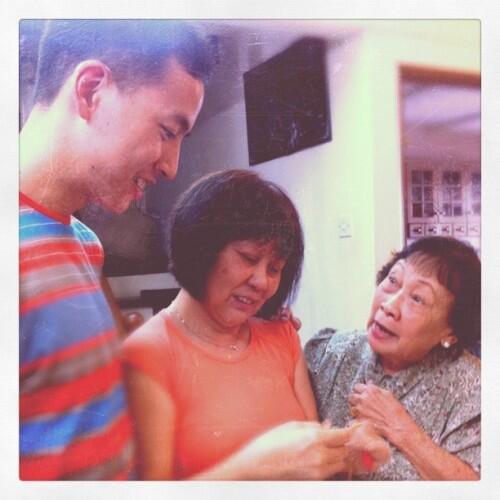 Nick, Mummy, Mama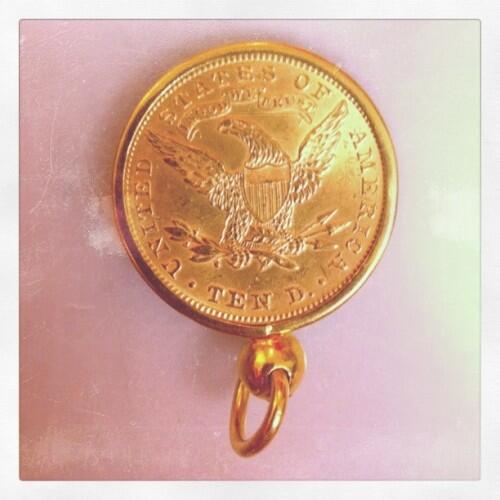 Mama said my great-grandfather gave this to her – a solid gold coin that went to Nick. EchoPunyaBaby said she has the same one too! Maybe it was some token of wealth amongst our great-granners back in the day… I find it weird that it's from USA tho… 0_0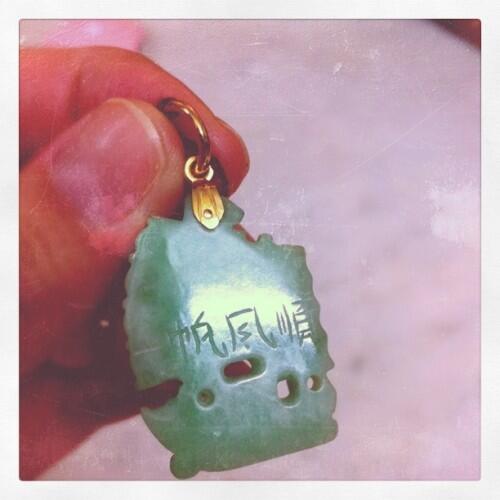 Nick got this jade ship pendant so his life will 'sail smoothly'.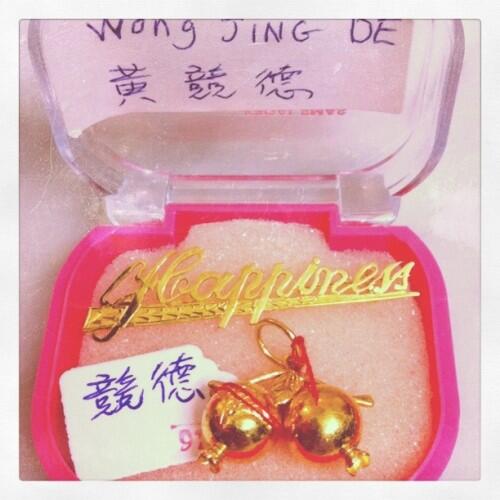 And one of my favourite pieces (because of its story!). My Yeh Yeh gave the gold 'Happiness' brooch to Mama when he married her. He passed away in his 50s. This went to my brother to give to his future wife. Awwww  😀
Anyway i am a bit scared to keep all the gold in my apartment. I always hear about friend's houses/apartments getting robbed and even have a friend who had her RM30k wedding diamond bracelet stolen. Also, i do have cleaners coming in and out all the time… so everything was handed over to my mum to be kept in a bank safety box.
The only thing i dared to hold on to myself is this gold bangle i also inherited 😀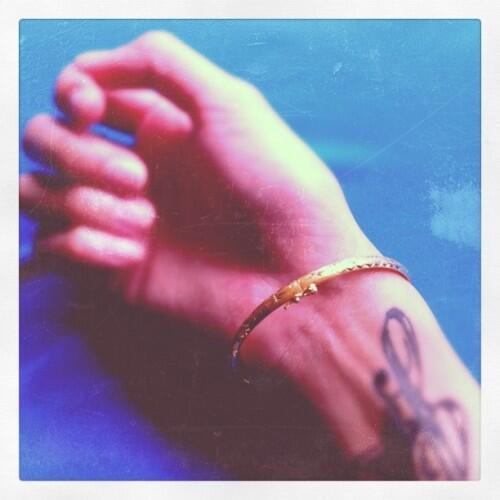 Meow, what a special day!