Oh man. You have no idea what i had to go through to get this blogpost up! First of all, i had to think whether i wanted to blog tonight, then figured i'd better cos i know my schedule will be crazy for the next few days. Then my iPhoto wouldn't recognize pictures from my phone. So i thought maybe i should update my phone. And found out i forgot my Apple ID password -_- So i had to go retrieve it. After i reset it, i had to backup all my purchased apps before updating my phone. So i googled how to do that (google saves everything!) and followed some steps then tada ok done. Then when i was READY to update my phone, it said by doing so it would delete all media including pictures which i don't want to happen cos the PICTURES are what i'm trying to get out of my phone -_- So in the end i transferred them to Clem's laptop, to my hard disk, to my mac. MAN i spent over an hour doing NADA. And i STILL don't know why my iPhoto suddenly doesn't recognize photos in my phone! Will figure that out another day when i have a cup of patience to spare. There. That wasn't super interesting but you did read it till this sentence HA.
Clem's mom and stepdad were down in KL to visit him while on their way to Cambodia. They've been to KL before so we didn't have to do the entire hardcore tourist shebang. When they arrived on Friday afternoon, we figured they wouldn't want to go out after such a long flight so i cooked us all a dinner of sage and onion chicken with Edwards sausages (my butcher was very excited for me to try out their newly imported british sausages). They passed out at 9pm. At 9:30pm i thought it must be midnight cos i was so so tired and was aghast when i saw it wasn't even 10pm! Managed to stay up till midnight.
Saturday i went to meet Jess & Rudy for brunch (but with Jesselia Savings Losings Time it turned out a late lunch). In the evening i went to help my mom cook, meaning i watched her cook and washed up what i could. She prepared a magnificent feast for Clem's parents and us!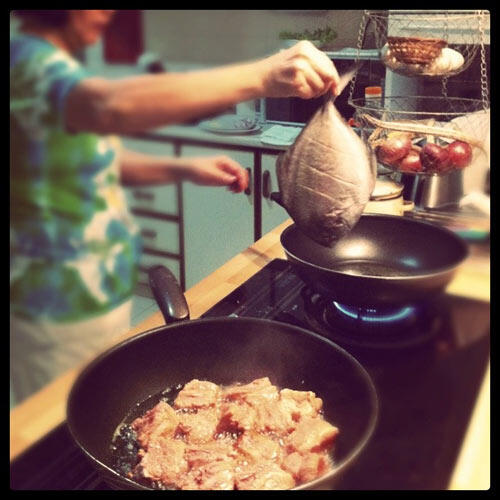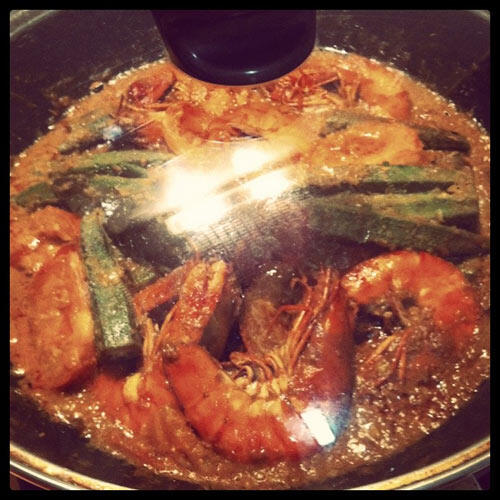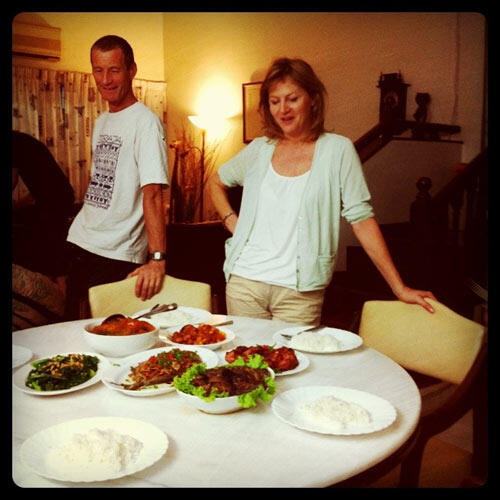 I giggled inwardly when my mum was saying to Dom, "Just some simple food."
Dom: Dees is not simple!!!
Such a scene from The Joy Luck Club.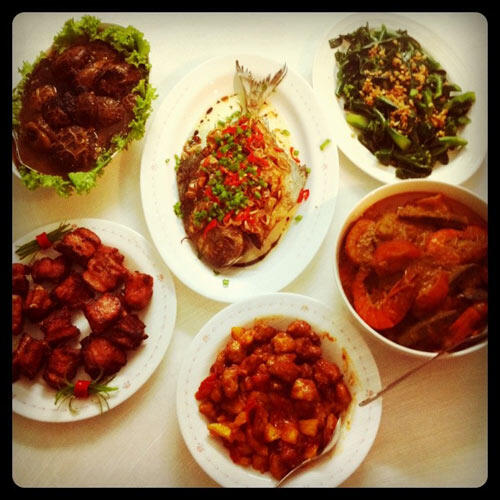 Oh man my stomach was rumbling like a tractor while 'helping' my mum cook this! Clockwise from middle: fried fish with onions, chili and garlic; curry prawns; sweet & sour chicken; bean paste pork ribs; chinese mushroom / tunku. My dad was away in HK that weekend, so this was all for five people mind you! – Mummy, me, Clem, Dom, Serge!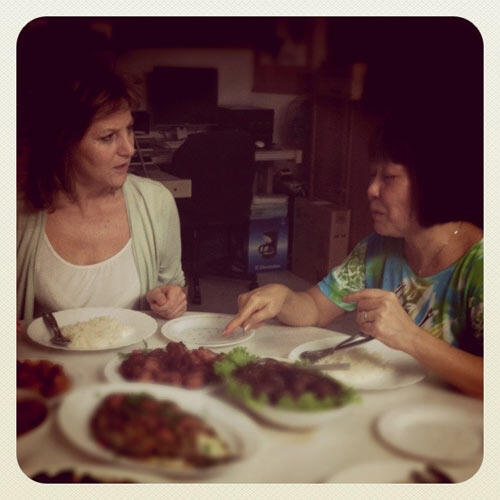 The mummies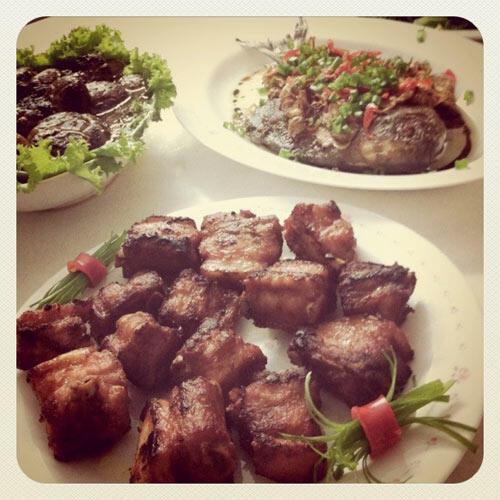 Clem loves this bean paste pork ribs dish so much, my mum gave me the paste for it and taught me how to cook it for him -_-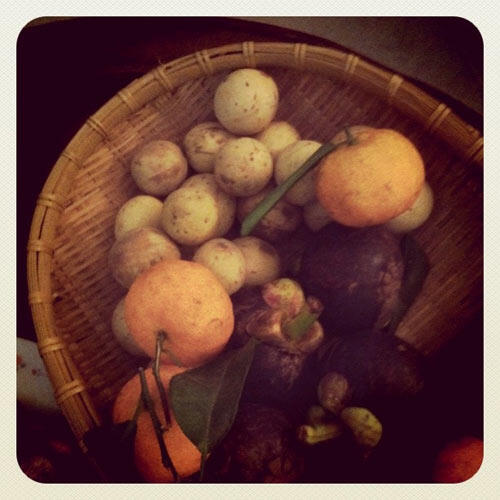 After dinner my mum served local fruit – mangosteen, duku langsat and oranges (which i don't think are from here :p CNY la ok)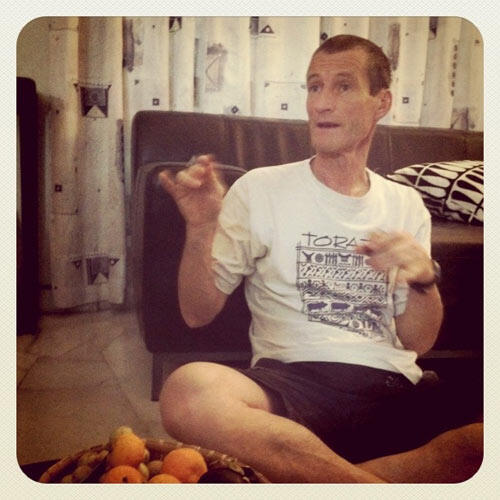 + + +
On Sunday we took them to Fat Spoon 😀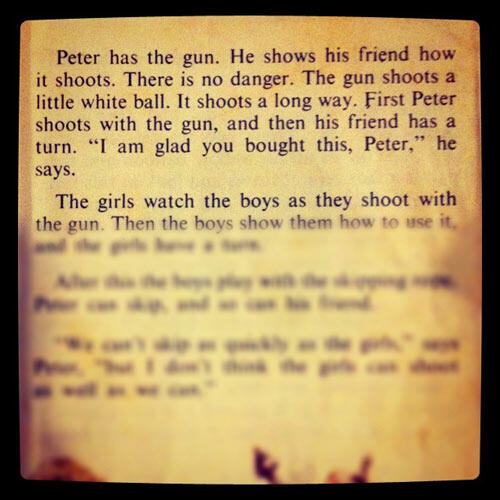 Guns in Peter & Jane were so innocent before Bowling for Columbine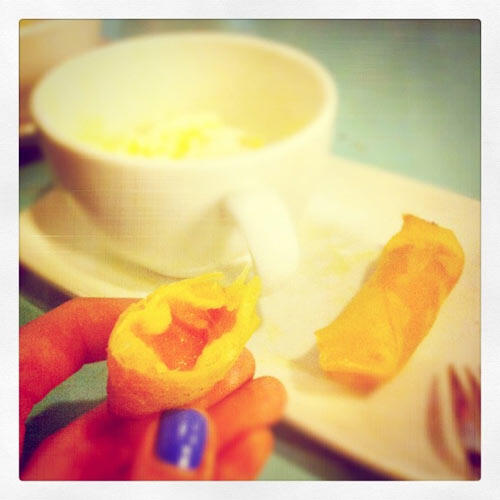 If you go to Fat Spoon you MUST MUST MUST order their cempedak popiah + vanilla ice cream. I almost died of ecstasy eating it.
After a huge lunch (i ate what everyone didn't finish) we went to PJ to let me run an errand in Digital Mall, before heading for Batu Caves. Even with Google maps i missed ONE bloody road and suddenly we were on Jalan Ipoh highway heading to… Ipoh. Shit. After doing a frantic U-turn, i spotted Templer's Park and said it would be kinda nice for them to see it if they wanted so we stopped.
I  can't remember when was the last time i went to Templer's Park… or if i even did in my life, sometime in primary school..?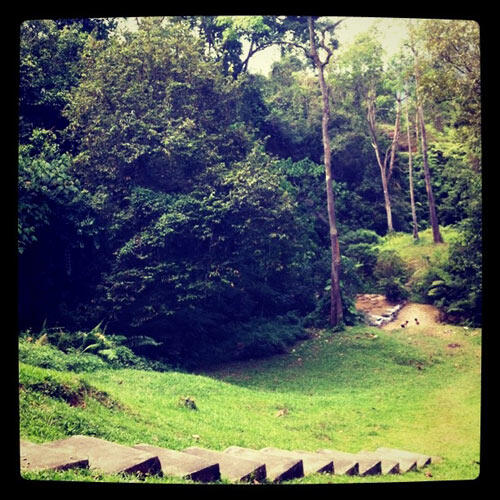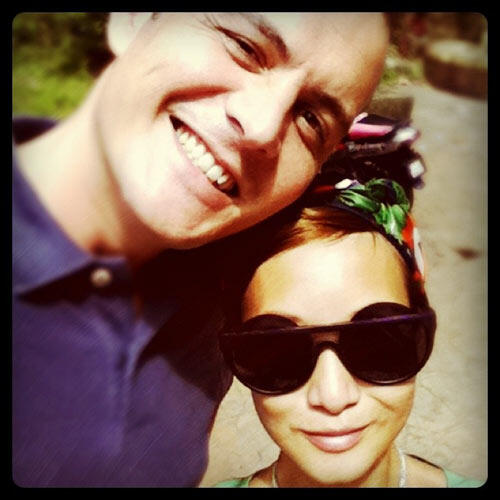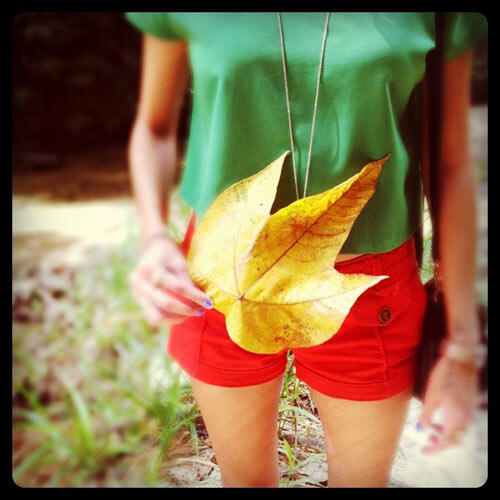 As we hiked for 45 minutes looking for a waterfall, i thought to myself 'wow look at this. Joyce hiking in kl'. The thing is that Clem and i have no qualms with taking long hikes when we're traveling, but when we're in KL, we'd rather… bond with our couch on the weekends. We go to great lengths finding waterfalls in the jungles of Indonesia and Sri Lanka, to the extent we accidentally walked to the same one twice; but we don't bother discovering one in our own backyard. Hopefully that will change soon! (Clem must be shuddering while reading this.)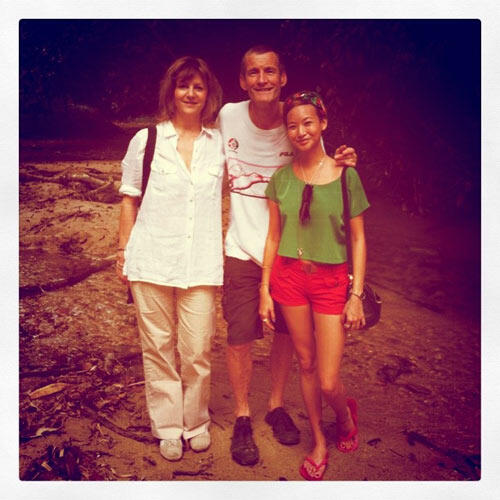 Dom, Serge and i
After the park, we finally found Batu Caves.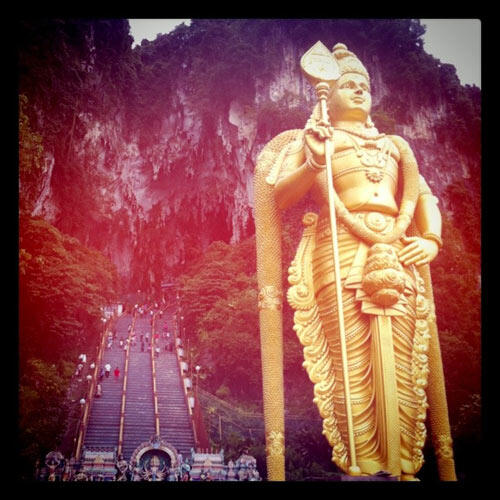 I can't believe went up and down those stairs three times in one day before -_-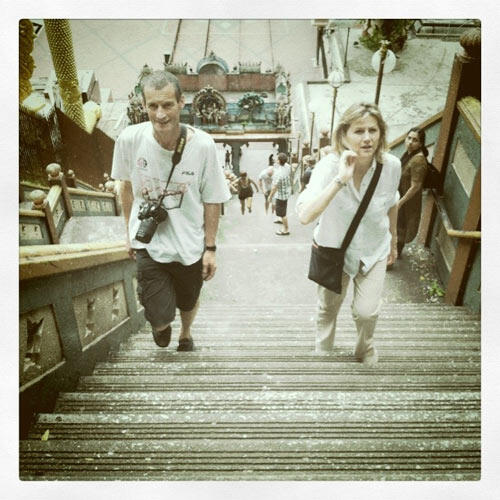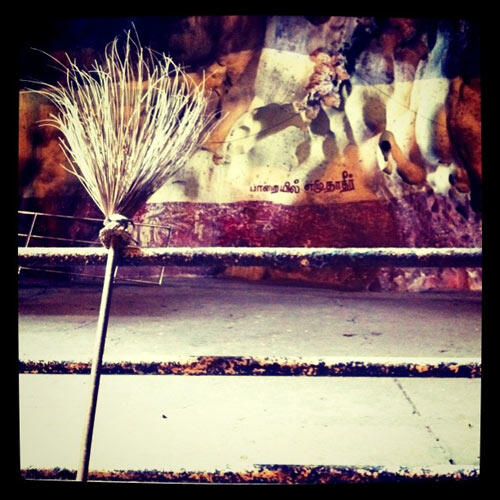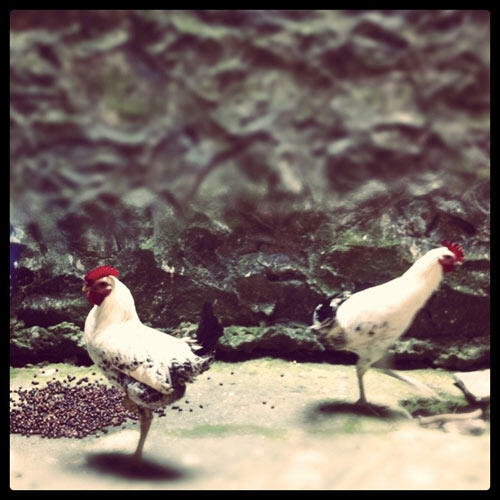 After Batu Caves was Joyce's feeding time before she turned into an evil pumpkin that ate people up. I suggested La La Chong since we hadn't had seafood yet.
Serge: We seem to be eating a lot [i don't understand this tho, we only had lunch before dinner!]
Clem: In KL, there's not much to see, but there's a lot to eat!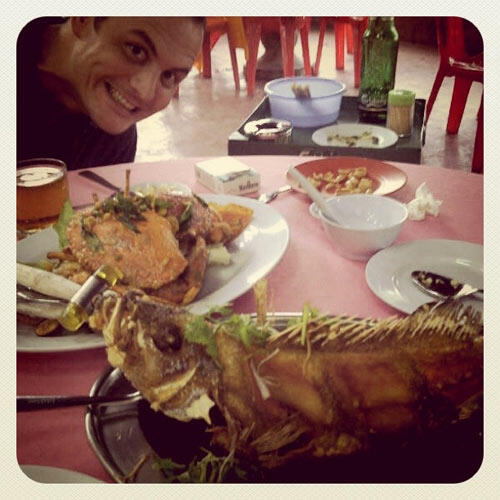 I noticed that La La Chong uses Taste Me sauce and grabbed it off the table in a squeal. "Taste Me! It's the Taste Me sauce!"
Clem: What??
Me: It's THE TASTE ME SAUCE! The one that Tania brought to BBQ and is super spicy! The one i was telling you about!
Clem: *turns to his parents* I'm sorry, she gets like this sometimes. 
I didn't even get offended cos i was too busy taking pictures of the sauce. It was a like a SIGN reminding me to go buy the sauce, which i did the next day. 3 bottles of it. One for home, one for office, and one for backup.