I am SO excited about Christmas, can't you tell! My mood has been better, i'm already plotting what dishes to cook, and i'm being a lot more patient on the road than usual. Weeks ago Clem asked, "Do you want to get a Christmas tree?" I took 3 seconds to digest whether we should get a Christmas tree. Do i want a tree? OF COURSE I WANT A TREE! An excuse to have more color and lights and sparkly things in the house! I yelped out a YES!!! and he sighed, "Why did i even ask…"
Two Fridays ago, i made plans with him to buy a Christmas tree on Saturday at 1:30pm. I never usually make any plans for weekends, but this was IMPORTANT! Came the day and time… Clem was late and i waited an hour and a half for him. When i got pissed on the phone he asked, "Why are you so angry? It's just a Christmas tree." Ohmygod i hung up before i said something i'd regret later.
I angrily texted Cammy how my stupid boyfriend said 'it's just a Christmas tree' and she said Kenny wasn't keen on buying a Christmas tree too, so i said LET'S JOIN FORCES and BUY OUR CHRISTMAS TREES. Clem called me back and i said Cammy was joining me to buy a tree. He asked excitedly, "Oh is Kenny going too?" and i felt like punching him cos it seemed he was only willing to buy the tree if his buddy was there too. (i wish there was a punching icon i could stick right here)
ANYWAY. All four of us managed to end up at BSC where the trees and deco are surprisingly reasonably priced. Clem and i fought our tree issue out, made up and bought the damn tree i wanted so much. The thing is, i didn't want to buy the tree alone… i wanted to buy it WITH him, make more Christmas memories with him. -_- We don't already have one cos we spent all of December last year in France hence no need for a tree.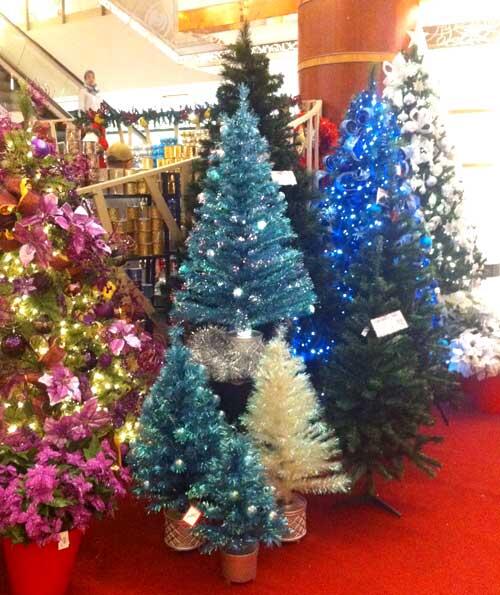 We got our 6 ft tall tree for RM80 (or something like that)
Nice decorations i looked at but didn't buy. RM30 for ONE ceramic bauble is not a priority for me right now!
A few days after we bought our tree (but had no time to put up yet), i went to the office where my team told me i was on Potong Stim. I didn't even know what it was, but saw the vid they put up….
At first i was amused, then i was scared like oh my god Clem is going to killll me…. (especially in the parts they said stupid boyfriend, hey! only *i* can call MY boyfriend stupid ok :p) I sent the link to Clem… and didn't see him that night cos i had events and things.
The next day Neeraj asked me at work what Clem said about the video.
Me: "Urm he didn't say anything yet… but he did set up the tree last night without me asking him to…"
Neeraj: "Wow. You have a really great boyfriend."
Me: "I know." *meek* 
Yesterday (Sunday) we decorated the tree together before going for dinner at my parents'.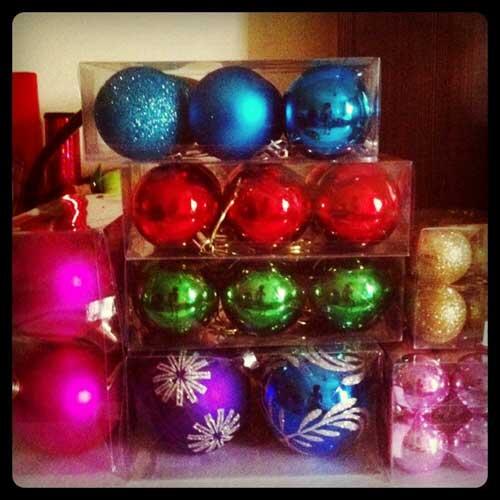 I know most people plan a colour theme to stick to, but we bought every colour to make it a supercolourful tree! I wanted pink, blue and purple. Clem wanted green, red and gold. So that was that.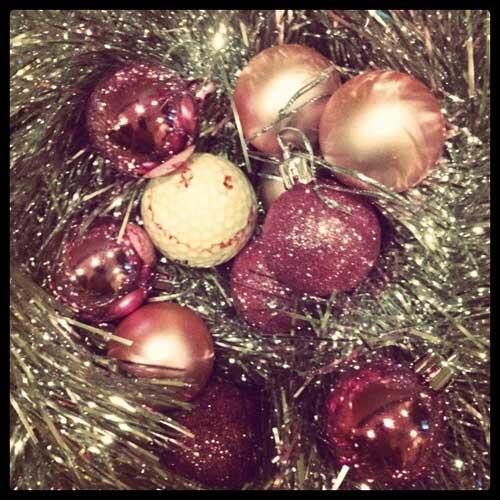 Wilson pimpin' it with his new girlfriends. I was laughing to myself when i put him away but he rolled back towards the pink balls by himself *layan imagination*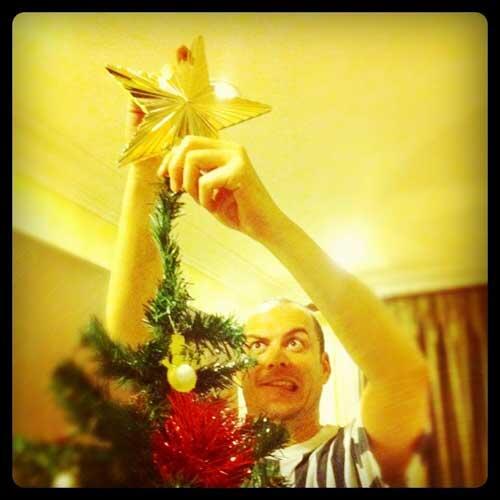 Letting the man of the house put on the star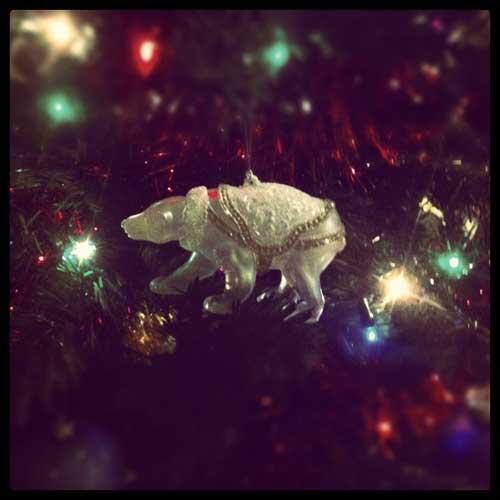 Clem tried to dissuade me from buying this polar bear decoration, but it reminds me too much of the Golden Compass to let it go!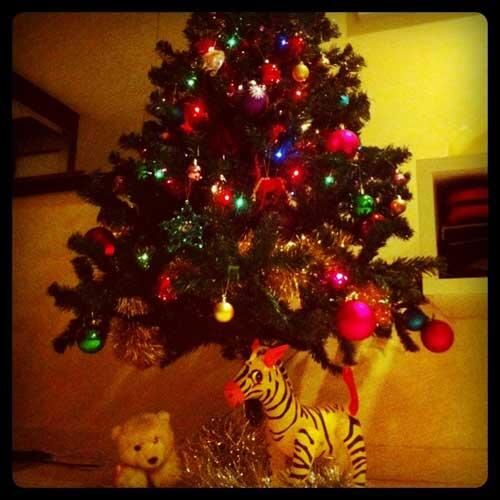 Clem put my English bear and Laotian zebra under the tree since there are no presents yet.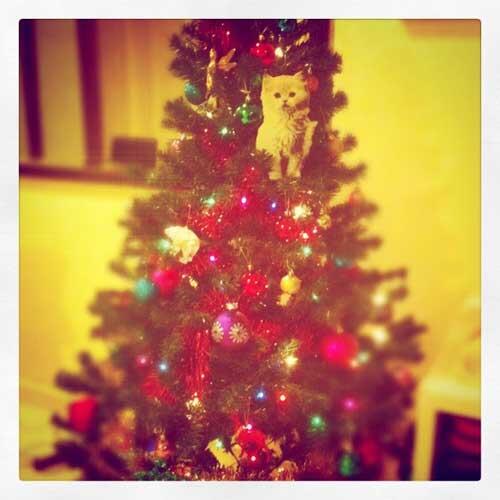 And since cats like trees… it made sense to put Cassie our cardboard kitty in our tree :p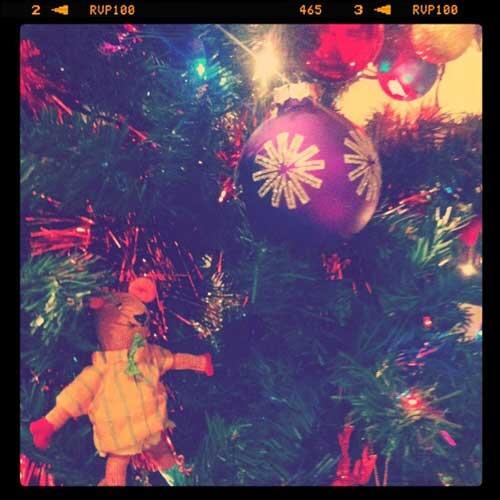 And then of course i thought of how the Sri Lankan mice would want to be in the tree too… else they'd get jealous for being left out.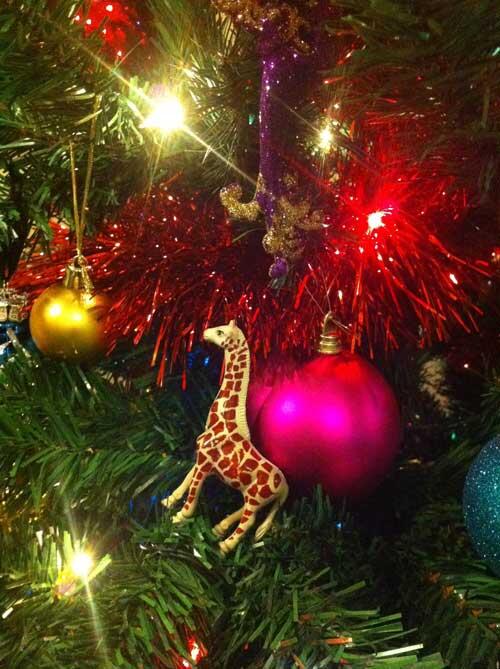 Okay i may be the only person in the world who puts a giraffe in a Christmas tree. But is there a rule written down somewhere that i can't? Noooooopeeeee.