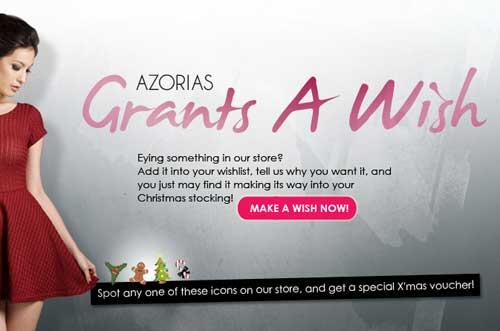 This Christmas season, Azorias (you've seen me wear their clothes lots of times!) are getting girls to shout out their wish list so they can win what they wish for! Besides the contest they're having on their website, they're being super sweet to give one of YOU guys a wish via KinkyBlueFairy!
How To Enter:
1. Browse AZORIAS for an item you wish to get for Christmas and add it to your Wishlist (may comprise of multiple items). Share your wishlist with your friends and family, and tell them why you want it for Christmas in the most creative way via a blogpost, tweet, facebook wallpost, or even a youtube video!
2. Post the link of your Wishlist entry on the comments section of this blogpost.
3. I will choose a random entry to win ONE (1) AZORIAS item from their wishlist.
Contest ends: 20th December 2011
Happy Wishing!!!
/////////// EDIT /////////////
Congrats to Suzi Melissa! Her entry with some superb choices from Azorias won her a wish!