At the end of our first day in Hakone, we arrived in Tokyo after dinner to check into our hotel at 8pm. I had a much-needed shower (we were out and about all day upon landing in the morn!) and quickly made up before shooting out the door to meet Jesh in Shibuya.
A few days prior, Jesh (who has just moved to Tokyo from Singapore) begged me on gchat to bring him nasi lemak & sambal. I thought it weird at first cos how can anyone get sick of Japanese food!? But i totally understand how he feels cos after a few days in Japan, i too was craving savoury spice that one can only get from sambal or curry laksa. We are so spoilt for food cravings in Malaysia/Singapore/Bangkok you have no idea!
I wasn't sure how nasi lemak could keep and asked on Twitter for some expert food smuggling advice. Sure enough, some replied saying to freeze it before checking it in, which i did. Luckily i also spotted some jars of nasi lemak sambal in the super so i got him a couple of those too.
So there i was, carrying a plastic bag of half-frozen nasi lemak and jars of sambal, trying to find my way in the train station. Everything was in Japanese and i had a flashback of pathetically trying to read Chinese characters in the station in Shanghai. Luckily the two people i asked for help could speak English, and i took the brown line to Shibuya. Don't even ask me what the line was called…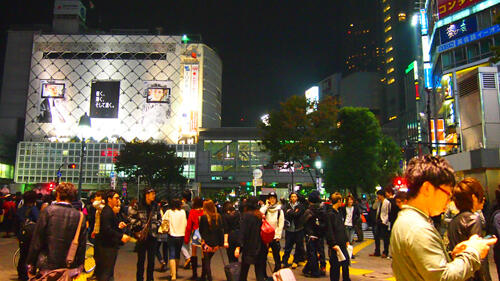 Shibuya was pretty packed for a Thursday night (or how would i know… maybe it's packed all the time!)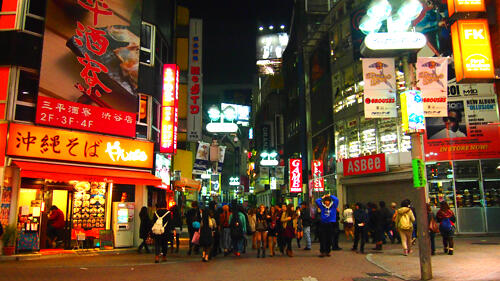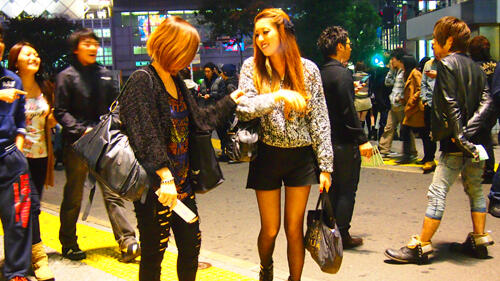 Jesh introduced me to his friend Alessio, who's been living in Tokyo for years and speaks fluent Japanese. He insisted i had to visit this shop and dragged us into a 4-storey complex.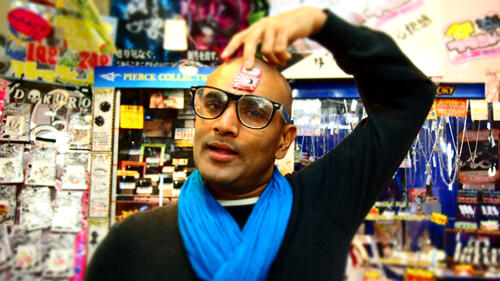 Jesh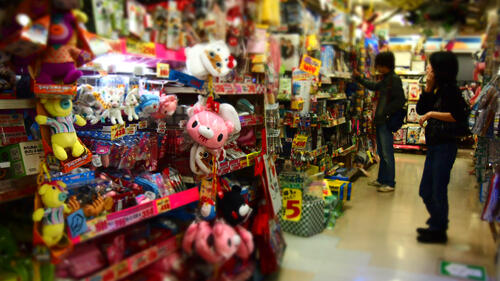 The shop sold everything from toys, funny costumes, make up, house appliances and men's underwear; to colourful socks and vibrators larger than my arm.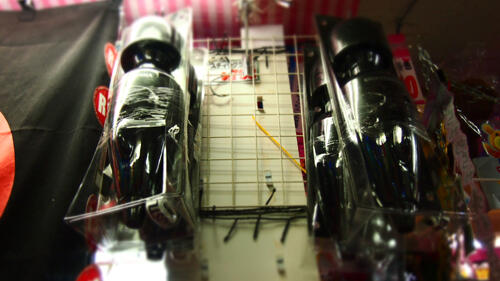 Jesh stopped some female strangers to 'innocently' ask what the vibrators were. Some stared at him strange before backing away, whereas this girl smiled politely, before also running away.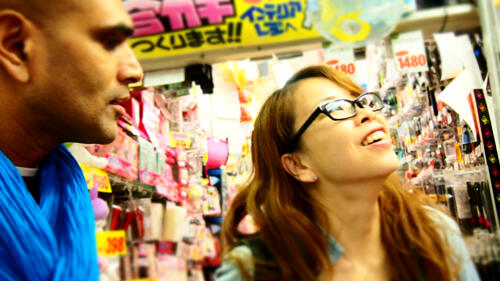 My friend hath no shame -_-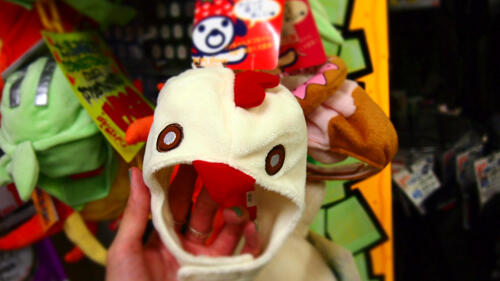 A chicken costume for a dog! I was SO tempted to get it… till i realised i don't HAVE a small dog. Regretted it when i came home to KL cos i took a look at my bear soft toy and figured it would have looked so funny on it!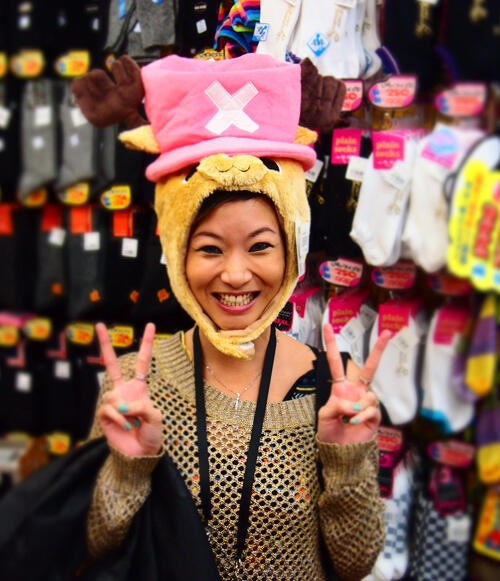 I did buy this…. though i have no occasion or reason to have it… i'm sure one will come up in time and i'll go I WAS SO SMART TO BUY THIS CARTOON HAT.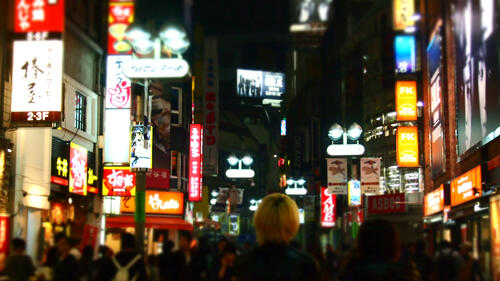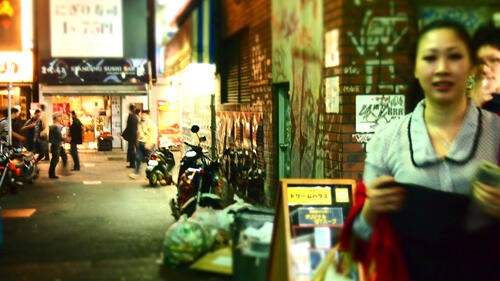 After pottering about Shibuya a bit, Jesh said we'd go to Roppongi to have some drinks. He was to take the train whereas Alessio had his bike. "You want to follow me on the train, or Alessio on his bike?" asked Jesh. Since i'd already been on the train, i JUMPED at the chance to get on Alessio's bike, thinking it was urm a bicycle. (Don't know! Somehow i was thinking Copenhagen or something!)
Turns out he has a Ducati. Even better.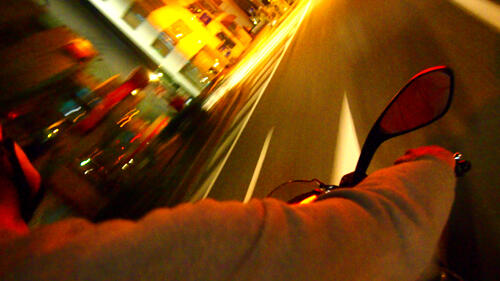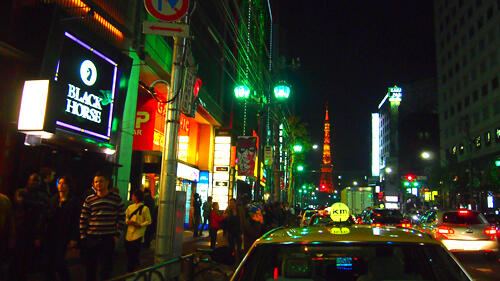 Tokyo Tower at the end of the street. According to A, lots of black men try to pimp women to expats on this road.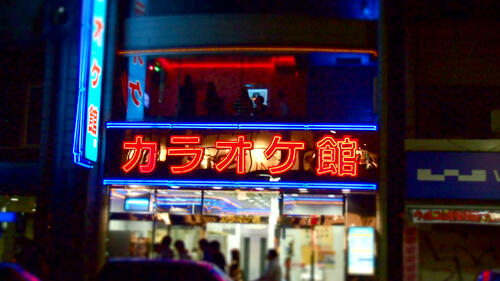 Glass karoake rooms are piled atop each other for the world to see. So cool.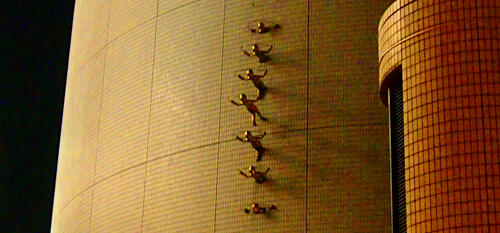 Life-sized sculptures on side of building.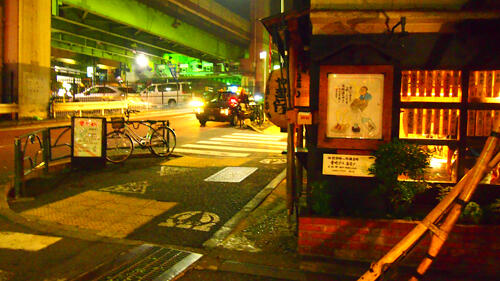 Because Jesh would take longer with the train, Alessio took me around neighbourhoods and pointed out museums and landmarks i should visit when i have the time. We stopped by his favourite sushi place but they were closing.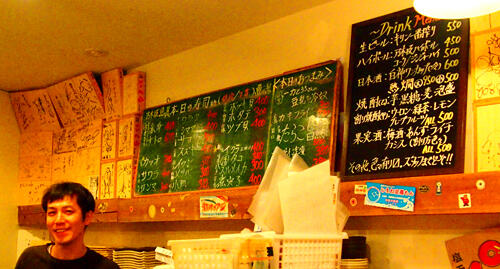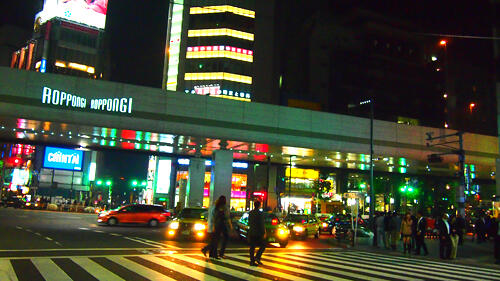 Went to Roppongi where Jesh met us outside his apartment.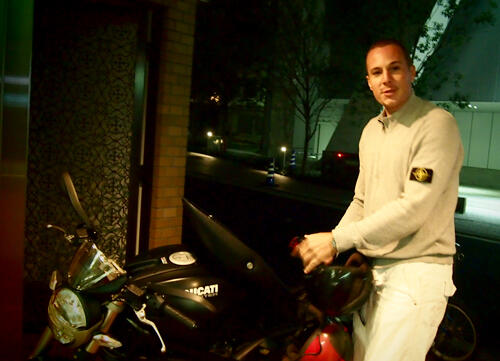 Thanks for a lovely intro to Tokyo!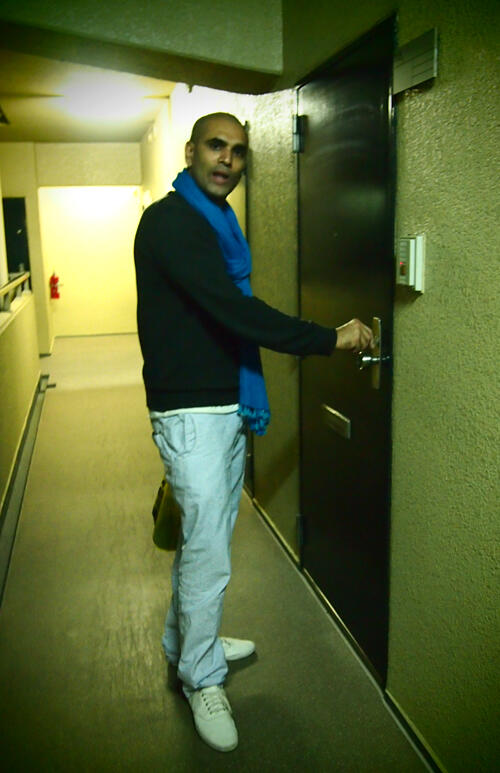 "Welcome to my shoebox," says Jesh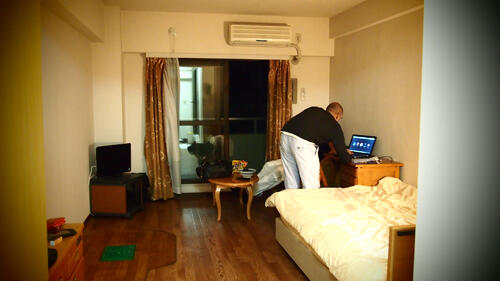 Compared to his huge house in Singapore, this 280 square ft. apartment is tiny! If i remember correctly he pays about RM4,500/month for this.
We had drinks and chatted, with both guys (hmm or more like Jesh) making me stalk people on Facebook. Think it was about 1am when Alessio decided to call it a night cos he had work the next day. He was planning to drop me off at my hotel, but seeing i was still up for more adventures, he left, and Jesh and i went to this club that (according to Alessio is commercial) but every femes person who drops by Tokyo steps into. Jesh said he met Kevin Spacey there a week prior. Kevin Spacey is fawsome. If he went there, i'd like to check it out!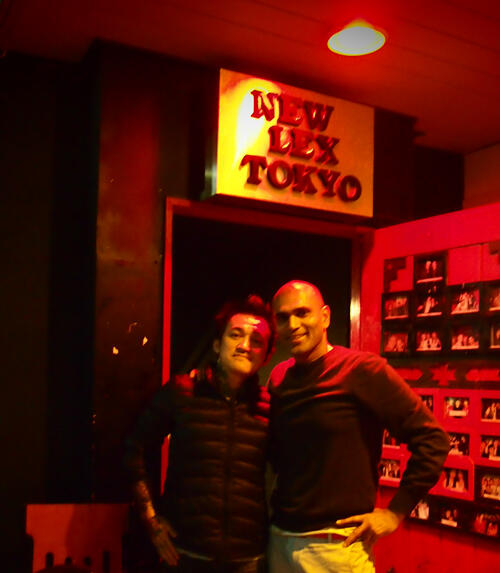 Being the Jesh i know… has only been in Tokyo for a few weeks but knows all the club people. He introduced me to the bouncer who gave us some drink tokens. Upon entering the club there's a lonnnnngggg wall of fame or sumthink like that with pictures of celebrities who've been in the club like Jean Paul Gaultier, No Doubt, the late Aaliyah, R.E.M., Rage Against the Machine, Elizabeth Taylor, and heaps more.
Took some up-close pictures of some great ones.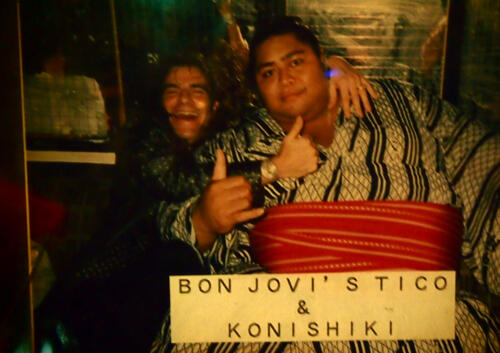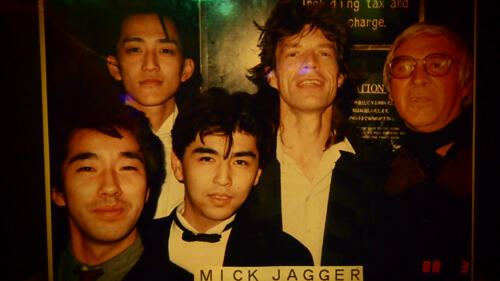 Mick Jagger and Japanese dudes? Come on! Picture for keeps!
There was a good mix of Japanese and expat people, mostly Japanese tho i'd say.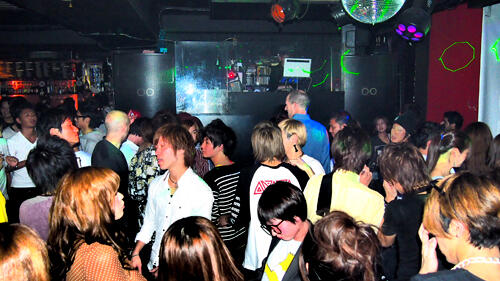 Japenese girls are so cute! Jesh and i were talking to the one in glasses while getting drinks, and met her friends after that. I asked whether i could take a picture and BANG they posed like this in ONE SECOND FLAT.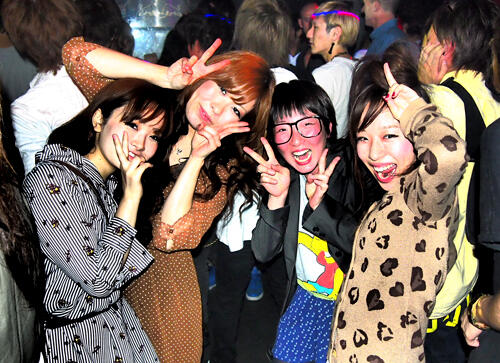 Later on, a girl saw my wrist tattoo peeking out of my long gold sleeve and asked whether she could see it. I said SURE and  pulled my sleeve down. She read it and squealed before showing me what SHE had on HER wrist… in almost the same font too!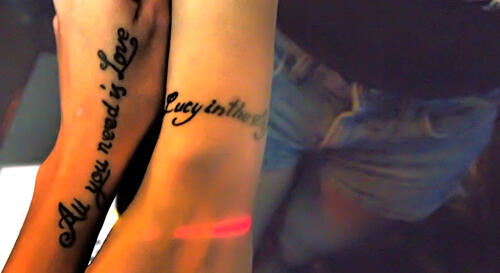 We be beatles sistas.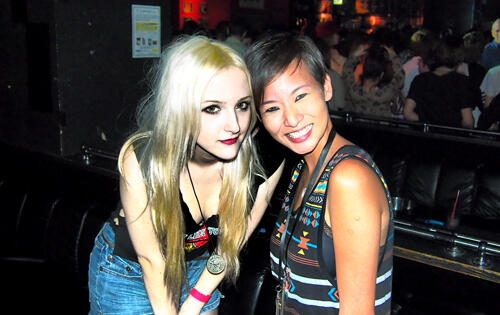 This is her. She said she's French but i thought she was American. She introduced herself as Maru (i'm guessing the expats who live there take on Jap names).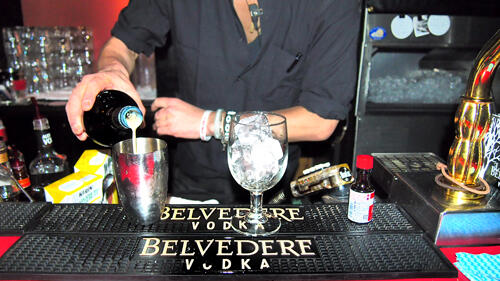 I wasn't very experimental with my drinks orders till i watched the bartender making some interesting concoction for a Japanese couple. So i merely pointed at their white drink and asked for the same one. Hey… if Japanese people order it, it's gotta be good right!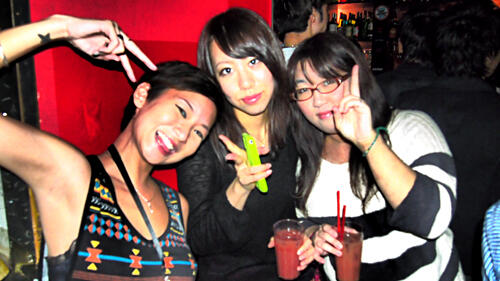 More random girls we met. Yay me for not pulling a Julia Roberts.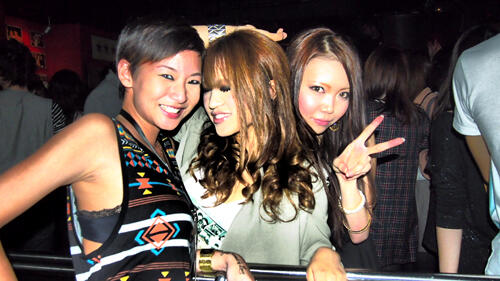 These two girls were complimenting me on my small face 
Think Jesh and i had enough around 3am… and i had to wake up at 8am the next morn so i was ready to leave. I remember taking more pictures with people… and some very pretty and drunk Japanese girl tried to make out with me while her friend tried to take a picture with me. Urm i did have the consciousness to turn away and smile at the camera!
I caught a taxi cos all the trains were shut, and swear i had some serious palpitations as i saw the taxi metre jump to atrocious figures. I mean, i HEARD that taxi rides in Tokyo are expensive, but BY GOD they are the MOST EXPENSIVE TAXIS i've taken in my LIFE! I took a 10 to 15-minute ride for… 4,500 Yen/RM180.
I didn't mind that much cos i didn't pay for any club entry nor drinks, plus i had AN AWESOME FIRST NIGHT in TOKYO. The kind that money can't buy. 
  I took the train by myself, got to buy sex toy souveniers for guy friends, had a woohoooo bike ride, chilled in apartment, went clubbing and had a Japanese girl make out with my neck? COME ON!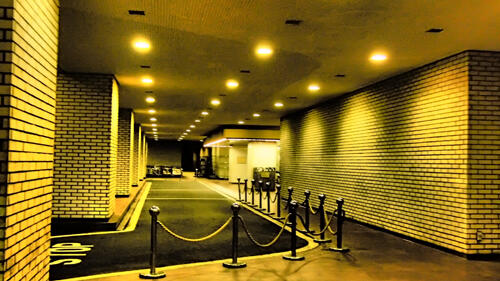 Drunkardly took a picture of my hotel lobby as i reflected on how lucky i was to do so much in one day!