OK fine.
So some people have stared at me like i'm utter crazy for wanting to do this, and now, having done it.
But i haven't regretted a single one of my previous tattoos, and am pretty sure i'm NOT going to regret this one.
When i first had the idea, i texted Clem: "I just had this BRILLIANT idea! bla bla bla bla"
He replied: "I don't know about 'brilliant'…"
After he realized i was serious about it, he said, "You know, this is okay if you're 14… but you're almost 30!"
That kinda stumped me.
I never FELT myself at 'almost 30'.
What does that mean anyway?
Age is so relative. As is time.
I felt like as if being 'almost 30' meant i had to stop doing things i wanted to…
Or more accurately, childish things i wanted to.
I don't feel 'almost 30'.
In fact, if you asked me how old i was, my insides instinctively squeal "18!"
So i got this because i really really wanted to.
While simultaneously having a slight inner smug emotion about going against society dictating i have to act a certain way at a certain age.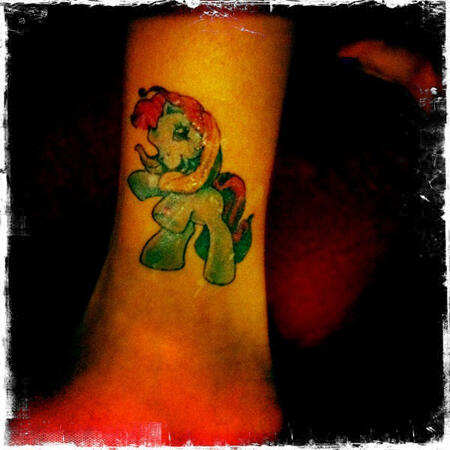 ///////////////////////////
Btw if you're a tattoo fan and like staying home on Sundays,
NY Ink premieres tomorrow on TLC