The Breast Cancer Welfare Association Malaysia (BCWA) is a
tax-exempt voluntary organisation founded in 1986.
Their mission rests on the philosophy that a breast cancer survivor can use her experience to help another woman face the challenges of breast cancer.
BCWA provides support including individual and group psychosocial support
and non-medical aids such as prosthesis and wigs.
This month, one of my favourite local online stores Azorias will be supporting Pink October by placing BCWA merchandise for sale on their website and donating 10% from pink items sold to fund BCWA activities.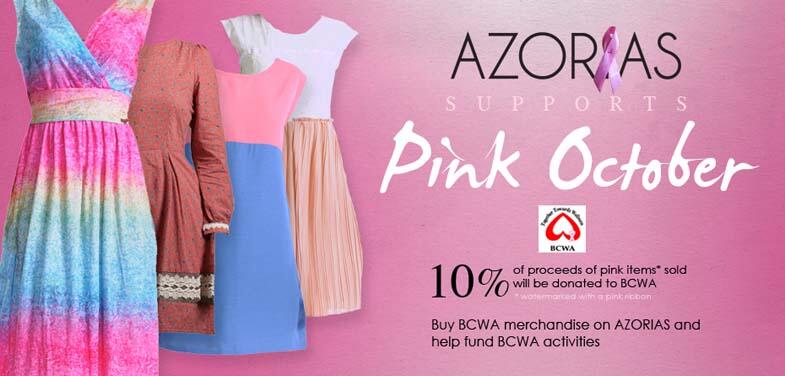 Visit their website at Azorias.com!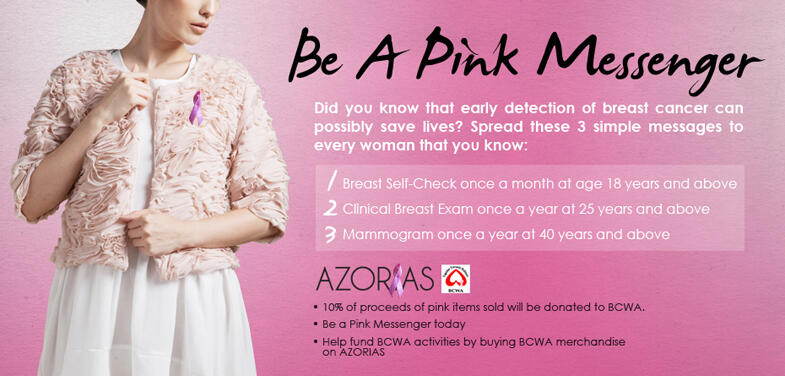 [click for larger view!]
Girls, don't forget to get a
- Breast Self-Check once a month aged 18 years and above
- Clinical Breast Exam once a year at 25 years and above
- Mammogram once a year at 40 years and above
To raise hype and awareness,
wear PINK this mont and spread it on Twitter, Facebook and Instagram!
You can also post a picture of ANYTHING PINK you're wearing (clothes, shoes, lipstick, nails) and post it on Azorias' Facebook Wall with the line: "I am wearing pink today, what about you? I support Pink October."
Everyone who posts will get a 10% discount voucher.
Favourite picture  picked by Azorias end of the month gets to choose one PINK outfit of her choice from the Azorias website!