After our climb up Sigiriya on our first day in Sri Lanka,
we headed toward Kandy, that's in the central province of the country.
The FIRST time i heard about Kandy mountain was from Marcel when we were hanging out in Dusun.
And i immediately thought of Charlie the Unicorn 
My imagination ran off with how Kandy mountain must be filled with
ponies and unicorns and candy canes and all things happy and colourful.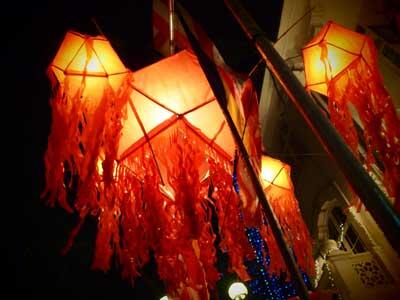 They didn't have any of those, but it was still very pretty *trying not to be disappointed*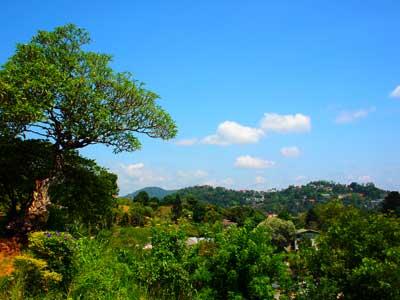 "Kandy served as the capital of the last Sinhalese kingdom,
which fell to the British in 1815 after defying the Portuguese and Dutch for three centuries.
It took the British another 16 tough years to finally build a road linking Kandy with Colombo.
The locals still proudly see themselves as a little different – and perhaps a tad superior – to Sri Lankans from the island's lower regions."
– Lonely Planet
Kandy is a pretty small town.
There's a lake in the town,
with a hill next to it where most of the guesthouses are to be found.
Because this was our first night staying in Sri Lanka,
i didn't know that this was going to be our nicest stay for the midrange price of RM90.
Our first choice for a guesthouse had raised their price to RM120,
so we went hunting for another one as we'd budgeted roughly 2500 rupees per night/RM90.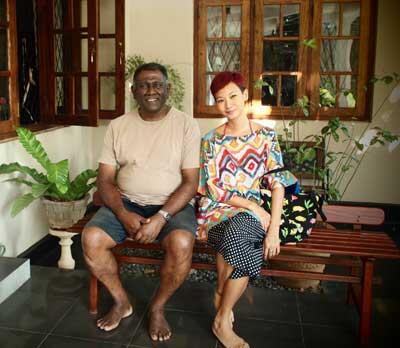 With the owner of Freedom Lodge, where we stayed that night.
His family has owned the house and land for decades,
and because it's so large with so many bedrooms,
the typical practice in that area would be for the well-to-do families to rent it out and make money that way.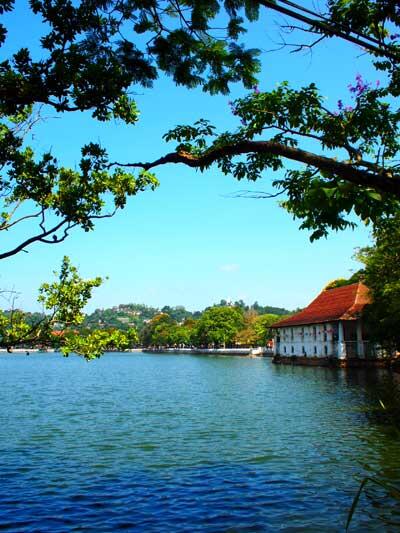 Clem and i decided to visit the Temple of the Sacred Tooth Relic,
where one of Buddha's teeth is said to be kept.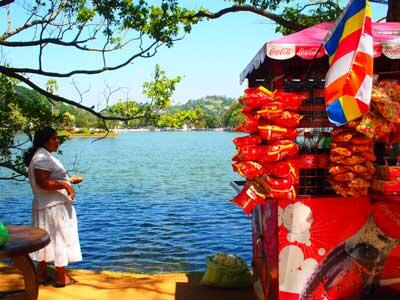 The temple is next to the lake,
where people who were against the labour to build the lake were ruthlessly put to death on stakes on the lake bed.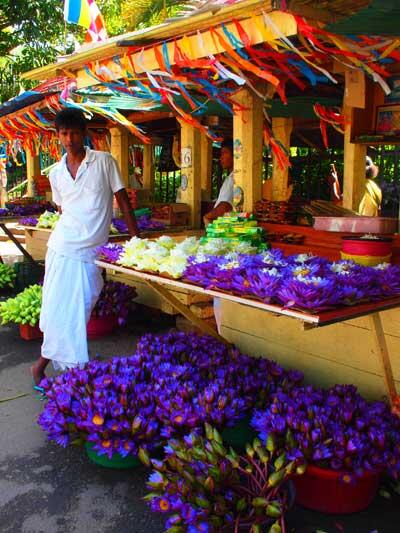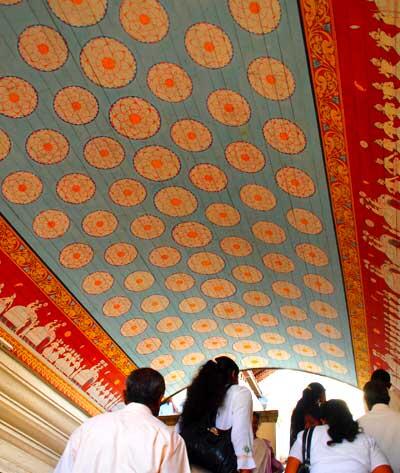 It's said that the tooth is SO important,
the real one isn't actually kept in the temple,
but a replica instead (they're too afraid someone might try to steal it).
It's such an important symbol that back in the day,
it was believed that whoever had ownership of the tooth,
also had ownership of the island!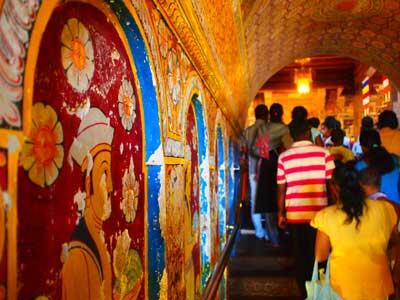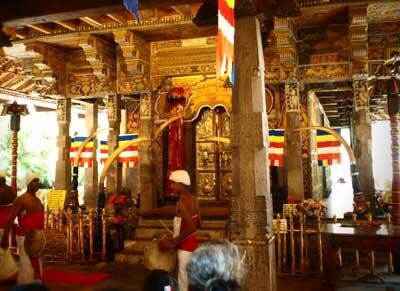 Some drum-beating was going out inside the temple,
but i got distracted by the angles of the building overhead instead oops.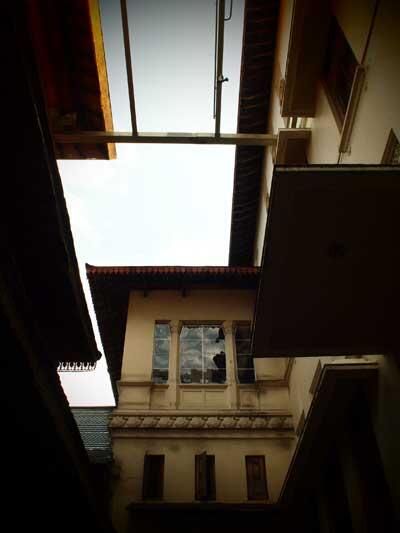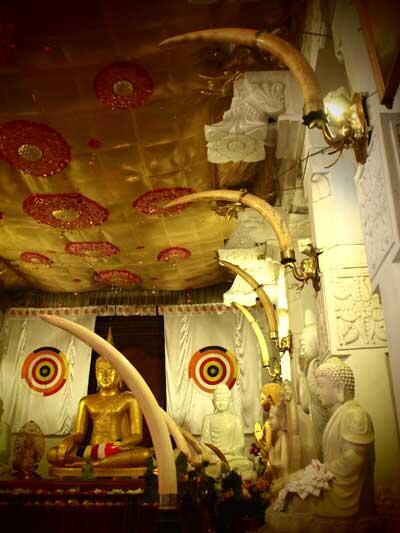 Look at all those poor elephant tusks!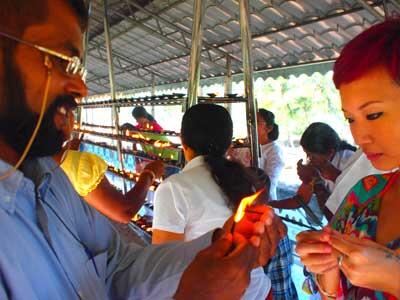 This man's wife approached me and started touching and admiring my red hair while i just grinned back at her.
After a few minutes, the couple gave us some joss sticks to pray with.
People in Sri Lanka are so nice!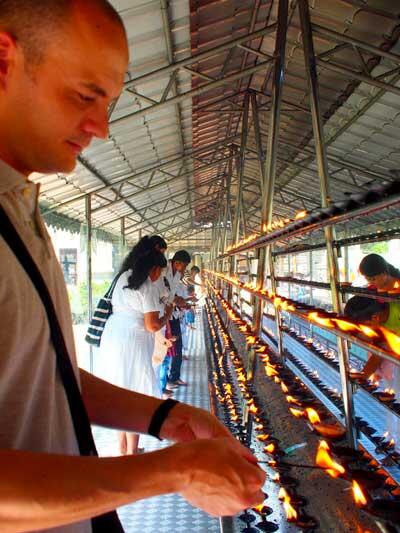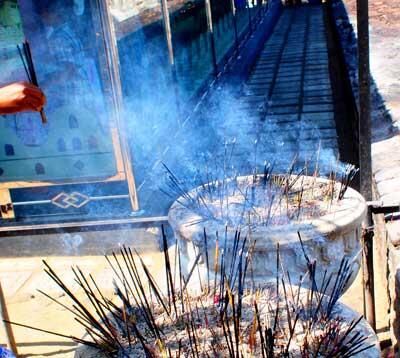 They wanted to take pictures with me after that,
and jotted down their address for me to send the picture to via airmail.
It wasn't just one address… but three!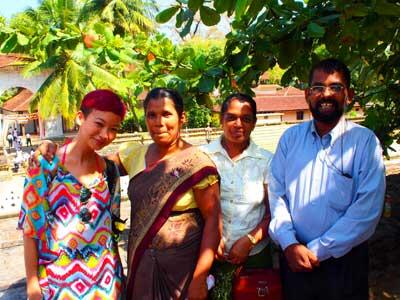 Right next to them, another family stood close by and asked to take pictures with me too…
then they proceeded to write down ALL their addresses for us to send the pix to.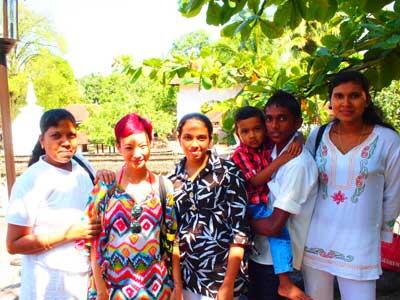 By this time, Clem was hissing to me, "KEEP THE CAMERAAAAA"
Manatau we'll end up with dozens of addresses of strangers to send pix to.
This trend continued throughout the rest of our trip!
I had to number all the jotted down addresses i received lest i mix them all up.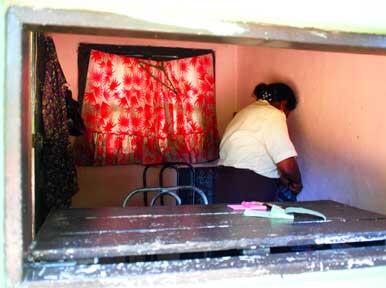 After the temple, we went to the Palace Gardens of Kandy for a looksee and small stroll.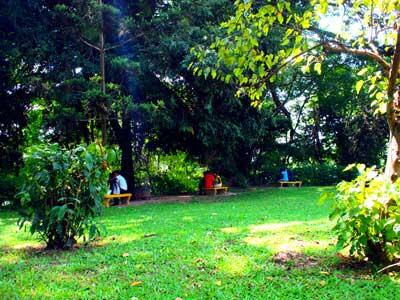 It was such a culture shock to see every bench taken up by a couple!
It was the total pak toh place man.
I tried counting how many couples i passed by,
and lost count at 30.
Reckon there were about 50 couples in that little park,
all staring curiously at us as we walked by.
They were all just sitting and talking to each other,
arms casually hung over the girls' shoulders,
or holding hands.
Didn't see any kissy kissy stuff.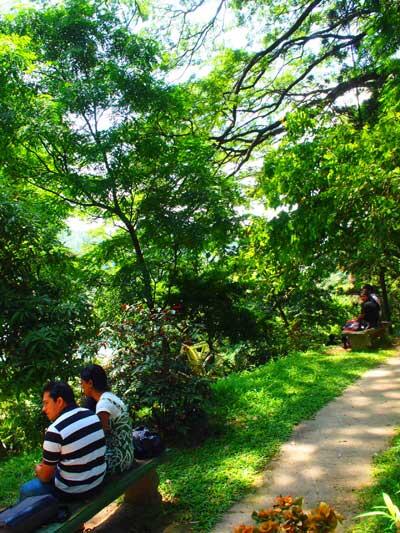 Since i couldn't even find ONE bench to sit on,
i settled for a swing.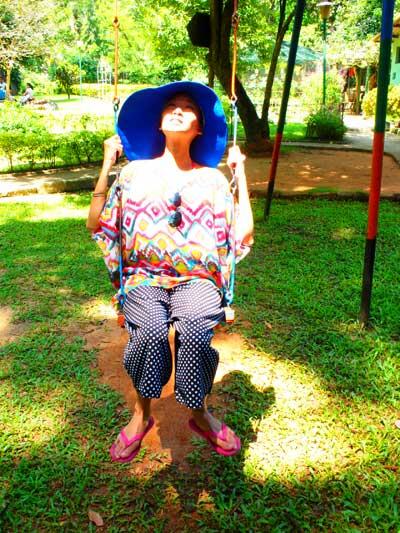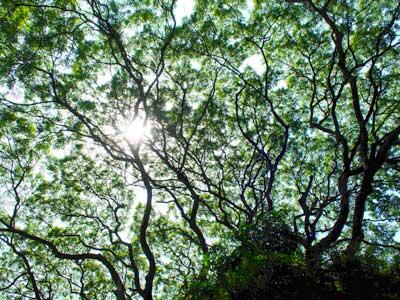 Ventured to town after that to potter about abit
and find lunch before leaving Kandy to make our way down South.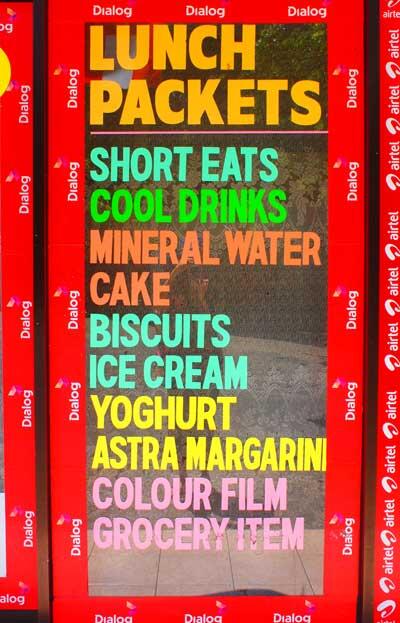 I've always liked observing fonts people use in diff countries.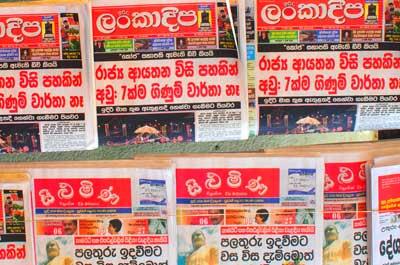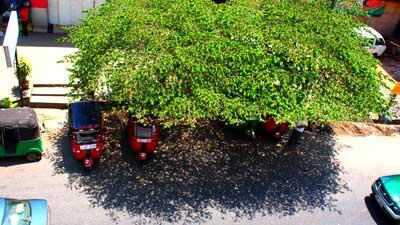 Aren't their trees just marvelous!?

Lots of women carried umbrellas cos it was JUST TOO HOT.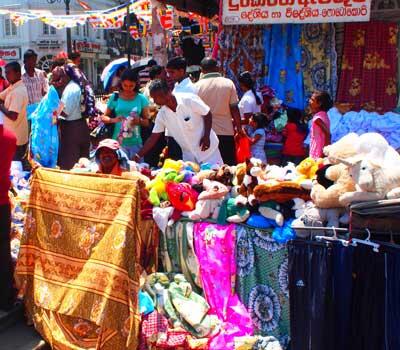 Spot the unicorn!
Guess all my wishful thinking managed a toy unicorn in Kandy after all!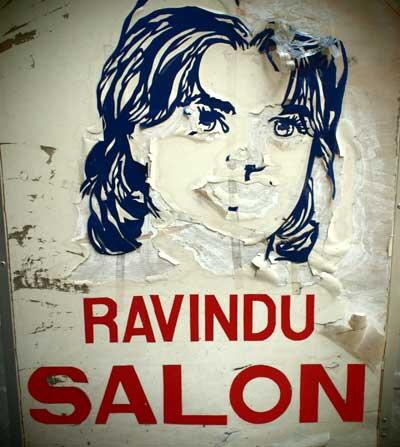 Clem really wanted to get his head shaved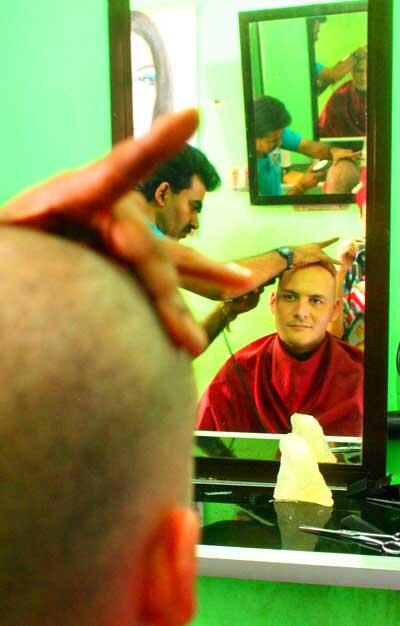 This random man took us to the barber…
and lured me to walk around a clothes market even though nothing there really interested me.
He was bargaining for me (things i didn't even want…!)
and i was afraid he was going to be one of those 'tour guides' that would pressure us for a tip after.
We asked him a few times to make sure he wasn't going to ask us for money,
he said he wasn't,
and took us to a food market next door.
I guess the catch was he was trying to sell us drugs!
He was being all shady and talking to Clem quietly and i guessed it right away.
We said no, thank you bla bla bla and sent him on his way.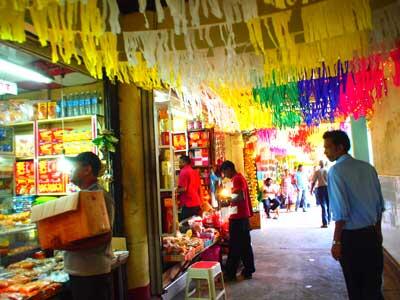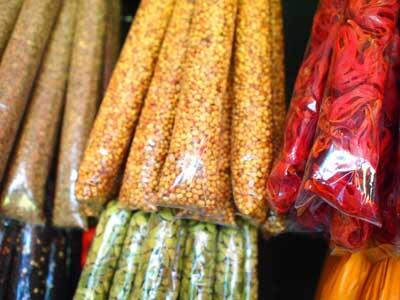 I bought some curry powder
which is just sitting in my kitchen cupboard
which i'd better not forget about!!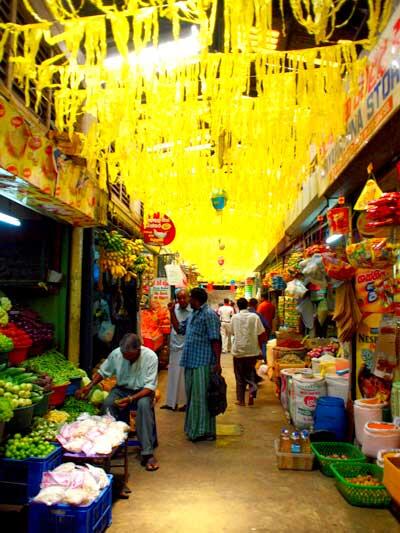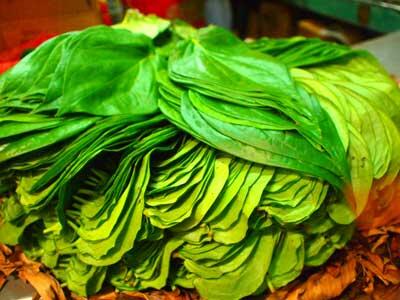 Betel leaves are larger than i imagined them to be!
Maybe cos 'betel' is close to 'beetle'
so i thought they'd be small >.<
The restaurant we were looking for was closed,
so we went to another that our driver Was showed us: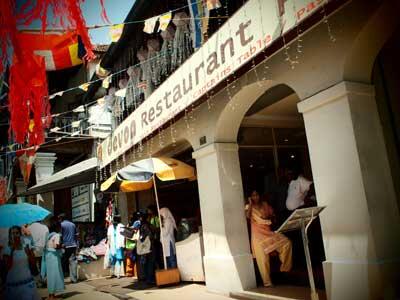 It turned out to be an AWESOME MEAL.
AWESOME cos it was cheap = RM3.50
and i got so many dishes to go with my rice!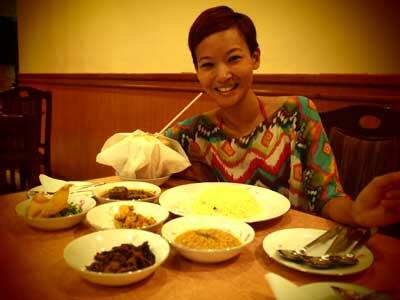 All that! For 100 rupees!
I think we were being overcharged previously…
the night before i had a menu taken out of my hands cos it wasn't stating the 'tourist prices'.
Most meals we had there would cost us 500-800 rupees / RM17-28 each,
which is a bit steep seeing they were just little restaurants.
Small roadside restaurants would charge us 500 rupees / RM17 for 2x people so that was alright.
Even breakfast at the guesthouses had a habit of charging 500 rupees per person.
So $ flew faster than we expected in Sri Lanka.
Still, that 100 rupees meal MADE MY DAY.
It was so good, i whacked it all!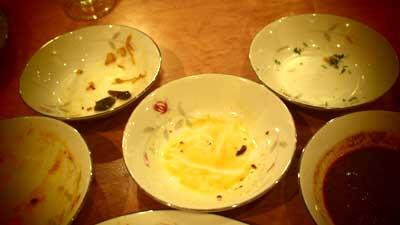 Another great thing about Sri Lanka is their seemingly endless supply of fresh fruit juices!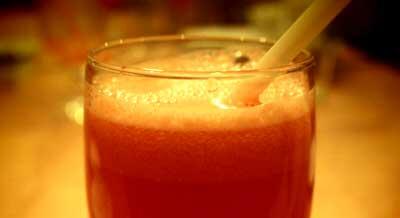 After lunch, we walked to the car to continue our journey,
and i spotted some denim being sold on the roadside.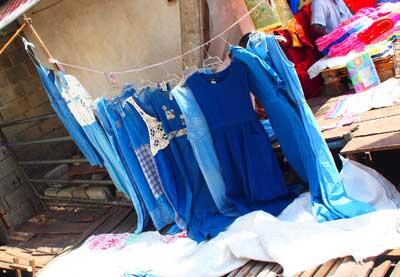 Managed to buy a denim dress that fit me to a T for RM17.
I think i could have bargained it lower,
but it was so hot,
and the guy was pleading that he's poor and needs money.
Hard to bargain la liddat