JUST SO HAPPENED everything i wore today is from Topshop.
I HAD to walk past it last week on the way to an event,
and faltered.
Faltered badly.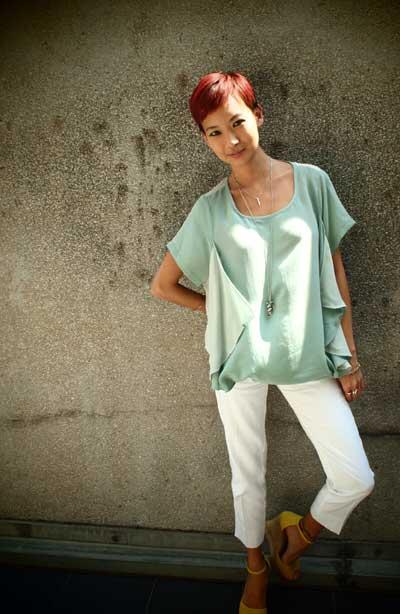 Lunch turned out to be a quick takeaway at McDs at 3pm
cos i was busy at a press conference and a meeting
and didn't want to cancel my hair appointment with Ming.
I've been so busy that i've resorted to snipping away at my own sides
with a scissors in the bathroom.
Well not anymore!
Today, i was going to MAKE SURE that i got my hair done.
And done to an extent that i wouldn't have to make time to cut it for another month or more.
Anyway, back to my lunch,
i don't consume fast food very often.
Only on the occasion that:
1. I'm too busy and if i don't just grab something, i will die.
2. I have a dream about KFC with major cravings after.
I didn't know that McDs has started a No Plastic Bag campaign.
So i didn't get one to carry my takeaway Coke in.
Which i thought rather odd.
Hey, y'all know i'm a recycle freak.
I cut down taking plastic bags whenever i can.
I take plastic bags from the supermarket so rarely,
that Clem has ORDERED me to take some cos we had none to throw the trash out in.
But when it comes to a cold drink in a flimsy cardboard cup
with a dangerously fragile plastic cover,
i would think THIS might be one of those rare occasions i submit myself to a tiny plastic bag.
I asked for one but they said no.
I said "Oh-kay," when i was really going "Oh no," in my head.
Me attempting to transport a cardboard drink without a carrier is not a good idea.
You should see the way Clem watched me when i was walking on the side of a cliff in Sigirya.
At one point i waved my arms to catch my balance and his eyes opened so wide i could see the whites all around.
Anyway, i was very optimistic that i wasn't going to be clumsy today,
this very special day.
While i was in the car, i was so thirsty,
that i picked it up and,
yes, you guessed it,
the stupid flimsy top popped right off and
spilled half of my bloody Coke all over my new silk top and white pants.
My new white pants.
Do you know how hard it is to find a pair of white pants that fit you?
The last time i bought a pair was in 2007 from Zara.
So there i was, trying to save my PANTS
while driving down a hill in Bangsar (i HAD to spill it at the part i'm going down the hill right!)
At this point, my (often absent) rational side spoke out and went,
"Really Joyce, save the car, or save the pants?"
I sorrowfully let the Coke seep into my pants while i concentrated on the road.
There was so much Coke it soaked into the middle of the seat,
right where i was sitting and into my underwear.
Told Ming what happened,
and when i mentioned all the places the Coke got to,
including that really private one,
he said, "Now that's a real Happy Meal."
I just burst out laughing at how he managed to turn something tragic into something dirty.
Luckily i could take everything off and borrow his clothes (which are girls' clothes anyway
)
while he put my Coke-tainted loves into the pail to soak.
I watched as he tilted two full caps of Dynamo with it.
"Ming! Why are you putting so much!"
"What? This is how much i always put! The more the better."
"You're like a Chinese aunty…" (like in the adverts)
"I am a Chinese aunty."
After scoffing down my lunch,
i got him to SHAVE OFF all my sides again.
So much for trying to keep it long.
I got inspired by this picture of a really cute Japanese girl with a bouncy bob,
and tried to grow my hair out to a bob,
but i just can't.
It's too hot.
It gets in my way.
It sticks out when i don't have time to blow it down.
It sticks out when i wake up.
It sticks out like Chicken Little after i wash it.
Shaving it is just going to make my life so much easier.
Clem loves it.
He's always been trying to get me to keep my shaved sides,
cos it was like that when we met.
"You're soo cute today! Just like the first day i met yoo!"
"The first time you met me, you thought i was a lesbian, remember?" 

"Yeah… but eet ees because you were kneeling in front of a girl when i first saw you."
"She was doing my make up for me!"

 Talk about first impressions.
KinkyBlueHistory:
1 year ago, Yishyene and i spent a weekend in Surrey and Kent
2 years ago, i was begging to return to Bali, and got mad at lousy dinner.
3 years ago, i got my fourth tattoo.
4 years ago, i was a busy party bee.