You all know i'm a lover of the environment.
I love being surrounded by nature,
and am always running off to the forest or beach!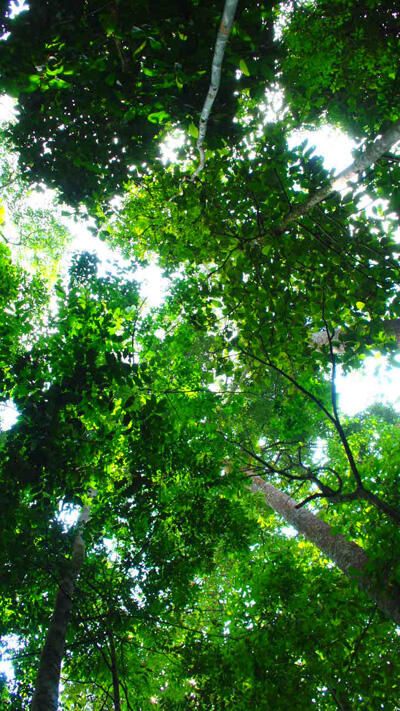 Most of us take the world we live in for granted,
and even i feel guilty as a consumer for all the products i use, and waste i contribute to;
hence the recycling i do as much as i can in some sort of way to play my part in BEING here on Earth.
One morning, a group of us headed to Sungai Tekala Recreation Forest in Selangor
where Sloggi officially announced its 2011 Love World campaign –
a bid to increase conservation efforts.
Big thumbs up from me, i say!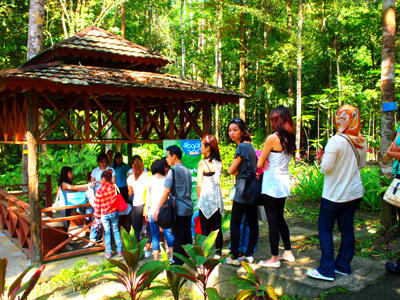 I couldn't believe there was a queue in the middle of the forest for the event… :p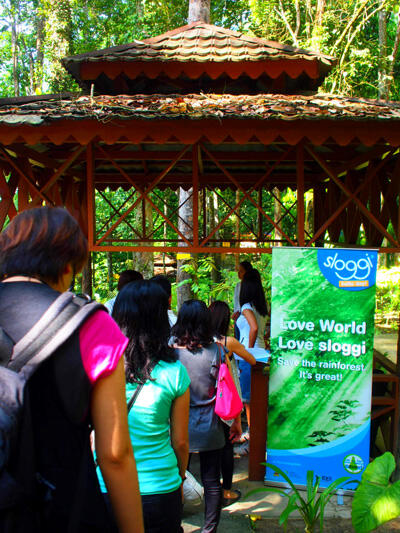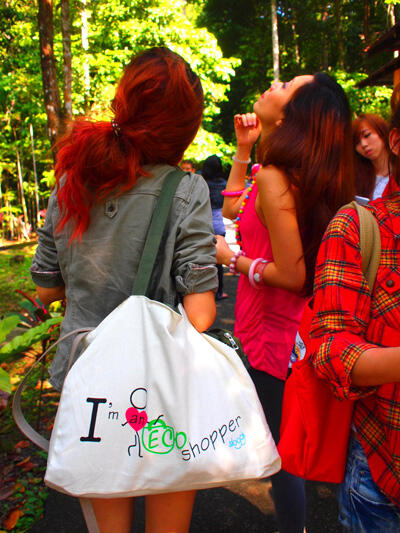 We each received a free eco shopper bag from Sloggi!

Sloggi has teamed up with SensitivEcoSystem® Project
(that's the Italian fabric manufacturer used in Sloggi's Love World collection)
and World Land Trust™
(a non-profit org. that protects remote regions in Brazil, Paraguay and Argentina)
to save the threatened rainforests.
With every 1 metre of Sensitive® Fabric used in the Sloggi Love World collection,
1 square metre of the rainforest is pledged to be saved.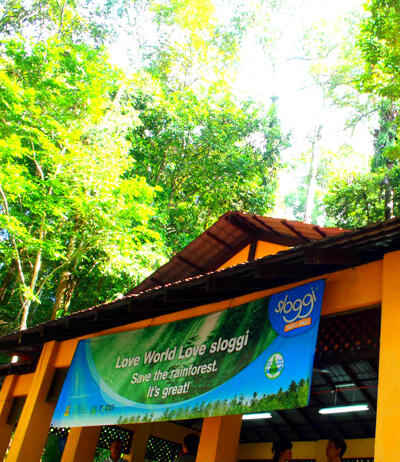 In Malaysia, Sloggi has partnered with local environmental NGO > Treat Every Environment Special (TrEES)
to do their bit in conserving and protecting Selangor State Park.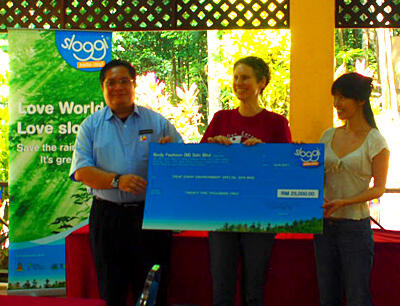 Sloggi pledged to donate RM25,000 from profit sales of its Love World collection to TrEES,
which will fund environmental protection initiative "Communities for Conservation".
This initiative will educate youth on the Park,
and ultimately make them effective agents of change.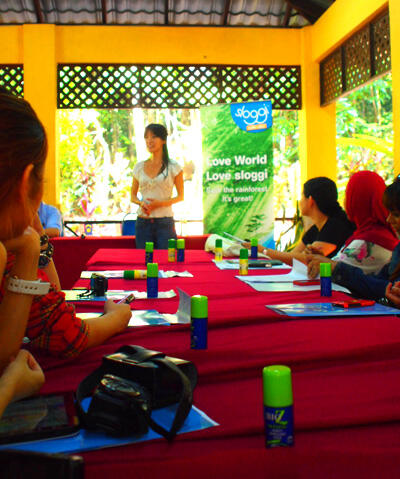 See all the bottles with green caps?
They be (necessary) insect repellent.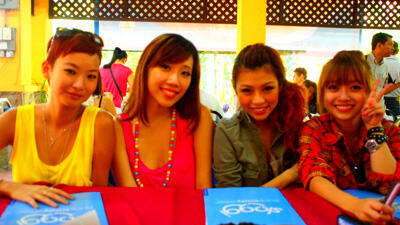 I couldn't believe they were all wearing false eyelashes in the morning.
The only thing i could prioritize at 8am was to grab a cupcake to eat in the car.
To wholly grasp the beauty of the Park,
we were taken for a little hike so we could really absorb the environment.
<3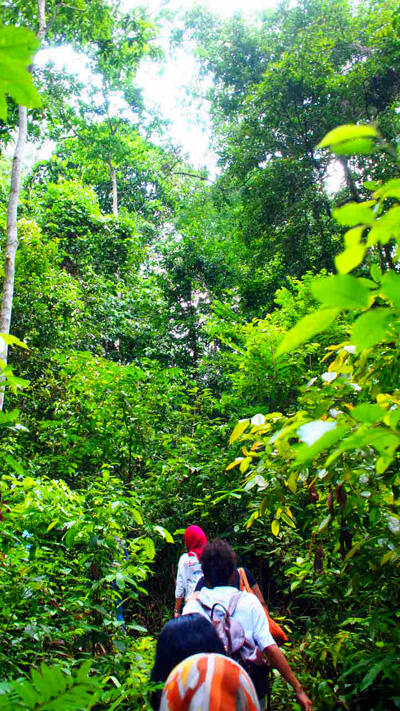 Some interesting info bout the Park!
Selangor State Park
– is the 3rd largest forest park in Peninsular Malaysia.
– represents a significant portion of natural forest remaining in Selangor.
– provides 98% of water supply in Selangor, KL and Putrajaya.
– is essential in the climatic, hydrological and ecological balance in Selangor, KL and Putrajaya.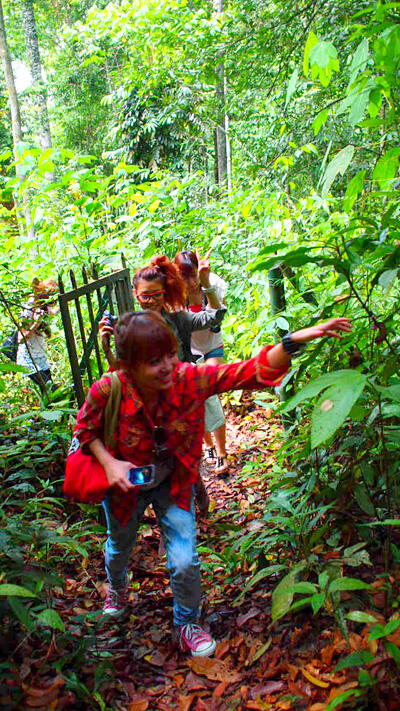 Was trying to take a pic of Aud but she was too busy trying not to fall, to look at cam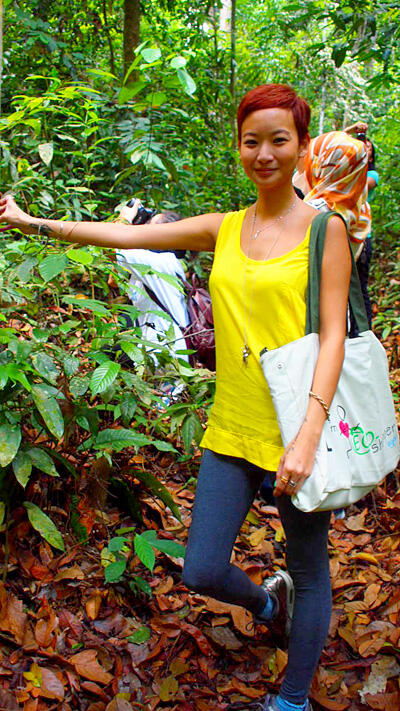 I'm leaning on a tree fyi. Not plucking anything!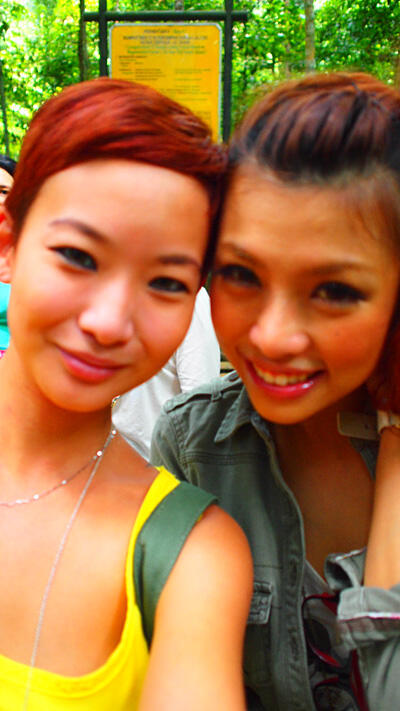 Ringo and i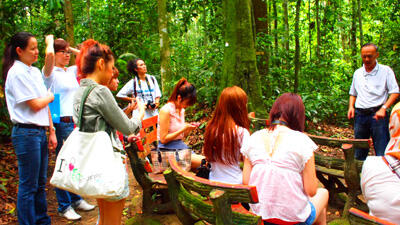 We took a short break in a clearing with seats,
as we were told more about the Park and how it provides natural flood mitigation
– by absorbing large quantities of rainfall and acting as a natural buffer against flooding.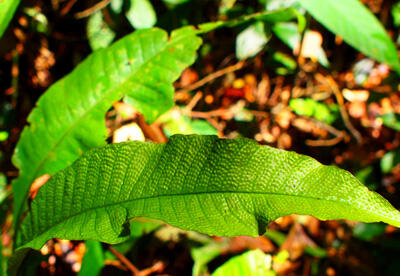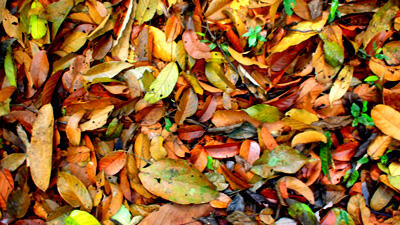 Me and my leaf obsession.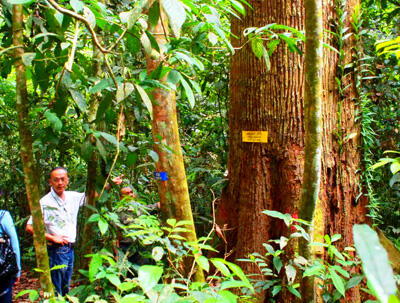 This tree was pointed out to us to be roughly 120 years old!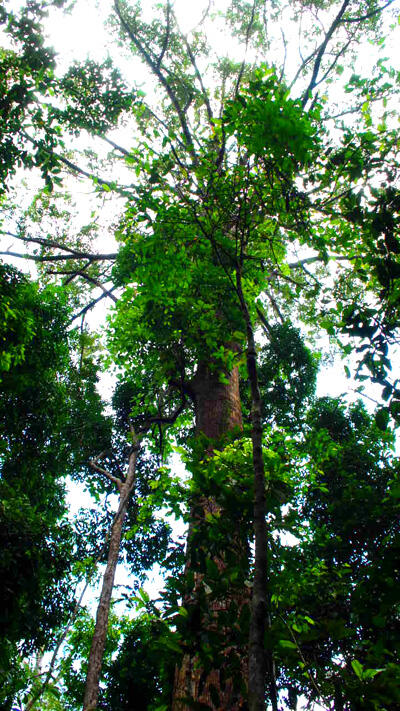 *awe*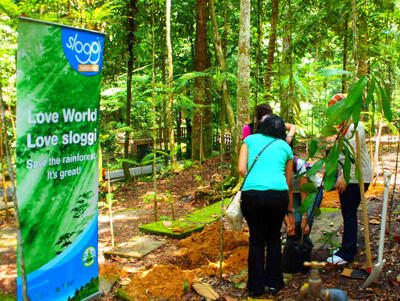 After the hike, we were treated to a tree-planting activity!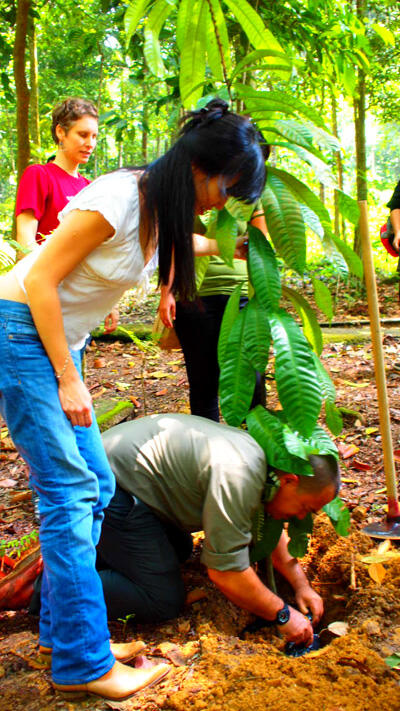 I used to play around with seeds when i was little (okay, little-ER),
and would plant something that i found that looked like a seed,
then observe in wonder as it grew for weeks on end.
(I think my father finally pulled it out cos i did plant it in the middle of the garden)
But i've never actually planted a TREE before…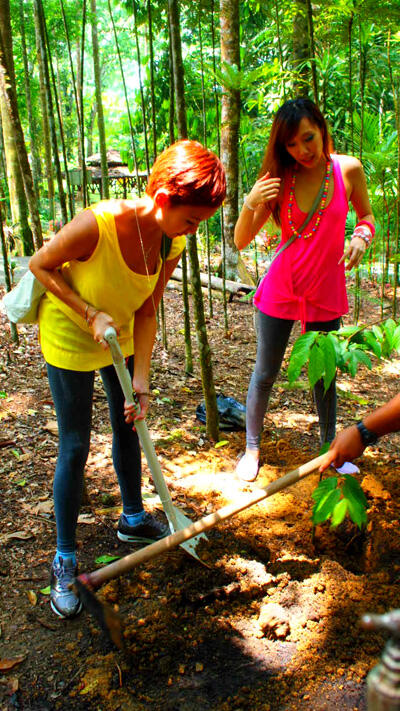 Using a hoe isn't as easy as it looks on TV :p
I need to work out more *puff*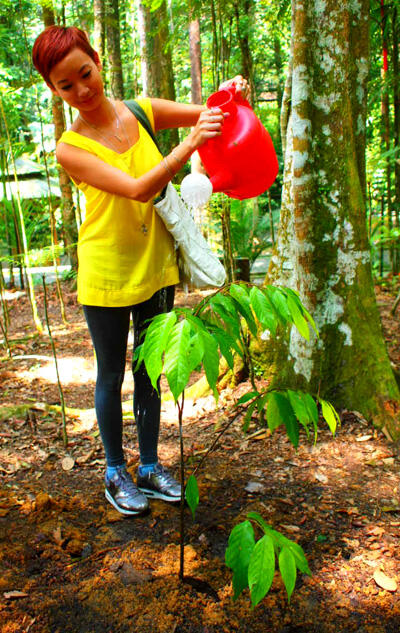 The easy part – watering!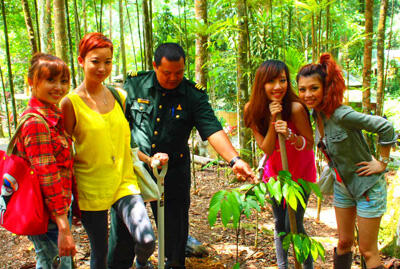 Audrey, me, the park ranger who did most of the hoe-ing
, Cindy, Ringo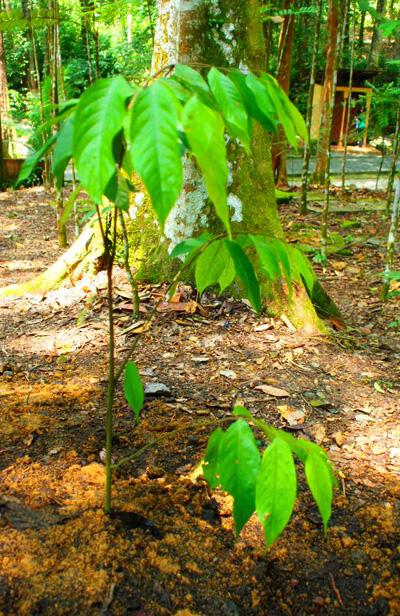 Our tree!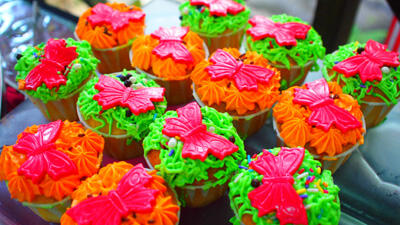 There's nothing more rewarding than colourful cupcakes to reward us for our hard work 
+ + +
For a whole week after that, i tried and tweeted different ways we can all do our part in conserving energy, the rainforest, and ultimately, the environment for as long as possible!
Day #1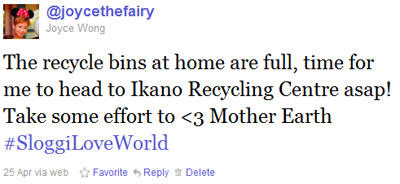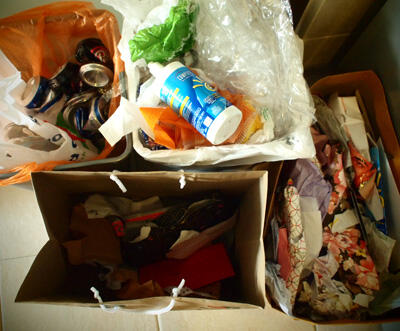 Clem couldn't stand how i insist on recycling everything when i first moved in with him,
but now he's used to it (condition them! haha) and angelically washes the cans before squashing them.
We recycle as MUCH as we possibly can in our apartment – every little scrap of paper/plastic and of course, glass and aluminium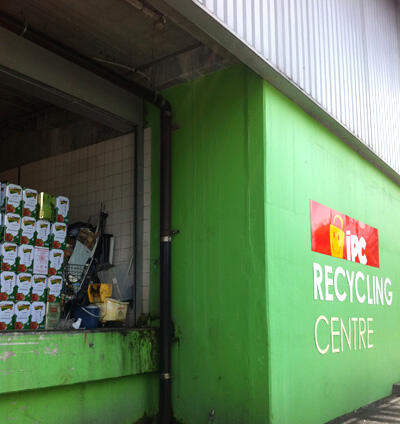 Every time they're full, i drop them off at what was previously the Ikano Recycling Centre,
now called IPC.
It's so easy cos you can just park your car RIGHT next to the bins,
chuck everything and leave!
+ + +
Day #2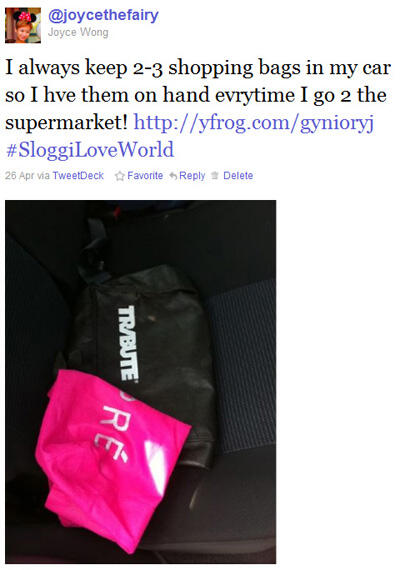 I used to keep just 1 shopping bag but i kept on forgetting to put it back in the car,
so now i have 2-4 in the car at all times!
+ + +
Day #3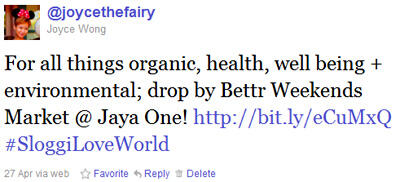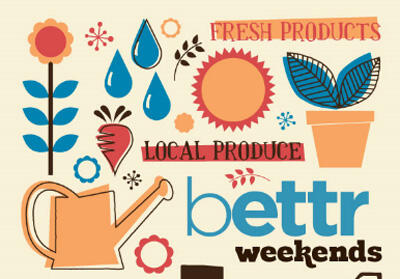 I blogged about Bettr Weekends,
a market focusing on all things organic, health, well being and environmental.
+ + +
Day #4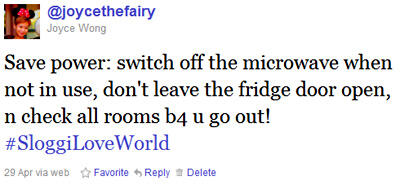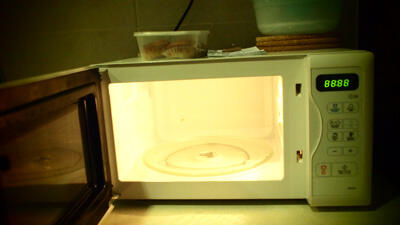 One day, Clem and i had this debate about whether to leave the microwave on.
I said it uses power.
He said it doesn't.
I said, look, the lights stay on when the door is open (which it has to be, else it'll smell).
So i won.
But now, it's like he's challenging me to always
– remember to switch off the water heater
– not stand in front of the fridge while i decide what to eat
I've created a monster.
+ + +
Day #5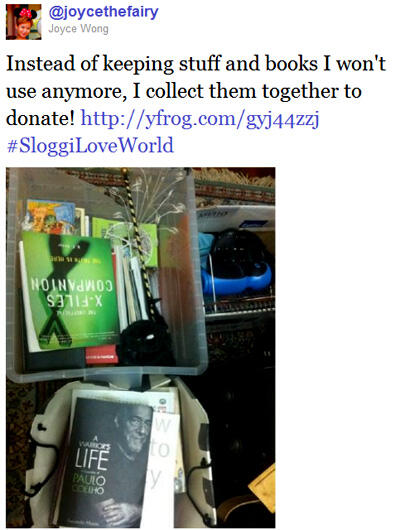 Let's face it, there are heaps of books i have that i'm never going to read again.
No point hoarding them, plus they take up space!
+ + +
Day #6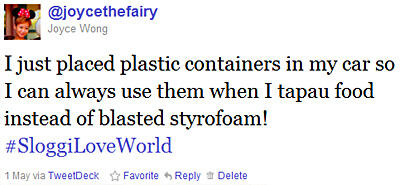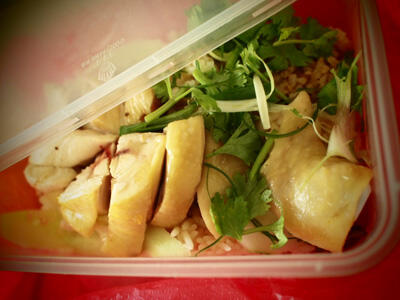 Ok i admit that i hate that non-biodegradable material called styrofoam,
but never took any effort to tapau my food in plastic containers before.
Most i did previously was tell the waiter NOT to use styrofoam and give me the food in plastic packets which i can empty out into plates at home.
So now, i keep plastic boxes (which we all get from taking away from other places) so i can use them to tapau my chap fun or chicken rice.
I must admit the Chicken Rice Man gave me a surprised look when i handed him it.
I wish there were cheaper options for him to give takeaways in!
+ + +
Day #7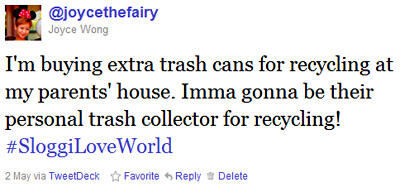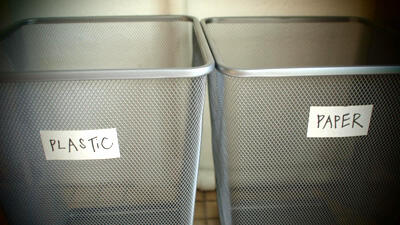 I went to Ikea JUST TO BUY these.
And my mom said it's going to make her house messy -_-
and that she recycles her paper and glass and tin cans anyway.
Just that she hides them somewhere i never see cos i'm obviously being more obtrusive than she.
Oh well, i'm just going to LEAVE them there and hope they use them for every small thing soon…
+ + +
I hope the steps i blogged about will urge you to try some of them,
if not for yourself,
then for the world your children will live in.
And if you're gonna tell me you don't want children,
i'm just going to say, "Is that the best response you can give me? Just say la you're selfish!"
We're all in this as consumers in a city,
and the LEAST we can do is reduce our own carbon footprints.
Also, if you need new underwear, you know where to buy them!
Remember, every 1 metre of Sensitive® Fabric used in the Sloggi Love World collection,
1 square metre of the rainforest is pledged to be saved.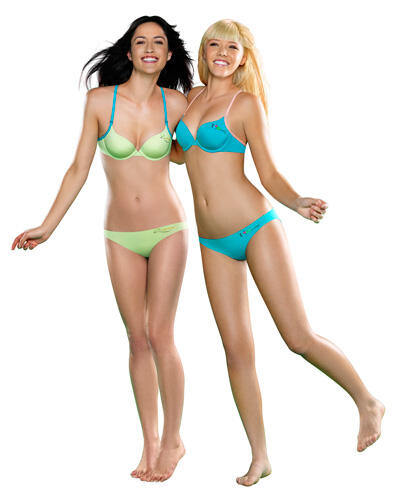 The Sloggi Love World 2011 collection is available in all major departmental stores.