As i get slightly older and realise i'm not as invincible as i think i am,
i start getting more interested in products and activities that will help prolong my life.
I like to live fast.
But i don't want to die young anymore.
Maybe it's because i'm with someone i really care about.
And thinking about all the adventures i want to have with him makes me worry about the quality of our lives,
and how long i can make it last.
As long as possible please!
The great thing about being in a city and having the internet,
is finding out about all these events that make my ears perk up.
This Sunday, there will be a street market called Bettr Weekends.
Focusing on all things organic, health, well being and environmental;
the market will only feature vendors committed to personal, social and environmental well being.
(So… will there be beer if some ppl feel that it contributes to social well-being?… I kid i kid!)
(Actually, no, i guess you know i'm not.)
If you're interested in organic veggies,
natural products for some pampering,
or good ol' organic home-baked yummies,
click on the flyer below for a day of eco-friendly fun!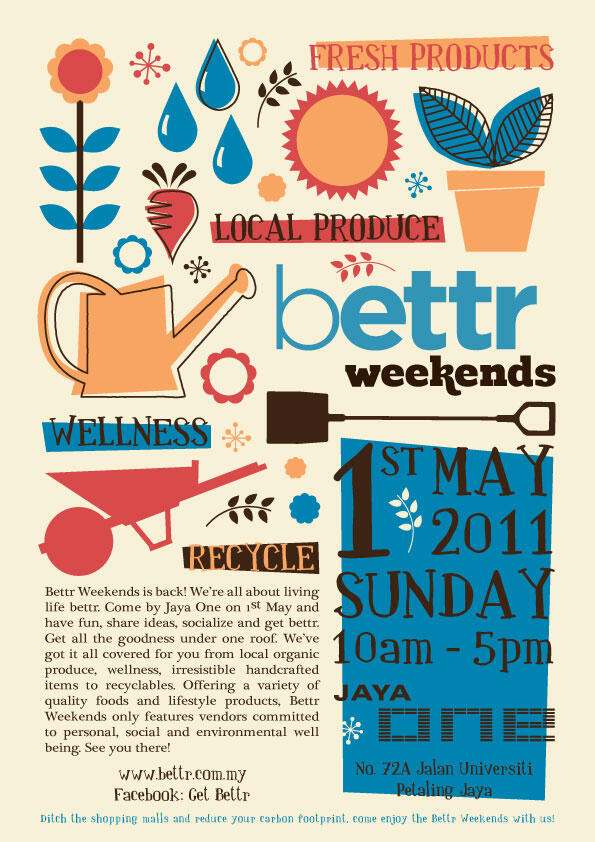 [click for larger view]
Visit www.bettr.com.my for more details!