The Whitest Boy Alive will be performing in KL on 22nd March!
Read on to see how you can grab yourself some free tix from KinkyBlueFairy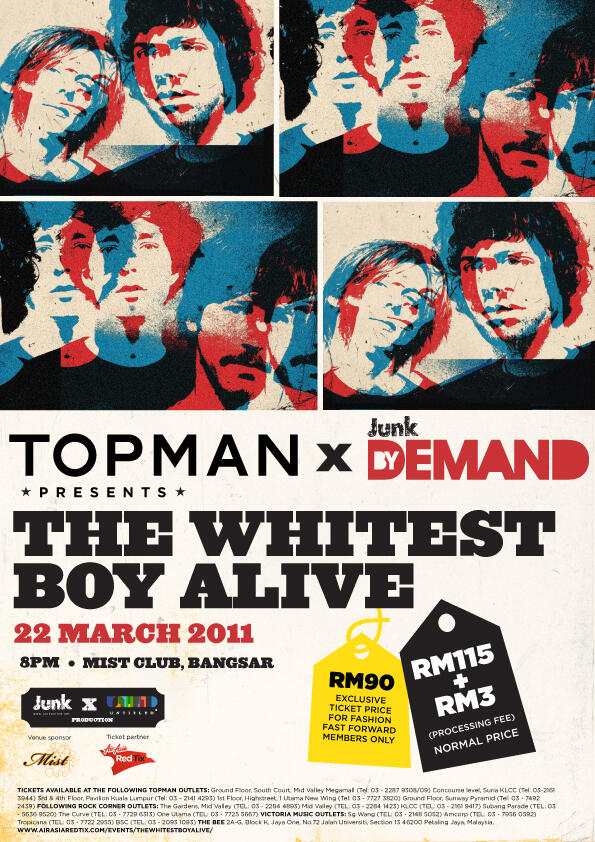 "Founded in 2003 as an electronic dance music project,
this Norwegian-German quartet has evolved over the years
into a band without any programmed elements.
Groovy elements of funk and disco,
coupled with infectious melodies are sprinkled generously throughout their sound.
With two albums to its credit, 2006's "Dreams" and 2009's "Rules,"
The Whitest Boy Alive's knack for making melodious dance/pop music with conventional rock band instruments shines right through in tracks like "Burning," "Gravity," and "1517".
This world tour sees them hitting Colombia and Mexico before swinging into Asia." [source]
Tix: First 200 to buy via the RedTix site.
RM90 + RM3 (Processing Fee)
Normal Price
RM115 + RM3 (Processing Fee)
For more info and details on where to get tix,
visit their Facebook page *here*
+ + + + +

I'll be giving away 2 PAIRS of tickets to 2x winners!
To win, tell me in one sentence what their song(s) makes you feel like doing.
I.e. The song Burning makes me feel like taking a road trip thru Bali!
Just comment below or email me at joycethefairy@gmail.com.
Closing date: 11th March Friday 2011
: : Edit : :
Congrats to SueLynn and Liketati for winning the passes!