Took a break between work to
grab lunch and pick up a rabbit.
As i was driving down the highway
a big brown leaf was being carried by the wind
and i smiled cos it was so pretty
then i took the wrong turn off 
I must be the only person i know
to be distracted by a leaf
sehingga boleh ter-turn salah
Ate with Kubhaer at Decanter @ Bkt Damansara
I had chicken chops
He had hokkien noodles
We both had red wine
A fly decided to commit suicide in my glass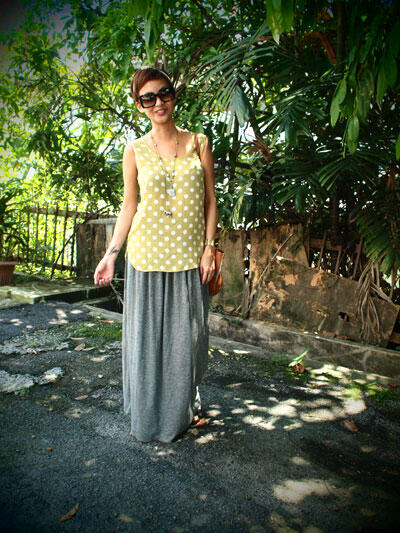 i'm wearing >
polka dot top; vintage, thrifted from lah lah land
grey skirt; zara
pig jade necklace; present from aunt
elephant necklace; h&m, present from faithemai
sunnies; marc jacobs @ selfridges
shoes + bag; bimba & lola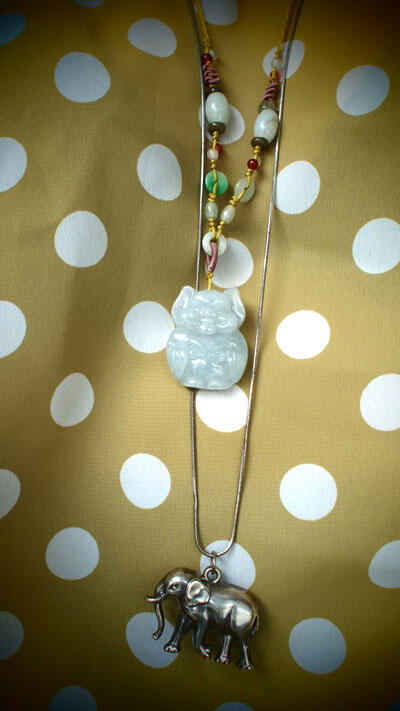 I told Kubhaer how i was going to drop by Thomas Sabo after lunch
and get a rabbit pendant for myself
Sorta like a Chinese New Year token.
The rabbit i had my eye on looked a bit fatter in real life
and my attention wandered to
a green water lily leaf
a feather
then finally
a strange animal that has a rabbit head + ears
deer horns + webbed feet + wings
I had to stop myself from laughing at it.
So i told the shop girl, "Forget the feather. I'm getting this, it makes me laugh."
And she laughed too.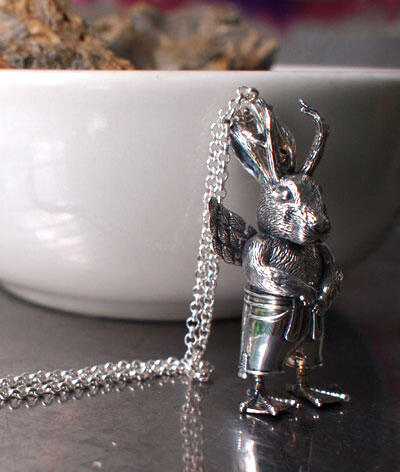 He's such a strange creature!
Like what sort of person would DESIGN something like this?!
(And ultimately, what sort of person would choose it… 0_-)
I showed it to my mum and she said, "It looks like a monster."
I WhatsApped a pic to Kubhaer and he said it looks like the rabbit from Donnie Darko
to which i strongly disagreed cos THAT rabbit was really scary!
Besides, mine wears shorts and has wings!
"I don't care i love my rabbit!"
"It will bring you luck and joy and happiness."
"Hey i don't need pity rabbit love."
"It's really nice i like it. Maybe i need to see it in person."
"Maybe. He said he doesn't want to meet you now."
"Maybe i was wrong. Maybe i'm sorry."
"Maybe you should give him ang pow
"
"…"
Ok so i totally lost the plot
and instead of getting a sweet white rabbit
i got this weird funny one with duck feet (i'm giggling as i type this, how can it not make you laugh!?)
Here's a post to it being my lucky charm for the Year of the Rabbit!
Happy Chinese New Year to everyone!!!