Did you know that the first Oktoberfest took place in Munich in 1810?
That's 200 years ago!
The event initially started off as a horse race, in conjunction with a royal wedding.
Throughout the decades, it evolved to become the event that it is today – a celebration drawing 5 million people to Munich annually; with the rest of the world joining in with festivities of their own!
In KL, i went for the Oktoberfest that happened at Sid's TTDI.
Being the most popular bar hands down in the neighbourhood for the past two years,
it was the perfect venue for me to meet my friends there,
check out the festivities,
and drink to Oktoberfest!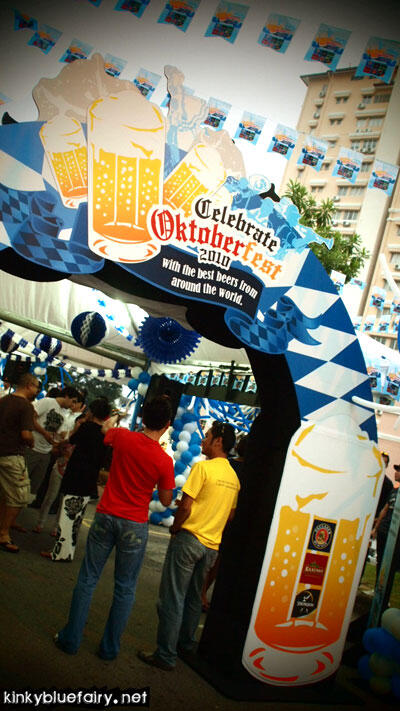 The Facebook event invite said it's to start at 6pm.
Some friends of mine were joking (not) to meet at Sid's at 5:59pm.
I swear this is one of the only times people actually arrive BEFORE the event is to kick off.
Was quite surprised on how big the party was,
i thought it was just gonna be taking place in the bar itself,
not spreading out to take up the whole road with balloons, signs and stalls!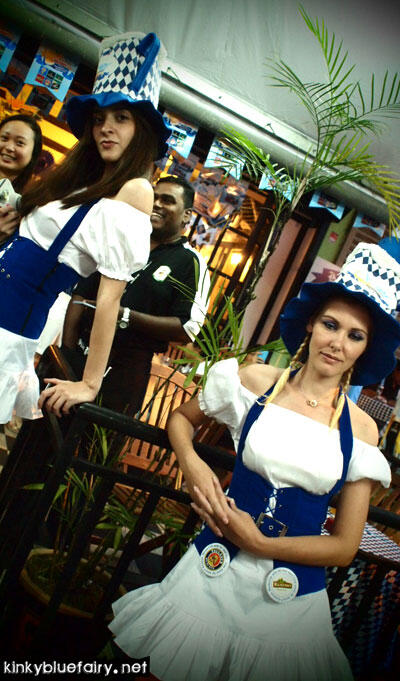 First things first.
And drinks come first.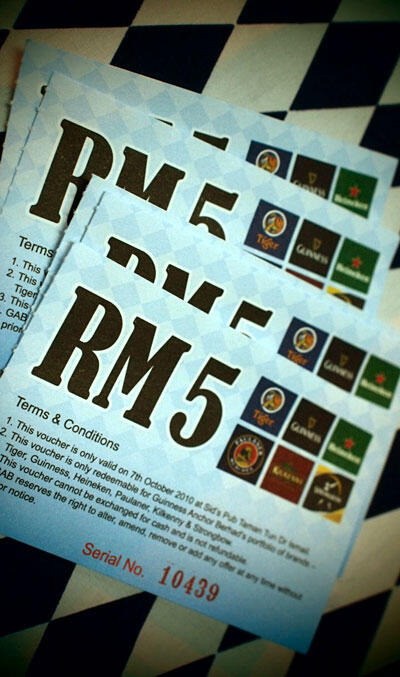 I found out where to buy the vouchers, and purchased them before heading to the various taps for beers like Tiger, Guinness, Paulaner, Heineken, Kilkenny and Strongbow.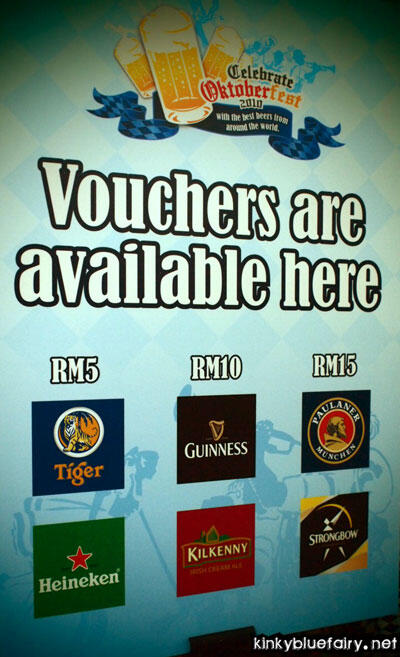 I've had countless pints of Tiger, Heineken, Guinness and Kilkenny,
and thought it'd be a good opportunity to try something i don't usually drink since they were having promos.
Paulaner and Strongbow were the most expensive there,
and since i'd already tried tens of pints of Strongbow at the Isle of Wight fest,
i figured i'd go for the Paulaner, the only beer i haven't tried before.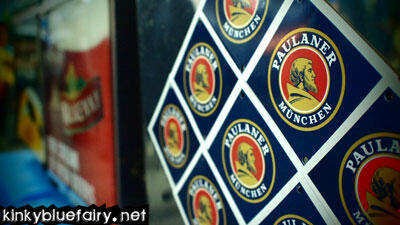 Brewed and imported from Munich, Germany;
Paulaner is said to be the No. 1 German wheat beer
and is one of the official beers at Oktoberfest in Munich.
All the more reason to try it that day.
I'm surprised that my friends and i haven't tried this beer before…
(with probably the exception of Deep.
That dude has probably tried brands i've never noticed!)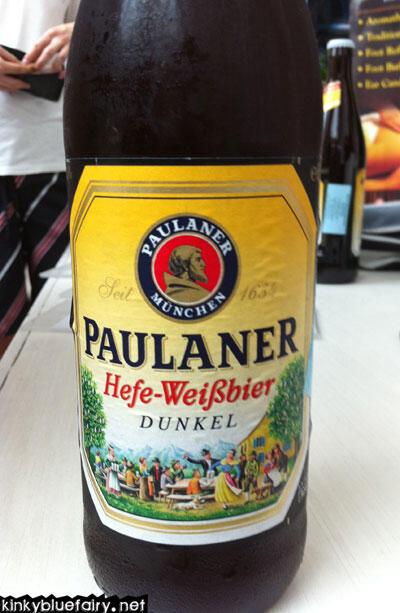 I read somewhere there are 4 brews under Paulaner,
and tried their Weissbier Dunkel – a medium-bodied one with a dark camarel hue.
It's quite yummy, and i like that its consistency has a 'wholesomeness' to it.
There's a slight sweetness to it, and i can imagine this would go great with some food.
Drink in hand,
i walked around to see what was going on: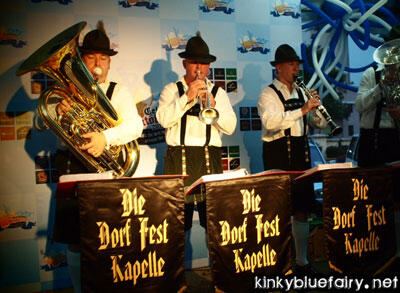 A small (but very loud!) German brass band provided skippety beats.
It was really very jovial and made me feel like bopping my head from side to side while sipping on my Paulaner.
The band tried getting some volunteers up to dance,
and nobody did till they mentioned that there were free drinks for all participants.
It was quite funny so see an eager few silently slunk up to the front of the band once they said that!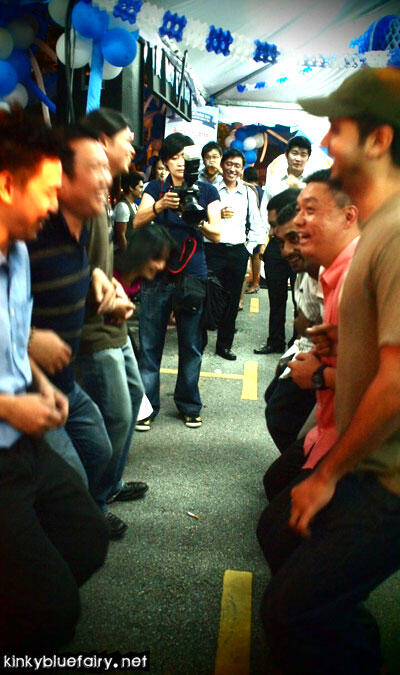 Everyone had to do this amicable little dance where
they'd lean to the left,
lean to the right,
squat down,
stand up,
and do it all over again.
I bet all they were thinking of were the alcoholic rewards they were getting for it!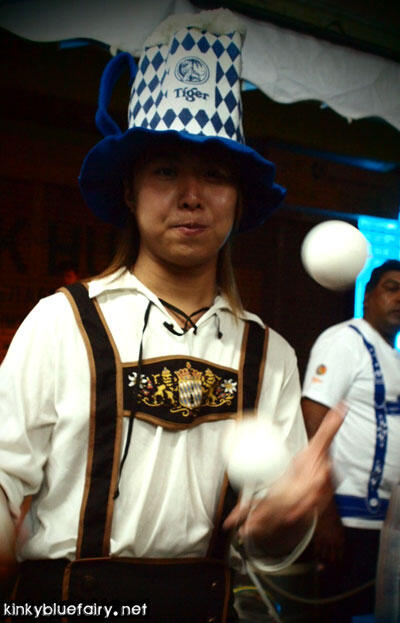 Juggler dropped a ball which hit my foot.
But it was okay.
If someone had spilled a beer on my new shoes,
that would NOT have been okay.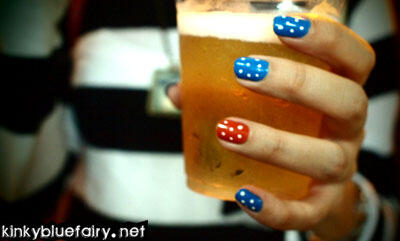 Petrina's nails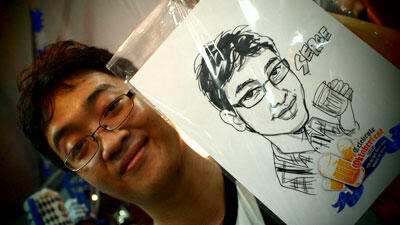 I thought the caricature would be interesting to do (my last one being a disaster in Bangkok),
but the line was an hour long,
so i turned around and said to a stranger, "Time better spent drinking!" and walked out of the queue.
He laughed at me.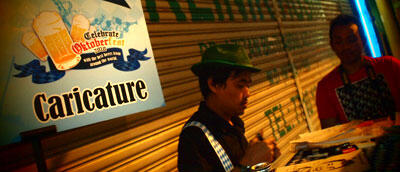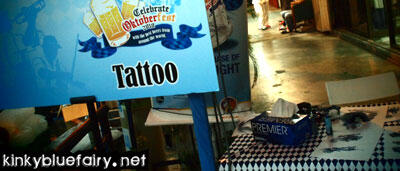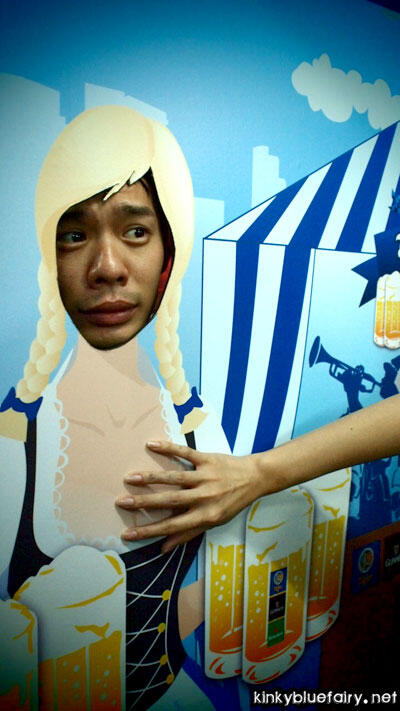 Niki Cheong getting molested in a 2D way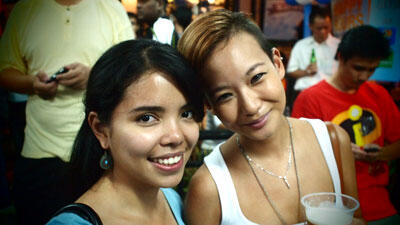 I met a couple of the Nuffnang peeps from the Philippines!
Above is Batty Patty, and below is Carlos.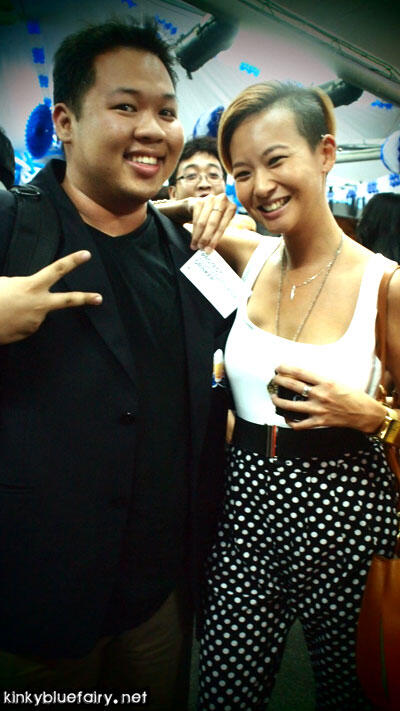 i'm wearing >
top; zara
polka dot pants; thepoplook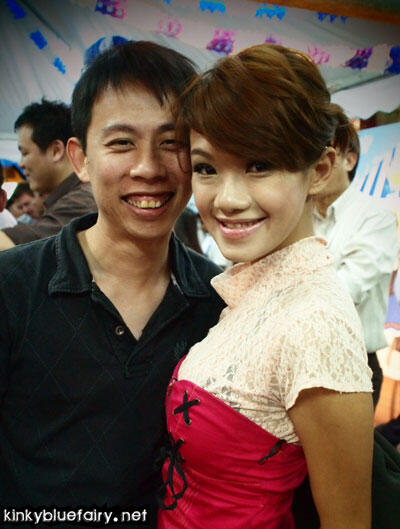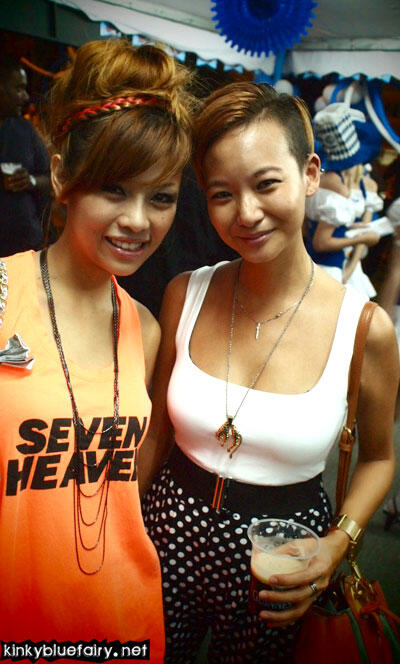 CheesieRingo + i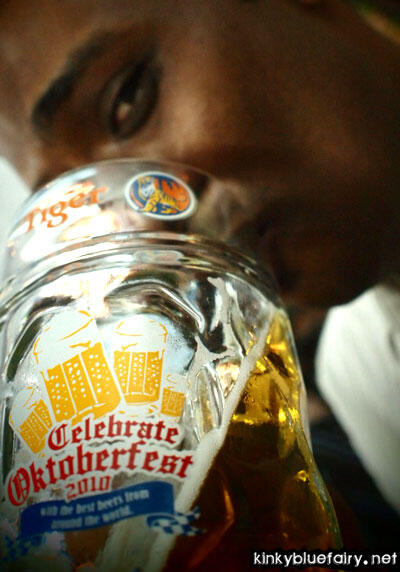 Hope you all had a happy safe tipsy Oktoberfest too!