Been procrastinating getting a full medical check up for some time now,
and dragged my sorry ass to a great family doctor (Dr. Teh) @ Uptown.
Got the works:
Blood test, urine test, pap smear,
medicine for some skin condition,
oral contraceptive consultation,
and hmm that's it.
Even went so far as to drop by the optician right after,
to find out what my current power *really* is.
It's increased by 50 
(to a blind 500)
as has my astigmatism 
On a more positive note, i grew taller by 1cm!
I'm still growing!
Haha!
Back to more serious stuff.
I don't understand the whole taboo about getting a blood test…
I remember when i first joined Freeform, i told Adrian i'd be coming in to work an hour late,
cos i was gonna get my blood test.
He asked why,
and i said, why, doesn't everyone get it every year?
And he said, no i don't know where you've been.
-_-
Then another friend told me how his colleague overhead him telling the doctor on the phone that he wants to get a blood test, HIV and all the works,
and they freaked out.
-_-
I remember reading somewhere that you should get a full blood test
at least once a year (okay, so i didn't get mine for two years but i went today!)
so you'd know how your organs are doing (i'm afraid for my liver)
as well as any abnormalities in certain cell count that suggest something's wrong.
As for pap smears,
i recently blogged about how it can alert women to cervical cancer (the most common cancer amongst women after breast cancer)
so you can read about it there.
+
I got the most colourful pills i've ever been asked to take in my whole life…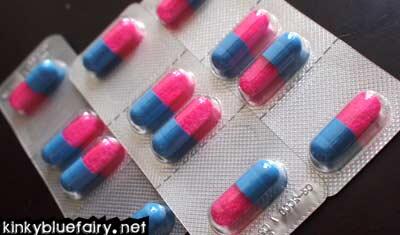 for this fungal skin thing that's been spreading on my back (panau?)
It's not obvious nor serious,
but i've just been pretending it's not there cos it doesn't bother me.
And recently it has, cos i'm vain (there, i'm saying it)
and it's getting more obvious and i just wanna get rid of it.
Then i asked the doctor bout oral contraceptive pills cos i've decided i will try it out again,
after not taking them since 6 years ago.
I'm thinking how ironic it is, cos just last year i was asked to write an advertorial about oral contraceptives,
and bluntly turned it down as i couldn't relate to it (nor did i want to bluff)
and why can't people just use a freaking condom?!
Then now that urm we're using condoms like they're free,
i started discussing with other girlfriends the best pill to use.
So far, all seem to be around the same,
with minimal side effects. (I got Regulon.)
Girls on Twitter were asking about whether they cause weight gain.
From my memories of the pill in college, yes, they did cause me to put on a lot of weight (5kg!)
but it may have also been attributed from late night snacking on a daily basis.
I just wanna know… what pills are you on?
Do you get any side effects?
I just wanna know, so if it sounds better,
i may switch brand!