Wow.
It just hit me that exactly SIX YEARS AGO, i wrote my first blogpost HAHA!
+ + + + +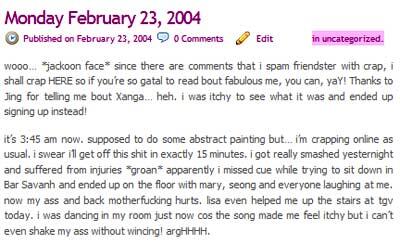 + + + + +
Just spent some time reading through my archives,
and i realise how much i love this blog.
It has all my memories of me going through college,
parties and raves (now dragging me out to a club is a bit hard :p),
incessant drinking (hmm that hasn't stopped),
friends i used to be close to, friends that i'm still close to,
boyfriends and all the stupid funny things we'd do with each other,
increase in holidays as i slowly managed to earn more money 
,
and other pinnacle moments in my life (heartbreak, my dog Steven passing away),
as well as working my way up from 2004:
photographer > writer > freelancer > managing editor > blogger (!)
Someone asked me (in all seriousness) how much it would cost to buy my blog a few nights ago.
At first i was taken aback cos this is unheard of in Malaysia.
And the past few days i've been thinking RM300,000?
RM600,000?
RM800,000?
RM1 million?
RM1.2 million?
How can one put a value on memories?
I can't.
I don't reckon these people are as emotional about it as i am.
Because it's my life.
My emotions, my photographs,
all spilled out on a little space on the www,
validating my existence in some way.
The blog is me (but i am not the blog).
And i feel if i sold it,
i'm selling a bit of my soul away.
Does that make sense?
Well it does to me anyway!
Anyway as always, i went off tangent.
Happy 6th Anniversary KinkyBlueFairy (gawd i wish i could change your name so people would stop asking what it means!)
Thanks for being an outlet for me to bla bla bla
Watch myself grow
Record all my memories
And make a living out of doing something that was unheard of when i first started you.
To all my (silent) readers,
man, i know you're there cos Google Analytics doesn't lie to me,
but you sure are quiet!
Thanks for reading and following me on this blog 
Maybe, for all the stuff i've shared with you here,
you could do one thing for me?
Tell me your most memorable post on KBF