Just got back after a tiring 7-hour flight from Madrid > Doha,
a 7-hour transit in Doha,
then a 7-hour flight from Doha > KL.
I pretty much went to the airport still drunk,
had 2 hours sleep,
and with a new piercing on my right ear as a souvenir for myself from Madrid.
I miss Barcelona already.
I'm totally in love with the city,
spent a whole day walking around and exploring all the different lanes and shops,
ate + drank at various cafes and pubs,
made friends with some ppl at a hippie store,
watched an underground performance who sounded a LOT like Regina Spektor…
I vowed there and then to return to Barcelona by myself to stay for a few weeks to a month.
I love its charm and character.
DAMN I MISS BARCELONA!
Back to KL and reality for a while,
my mission for the next 2 weeks is to catch up on blogging
and
clean my room for Chinese New Year.
-_-
Anyhoo, i haven't been able to take part in any flea markets in KL cos i've been away of recent,
but will be doing so this Sunday!
Organised by Streething and Femmething,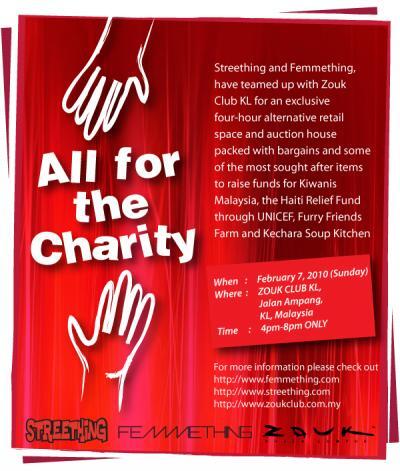 On February 7th, 2010, Zouk's Mainroom and Phuture will be transformed into an alternative fashion/lifestyle retail space, where numerous labels and independent stores will be serving up tantalising special offers in a collective effort to raise money for Kiwanis Malaysia, the Haiti Relief Fund through UNICEF, Furry Friends Farm and Kechara Soup Kitchen.
Participants include Nike, adidas, PF Flyers, Limited Edt, Rock Corner (CD selection by DJ XU), Nooka, Sup Clothing, Lah Lah Land, Tea & Sympathy, H Store, Juice KL, Sole What and many more. A comprehensive list of vendors is being updated daily over at the Streething and Femmething websites.
The highlight of the event though is the exclusive auction area, where we've teamed up with retailers, brands and lots of generous people to offer an array of goods that have either never been available in Malaysia, or were quickly snapped up and are now highly sought after. We'll be offering them below suggested retail prices, and those who wish to bid up will be glad to know that 100% of their payment will go towards charity.
The auctions will take place sporadically throughout the event; keep checking Streething and Femmething everyday to find out what items we will be auctioning off. The timing schedule will be released at the event itself.
Sunday, February 7th, 2010. 4pm – 8pm.
Zouk Mainroom and Phuture at Zouk Club KL, 113 Jalan Ampang, Kuala Lumpur, Malaysia.
No cover charges and open to all ages.