I've been meaning to blog about this for a long time,
and had it on my list of Things To Blog About since 2 years ago.
It's about time i did.
On a few occasions while chatting to various girlfriends,
the topic of health, taking annual blood tests, and Pap smears came up.
Out of all these girls i spoke to,
only half of them went for these check ups.
After they heard all our (the ones who went) reasons on why you HAVE and MUST go for them,
there were 2 reactions to it:
1. They said they'd go, and did. 

2. They said they'd go, but never did. 
To be honest, i'm kinda appalled…
(and i really don't want to be like your mother nagging you about something you as an adult should make a mature decision to do!)
I know you may feel shy on having to spread your legs for a gynae,
or you may say it's expensive.
Or you're just lazy.
But this is your health we're talking about.
Not something where you can turn back time and WISH you went for a check up –
so you could have prevented an infection (you didn't even know you have) from getting worse,
or some imbalance in abnormal cells in your vajayjay (that prove as an early detection tool against cervical cancer).
Cervical cancer is the second most common cancer in women (after breast cancer)
Here are some figures for you to understand how widespread the disease is:
Globally,
500,000 cervical cancer cases are reported annually
80% or more of these cases are from developing countries
270,000 deaths occur each year from cervical cancer
Every 2 minutes, a woman dies of cervical cancer
In Asia Pacific,

266,000 cervical cancer cases are diagnosed in Asia Pacific
143,000 women from this figure die from this disease
41% of women in developing countries receive necessary treatment to survive
Every 4 minutes, a woman dies of cervical cancer
Cervical cancer is caused by the HPV virus (amongst other factors like smoking, and sexual habits)
It's estimated that 50-80% of women will acquire a genital HPV infection in their lifetime,
with 50% of those infections potentially cancer-causing.
Now, there are over 100 types of the HPV virus.
Out of these 100, 15 of them cause cancer.
And out of these 15, there are 2 particular ones (HPV 16 and 18) that cause up to 70% of ALL cervical cancers worldwide.
Good fact: There is a vaccine targeted at HPV 16 & 18, potentially preventing 70% of cervical cancers.
Scary fact: Progression of cervical cancer disease may have no symptoms hence it can remain undetected.
I know i project such a live-fast-and-die-young image, 

but i'm also not in denial of preventive measures i can take for my own wellbeing. 
I myself have regularly gone for Pap smears for the past 7 years,
and got my cervical cancer vaccination shot last year  (i just didn't blog about it whoops).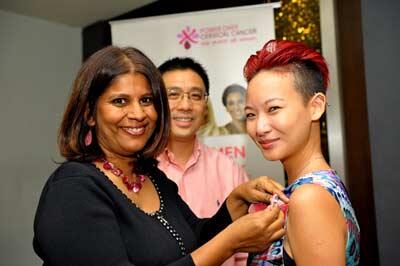 To take this further,
i've recently joined the National Cancer Society of Malaysia (NCSM)
as one of their Digital Ambassadors on board their Power Over Cervical Cancer (POCC) campaign
[supported by GlaxoSmithKline (GSK)]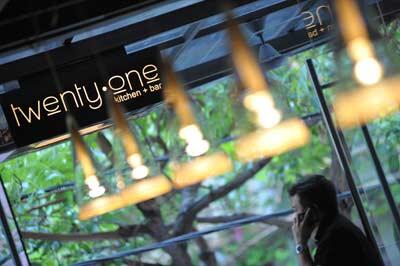 A media event was held two weeks ago at twenty.one kitchen + bar,
to launch the Pink Mobile for 2010.
The Pink Mobile is a vehicle that will be making scheduled stops nationwide.
At the Pink Mobile, women are encouraged to complete the Cervical Cancer Risk Questionnaire,
to build awareness and create public involvement.
For EVERYCervical Cancer Risk Questionnairecompleted, GSK will contribute RM1 to the National Cancer Society of Malaysia.
In 2009, a total of 14,526 people took the questionnaire,
hence the same amount in RM was donated on that day at the event: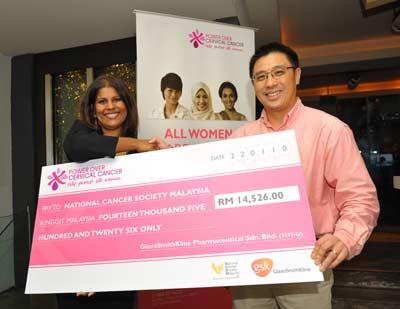 Dr. Saunthari (NCSM) & Mr. Choong Kit Son (GSK Business Unit Dir.)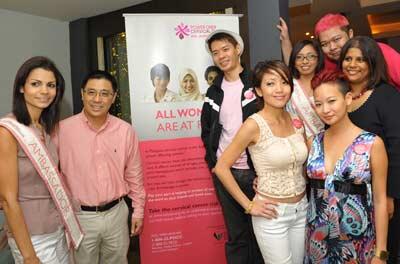 The event also introduced the new Digital Ambassadors for 2010: myself, Niki Cheong, Serena C, Joe Lee, and Yvonne Foong.
Other ambassadors for Power Over Cervical Cancer: Rina Omar (who emceed that day), Jay Menon, Pamela Chong, Vanessa Chong, Sarimah Ibrahim,  Siow Hui Mei, and Genevieve Sambhi.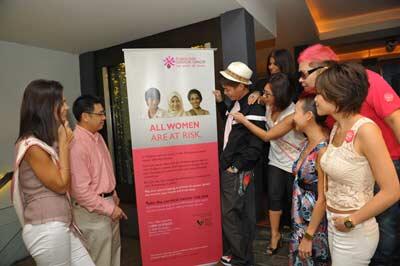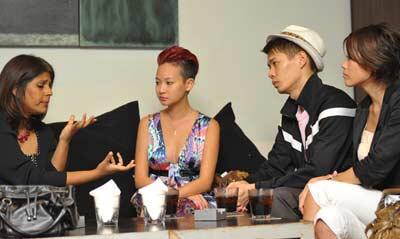 Dr. Saun speaking to us in all seriousness about NCSM
Quick facts about NCSM:
– established in 1966 to provide education, care and support services for ppl affected by cancer
– financed entirely by voluntary contributions from the public
– is the first cancer-related NGO established in Malaysia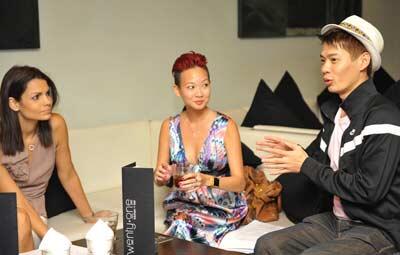 Genevieve Sambhi (herself a survivor of cervical cancer), me, Niki
What You Can Do
1. Get your Pap smears done at least once a year
It doesn't take long, it assures you everything's okay down south, and it gives you peace of mind.
2. Enquire about cervical cancer vaccination
Your family doctor will know. Just ask.
Different ages require different vaccinations.
3. Take the Cervical Cancer Risk Questionnaire and forward it to family and friends
Take the Risk Test *here* and RM1 will be donated to NCSM
Email your friends and family to do it, blog about it, tweet about it.
*Males are also eligible to take the Cervical Cancer Risk Questionnaire (because you all have mothers/sisters/cousins kan)
For more, visit:
www.pocc.com.my
www.cancer.org.my
+ + + + + +
(i don't even like this picture but whatevs -_-)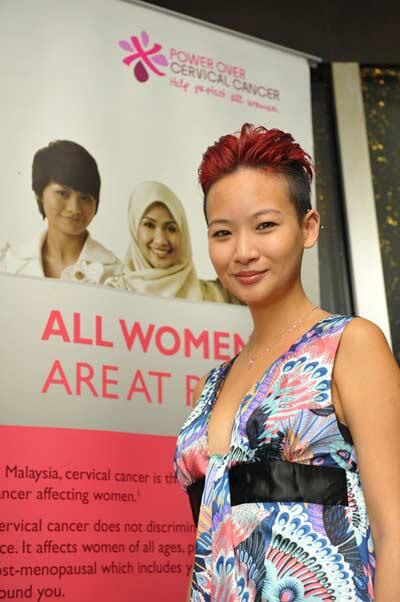 Other media coverage:
Utusan, 8 Feb 2010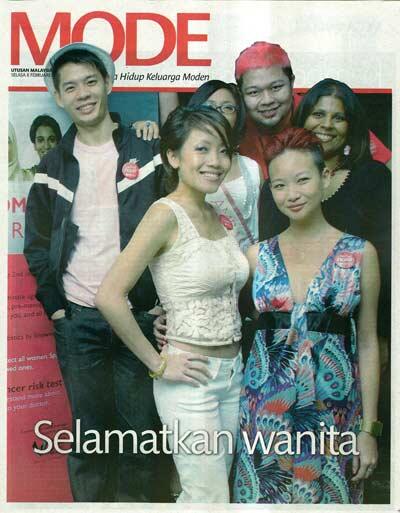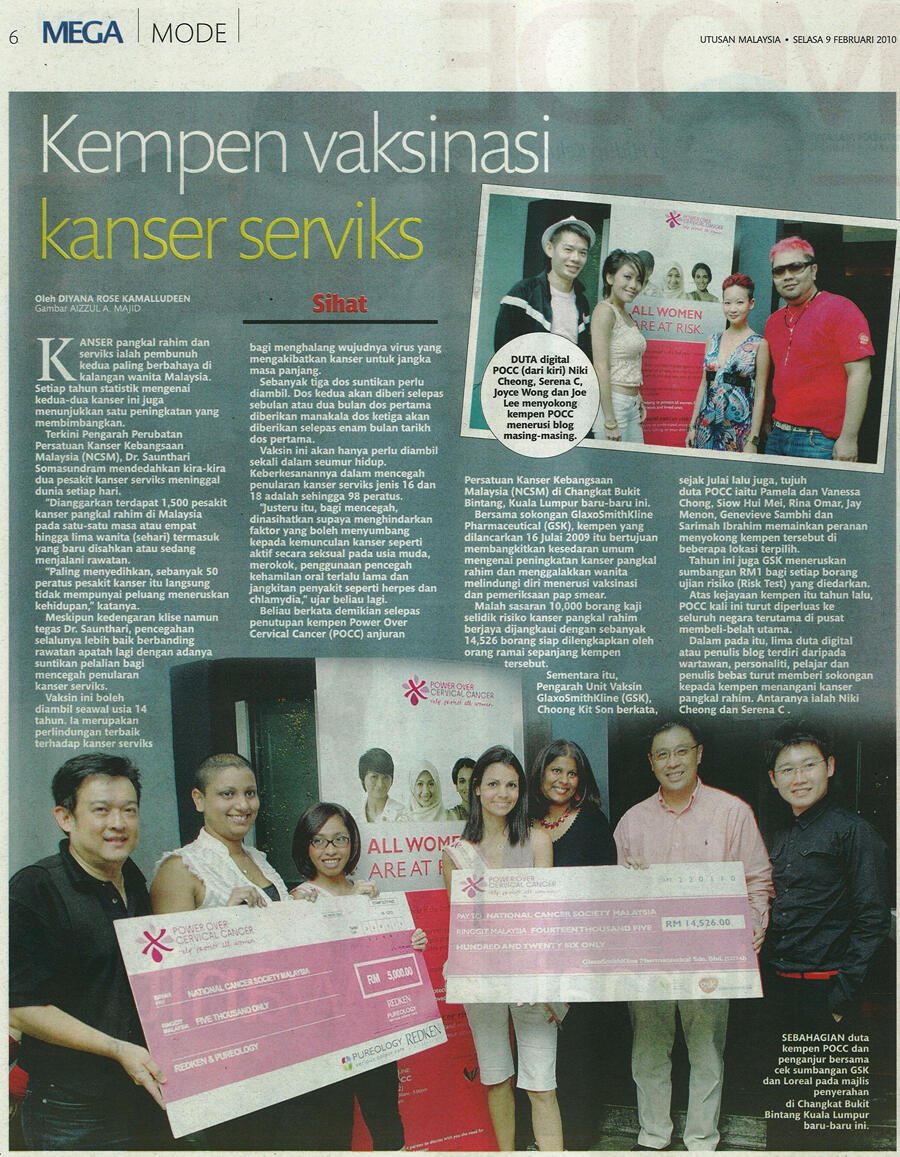 [click for larger view]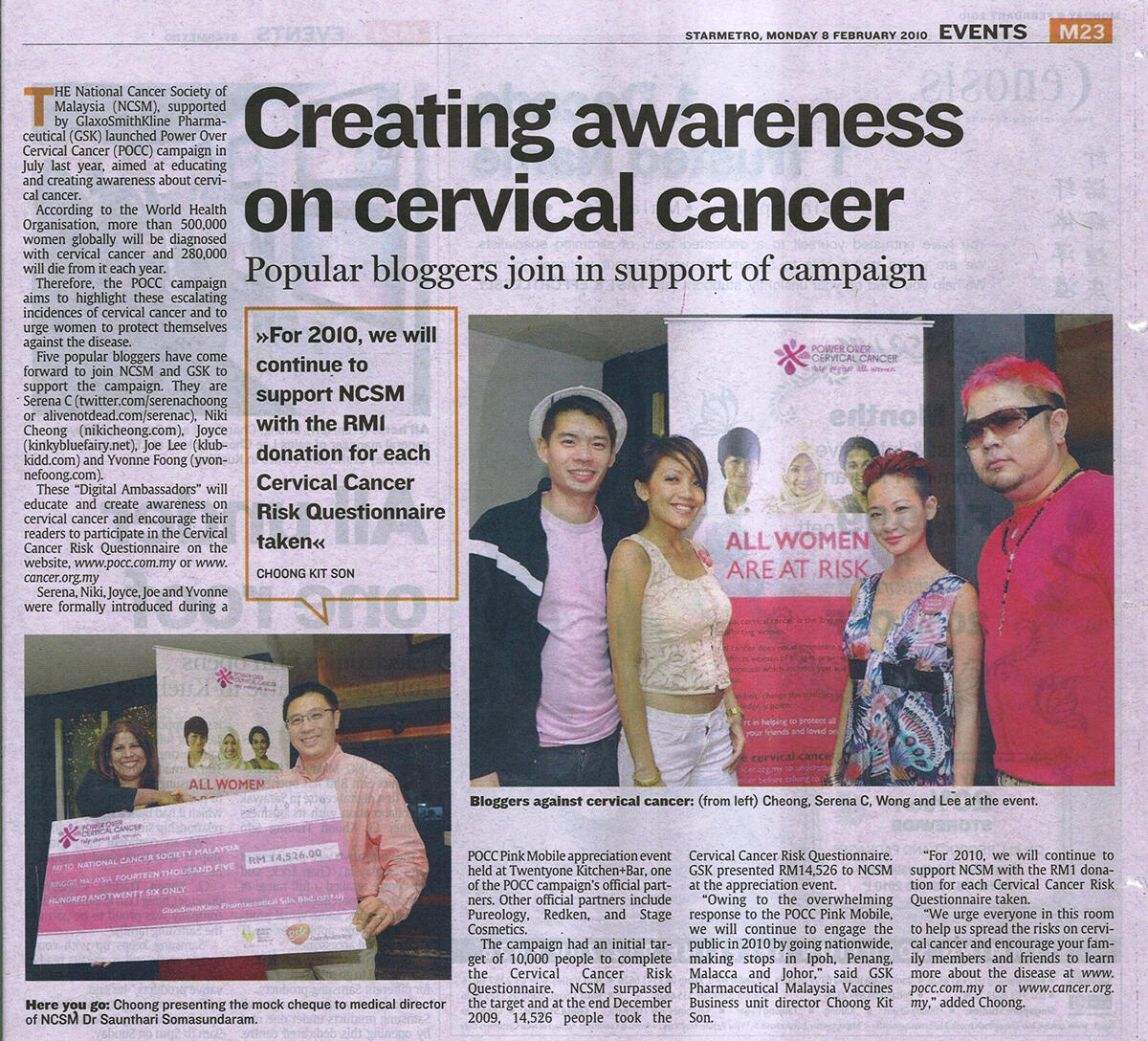 [click for larger view]
Related articles:
Klubbkidd: Buat Kaum Hawa
Niki Cheong: Bloggers Against Cervical Cancer
The Star: Creating Awareness on Cervical Cancer 2010
Sun2Surf: Facing up to Cervical Cancer 2010
Life & Times: Cover Story 2009