(i know that pink IS fuchsia okay… pls don't write some stupid comment below and make me nosebleed -_-)
The past week has been the most horrible weather to do laundry!
Everyone who's been following me on twitter keeps on asking me why i don't just send it to the dobi.
Look, i've been doing  my laundry since ever,
and i sayang my clothes too much for someone else to handle.
If the washing screws up, colour runs, sequins break off, or items shrink,
I'd have noone else to blame than myself.
So… i actually LIKE doing laundry okay >.<
Watching the clothes tumble round and round in the machine is kinda therapeutic!
I swear on fairies.
The other day was red + orange laundry day
(yes, i'm really anal, and i do all my laundry according to colour batches :p)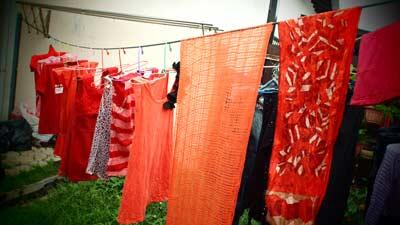 Then i cleaned my room out since i'll be away most of the time till Christmas.
Separated all my trash into paper + plastic (not really any aluminium or glass) to recycle.
KBF Community Service Announcement (haha, but not really a haha matter if you know what i mean!):
Do separate your trash to recycle… it's really really not very difficult at all,
and there is SO much paper one can recycle from all the stuff you (especially girls) buy – receipts, paperbags, shoeboxes, etc.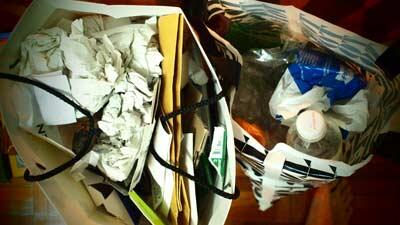 On Sunday night, i met up with AshleyTheMonkey cos i haven't seen her for quite a while,
and wanted to see her engagement ring and hear how the proposal went 

She told me bout how one of our close friends (hmm can you guess who you are!!!) is SO non-environmentally friendly
that she leaves all the lights on and gets her sheets washed every day!
Not even talking about recycling okay…
I was like, "What the fuck -_- There i was recycling every scrap i could in my room, and she's doing the opposite?!"
Super -_-
+ + + + +
My mom and i watch The Biggest Loser next to each other sometimes,
and it's just such sit+stare stuff on TV, then we end up watching the whole show.
Plus, it makes me feel like a bum for not working out as hard as they do.
Biggest Loser Asia is premiering tonight at 9:30pm on the Hallmark Channel


Reason i'm posting this is 'cos TL, my ex-apartment mate and one of the NICEST guys i know,
is one of the producers for the show!
+ + + + +
Went to have lunch with Tong,
and saw a brill sequined jacket in Warehouse.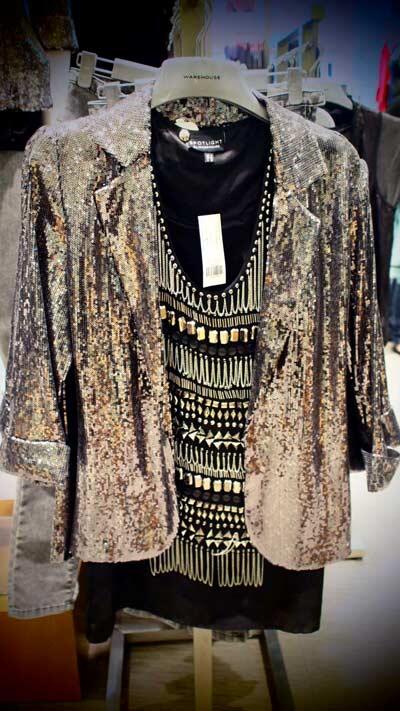 It costs over RM530, for those of you who are interested.
Me, i kinda backed away cos i'll kill myself i buy it and see something similar for RM50 in Bangkok next week 
At H5, Tong took out some special toys they have kept in the store room…
like this one, which is too x-rated to put out in public :p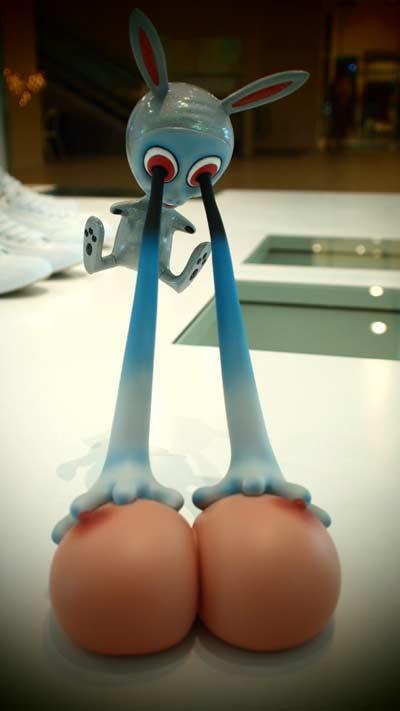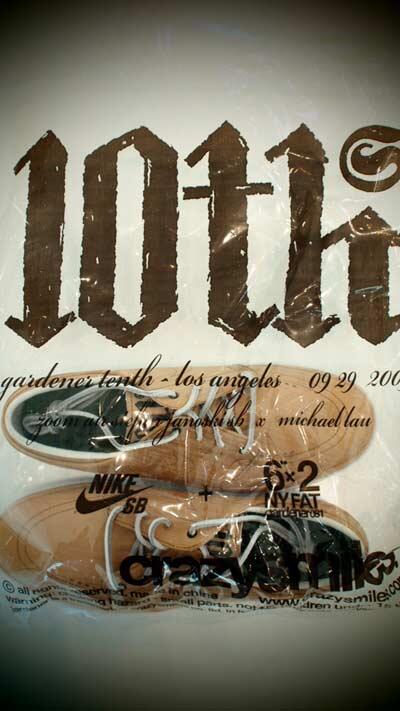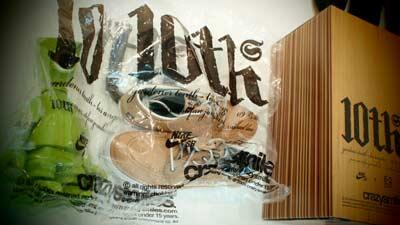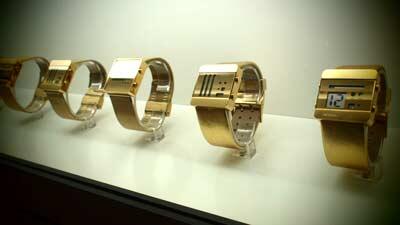 Oh, for those of you who kept on asking bout my gold Nooka,
they've got some new ones in – RM1,250.
Silver ones are RM200 cheaper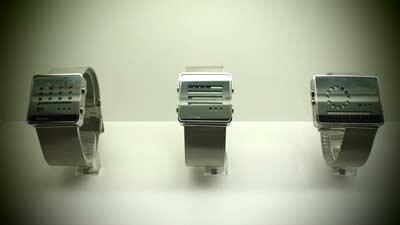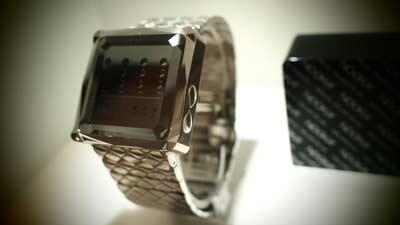 Made Tong take a picture of me so i won't be so sedih and attempt one by myself later :p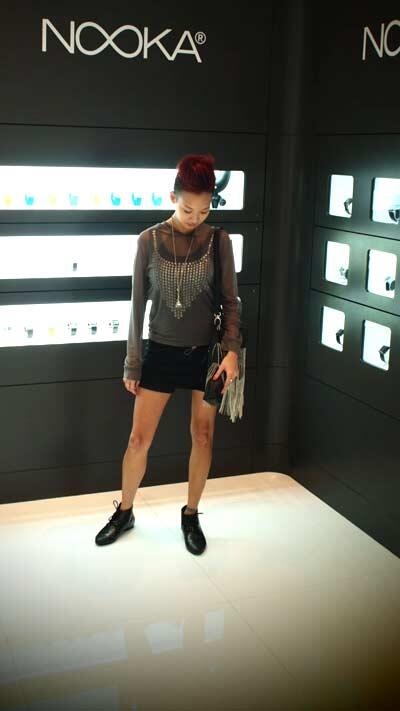 olive mesh hoodie; british india
black studded dress/top; jakarta
black tights; nike
shoes; bimba & lola
bag; iconia, jakarta
watch; nooka
snakeskin purse; jakarta
My mesh top from BI was actually purchased about 7 years ago (SEE this is why i don't wanna sell off my clothes… i tend to wear them again after ages!)
Coincidentally, i found out that DatinTini created it when she was a designer there,
and before i met her! 
Haha can you see the lil key on my pendant…
it's for my luggage bag lock so i won't lose it :p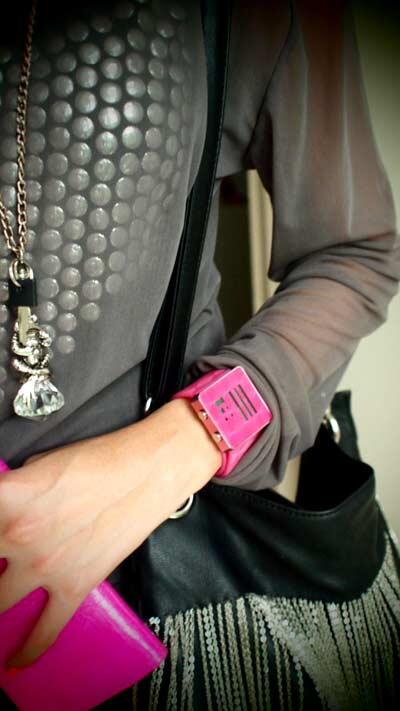 It hit me when i got home that i seem to be back in a Fuchsia Accessory phase.
Nooka la, snakeskin purse la, and new BB cover is bright pink too 

Oh, speaking of BB (this is not an ad btw, finito already ok
)
Let me tell you about Aps.
This woman, has been complaining like crazy about how all these ppl are obsessed with BBs,
how much she hates them,
how she doesn't get the twitter thing,
how it's SO irritating when ppl check their BBs,
and basically, how she wanted to start some anti-BB club.
Then YESTERDAY.
She nicely texts me – "Oh, i got a BB, what's your pin?"
I laughed out loud to myself in a public place okay.
*shakes head*
You know you'll never hear the end of your own grave-digging now.
Last note: Something exciting is happening in December…
Something i'm glad to see happen in KL,
and something that i'm even  flying back from Bangkok for.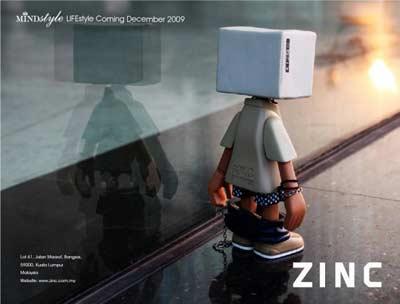 Related posts:
Tongue in Chic – H5
H5 – The new cool kid on the Bangsar block
Zinc launch
.