*no spoilers*
This is my favourite movie i've watched this year so far!
I really liked District 9,
but i like stories of love + reality, more than aliens,
so 500 Days of Summer wins.
I even went ALL the way to Pyramid to watch it (and i hate Sunway!)
cos it's the only place in Malaysia showing it -_-
But so worth it.
It's so realistic and painful.
And i think i tried hard not to tear at parts cos it just touched me deep on emotions i've tried to bury.
So irritating but good!
Argh.
So far everyone else i know who's watched it, loves it too.
Arivind even said it's the best rom com he's watched since Harry Mets Sally.
And Arivind is a film maker, so he knows what he's talking about.
Note to those to watch it = Don't watch it with your partner or someone you used to date!
Or on a date.
May be a bit awkward!
I went to watch it with RudyLaFaber and RainbowGayDave so i was safe 
+ + +

M.A.C.C.
Malaysian Association of Chinese Comedians
One thing i'm definitely looking forward to and going for, is Jenhan's comedy show which he's been telling me about.
I've only recently started attending stand up comedy shows in KL,
and was surprised that i could laugh out loud at some of their jokes!
He's not paying me to write this ha ha,
I'm doing it cos i have faith in his shows from what i've watched so far!
So looking forward to seeing him again!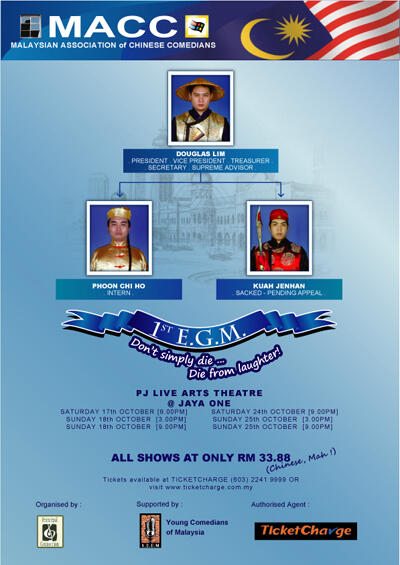 Click to read more details!
From their press release:
"Douglas Lim had a dream. A dream to bring laughter to the world. A dream to spread joy across the land. Unfortunately, fate conspired against him. He was born Chinese and was not eligible for Raja Lawak.
But Douglas Lim never gave up. Convinced that the Chinese can be funny, he scoured the country for like-minded (and like-coloured) people. He searched high and low, far and wide and upside down. After 3 years, the search has ended. For behold, he is tired AND he has found 2 other jokers.
Together they are M.A.C.C. – the Malaysian Association of Chinese Comedians and this is their first E.G.M. (Easy Going Meeting). On the agenda are funny observations, song parodies, impersonations and witty revelations from the founding members of M.A.C.C – Douglas Lim, Jenhan and Chi Ho."
Douglas Lim

Douglas Lim is now primarily a STAND-UP COMEDIAN. But due to his greed, he is also many things. For example, he is an ACTOR on both screen and stage (1957 – Hati Malaya, Los & Faun, TenTenTen, Kopitiam, Homecoming, P.Ramlee the Musical, Tunku the Musical, Broken Bridges, etc…). He is also a COMPOSER & LYRICIST for tv and stage (Kopitiam, Reality, Ghost, Cuci the Musical, etc…).
His stand-up comedy performances include "Eh, Got Free Ticket Ah?" at Actors Studio Bangsar, Comedy Club KL, Comedy Club Singapore, Lake Club Comedy Night, Harith Iskander's Nationwide Tour, "The June 4th Show" at No Black Tie and numeourous corporate events.   Douglas Lim was nominated for Best Actor in a Comedy at the Asian TV Awards. He lost to Gurmit Singh (Phua Chu Kang)!

Kuah Jenhan
Having performed on stage since secondary school, Kuah Jenhan is a natural in the performing arts scene. He began his career in stand-up Comedy in The Actors Studio Bangsar's Freeflow and went on to win the Bond Stand-up Comedy Competition in 2006.
Now an actor, emcee and fresh from his recent appearance for Comedy Club KL alongside international starts Paul Chowdhry and Garry Who, he has performed in countless skits and plays over the years, from school, to college and now in Malaysian theatre including Rose Rose I Love You, No Limits and Ismail – The Last Days. Dubbed as "The Funniest Gravy (Kuah) of Malaysia", he can be found regularly performing his mix of locally inspired comedy at Time Out KL's Comedy Thursday and other YCOM shows around the city.

Phoon Chi Ho
A comedian, actor, director and producer; the multitalented Chi Ho has been in performing arts since he discovered his love for it in high school and have directed and acted in several plays during his college life. Upon graduating, he chose to delve into theatre management by becoming the theatre supervisor of The Actors Studio Bangsar.  He now is a member of the skit-based The ComeBackKings, written, acted and directed 15 webisodes for gua.com and launched a successful stand-up comedy career in 2008.
He now performs regularly around the Klang Valley, organising and performing in comedy shows for the Young Comedians of Malaysia (YCOM), a local comedy support group. Cheeky and very original, his stand-up routine sees him putting on a facade that is more familiar to his Chinese heritage.
M.A.C.C.'s first E.G.M. will commence at the PJ Live Arts Centre, Jaya ONE, on the following days:-
Saturday, 17 October @ 9pm
Sunday,   18 October @ 3pm – Matinee
Sunday,   18 October @ 9pm
Saturday, 24 October @ 9pm
Sunday,   25 October @ 3pm – Matinee
Sunday,   25 October @ 9pm
ALL SHOWS AT ONLY RM 33.88
Tickets available at TICKETCHARGE (603) 2241 9999 OR visit www.ticketcharge.com.my