ClaudiaOnCrack helped me snap this after lunch at Kissaten
In my hand are a couple of Vogue mags i brought out for us to study flip through
We always have this tug-of-time-war when it comes to going for lunch
Claudia: Let's go for lunch!
Me: Ok, one more minute.
*Five minutes later*
Claudia: Lunch?
Me: Ok ok!
*Five minutes later*
Me: Oi, lunch?
Claudia: Wait! I gotta go to bathroom/send email/edit something

That day she was playing Boggle in the pantry with the girls
And i felt like i was dragging my kid to go for lunch
Especially when they yelled, "Your mummy is waiting for you!"
Before she scooted off the high stool, scampered after me, and squeaked a "Bye!" in a really kiddy voice.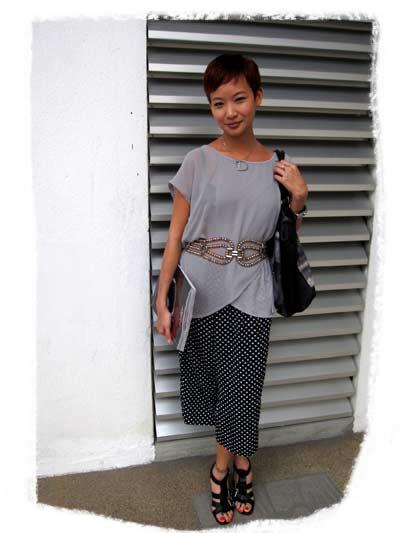 grey top; topshop
bag; anya hindmarch
necklace; tiff & co.
belt; vintage from bkk
polka dot pants; bundle in johor
shoes; aldo