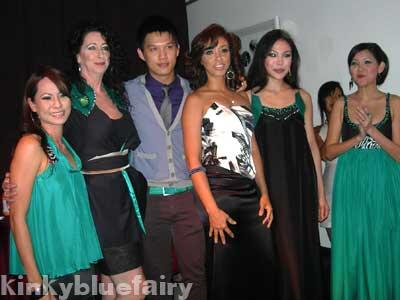 Went for Fashion Flirt last week at Attic to support Justin's show.
He got real-sized (what does that mean?! Really. Ok i sendiri emo) women to model his clothes.
I wanted to just have a couple of wines and head home.
That didn't happen.
What did happen was
– catching up with YC after months
– grabbing the mike from Kyan and co-hosting
– having a fabulous chat with Alison whom i'd just met
– getting Uncle J and Haze to drink Kinkybluefairies
Uncle J and Haze managed to find Attic and came to hang a bit
I got the bar to make us three Kinkybluefairies from that stunt i did bartending there a year back
Haze picked up the bill and went, "Damn, 100+ for 3 drinks? You're expensive girl!"
Well the price killed our sobriety, that's for sure.
I forgot how strong they were.
>.<
*
MadcapperSa put up the pics of Jared and us on FB (which changed format? Will get some getting used to!)
So obviously had to show it off here.
Honestly speaking, i'm not even a fan of Jared Leto.
*hears yells from Jared-fans for undeserving opportunity to meet him*
I just saja wanna take picture with him cos, well, everyone wanted to ha ha.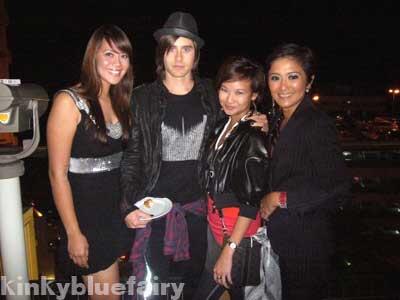 Sham, Cardboard Jared, me, Sa
Dude's super intense. Which is prollie why so many girls go crazy over him.
I dunno, i prefer happy chirpy guys.
I couldn't help posting a comment on the Facebook picture:
"Dude just doesn't… smile man. -_- It really looks like we're taking a picture with a Cardboard Jared.
Except they probably don't design Cardboard Jareds to hold paper plate of food."
But still, he was very nice to layan us a bit.
Imagine all the layaning he had to do in Genting.
I would die.