The world's favourite jeans, Levi's® 501®, has undergone a face lift and will be launching globally this month.
Made to fit in a sexier way, the new Levi's® 501® is still based on the original 1947 model but in a slimmer and straighter cut.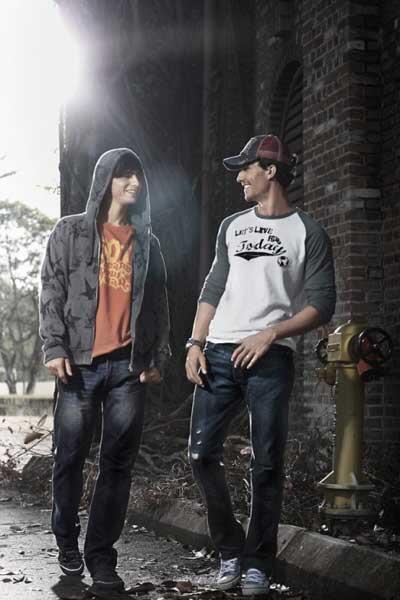 With a new look, it's got new attitude to it – to 'Live Unbuttoned'.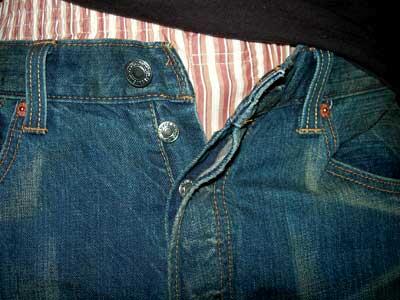 The new Levi's® 501®
I'm not talking about walking around the rest of your life with your pants undone.
To 'Live Unbuttoned' meaning to break loose from convention.
To embrace individuality and self-expression.
To really live.
Watching the ads for the global campaign, i'm wondering whether they'd be shown in Malaysia as one of them is sexually provocative with individuals unbuttoning their Levi's®.
And you know how it is here, actors start unbuttoning their shirt and people start panicking.
I didn't want to write about how sexy Levi's® makes one appear to be.
Yes, fit and cut play a role.
But i think what really makes one magnetic is their character and attitude towards life, very much how one may be described as living life unbuttoned.
I thought about some friends (whom i've seen in jeans, are unconventional in ways of their own, and emulate the persona of someone who lives their life unbuttoned)
to ask them all the same question, knowing that i'd get some interesting answers in return!
Unsurprisingly, the men i chose ended up being those in creative fields that involve expression whether in music, art, writing, design, etc.
Some of them gave me really short answers, some long.
Some made me laugh.
Some made me go 'wow' in awe.
Let's start!
Peter Chin, Group Creative Director

What's a defining moment in your life where you broke from convention or inhibitions?
Actually there are a few incidences.
I have no doubt, let's hear one.

One was when i was asked to direct a nasyid (islamic worship) music video from Warner and i thought instead of the usual shots of nostalgic karaoke scenes of landscapes with the group singing, i decided to turn the whole video into an animation abstract (the first for Malaysian nasyid genre) set in a desolate world where hope can still survive. Back then Tony Fenandez was the CEO of Warner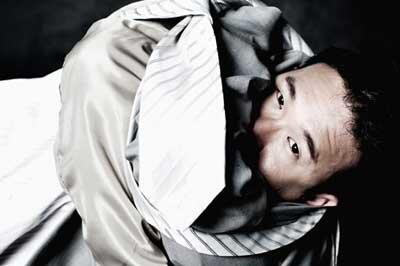 Pete Chin is holding the position mentioned above for 4 National TV stations – TV3, NTV7, 8TV, and Channel 9. He's directed music videos for Too Phat, OAG, and High School Musical; besides winning numerous awards for television and advertising productions. Basically, his impressive resume is so long that if i put everything here, there wouldn't be anymore space for the rest.
*
Antares, G

What's a defining moment in your life where you broke from convention or inhibitions?
There have been several "defining moments" in my life, not just one. Taking a leap of faith off a 260-foot waterfall on 4 August 1992 was perhaps the most dramatic one. With this ritual act I overcame my fear of death and consecrated my life to preserving the energetic integrity of the transformational portal I call "Magick River."
In December 1979 I slapped a Seventh Day Adventist preacher on God's behalf for speaking so arrogantly, ignorantly and smugly about converting the natives in Borneo and "saving their souls for Jesus."
But perhaps the most powerful of all my defining moments thus far was gazing into a mirror at the age of 19 and experiencing an epiphany wherein I spontaneously understood that "Christ" is NOT the surname of some guy who allegedly preached universal love 2,000 years ago. Rather, "Christ" is a state of consciousness that every soul will ultimately attain, and that's when the human fully merges with the divine.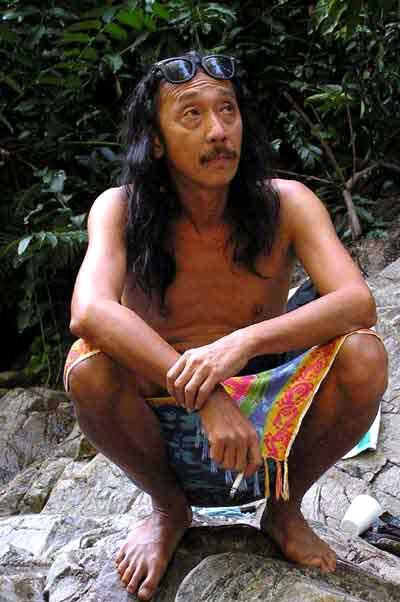 Antares is my favourite person on this list.
He's acted, directed, released a solo album, written a book, done scores of things some might achieve in ten lifetimes, and my Daddy knew him.
You have to read the rest *here*. Also, he named his first child Moonlake and one of his grandchildren's name is Sunshine (you cannot get more hippie than that!). Most of all, he radiates inspiration and love.
He's currently living in Kuala Kubu Baru and sings on the rocks at the river in his spare time. You can read his blog called Magick River.
*
Jerome Kugan, PR Manager/Singer/Songwriter


What's a defining moment in your life where you broke from convention or inhibitions?
I fondly remember the one and only time I ever busked.
I was visiting a friend in Sydney and was ultra broke after a few days.
I literally had no money for food but I didn't want to borrow any more money from friends.
Plus I had a bit of a cold which made it even more depressing.
But I knew I couldn't just stay in bed all day and mope.
So I forced myself to go down to the Glebe Sunday flea market and sing for my supper.
People were perplexed I think.
Because there I was, this short Asian guy in thriftstore clothes and strange haircut singing these old-fashioned jazz standards.
It must have looked quite queer.
But as I was singing the songs over and over, I remember feeling this flush of liberation and freedom.
It felt absolutely cathartic.
I didn't care what people thought.
After a while, I didn't care about the money either.
It just felt nice to sing like that in public, among complete strangers.
A little kid and her mother even came up to me and said I sang well.
The best thing about it was I managed to make 20 bucks and bought a nice curry meal for me and my friend afterwards.
I have a full-time job now so I don't busk anymore.
But I still sing for my supper once in a while.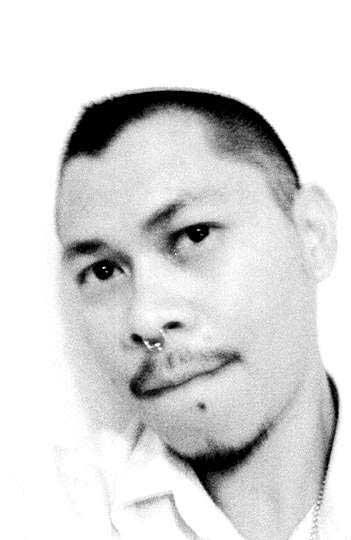 JK is PR manager at The Annexe Gallery.
His next event is "Arts For Grab + Seksualiti Merdeka" that promises to be a liberating weekend of art, commerce, fashion, music and sexuality.
Date: 30 & 31 August, 12pm to 7pm.
Venue: The Annexe Gallery, Central Market Annexe.
Admission: Free.
Launching soon: annexegallery.com
Asyraf Lee, Photographer

What's a defining moment in your life where you broke from convention or inhibitions?
That defining moment has to be when I realised that I am doing photography professionally and owning a business at the age of 20 while many others at my age aren't allowed to do so or anything art related by their parents!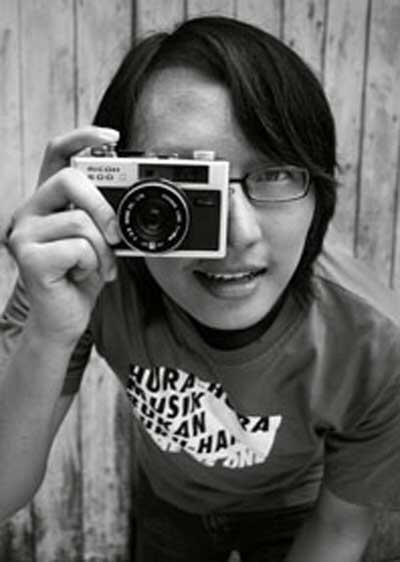 Asyraf Lee is 20 years old and the Director of a photography company that specialises in B&W and portraits. With 5 years of experience under his wing, he has worked with numerous clients in different backgrounds ranging from personalities like Harith Iskander to multinational companies such as Sony Malaysia, Estee Lauder Malaysia and Lam Soon Edible Oils Sdn. Bhd.
Check out asyraflee.com to view his awesome work.
*
Arivind Abraham, Writer/Director
What's a defining moment in your life where you broke from convention or inhibitions?
Being in my 3rd year of uni and suddenly realising I did not have to try and be the "artist" or "filmmaker with something to say" like they try and teach you to be; but rather embrace the cinema that made me want to make movies which were all big, blockbuster, popcorn flicks.
I ended up shooting a kids action/adventure as my graduation short!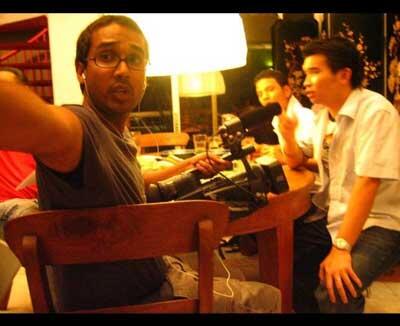 Arivind Abraham is a 25 year old writer/director who does not believe in being tied down to one country because movies can be made anywhere.
He just finished shooting 2 movies back to back in Malaysia and is now knee deep in post production in England whilst lining up movies to be shot in Athens, London and Bristol.
His dream is to shoot the Bruce Springsteen biopic one day & a Jerry Bruckheimer production at some point. You can check out his MySpace.
*
Caspar Rohleder, Graphic Designer

What's a defining moment in your life where you broke from convention or inhibitions?

Well its hard to put one episode as the difining moment of my life where i broke "free".
With the way I have been living my life the last 16 months I have been breaking more and more free for every new adventure I have been on.
First thing that broke me free from convention and inhibitions was around 2 years ago when I quit my job to go see the world.
I remember when I made the decision, I was sitting on my couch for hours, thinking about what to do with my life.
I tried to stand up but my legs turned into jelly and I had to sit down again.
At that moment I knew something inside of me had changed.
I had decided to leave everything I knew behind and start a journey through unknown places, all by myself.
This journey should have been 12 months but it lasted 16 and took me through so many great adventures.
Every adventure I have been on since have broken me free on inhibitions:
Living with locals in a clay hut in the mountains of Dolka, Nepal.
Zipping around on canopies in the middle of the jungle in Laos, 150m above ground while living in treetop houses.
Spending several days with elephants, training, bathing and feeding them.
Living on Perhertian Kecil, working as a bartender for no pay and just accomadation and food so I could dive for a month.
Being a part of a Malaysian TV show called Motosikal, touring around South Malaysia.
Jumping out of a plane at 14000 ft and free falling for 60 seconds while seeing whales in the ocean.
Getting a tatoo on my ankle and peircing my tongue which I never thought I mwould do.
And alot of other stuff has all contributed to altering my mind.
I think when you put yourself in situations where you aren't in control, but get out on the otherside just fine, this is where you learn alot about yourself and the more you know yourself the more you can bee free of convention.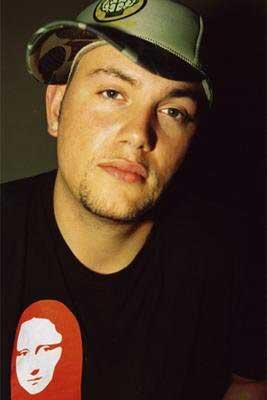 Caspar Rohleder is 27 and a former Graphic Designer for for a major ad-agency (BBDO) in Denmark and T-shirt designer for Lonsdale London.
He's still addicted to adrenaline and is a freelance graphic designer.
His website is rohleder.com and you can see his travel pictures on his Facebook if you ask nicely.
*
Glynn Tandy, DJ
What's a defining moment in your life where you broke from convention or inhibitions?
When i was 16, i left school in 1990 to venture into the new sound that was evolving known as HOUSE music.. (nowadays it has so many off spring names such as electro, progressive, techno, trance, soulfull house, tech house etc) but to keep it simple it was known as House back then.
And i started Djing and partying into the wee hours of the morning…
My parents would disown me if i left school at 16..!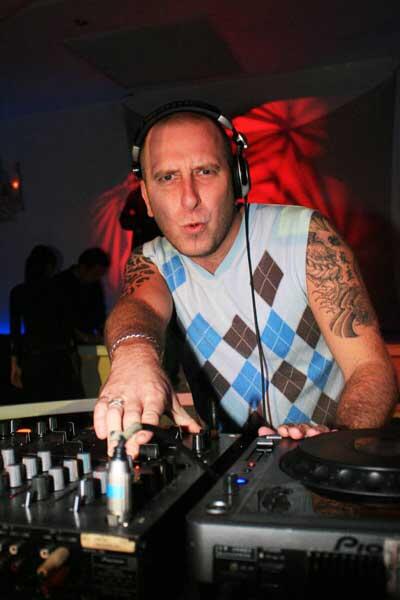 Glynn has been DJing for 18 years and spun across countries like Ibiza, Australia, Bali, Thailand and Singapore just to name a few.
He teamed up with DJ Nutek and Blastique to form Nu-Tandique on which their first release/remix got signed on to this year's Ministry of Sound sessions 5 08 CD.
myspace.com/nutandique
myspace.com/djglynntandy
*
Deepak Gill
What's a defining moment in your life where you broke from convention or inhibitions?
Maybe it was a little cowboy-ish of me, but a few years back I went into Kandahar in Afghanistan to spend a month to do voluntary work with an NGO.
It was risky. I passed all my life insurance policies to a friend to hand to my parents if I didn't return.
Amazingly, NGO staff were regularly targeted and murdered by terrorists.
Obviously I survived, with some amazing memories.
I had a culture chock when I went there.
Or maybe went through a time and cultural warp.
Funny thing is I had a culture shock when I got back too!
It was great rediscovering my life, and my home, after that trip.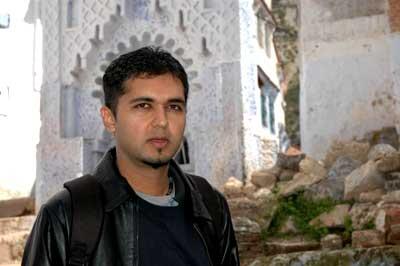 Deep is currently working for Spin.
When he's not working, he throws parties for any reason possible.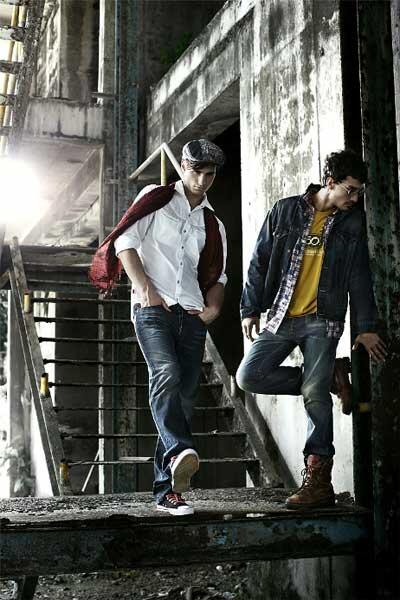 Wasn't that absolutely inspiring?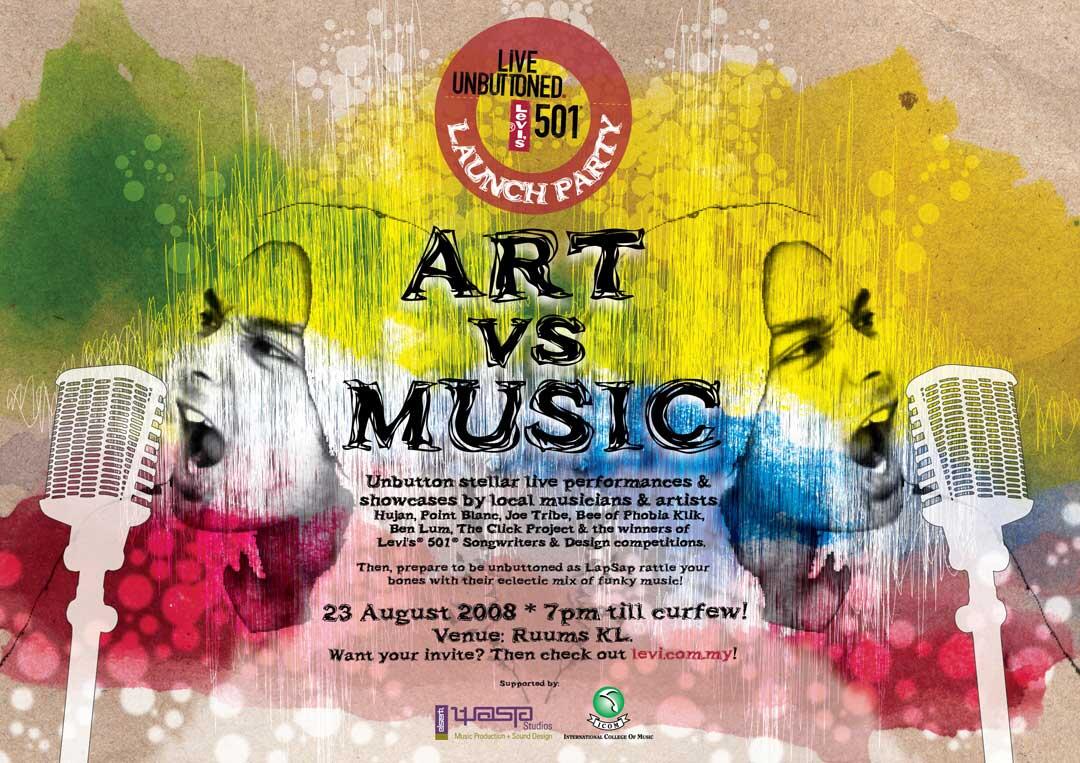 To top it off, Levi's® will be having their Live Unbuttoned Launch Party
on: 23rd August
time: 7pm till curfew
at: Ruums, KL
There'll be performances by Hujan, Point Blanc, Joe Tribe, Bee of Phobia Klik and many more!
For invites, check out levi.com.my
This post is brought to you by Levi's.