I decided to take Shane and Carmen home from the office after there was a Tortoise Emergency end of last week.
Jolene told us one was missing and we (April, Sarah, Clouds and me) RUSHED outside to look for it.
AprilPikachu spotted it amongst the rocks.
"Is it… dead? Maybe it died in its shell," ClaudiaOnCrack said, peering closely.
"Clouds! Some optimism please!" i breathed exasperatedly.
I didn't want no dead tortoise on my hands.
Weekend i didn't get to take them home cos i passed out and didn't get the office key off Adlin.
Today i spotted them trying out some circus escape stunt and ran to grab my camera.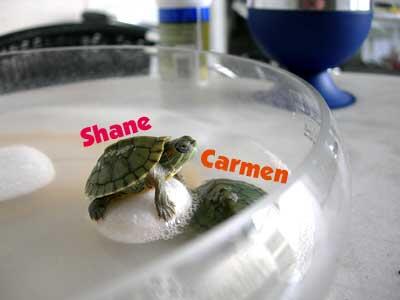 What the… 0_o
So i took them home today and asked my mother, "Hey, can i keep my tortoises in your tank?"
"What tank. I don't have a tank."
"Your tank with the plants?"
"I don't know what you're talking about. I don't have a tank."
"Your… pot then. The big pot outside with the plants in," i rephrased.
"…"
"Where you used to keep tortoises?"
"I don't keep tortoises there anymore."
"Well, yes, can i keep my tortoises there..?"
I swear this is how most of our conversations go -_-
"I don't want you keeping tortoises in the house."
"Why?"
"Someone told me it's not good." End of story.
Er… okay…
"So you're not keeping tortoises cos of superstition?"
Silence.
Confirmed end of story.
Hey. I'm all for superstition.
I just never heard of that one before.
Shall google it up.
So now Shane and Carmen are homeless.
How now 0_-