Every year i go to rainforest, i don't blog it as long as i intend to. I think the longest post i did on it was in 2005 and even *that* was unfinished!
Mainly because i had to keep the pictures i took till the work ones got picked and by then, i lost semangat to blog it. You know what it's like.
Anyway, this was the first year i didn't want to go as media cos i just wanted to take it easy and do my own thing (read: not have to pull sorry ass out of Camp Permai back to Santubong for press conferences in the morning).
On Friday evening, i went straight from the office to LCCT to catch my flight.
When i wanted to check in my bag, they told me i'm too early.
What… i'm never early for my flight…
"Your flight got delayed," explained the woman at the counter.
"What… i tried calling but couldn't get through… what time is my flight now?"
When she told me the time, i stayed really calm.
I learn that you never get anything out of scowling or making the worse out of a situation.
You smile, hope for the best, realise it's not their (person) fault and deal with it.
"Is there an earlier flight? What am i going to do in the airport for three hours when i didn't even get notification of this?"
"There is an earlier flight… but you have to ask the manager over there," she pointed to a different counter.
I hurriedly walked over to ask really nicely whether i could get on the earlier flight.
Luckily he allowed me to, seeing i was alone and could rush into the next flight.
I touched down in Kuching where Sabri picked me up and i met his wife and baby Sumya for the first time.
She's soooooooooo pretty.
Like super cute with watchful eyes and a cheeky smile.

"She's sooooooo cuteeeeee," i cooed after an hour of meeting her.Z
"Go get your own!" he jested.
"… wth… -_-"
They dropped me off at Camp Permai around 11pm, so i decorated the cabin while waiting for the others to come back from first night of the music festival.
Sorry but i ain't paying 90 ringgit to enjoy it for only an hour!
I slipped on a happy dress, blasted Ben Lee on the speakers, threw colourful scarves over chairs, tied them around pillars, stuck up streamers and started on sticking "Happy Hut" over the front door.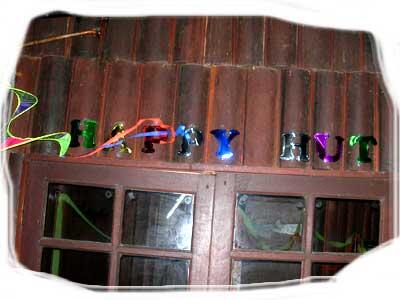 Then the gang came home and we started partying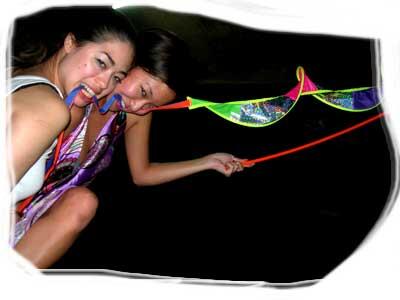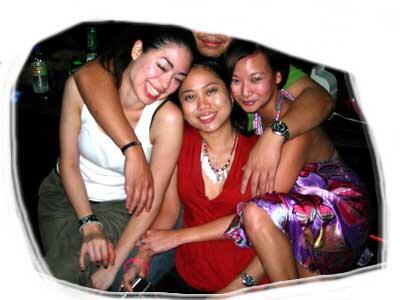 SpankyCammy, Tianna, me.
I went over to Deep's cabin (they named it the Eagle's Nest) and ended up passing out over there cos the stairs were just too much for me to take at that time of the night. And state as well.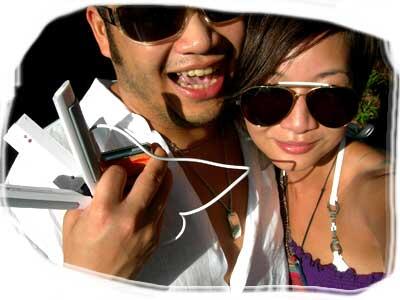 RowdyRudy had Smirnoff for breakfast.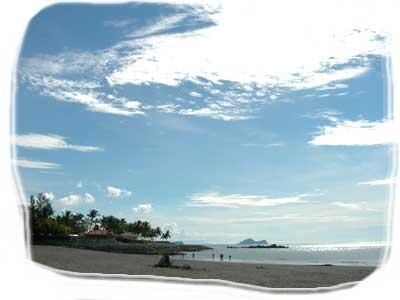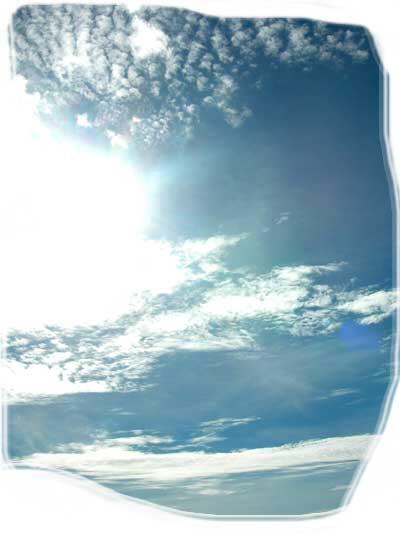 The others were having some fail action with attending the workshops, but i really wanted to go for them cos it's one of the BEST parts of the festival…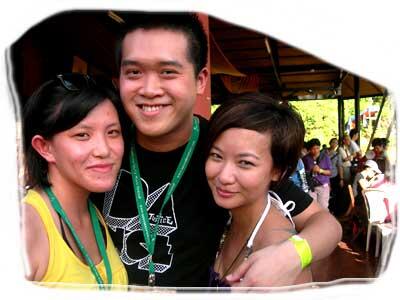 SarChan, KinkyPug, me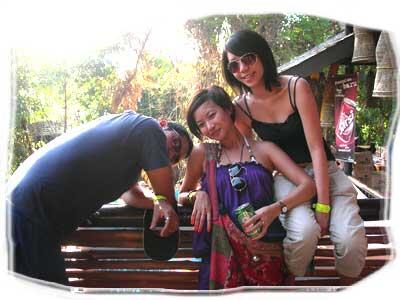 Deep cannot make it, me, Ovi
Everyone keeps on asking how it was, did you have fun, etc.
Of COURSE i had fun, it was the whole atmosphere – lots of sun, walking through the forest in the mornings, drinking and partying with friends everywhere, lazing on the beach, living in a bikini and loose tops, not having to think about work/blog/internet.
The most worries we had were:
– saving ants from being killed by Haida
"they might bite!" she said
"innocent till proven guilty!!!" i declared
"she's right…" agreed Tianna
– rationing tuak and vodka from being polished off entirely by a certain rowdy someone
"you're drinking too much…"
"why're you trying to control me!"
"i'm not, don't be greedy and leave some for us!!!"
…
Hmm that's it. The rest of the time was simply go with the flow.
I must say that this rainforest fest can't compare to previous ones…
The music was still amazing, but i didn't get to enjoy all of it so i won't say much.
The people are different. Last time it was obviously a bunch of super chillex people going just to bask in the music, meet new people and relax.
I missed seeing some of the old crowd who went last time, and it seems to me more people are going there now to be seen at the festival, as if its some sort of social event.
… i don't know, i want to write about it more but it's almost 4 am and i will die if i don't get sleep now.
Continue trow.