Thanks to Advertlets for inviting me for the Made of Honour dinner at Mariott.
Truth be told i wanted to ffk cos i was SO tired from work and couldn't be bothered dressing up for it, but couldn't possibly do that last minute!
"I'm so tired... i don't want to go *cry*"
"Yeah man. I'm tired too."
"You know we're being spoilt bitches... Cos we're complaining about going for an 8-course dinner at Mariott!"
Luckily there was bubbly to pick us up.
We stopped complaining after that.

And it turned out to be super cool cos we met David Lai, this mentalist who totally fucked with our minds and bent spoons in front of us.
Not only that, he dangled one with his fingertips, moved his hand slowly up and down and the spoon looked like it was melting.
Right in front of us.
To the point, it BROKE.
RowdyRudy, Fireangel Eelaine and i started screaming outside the ballroom.
We begged him to do more but he said the hotel wouldn't fancy the idea of him spoiling so many of their spoons!
Sorry Mariott >.<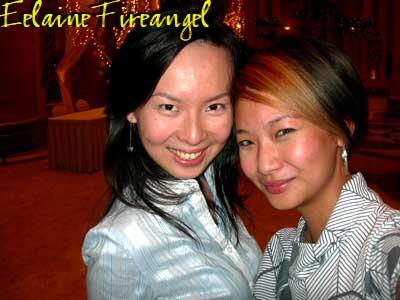 I really like Eelaine, feisty one she is.
Rudy and her started shouting and cursing each other upon 10 seconds of introduction.
Scary.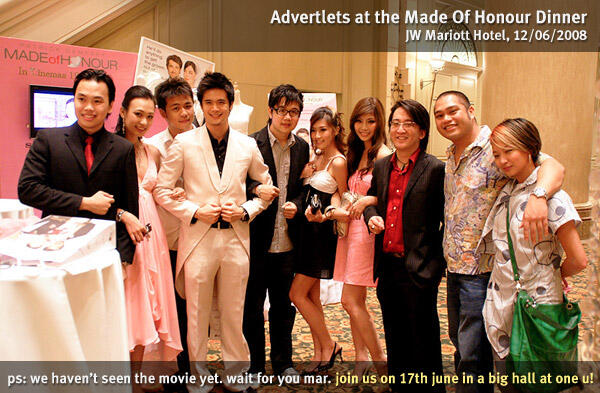 Taken from Advertlets:
"Yes, we haven't seen the movie yet (although we could have la, but we're waiting for you…) We're looking forward to joining you at the Made Of Honour screening on the 17th of June 2008 in TGV One Utama! So if you haven't RSVPed yet, click here to find out how!
PS: In case you're wondering la (from left to right: David Lai, the blogger magician, Ras Angela, PA to MD & Business Developer Extraordinare,the 'happily broken' Joshua Lee,Daniel Tan, star of Ah Long Limited and Advertlets Marketing Director, Jason 'Smashpop' Goh, Natalie Fong the Budderfly. Levi Li Su Lin (yes, Miss Malaysia Universe 2008!, Josh Lim, Advertlets Managing Director (my own PERSONAL blog launches end of June 08
), special guest Rudy from Hitz.fm (yes, of Gotcha call fame), and Joyce Wong, the Kinkybluefairy!
And of course, thanks to Buena Vista Columbia Tristar Malaysia! Looking forward to you joining us - just 4 days more till the 17th of June 2008!
Just blog a post, and bring you and a friend over for an unforgettable affair!"