I was thinking what better way to look for contributors for Tongue in Chic than my blog, seeing majority of readers are girls anyway!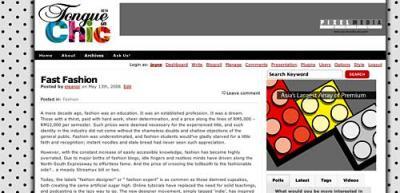 If you've been reading it, you'd have noticed that we've got Eve Von blogging for it. The first few meetings we had, i was afraid she'd kick me cos she looked well fierce. And even joked (which at the time i wasn't sure whether she was joking, that) she'd kick me. You can read about her excursion to the Adidas Sample Sale while i was in Langkawi *here*
This week, we gleefully pulled on board Eleanor. If i thought Eve Von would take the trophy for controversial articles, boy. I thought wrong. Eleanor's cutting words and dare-defy-me opinions such as on her latest post even had her emailing me that she did try to decrease her angst. I read it and replied she was giving me a heart attack. Read "Fast Fashion."
We've also confirmed another contributor, a guy this time, whose blog i stumbled upon and is very excited about writing for us too!
We still need contributors, those who (obviously!) have a strong interest in fashion and can write decent English. I need people to cover events, shows, interviews, trends, news, but most importantly, are enthusiastic to do it!
Despite being a blog, we pay as well as a printed publication. So if you love fashion and writing about it, it's effortless money on your part! We're looking for contributors from KL and Penang and other countries in S.E.A. if you're based there.
If you're interested, do drop me an email at: joyce@freeform.com.my
And we'll see how we can work things out
Since we're on the topic, KLue is looking for someone to till in the position of Editorial Assistant, because SarChan has been promoted to Events Editor. Send your resumes to adrian@freeform.com.my
And er, one more, *shameless*
SuperstarAdlin who's managing editor of Junk is also looking for contributors, obviously those who are interested in music. Email him at adlin@freeform.com.my