This is going to be a really quick post cos i'm absolutely knackered.
Cat Got Your Tongue #1 was a great success in the end!
Earlier in the day when SarChan asked me whether i was nervous, i replied, "… No! I'm excited!"
Only later when i was rushing to set up did i get a bit stressed out.
Question, how many people does it take to stick up streamers in a club?
Answer – three.
One (Rudy) to cut the sticky tape, one (Biresh) to hold the rolls while the last one (me) decides where to stick.
Biresh: Why so low? Stick higher la.
Me: I. Cannot. Reach la. -_-
The pool was super fun to set up and the staff at Mansion are AMAZING.
So helpful + friendly + happy happy to play with the stuff around too!
My colourful plastic balls from Hanoi were poured into the pool, along with eight rubber duckies we bought at random. Colourful windmills were stuck up, happy soft toy flowers with smiley faces were wound around the gate and console area, yellow smiley face balloons and others of diff shapes and sizes were blown up and scattered at random, we had Fan Yang bubbles around for ppl to try out. Everything was very happy clappy colourful!
Just a few quick pictures for a sneak peek before i post the rest up later this week.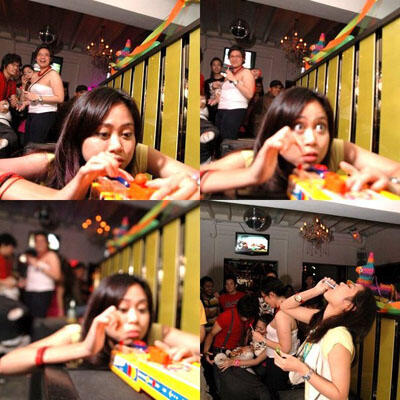 Tianna working it at the mini basketball tournament.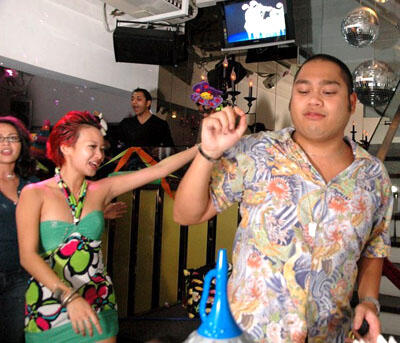 Party people! – me + the rudemeister
My happy dress is from Tres Chic in Bangsar btw
I could NOT stop playing with the spinner!
While dancing in the console, on the speakers, on the dance floor, around the club! Damn layan diri.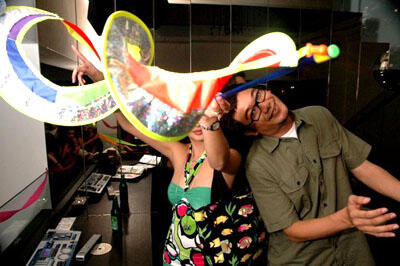 Spinner + DJ Le Kelvin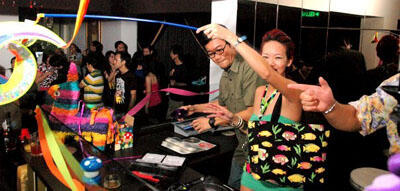 Can you spot Laura the Llama (pinata) and new blue mushroom light?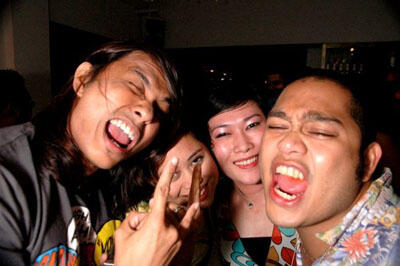 Brian, whozzatkenotsee, Michelle, RowdyRudy
Almost everyone brought toys, some brought small toys (like bloody Kanch who turned up with… a finger puppet -_-), and the most sporting was Khailee who turned up with…
A GIANT TIGER that was bigger than most of us there.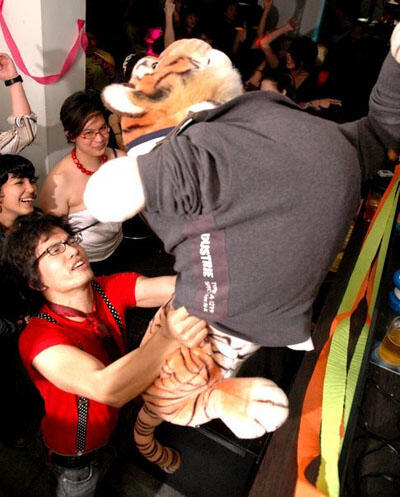 His tiger (i forgot his name, Khailee, sorry!) was so popular, he went crowd surfing.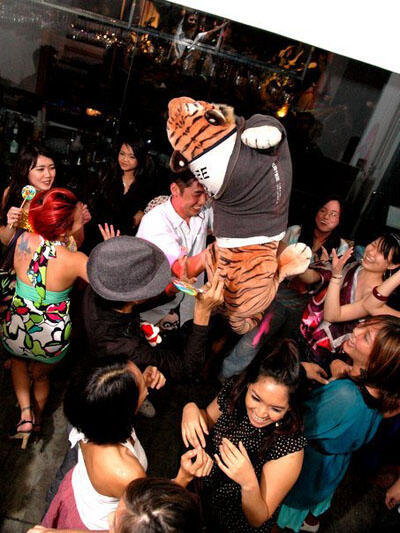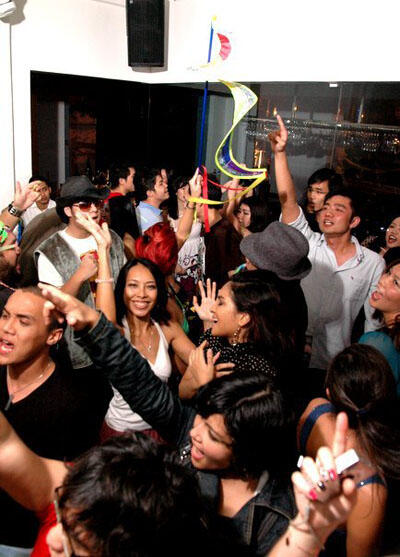 We're very chuffed. I'm looking at these pictures thinking, "Who ARE these people?! i don't remember their names… but it's okay cos everyone had fun!!!"
Huge hugs and thanks to Azuan Azahar who took these great party shots for us.
Unfortunately, toys were actually kidnapped last night 0_o
Someone took my plush red mushroom that was at the sign in area, Johan's little whale went missing and Lainie's baby giraffe got stolen too…
She said damn celaka that ppl see it's cute and they steal it.
🙁
Quite wtf wei. But it's okay… we learn not to take our toys for granted now!!!
Mr. Elephant is safe phew.
I think i'd end up freaking out if he got kidnapped!
Next time we'll have Toy Police. And if you get caught with someone else's toy, you'll be banned from RudyFairyFest. FOREVER.