Okay i'm starting a new category cos i'm always posting up flyers of this party and that sale and that event.
And i think it just apt i name it 'Slutting It'.
First up is the third annual KLue Blue Chilli Awards!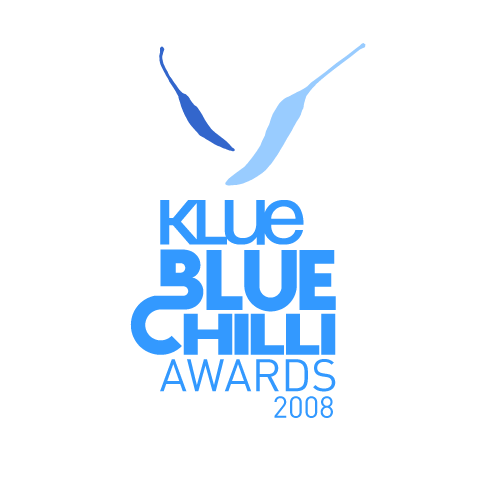 "KLue brings you again our third annual Blue Chilli awards, where we aim to uncover the next wave of young talented individuals who have made strong contributions in their respective industries. Think you know anyone who fits the bill? KLue Blue Chilli 2008 brings you the chance to highlight your own list of nominees; it doesn't matter if it's an ingenious filmmaker, an innovative designer or a social activist. We want to find the next Jimmy Choo or even the next Michelle Yeoh!
This isn't your typical talent contest. Over the past 2 years, we have discovered outstanding Blue Chillies from various fields. In 2006, we had the energetic gig organiser Reza Salleh, the lively activist Mien Lor, and the extraordinary visual artist Sharon Chin. 2007 saw the Blue Chilli winner's spotlight on Ng Khai Lee, a buzzing social entrepreneur."
You can view their past nominees *here*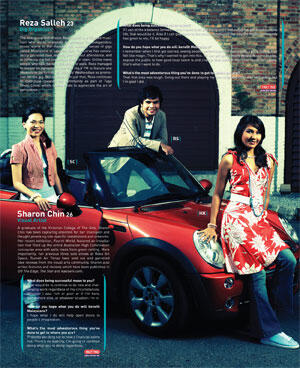 One of the pages from the 2006 nominee list – Sharon Chin, Reza Salleh aka SexyGrin (Winner), Hani Kausar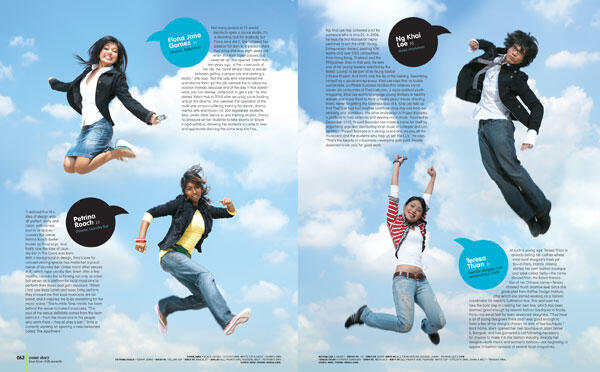 Some of the peeps from the 2007 list –
Fiona James Gomez, Petrina Roach, Ng Khai Lee (Winner), Teresa Thian
The prizes are pretty damn awesome. If you nominate someone and they *do* win, you get stuff too.

2008 KLue Blue Chilli wins
• RM 1500.00 cash
• Shopping spree at Puma Concept Store to pick out 2 complete outfits
• L'oreal Paris products worth RM 1200.00
2008 KLue Blue Chilli's nominator wins
• RM 500.00 cash
• Shopping spree at Puma Concept Store to pick out a complete outfit
• L'oreal Paris products worth RM 1200.00
2008 KLue Blue Chilli finalists win
• Shopping spree in Puma Concept Store to pick out a complete outfit
• L'oreal Paris products worth RM 400.00
Honestly speaking, i'm really liking the new line Puma has.
Was raving about it to IceCalvin (who's a stylist remember?) and he said he noticed they've got some wicked pieces to use for shoots too.
Nike and Adidas better watch their backs!
Oh, oh! The other day in the office pantry (lemme lari topic for a bit okay), photographer Shermen asked me whether i'll help them style this year's nominees with Puma apparel for the shoot. Of course i didn't mind the opportunity of playing Barbie and Ken with people, and see what it's like playing stylist for once.

So, think of any of your friends you reckon would stand a good chance running for this?
Thing is, you never know!
And your friend doesn't have to either if they're really shy and you can weasel their IC number from them.
You know how it is, some nice people are really into what they're achieving and feel damn pai seh to join these sort of things. That's why they have friends like you, to do it for them and go 'i told you so' when they end up being one of the finalists.
If you're damn tak malu and want to raise your own profile, then i guess you could ask your friend to nominate you. *looks at ceiling*
You have till end of April!
Check out all the info *here*
*******************
Next Saturday is Impulse: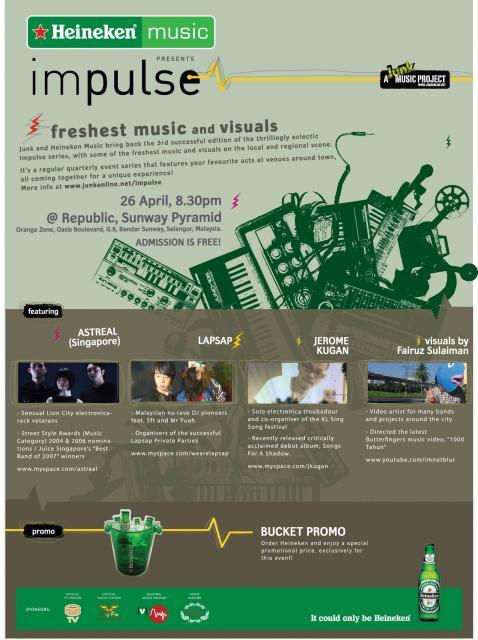 HEINEKEN MUSIC PRESENTS IMPULSE: A JUNK MUSIC PROJECT
Venue: Republic @ Sunway Pyramid, Orange Zone, Oasis Boulevard, G.8, Bandar Sunway, Selangor.
Date/Time: 26 April, 8.30pm
Admission is Free

www.junkonline.net/impulse
You get to watch live performances by (check out their MySpaces i'm linking):
– Astreal from Singapore, who were nominees for Street Style Awards (Music Category) 2004 and 2006, as well as Juice Singapore's "Best Band of 2007" winners.
– Lapsap (i lup lapsap)
– Jerome Kugan (who just launched his album last weekend!)
Visuals will be by Fairuz Sulaiman, who's also responsible for the direction of Butterfingers' latest video '1000 Tahun'
*******************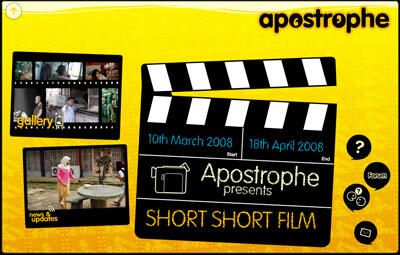 4 more days til the Short Short Film submissions close! Check out some of the submissions at www.apostrophegallery.com
Feel free to leave comments and browse through snapshots from the Expression Session workshops. Send in your submissions now and stand a chance to win a Mini DV Camcorder and a trip to Hanoi!
More details at www.apostrophegallery.com