I take so many pictures all the time that when i do have time to blog, i end up blogging the most recent ones.
I'm still SO lagging in blogging about stuff that happened over Christmas (old news already -_-), Chiang Mai and Vietnam.
Oh well, better some then none!
Went for dinner to catch up with JustinYap at Twenty.one.
Always wanted to eat there again since the first time i ate with DatinTini, RowdyRudy and a few others.
I remember the food was fantastic, but then again, we were drunk at the time and it could be tipsy tongues-a-tasting. So had to go back and see whether what i remembered was true.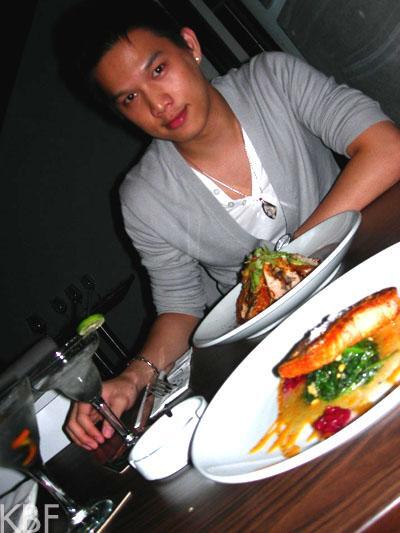 I ordered my regular choc orange martini.
Actually, i didn't order it.
The waiter went, "Choc orange martini?" before i even said it.

And after dinner (which was fantastic, we shared a platter of starters and i had salmon for main) when we retreated upstairs to the bar for more cocktails, the bartender up there did the same thing too.
"Chocolate orange martini right?"
"… urm heh yeah."
Maybe i should order other drinks to put them off tangent next time.


But then i won't get to drink my favourite choc orange martini…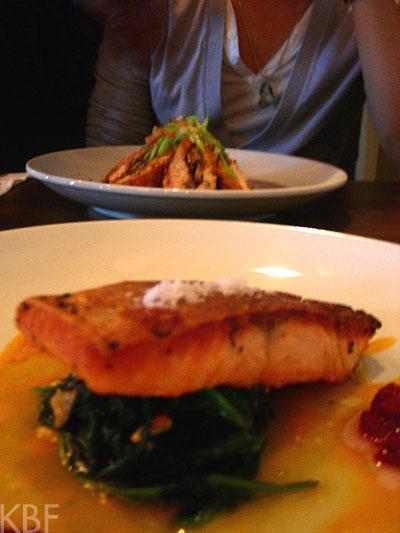 Justin and i tak habis-habis talking, so we went to check out the newly-refurbished Frangi's after that.
Well, *i* went to check it out, he'd already been for the relaunch that was on the night i was hiding at home, pei-ing myself with cough mixture and passing out.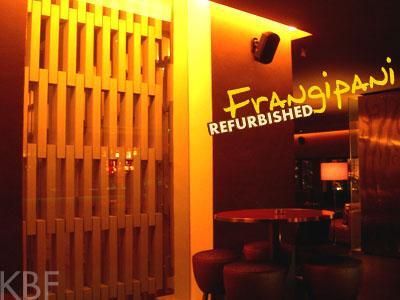 Seeing Frangi's hasn't been of popular partying destination for some time, they were bound to turn to a face lift (frangi-lift? nah, that makes me think of frangipanty… and panty-lift instead 0_o sorry lari topic) to make it a puller again.
Heard it was massively packed a week ago.
Their specialty cocktail prices have jumped from RM28 to RM34.
Alamak.
Inflation, cost of other things, bla bla bla yeah i understand la.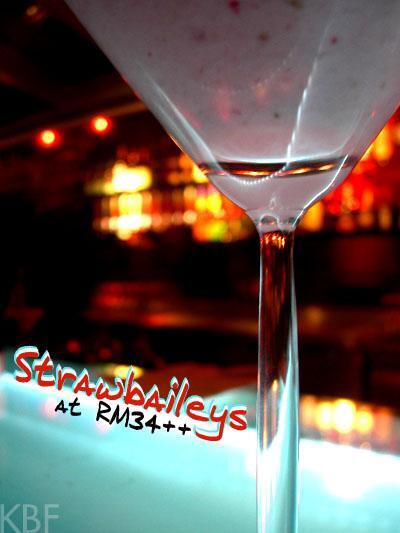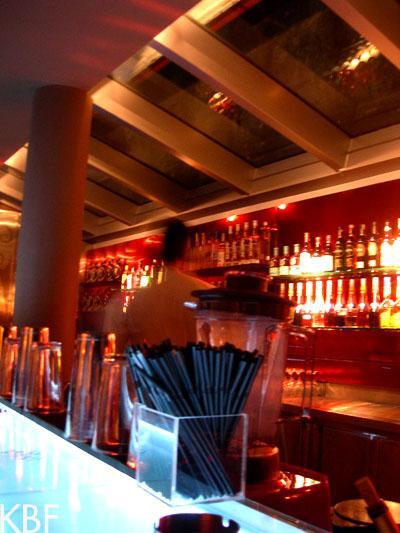 ***************
Thursday was WILD! at the Loft @ Zouk.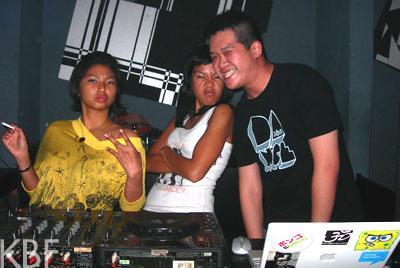 Azza, Didi Crazy Ramlan, KinkyPugKevin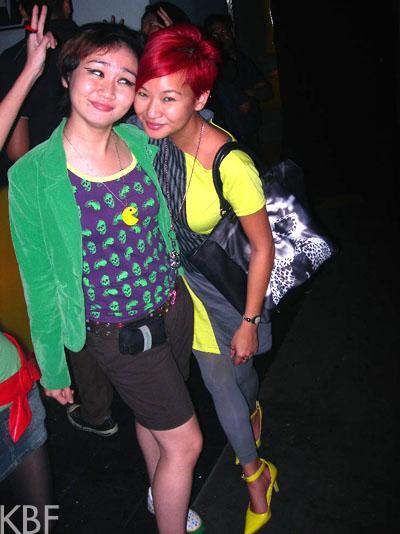 NurMeiLing and moi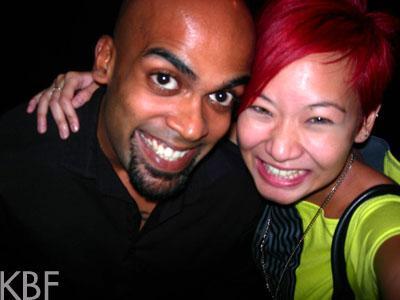 LaughingLoga! I found the post which sparked his cartoon name

*here*
*******************
Friday night i went to Aliyaa restaurant and bar (next to Jarrod & Rawlins on Jalan Dungun) for DreamerCyn's birthday.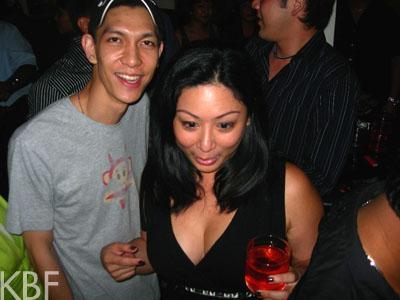 AhPek (i'm sure he has a proper name…) and DreamerCyn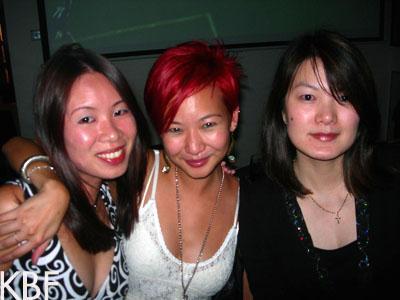 BubblesAmanda, me, Geraldine
There have been countless occasions in which i have forgotten Geraldine's name… i'm so sorry, i is suck >.<
BubblesAmanda's getting married soon and guess what her wedding theme is…
FAIRIES!!!
*hears groans from people all around*
Now, now, *wags finger* just because someone else appreciates the glory and allure of fairies, to the point it's their wedding theme haha!, doesn't mean you have to make some noise.
She told me that some sponsors have stepped in for her wedding – including Annie Wong Couture, Guinness Anchor Berhad, A Cut Above and Montecom Bhd. – for which in return, she'd have their logos on her wedding invitations and stage backdrop.
I told her that i'd list them out during her wedding as well, as friend and wedding favour.
It seems to me that this trend of getting sponsors for your wedding seems to be taking off of late. I'm not against it or anything, oh, except for maybe this email i got that KennySia blogged about as well. But i think it only works if you know someone from the company or have someone hook you up nicely. There was another person who's getting married whom i'm not close to. They asked me to help them get sponsors for their wedding -_- I get that you're trying to save money, but i just think you're going about it the wrong way. Ask and you shall receive, true, but have some surefire jalan la. Another one is when these people get sponsors (i didn't bother finding out how many they've got), they go great lengths trying to get media to attend their wedding. ARGH. A wedding is supposed to be a celebrated union of love! Not some event where you have to layan media! Unless you're a semi-socialite or semi-brity that the media themselves have interest in covering, i can't bear the thought of people having the gall to publicize their wedding when fuck, weddings happen every day okay. Yours is to happen once in a lifetime and by doing so, it seems to me you've degraded the sanctity of the event.
Ok. Habis emo :p Moving along…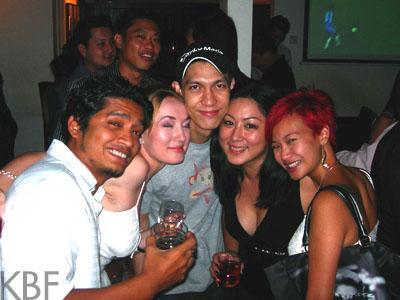 Henry, Halina, AhPek (man, what IS his real name?), DreamerCyn, me.
At first i was feeling woozy from accidentally mixing my antibiotics with alcohol (i forgot about it -_-) but my energy picked up after an hour.
It was like old me again! Talking and dancing. Till i promptly left to drive home before i got too drunk.
*******************
Saturday was the first day Werner's bar was to be open to public.
It's just down the road from Twentyone on Changkat Bukit Bintang.
Little gossinfo:
Werner's is owned by, well, Werner, who also owns El Cerdo just across the road.
It's also designed by d plus m creative who did Twentyone.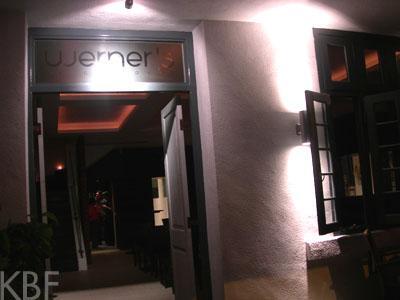 It's not actually finished yet, so… maybe you shouldn't go till they're done as to fully experience the place.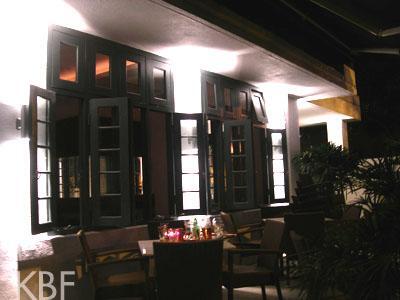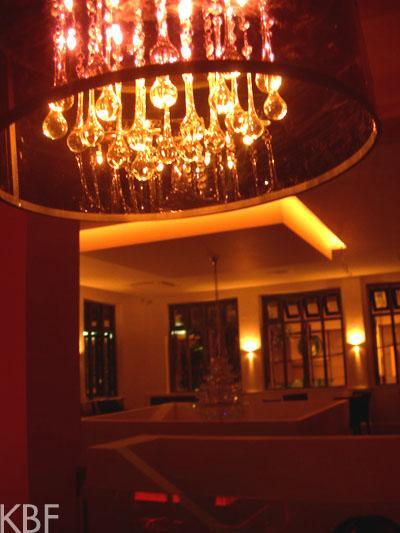 Upstairs. I love the lights!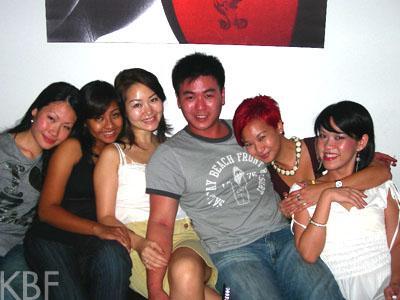 'Twas Gary's birthday. Fellow drunk already.
Didi (Jimibot's mummy
), Siti, Maruki(? shite i forgot her name), Gary, fairy, Olivia.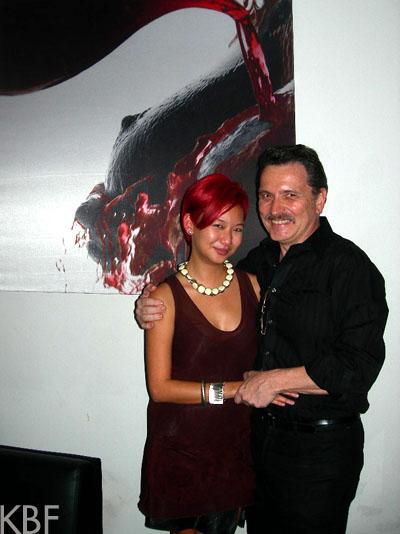 This is Werner.
He literally stuffed my face with ham in El Cerdo's the other day.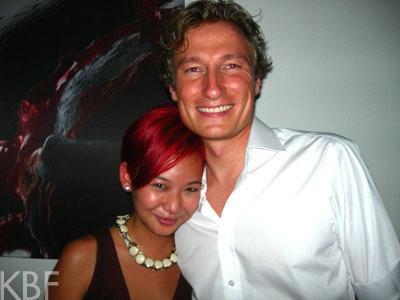 This is… Klaus… i think… (man, i seriously need memory seminars or something)
He helped Werner out with the alcohol at the bar.
I dragged KinkyPugKevin out with me that night, despite him not being sure whether he felt like going out or not.
After i managed to yank myself away from the pc and election results, i finally picked him up at 12:30 am.
Damn late.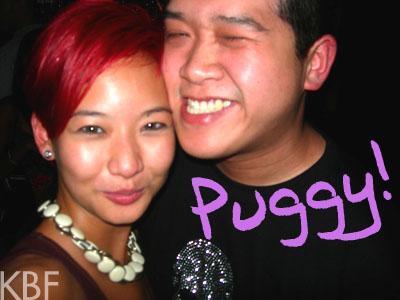 We had more of a chilled-out night, checking PietroFelix spinning in Frangi, saying hi to his fiancee Joanne, saying hi to MadcapperSa and TomHayton.
Then ran to Werner.
And ended up in Twentyone.
As always. >.<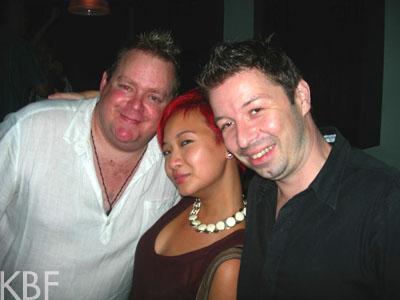 Richie, me, DanDan
A little birdie told me Richie was suffering from a cough a few weeks back, and that he claimed, never in his life had he coughed till he threw up.
My, my, doesn't that sound familiar.