RowdyRudy's birthday is early April, and mine's in mid-April.
One day, or more probably, night, we excitedly blabbered that we should have a joint birthday party since we know most of the same people anyway!
We just locked down our venue two days ago and now we've got to really meet up and sort out who we'll invite (cos it'll be small, er we hope, shebang), deco, dj, etc. We already have our theme, it's gonna be crazy kiddy carnival whacky with clown and magician cos we never want to grow up! Think bali-mika times!
I had a quick lunch meeting with oh rowdy one to plan our birthdays a bit, and 20 minutes is NOT enough time.
We started forming categories – hitz and mix ppl, band ppl, family, media friends, fashion friends, old raver kaki friends.
"We have to really cut the list down y'know, and oh, there she goes writing another category..!" he declared in exasperation as i scrawled into my notebook.
Anyway, we figure we can't accommodate/layan so many at one time… so we're going to have an all day party.
15 hours, i think. WHACK!
Sponsors/advertisers are welcome

What we give in return would be
– publicity on my blog
– your brand being consumed/used by our friends who are all AWESOME.
– urm, i'll think of more reasons later ha ha!
I must never lose my notebook man… all my work notes are written in it. *sweats*
Was super busy in the office and my mind is all over the place.
Navin had to ask me to calm down while we were talking.
And Navin… man, he's so in demand that booking him for a meeting is tough shit!
The moment we sat down to discuss something, his appointment would arrive and he'd run off leaving me all, "goddammit 0_-"
Was listening to a lot of The Bird and The Bee to be less kancheong/flighty.
What i wore today. I look stunted cos Irman took it from a high angle (ya la i'm short) and i almost started crying cos the sun was shining right into my eye.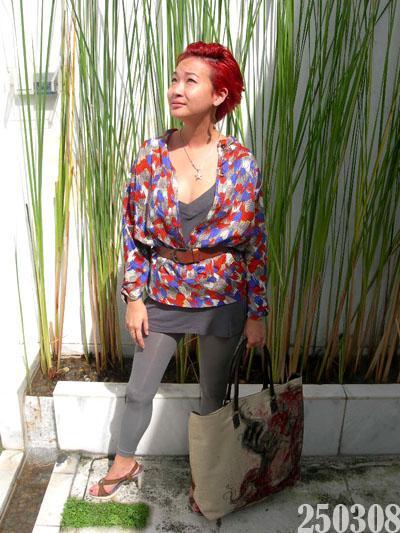 vintage top, bought from Ah Xu at the junk sale for RM25
long grey top, er… Gap or something similar (i'm wearing it now, can't see tag la)
brown leather belt, courtesy of mother
opaque tights, Topshop
heels, Vincci
bag, Peach painted his image of me while we spoke in bkk
Okay i mustn't wear grey tomorrow -_-
On another Reza Salleh note, guess what's new on Junk!?
Not only can one stalk him, but because of his increasing popularity, Junk has decided to take advantage of it and let the public ask him questions!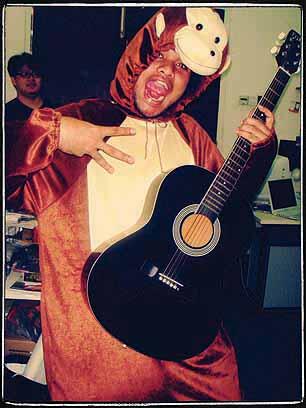 Would you just look at that.
Hmm i was just thinking what would make a great charity event addition, we auction RezaSexyGrin off for dinner!
To have* dinner with him.
Not have him for dinner.
Tho… i can think of a handful of girls who would like to devour him.