This here is MadcapperSa's latest music video, Starlight

Hot off the press, let loose on YouTube two days ago

Notice it's all shot in one take!
[kml_flashembed movie="http://www.youtube.com/v/Z4MlTaKE3Ec" width="425" height="350" wmode="transparent" /]
Can you spot me?
When i first reached the shoot, the director said my hair was too startling and maybe, i should wear a hat.
I really didn't mind being cut out of the video cos i remember i was pretty sick that day and wasn't going to complain being sent back to bed.
In the end they chucked me into Haagen Daz to chat with Amiru.
Aren't i a great actress?! Smiling and all that!?
Okay, i'm in actuality a terrible actress.
I just look so natural cos i was* really grinning at things Amiru was saying.
>.<
At one point, the brollie that Sa had in the vid didn't open during the take.
So the water spilt on her and she had to change and redo her make up i.e. longer shoot.
Everyone was like, "Oh mannn…"
But because she got all her friends to help out in her vid, we couldn't walk out on her.
Related links:
*Melissa Indot*
Other music-related events cos Thursdays should be more than being bored out of your wits!
Hannah's performing at Somo: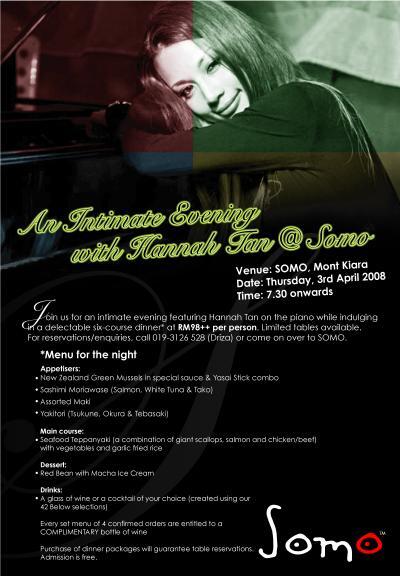 And Kevin Yeoh's event at Wine Room on AHR.