advertorial

St. Patrick's Day is almost upon us and despite the popularity of its celebration not widespread amongst Malaysians, you can't deny being constantly reminded of it by all these ads Guinness has been circulating.
When someone mentions St. Patrick's Day, images of leprechauns and four-leaved clovers spring to mind.


I happened to be in Edinburgh on this particular day in 2001, and i didn't know what was going on.
People were yelling and laughing and going "Cheers!" to people passing the pubs.
Guys were racing around carrying flags on their backs and whooping away (rugby i think)
Younger ones were running down the street, wearing tall silly hats.
And drinking. A lot of drinking.
"What's going on..!?" i asked my friends who're all from there.
"It's St. Patrick's Day. I guess you don't celebrate it back home…"
I remember partying like crazy with them.
But those people don't need a celebration/excuse to party at any rate.
Because Guinness also has a rich heritage dating back 250 years, it has somehow become synonymous with the holiday (appearing in my reading up about it, even on bbc.co.uk!)
In conjunction with the holiday this year, Guinness appointed celebrity chef Emmanuel Stroobant to infuse Guinness with cuisine. The main man for Chef in Black demonstrated the versatility of Guinness not just as a beverage, but also it's ability in playing a key role in dishes.
"Guinness Draught has such a rich and distinctive flavour that goes well with almost anything, although my personal favourite is rack of lamb glazed with some Guinness. Simply succulent and distinctly Guinness."
– Emmanuel Stroobant
Of course, seeing that not all of us are fortunate to get him as a personal chef (even for half an hour!) you can still treat yourself to a bite of Guinness-inspired food at six participating bars and outlets in Klang Valley throughout the whole month of March, woo hoo!
Sorry to those living elsewhere, next time
Jarrod & Rawlins on Jalan Dungun are one of the six outlets, and i was just there with LaughingLoga two weeks back (but the promotion hadn't started yet).
I had a prawn avocado sandwich, streaky bacon and Guinness Draught.
He had dynamite sausages and… i forgot
(cos i only nicked his dynamite sausages).
Last Tuesday, i drove there with new KLue writer, Priya, who thankfully showed me directions even though she just got back from New York and i really should be the one who's not such a lost mouse.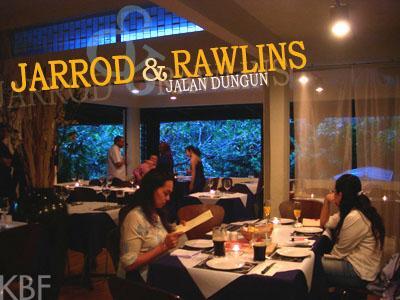 Our drink orders were taken and someone said, "You don't have to have Guinness if you don't want to…"
Oh dude. You have no idea how often i drink Guinness Draught.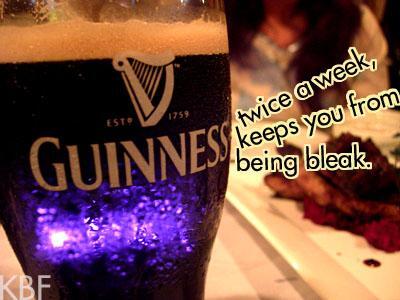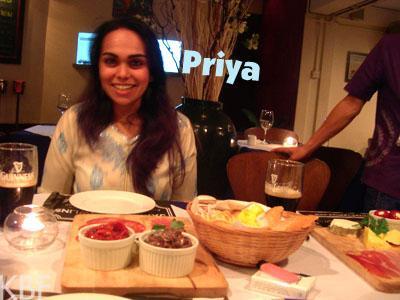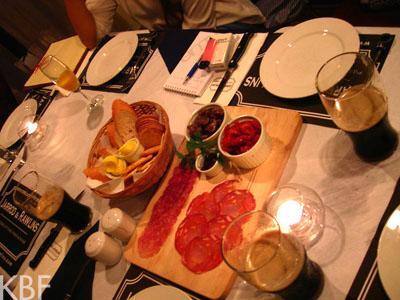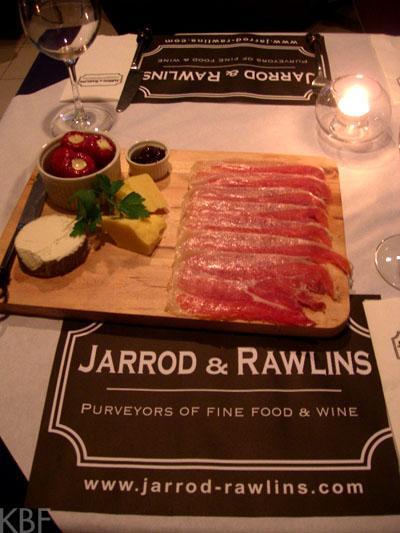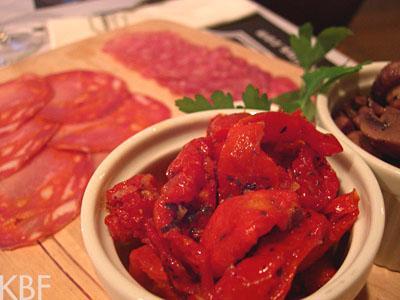 Chorizo, salami, mushrooms + peppers.
I didn't even have to be surprised at what i ate there cos i've been going to Jarrod & Rawlins ever since they opened their first outlet in Hartamas and it has always been a preferred restaurant for me to catch up with friends.
If i want something heavy, i'd go for their pies, mash or steaks. Medium rare, please.
If i want something light, i'd go for their sandwiches (prawn avocado, mmm)
And i always wash it down with either shiraz or Guinness Draught.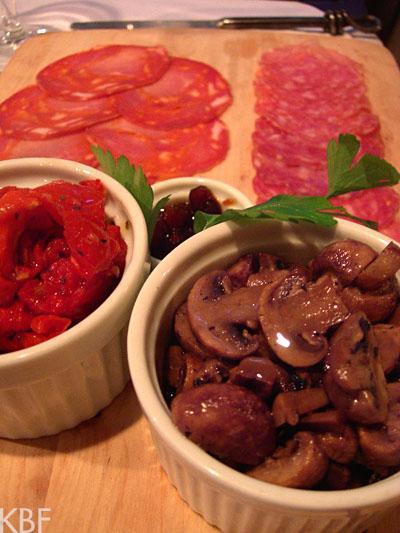 Serrano ham (below), king island cheddar, feta, and peppers stuffed with feta.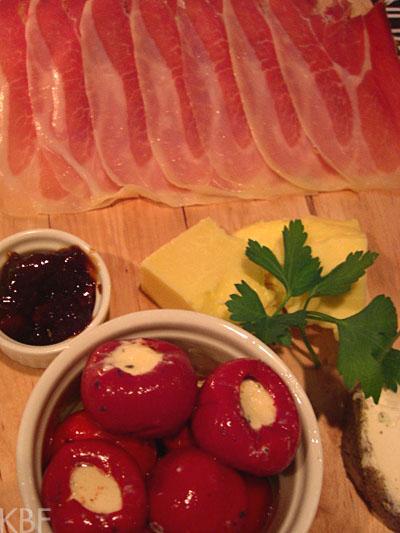 All the appetizers complimented the Guinness Draught, and we couldn't stop going, "Mmm…"
Priya doesn't even fancy peppers but she ended up with one in her mouth!
Then came the lamb ribs, which are the Guinness promotion specialty.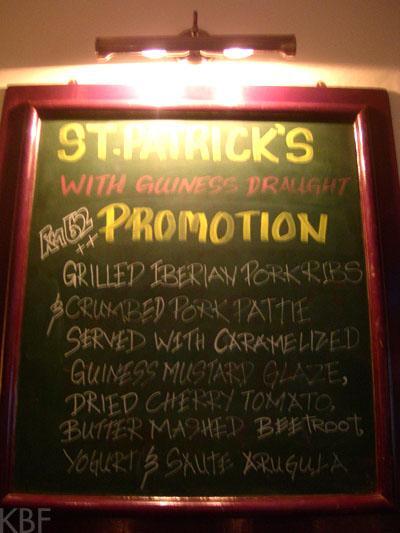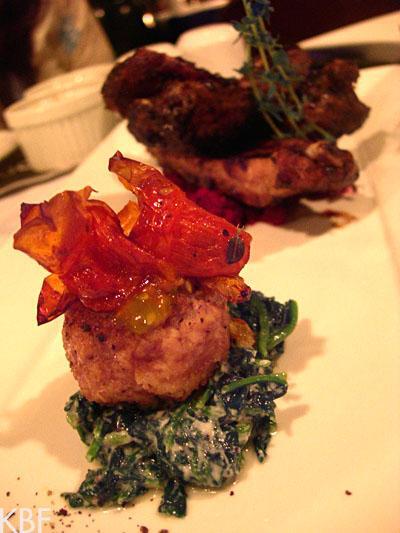 Grilled Iberian pork ribs and crumbed pork pattie served with caramelized Guinness mustard glaze, dried cherry tomato, butter mashed beetroot, yogurt and sautée arugula (like rocket).
RM62++
It was fantastic.
Initially i was trying to maintain and cut the meat off with my knife and fork, but after a while, i decided to screw the idea and delicately held it with my fingers to gnaw on.
I couldn't help it. The ribs would be insulted if i pathetically tried in vain to eat it.
That's the way ribs are meant to be eaten *crosses arms and nods sagely*
When i asked chef Jacob how he found cooking with Guinness, he replied, "Certain people find it difficult to work with Guinness but i'm fine with it, it's my first time working it with pork but it works!"
If this has piqued your interest, you can go to these outlets to try their Guinness dishes there:
(plus: you can also redeem limited edition Guinness St. Patrick's Day merchandise when you order Guinness Draught at these participating outlets)
7atenine
The Ascott Kuala Lumpur
9 Jalan Pinang
50 450 Kuala Lumpur
Dish: Arthur Guinness Lamb Shank with Saffron Root Vegetable
Bossa Nova
Parkroyal Kuala Lumpur
Jalan Sultan Ismail
50 250 Kuala Lumpur
Dish: Baked Cod Fillet on a Guinness Stout-pickled Red Shallot and Roesti Potato accompanied with Ruccola and Marinated Champgnons served with Guinness dressing
Bulldog
31 Jalan Sri Hartamas 7
Taman Sri Hartamas
50 480 Kuala Lumpur
Dish: Guinness on Goodness (venison)
Delaney's Irish Pub
The Federal Kuala Lumpur
35 Jalan Bukit Bintang
55 100 Kuala Lumpur
Dish: Guinness Seafood Platter
Jarrod & Rawlins
6 Lorong Dungun
Damasara Heights
50 490 Kuala Lumpur
Dish: (further up this post)
Nikko Hotel
165 Jalan Ampang
50 450 Kuala Lumpur
Dish: Guinness Braised Lamb Shank on Sauteed Arrow Root Chips with Onion Jam

Food aside, come join Guinness this Saturday!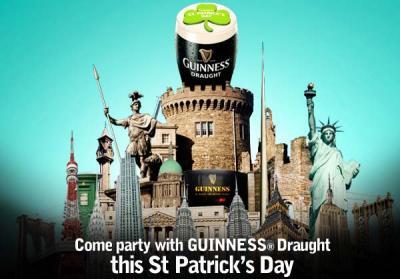 The GUINNESS® St Patrick's Carnival
Plaza Mont'Kiara
Saturday, 15 March 2008
5pm onwards
Join the world and celebrate St Patrick's Day with GUINNESS® Draught! Enjoy special performances by VAMP, the sensual stringed trio from Australia. And ZimboyZ, who will wow you with their African-style acrobatic acts.There will be exciting games too, if you're looking for an adrenalin rush. And for a true taste from around the world, try out the spread of international dishes.
But St Patrick's isn't complete without velvety, smooth and creamy perfect pints of GUINNESS® Draught.
So gather your mates and we'll see you there on Saturday, 15 March! Meanwhile, you can get your hands on cool prizes just for knowing how to celebrate. Play the game here.


Related links:
*Kenny Sia + Guinness*