Yeah i said i was going to blog after scoffing my nasi padang (wow the nasi was damn wangi and sedap man! puas gila) but i got carried away and passed out… :p oops.
Anyway this was two days ago when we didn't leave the villa AT ALL.
Spent the entire day running around like mad party people.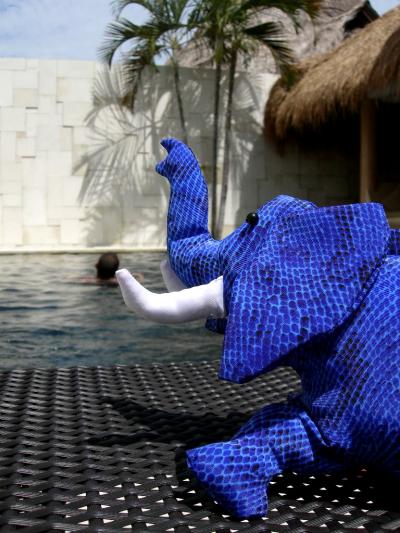 I put Mr. Elephant out in the sun to dry (and pacify) him after leaving him out in the rain >.<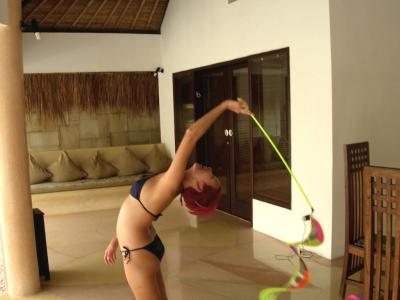 Running around like silly with the spinner.
Stupid thing was  we initially held the stick and spun the end in circles and it didn't seem right.
We kept on doing that for ages. Till RowdyRudy noticed the picture of a girl *running* with it trailing behind her on the package.
-_-
So much for ages 6 and up.
23 and up also fail mouse.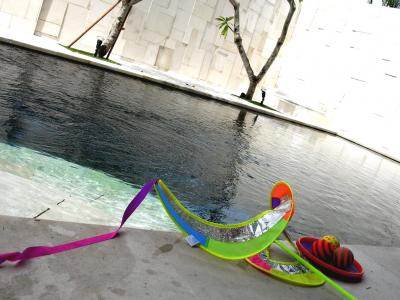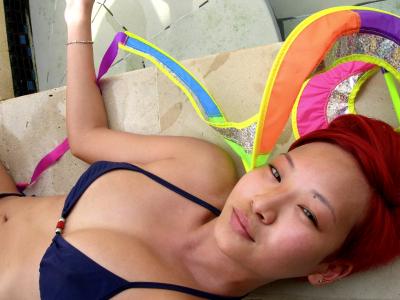 Cool suction ball you throw and catch with frisbee-like plate.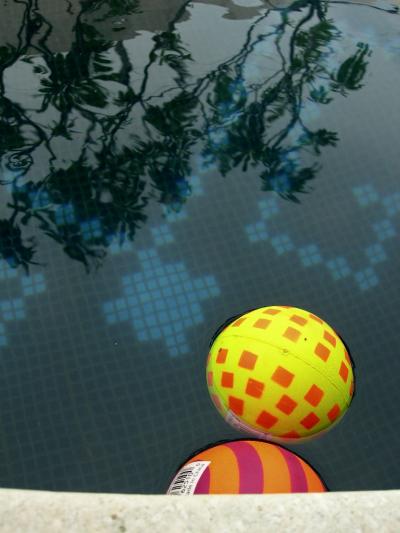 We also bought three psychedelic bouncy balls that loved floating in the pool too!
Wish we bought like, fifteen or something to bob around the entire pool.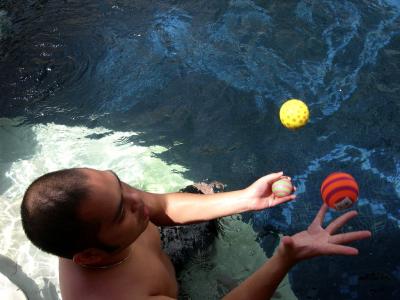 RowdyRudy can juggle!
He showed off to BoltwomanLiza and she called him a clown.
SuperFairyBunny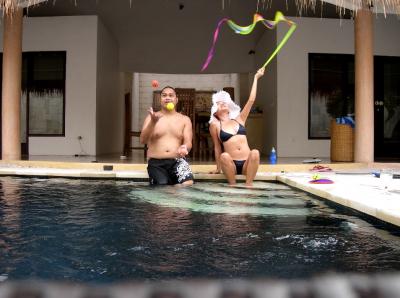 We put the camera on timer and ran across the pool to shoot our circus act – RowdyRudy juggling while i trail away the spinner (okay that doesn't take as much skill as juggling :p)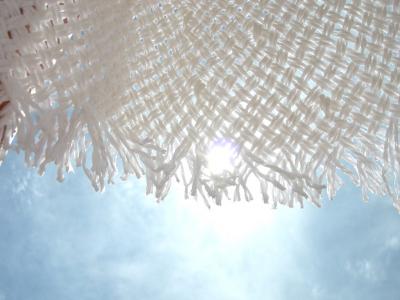 My view while i'm lying down.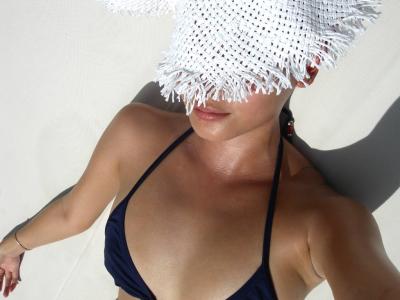 I LOVE THIS HAT.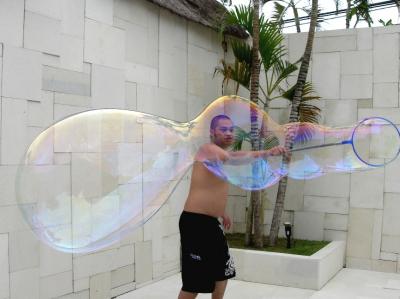 I think the most smashing toy we bought was the giant Fan Yang bubble blower!
Fan Yang is our new hero and RowdyRudy aspires to be the next Bubble Master.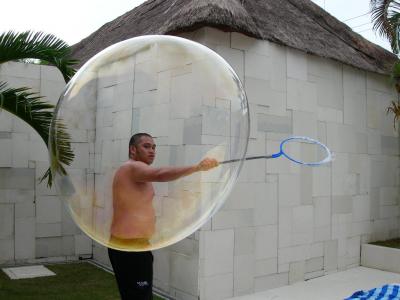 Omg we couldn't stop playing with the bubbles!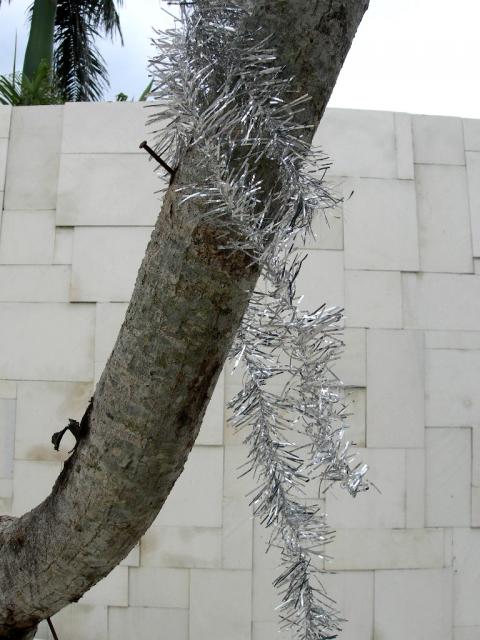 I hung tinsel from one of the trees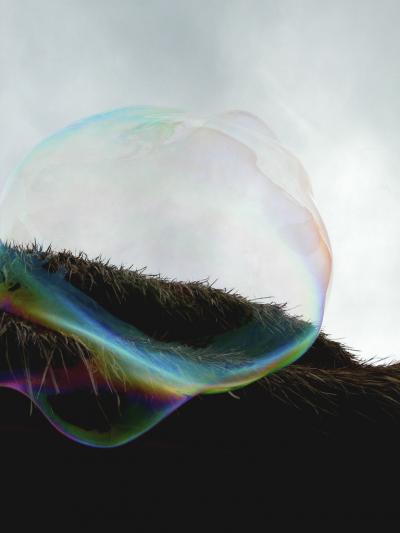 Look at the pretty colours. Say it with me, oohhhhhh….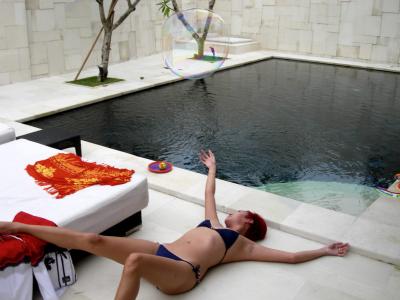 *Fly Bubble!*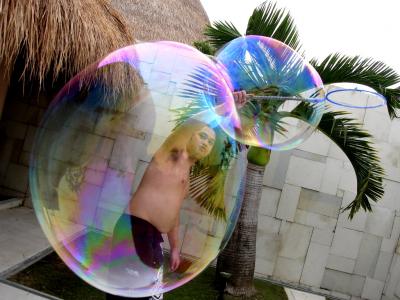 I had a go and Rudy said my face here is priceless, "Sky Garden mojitos, 100,ooo. Mushrooms, 70,000. Joyce looking at bubble on mojitos and mushrooms, priceless."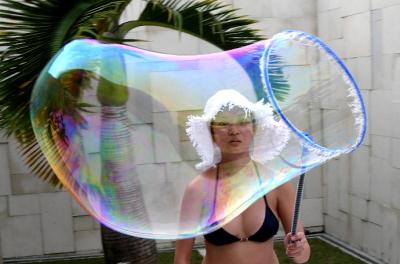 Boo! I adore this picture! Me grinning through bubble!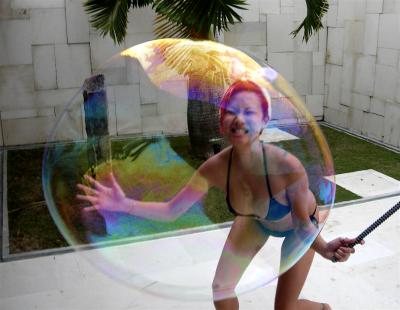 I feel like that fish in Finding Nemo – BubblebubbleBubbleBubble!!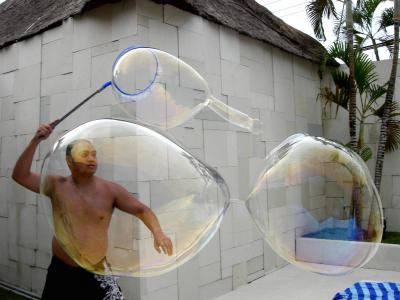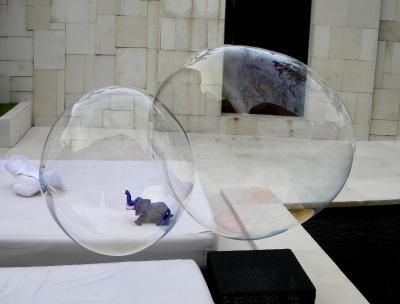 Mr. Elephant took to the bubbles too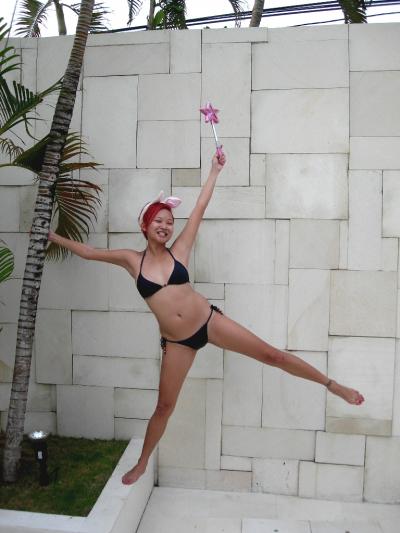 SmallSerena and BoltwomanLiza came over at night to chill.
Their jaws dropped when they stepped through the villa door heh.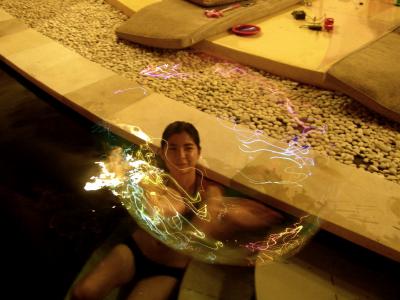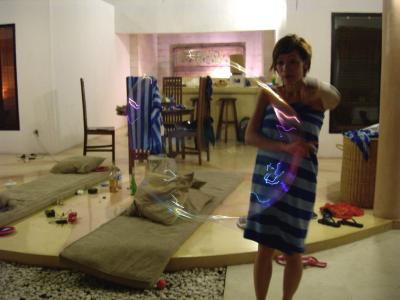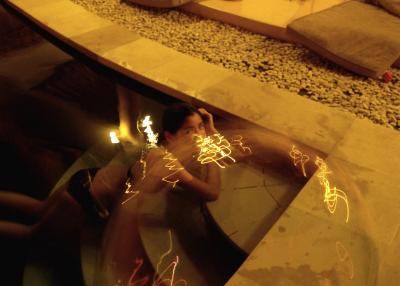 Okay time to jump into the pool!