So it's officially Year of the Rat.
Cousin SmallsMinkyMin was born in the year of the Tiger and spoke up over reunion dinner, "Apparently my perfect match are with those in year of the Pig (me) and Horse. My sisters are useless, i'm holding you responsible to introduce me to people."
-_-'''
We each broke fortune cookies. Well. SmallsMinkyMin opened hers first out of excitement.
"Love and you shalt be loved... what kinda crap fortune is this! Can i change?!" she dunked it down on the table.
Mine was something about getting high returns in a business investment.
Which is all fine by me
While i was in Bali, poor brother NickIsTaller had a horrible basketball accident in which he tore some ligaments and two of his teeth broke off.
OUCH.
We were smsing each other then and it did spoil my happyclappiness for a bit 'o the morning i found out.
Back in KL, he's been using crutches to get around, including to Chinese New Year meals at different relatives' houses.
Couldn't help myself from playing with his crutches and swinging from them. I offered to stick pony stickers on them but he said they belong to my mum's friend.
Cheh.
My cousins and i gleefully conjured up the notion that we should bring him out with us more so we can park in the handicapped area
Chinese New Year day lunch.
Everyone enthusiastically wore red.
Except for me.
I retorted that my hair was red enough to compensate, plus my dress had cherry red prints on it.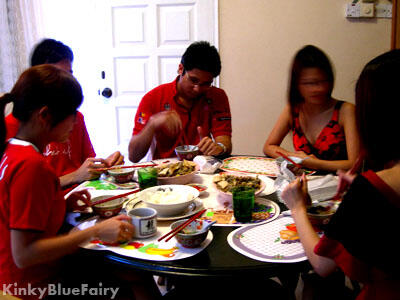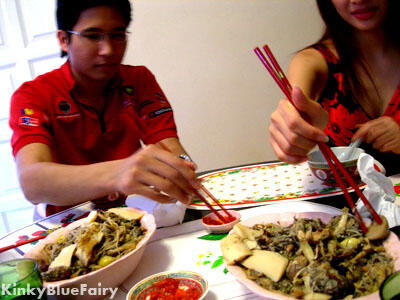 Sufian, JingHui's bf 
Ugh. That traditional Cantonese vegetarian dish we have to eat on first day, year in year out.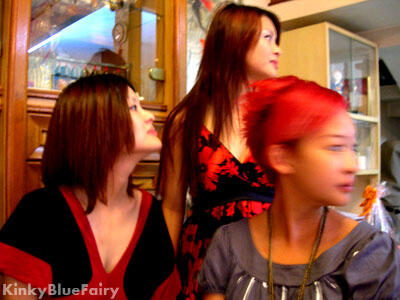 "Where's Min Min? Oi, take picture la!"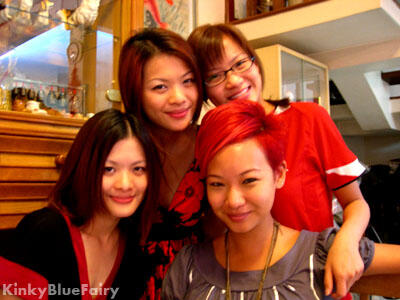 JingHui, JingHua, SmallsMinkyMin, me.
Nothing to do at home right now.
Have a slight headache so don't want to drive out.
Family dinner's in my house tonight at 7 so i have to stick around and appear helpful... somewhat.
I haven't unpacked from Thailand yet.
I haven't unpacked from Bali yet.
And i have to rush a two-day work trip to Penang (probably this Sat-Mon) so i can have a day's rest before flying to Vietnam on Wednesday.
After Vietnam, i'm sitting my ass down in KL and not going to be gallivanting around for quite a while!
Will be angelic - put my head down to work, save money, and... got la.