here in Bangkok cos it's so friggin' hot!
I susah payah remembered to bring my sunblock into the van with me when we left for the floating market at 7am yesterday… then i forgot to take it out of the van to apply
Trying to compose pictures while bobbing down the river is a challenge,
Took lots of nice ones but don't have time to edit them all.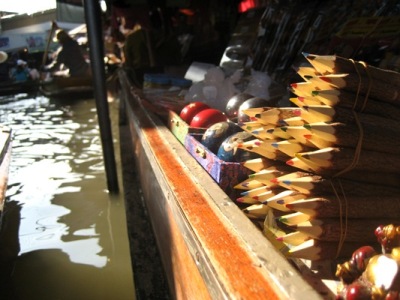 Most of the stuff on sale are the same down the entire river (think: same shit, different bucket).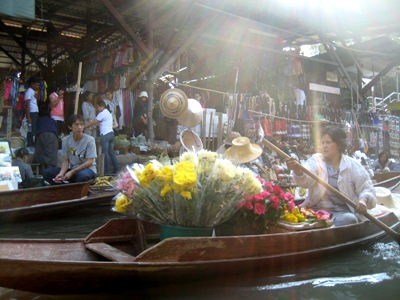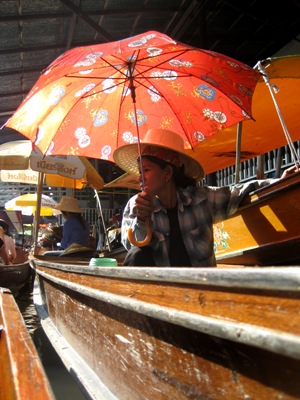 And because the sun was absolutely scorching and i idiotically forgot my sunblock, i bought a hat. You know, the type the women wear when they're farming. Only i'm not farming. And i probably got ripped off for the hat.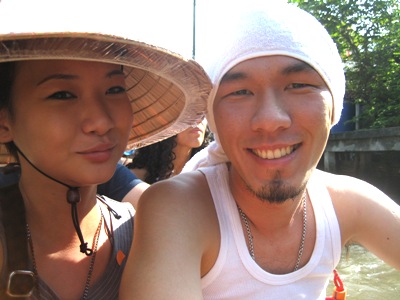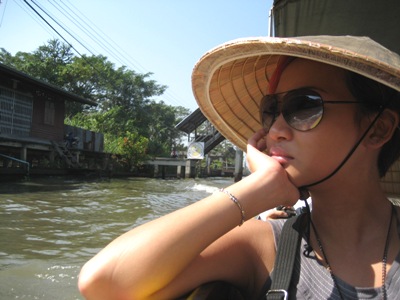 Me thinking: "Dum dee doo… fresh air, mmm… i wonder what everyone back in KL is doing on an afternoon like this… oh right… working…"
Because we didn't want to watch the cobra show, we wandered to a nearby temple.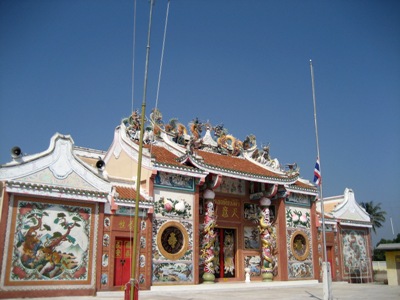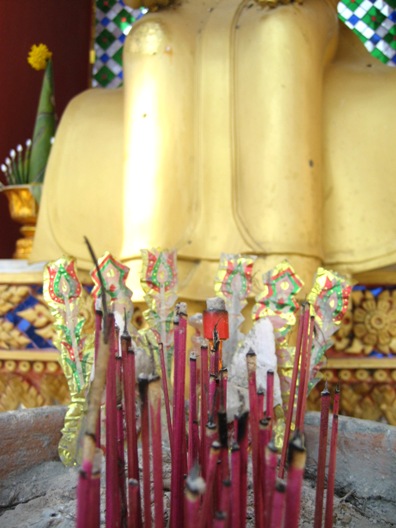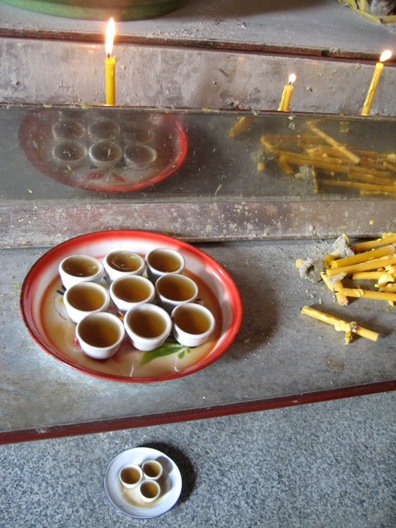 We gave a donation of 20 Baht/RM2, in exchange for joss sticks and yellow candles.
Then IceCalvin showed me how to hold the two joss sticks and candle to pray.
I shock myself with my lack of physical coordination sometimes as i almost dropped the candle.
Fail.
"What do you pray?"
"Just pray for whatever you want."
Hmm. I didn't really want anything in particular.
So i asked for happiness. Yeah i'm the Queen of Cheese.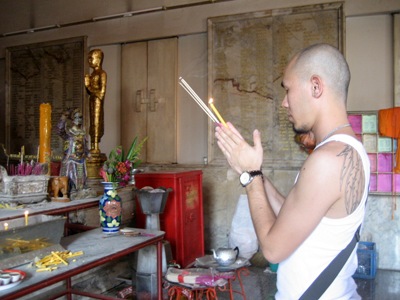 The barber in BKK screwed IceCalvin's hair up so he casually shaved everything off.
Padahal inside damn sakit hati.
The entire weekend was dedicated to Chatuchak market.
Being my fourth time there, i skipped into the market exclaiming to IceCalvin, "You know, this is like our pilgrimage every year!"
And one of the first shops i saw had the words 'Hey Pilgrim!' pasted all over their wall.
We went to look for Kenya and raped her vintage shop again.
I remember seeing all these belts in Topshop a couple of months ago, and they looked EXACTLY like the ones from Kenya's, except they were reproductions from the 80s, of course.
We shopped till our feet hurt,
till our arms couldn't carry our shopping anymore without cutting off blood flow,
till we were giddy from happiness,
till we couldn't remember everything we bought,
till before we knew it, seven hours had passed,
till we told ourselves we'd be broke halfway in Chiang Mai unless we stopped.
Couldn't help dressing up for fun in the room a tad before roaming around Khao San after dinner.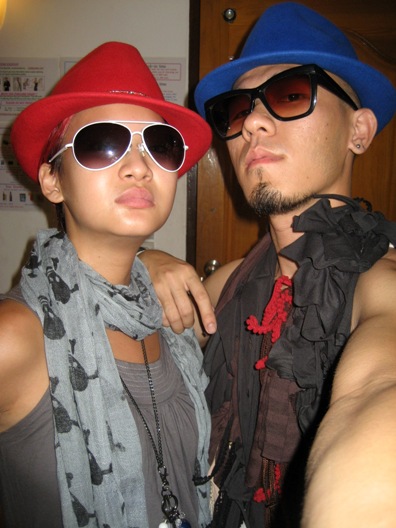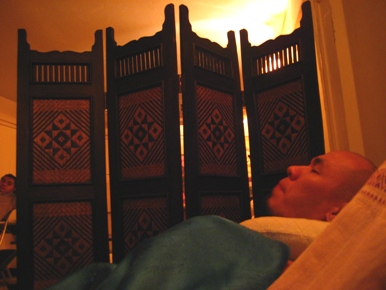 Went for another massage (a 1-hour foot one, this time) for 270 Baht.
A bit pricier then the others on the same row (going at 240 Baht/an hour, but it was so much better environment-wise).
According to IceCalvin, the masseuse were laughing at me cos i fell asleep and snored.
>.<
Went to Bed Supperclub later that night.
"Do you remember? The last time you were here, you were dancing on the speaker next to the DJ -_-"
"… Shit i forgot about that!"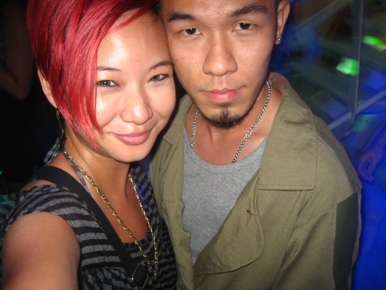 He officially dubbed himself my nanny when he refused to go after-partying.
"No, we're not going."
"But whyyyy!!! C'mon! We're still awake and hyper, let's go!"
"No… it's too dodgy. I'll tell you later why."
"Okay." *defeated*
I totally understood when he told me later :p
Despite sleeping really late from clubbing and supper afterward, still could continue at Chatuchak today.
We have come to a point after shopping non-stop for three days that we're so damn puas, we don't even want to walk anymore.
Okay gonna go read before bed.
Flying to Chiang Mai tomorrow afternoon, new place for me!